Since Magento 1 "End-of-life", many store owners migrated or are planning to migrate their websites from Magento 1 to 2. It's no doubt that Magento 2 has surpassed its previous versions in the store design, performance, functionality, and user experience, which create a strong motivation to upgrade to Magento 2. In the Magento migration process, theme migration is one of the most fundamental phases, asking you to have strong knowledge and experience to transfer it effectively. In this blog post, we would like to give you some facts as well as useful advice to migrate the theme from Magento 1 to 2.
Let's figure it out now!
2 Facts About Theme Migration From Magento 1 to 2
1. It's impossible to move your current theme and templates to Magento 2
There is a serious misunderstanding that we can continue using the existing Magento 1 theme after migration just by moving the code.
In other words, we can't migrate Magento 1 theme to Magento 2 but develop a new one that has the same appearance or design your website from scratch.
For some stores, it's a good chance to improve their design and create a fresh look for the customers. For others, it's a piece of bad news since they want to maintain the design that has already been familiar to all of their buyers.
2. It's costly to migrate themes from Magento 1 to 2
As you might know, in order to migrate the extensions from Magento 1 to Magento 2, we must discard and replace all current Magento 1 modules and plugins with the new ones for Magento 2 having the same functions. The more extensions you have, the greater your investment is. Unfortunately, this situation is quite similar to Magento theme migration.
The next part will show you five possible solutions to migrate themes from Magento 1 to Magento 2. The option you go for will decide how much money you have to invest in the theme migration.
5 Solutions To Migrate Theme From Magento 1 To 2
First, we will list all available options to migrate themes to your new Magento 2 website. Second, we will analyze both the pros and cons of each method. Finally, we will suggest the most effective and efficient solution for your Magento 2 theme migration.
1. Download and install a Free theme for Magento 2
To begin with, this would be an ideal option for small Magento e-commerce stores since it's the cheapest solution on the list.
There is a wide range of Magento 2 responsive themes free to download on the market that you can easily find and install on the new site.
However, "you'll get what you are paying for" might be right in this situation. Most of the free Magento 2 themes and templates have poor functionality and less appealing design. Therefore, you have to find and test the theme very carefully before applying it to the store.
2. Buy and implement a Ready-made Magento 2 theme
Like the first solution, we will use a ready-made theme for Magento 2, but… pay for it. Compared to the free themes, most of the paid Magento 2 themes and templates have better quality, from the design to the functionality. Besides, those themes often cost from $100 to $250 on average.
In general, the ready-made Magento 2 themes and templates are well-designed. Nevertheless, we often need to customize them to meet our special needs and requirements.
If you hire a Magento migration company to carry out the project, they will help you install and customize the theme. You might have to spend approximately one week on both theme installation and customization in terms of time. Otherwise, if your site doesn't need any customization, you can install the theme yourself or consider using the installation service of your theme provider.
3. Create a new design based on the existing Magento 1 theme
As mentioned before, while some merchants prefer leveling up their current design with the new Magento 2 theme, others want to keep it the same. In that case, they will have to clone the Magento 1 theme and build a similar one for Magento 2.
The more complex your site is, the more time is consumed to complete the new design. On the whole, it would take at least one month for site cloning and development.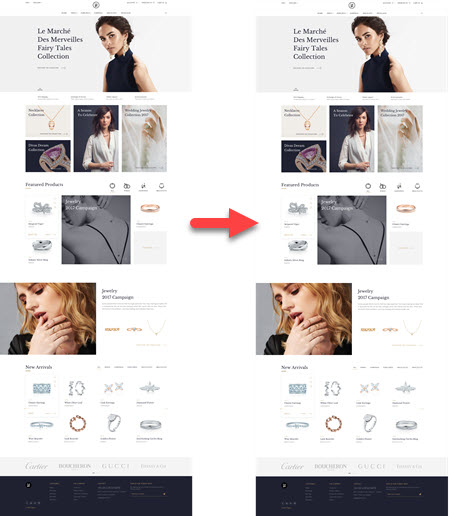 If you outsource your Magento migration project to an agency, more time means greater investment. For the second solution, you will have to pay the cost of the theme ($100-250) plus the cost of service for 1 week, while you will be charged at least a 1-month service fee (4 weeks) for website cloning.
4. Develop a new look based on your favorite e-commerce website
Like the third solution, we will build a new design based on the cloning method but based on the design of another website instead of the current Magento 1 theme.
Assuming that you find an eye-catching e-commerce website and want to copy that design for your Magento store, it's able to clone it and make a new one for your Magento 2 store.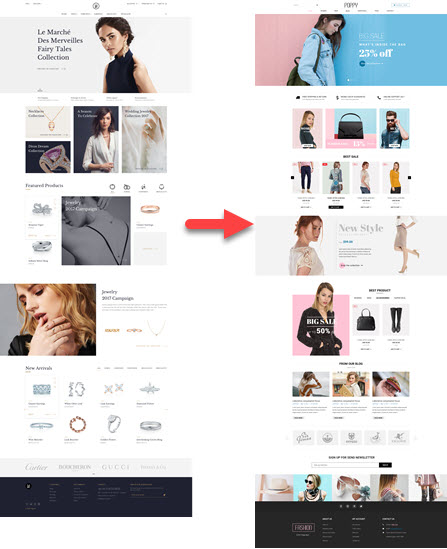 It's worth noting that this solution would take more time and effort to deploy than the third one. The reason is that you have the PSD design of your current design, which facilitates the cloning process, while it's difficult to possess the PSD design of your favorite website.
5. Build a unique theme for your Magento 2 store from the scratch
The last solution that we want to mention is designing an absolutely new Magento 2 theme for your store from the beginning. As a result, you will have a unique design that meets all of your needs and requirements. The thing is that this is the most expensive and time-consuming method.
First of all, you will have to work with the designer to build from your ideas and complete the PSD design. After that, you must find good Magento front-end and back-end developers to build your store based on the design.
In most cases, it would take double or triple the amount of time spent on the third and fourth solutions and about eight times the time for implementing the second method.
Consequently, you have to prepare a large budget for the new design and several months to manage the project as well.
Wrapping Up
All things considered, we highly recommend you select the second solution – buying a high-quality ready-made theme for your Magento 2 store. The majority of our clients also go for this method since it helps to save their time, money, and effort. In addition, they often ask for minor theme customization, such as changing the theme colors to get the best results.
Furthermore, if you don't have enough knowledge and skills about Magento store migration, it's better to hire a reliable Magento development company to conduct the transfer from the beginning to the end.
With more than 9 years of experience in Magento development and Magento 2 migration, in particular, Tigren agency is confident to help you migrate from Magento 1 to 2 smoothly at a very competitive price. Contact us now to get a FREE and FAST quotation and consultation for your project.