Deciding to start a business is both thrilling and risky. Doing what you enjoy and selling your products to customers is incredibly rewarding. However, calculating online business startup costs, managing your company's finances and marketing strategy, and ensuring a profitable business can all be nerve-wracking.
The cost of starting a business can vary greatly depending on the type of business you want to create. This article will go over the typical costs of starting an online business.
Essential Costs: Unavoidable E-commerce Startup Costs
1/ Web Design & Development Costs
E-commerce Platform Cost
You must first create your e-commerce website. The cost of web development will vary depending on the e-commerce platform you use.
This article will discuss the web development costs of the five best e-commerce platforms available today.
Magento
There are two options for store owners: Magento Open Source and Magento Commerce edition. The Magento Open Source version is complimentary, while the Magento Enterprise edition costs $22,000 per year.
WooCommerce
WooCommerce is a free e-commerce plugin for WordPress websites.
Wix
Wix is an excellent choice for those just getting started with e-commerce because it is effortless to use. However, the weak point of Wix is ​​the difficulty in customizing the theme and poor SEO performance.
Wix provides three business and e-commerce plans.
Business Basic: $17/month
Business Unlimited: $25/month
Business VIP: $35/month
BigCommerce
BigCommerce is another ideal buy for people who want to start an e-commerce store. However, the cost for an e-commerce website of BigComerce is a little bit pricey.
BigCommerce provides four web development plans.
Standard: $29.95/month
Plus: $79.95/month
Pro: $299.95/month
Enterprise: it depends
Shopify
Shopify is another reliable service provider that can assist you in getting your business online.
Shopify currently offers three packages.
Basic: $29 per month
Shopify: $79 per month
Advanced: $299 per month
Domain Name & Hosting Cost
A domain name is required for your website to be visible on the Internet. Your website's name and URL address are what visitors use to find your online store on the Internet.
The web hosting is the room that houses all your online store's files, documents, and databases. 
Website Design Cost
Website design will certainly not be accessible. A beautiful and polished website will cost you money.
You have two options to choose from for the web design.
Use pre-made themes
The cost of a ready-made theme will vary based on the e-commerce platform you choose. You can browse ready-made themes on marketplaces like Themeforest or the e-commerce platform's website.
Magento themes range from $19 to $499.
WooCommerce themes range from $19 to $89.
Wix costs between $149 and $249 per theme.
BigCommerce themes range from $39 to $300.
Shopify themes range from $29 to $300.
There are free themes, however, they are pretty simple and do not allow for much customization. So, if you genuinely want your online store to leave your style, the ready-made premium theme is the place to be.
Create your unique online store design
You have a creative idea for the design of your online store. You can hire a developer or a design firm to assist you in creating the blueprint for your home.
Of course, the cost of custom design is exorbitant. Custom web design does not have a set price. But if you hire a web designer, it's typically around $30-70 per hour.
Web Development Cost
If you believe that web development costs end there, you are mistaken. Your online store will require a significant amount of custom work to function correctly, such as customizing site layout, importing products & categories, integrating payment gateways and shipping carriers, configuring site information, languages, currencies, email templates, developing custom functions (if any), etc. And you'll need to hire a web developer/ web development company to do all of those.
Implement website development from A to Z for only $2,499
Is it possible to grow your website to be ready to sell for just $2,499?
It is entirely accurate, and Tigren will help you carry it out. Since 2012, we have created hundreds of eCommerce websites with fast page loading speeds, attractive and responsive designs, and advanced e-commerce features.
You can find more information about Tigren's website development packages here, or you can contact [email protected] for experts consultation.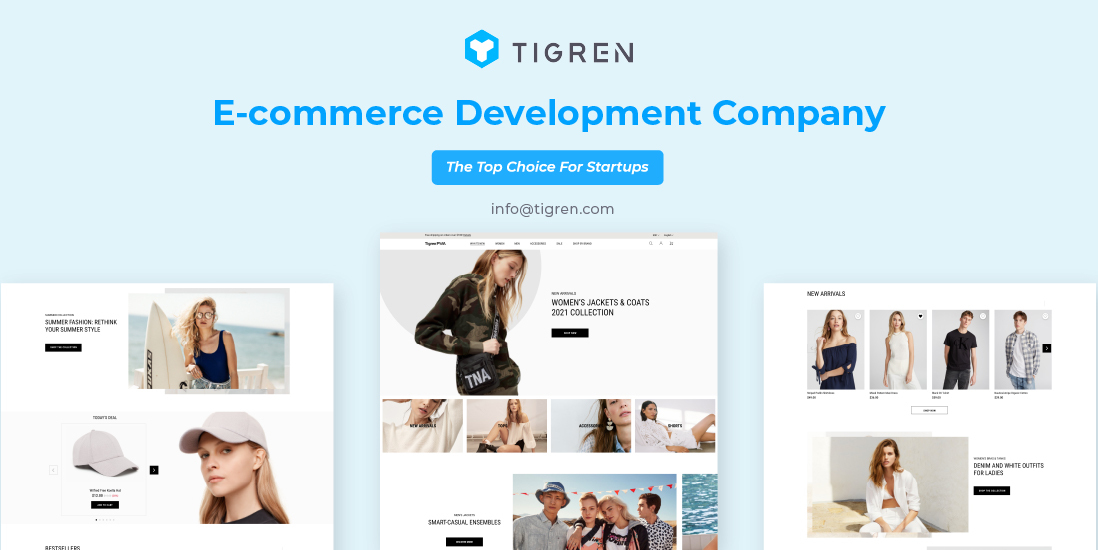 2/ Legal Certificates Costs
Legal certificates are required to get your online business off the ground. Here are the necessary legal papers.
Business licensing
Fees for business licenses are governed by federal, state, and local laws. This cost will typically range from $50 to several hundred dollars. In addition, you also need to pay for the Business License Renewal.
Business insurance
Similarly, depending on your country, region, and product, your business insurance coverage types, and extent will vary. You might consider some types of business insurance: General Liability Insurance, Product Liability Insurance, Professional Liability Insurance, etc.
SSL certification
SSL digital certificate equipped on your website allows customers to verify the authenticity and trustworthiness of the website. It ensures that all data and information exchanged between the website and the customer is encrypted and not disclosed. Buy SSL certificate which starts from $8 per year from a trusted provider.
3/ Inventory Cost
If you've chosen the Dropshipping model, you won't have to pay your supplier until the customer buys the inventory from your store. Meanwhile, if you want to sell products on your own, you'll need to pay for inventory.
Inventory costs include the costs of storing, maintaining, and replenishing it. Not only that, but the costs of ordering, shipping, shortages, and damage are some of the most common types of inventory costs.
4/ Logistic Cost
Packaging
You will undoubtedly require product packaging for your products to reach your customers safely. The packaging will differ depending on the type of product you are selling.
Packaging consists of more than just a box or a bag. Consider items such as duct tape, thank you cards, stickers, and mailing bags.
E-commerce shipping costs
Shipping rates are set by all transportation companies based on a variety of factors, including:
Package Size
Package weight
Origin address
Destination address
The cost of shipping will vary depending on the carrier you select.
You also need to get to grips with inbound vs outbound logistics when calculating costs. It's essentially an analysis of the materials and goods you bring into your business alongside the inventory you ship out to customers.
5/ Payment Processing Cost
Payment processing fees are expenses incurred by business owners when accepting payments from customers. In other words, businesses that accept credit cards and online payments are charged a small fee for each transaction, which is known as a payment processing fee.
Square charges 2.9% plus $0.30 per transaction.
Stripe charges 2.9% plus $0.30 per transaction. There is an additional 1% fee for international cards.
Braintree charges 2.59% plus $.49 per transaction.
Apple Pay: no additional merchant fees
Google Pay is free to set up. There is a $10 minimum account operation fee is. The 1% transaction fee is limited to $3 per transaction.
PayPal charges 2.9% plus $0.30 per US transaction. The fee for international transactions is 4.4% per transaction.
Optional Costs: Online Business Startup Cost Not Necessary But Worth The Money
1/ Logo Design Costs
Creating your logo makes your online business stand out and gain brand identity. So, it would be best to hire a designer to develop a logo for your brand. The logo's quality and the emblem's creator determine the cost of logo design. Hiring a design agency can cost anywhere from $10 to $300.
2/ Product Photo Costs
You can also choose to spend money to rent studios and decor items to make your product photos more vivid and elaborate. High-quality and eye-catching images are more appreciated and make it easier to attract customers.
It will cost $2 – $15 for simple decor such as a white background phone holder. You can also invest in a camera and rent an outside studio if you have money.
3/ Website Extensions/plugins
Website extensions are optional but can help you increase sales, attract email subscribers, establish subscriptions, improve SEO. So, think about spending the extra money to buy the following advanced extensions:
Live Chat
SEO
Improved layered navigation
Product labels
Advanced promotions
Blog
Reward points
Follow-up email
4/ Marketing Cost
It is not necessary for you to pay to market your product. However, the marketing cost is also a worthwhile fee if you want your online store to entice users quickly.
Google Shopping Ads
Google Shopping Ads is an excellent way to drive traffic and conversions. It allows store owners to visually advertise their products to searchers.
The cost to run Google Shopping Ads will vary depending on the customer shopping campaign benchmark on Google Ads that you select:
CPC – Cost per Click: you pay for each click of your ad. The average price will be around $0.66. It all depends on your niches.
CPA – Cost per Action: You will be charged for customer actions such as registration, event attendance, and application software download. You will lose $38.87 on average.
Social media ads
Running ads on social media sites is one of the most crucial marketing campaigns. Social media allows you to interact with your customers and develop good bonds.
Youtube
The average cost-per-click (CPC) is $0.49.
The average cost per thousand impressions is between $10 and $30.
Facebook
The average cost-per-click on Facebook is $0.97.
The typical cost per thousand impressions is $12.57.
Instagram
The cost of a click ranges between $0.2 and $2.
$6.70 per 1000 impressions.
Tiktok
$0.50 per 100 views.
The cost per click is $0.02.
A minimum spends of $500 is also required for a TikTok paid ad campaign.
Email marketing
A basic package of email marketing costs between $10 and $25 per month. This cost, however, may vary based on the volume of emails you want to send and the number of contacts you want to send.
Online Business Startup Costs Is Totally Up To You
Now you know how much it costs to start an online store.
The cost of starting a small business depends on the type and size of the business you are opening and your industry. An online business can be created with capital from $1,000 to $100,000.
There is no fixed price for building an online store because the cost is different for different companies. But, at least you've got a rough idea of how much your eCommerce startup costs.
Read More:
Top 23+ New Ecommerce Startups You Should Follow
Ultimate Guide To Owning A Legit Online Business
Small Online Business: How To Start Small, Grow Big?