Nowadays, setting up an E-commerce store is not challenging work for merchants, thanks to the rise of many digital platforms. However, choosing the right platform is critical to ensuring your site run correctly. Among open-source platforms for E-commerce, Magento stands out as a popular solution. But it is not the only answer since Shopware is increasingly getting more attention from small and medium businesses. So, what makes these platforms in demand, and which is the right solution for your online store? Let's dive into the battle between Shopware vs Magento.
What Is Magento?

Magento is an open-source application for creating e-commerce websites. Magento uses PHP language and is based on the Zend Framework platform. It was first launched in 2007, and in 2018, Adobe acquired Magento for $1.68 billion.
With more than 750,000 websites created, this is a good environment to grow in the future. As of 2018, out of 457,964 e-commerce websites, more than 342,218 websites have or are using Magento.
The top developed countries that use Magento more than other countries are the US, UK, and Australia. And among global brands, Ford, Coca-Cola, Protect & Gamble, and HP use Magento for their businesses.
Magento platform has built-in Google tools such as Google Checkout, Google Base, and Google Analytics. In addition, this platform also cooperates with the world's leading integration partners such as Paypal, WorldPay, DHL, and FedEx.
What Is Shopware?

Shopware is an open-source platform developed in Germany to improve the customer experience. It was founded in 2000, and they now have over 80,000 satisfied customers.
The wonderful thing about Shopware is that it is created by the people who use it. There are 91,538 websites and 40,505 live websites in this list and 150,220 domains that redirect to these sites. Shopware is utilized in a variety of industries around the world.
Shopware 5 and Shopware 6 are used by well-known brands and businesses to run their online stores. Philips, Douglas, Aston Martin, Tigha, and KJUS are famous examples.
What Are Core Differences Between Shopware Vs Magento?
1. Ease of use
Magento
Magento is considered a complex platform to develop. And as a company grows and deals with millions of clients, the system becomes more complicated, necessitating hiring outside expertise to assist with system development and administration.
With Magento, you can get a free or a paid template to integrate into your online store. It is advisable to find skilled developers and have them build your Magento store. The work of Magento refers to many technical components such as configuration, code, layouts, .xml files, CSS, etc.
But after finishing the setup, the interface for management is easy to use. Magento's frontend is flexible, user-friendly, and loads quite fast. Vendors can monitor the operation and customize it freely with less effort.
Shopware
With Shopware, you must download and install their source code to customize. It allows one-click installation, so people with less tech-savvy can proceed.
But keep in mind that Shopware is not designed to run on a Windows server. It is more suitable for the Unix operating system.
The installation of Shopware is straightforward, but the development isn't much so. To successfully develop your website, you need to have a solid knowledge of technology. Fortunately, Shopware offers a section dedicated to developers and end-users to help you through the process.
You need a basic familiarity with HTML, CSS, and JavaScript to start this programming language. For tech-savvy, this method may be simple; however, users with little or no understanding may find it difficult.
The Shopware's interface has many benefits, such as easy control, valuable tools, easy template swapping, more detailed site layout, or shaping.
2. Price
Magento
Magento Open Source and Magento Commerce are two Magento editions. The Open Source edition is free to download with minimum expenses required.
You do not need to pay for the installation, but there are some indispensable costs like with any website: domain, hosting, development, maintenance, and plugins. Therefore, the basic version requires from $10,000 to $20,000.
On the other hand, Magento Commerce requires a bigger budget because of its great functions for enterprises. On average, you need a spend $20,000 to $100,000 for this edition. But the customization is broader and more scalable. There are also more advanced functions for your e-commerce store.
Shopware
Shopware has two editions: Community (free) and Profession (paid). If you're technically savvy, have experience running web apps, and don't want Shopware assistance, the Community Edition is for you.
And free is free to download here. You also need to pay for web hosting and development. It may cost around $6,000 to $10,000 in total.
The monthly fee for the professional edition is roughly $215. The total cost of the purchase is $43,000 for a lifetime. The enterprise version allows more oversized handles and complex projects while guaranteeing security, stability, and good performance.
3. Features
Magento
Magento has excellent features to retain customers' attention.
Analytics and Reporting.
Product Browsing.
Catalog Management.
Customer Accounts.
Order Management.
Payment & Shipping.
Search Engine Optimization.
Marketing and Promotional Tools.
Besides, Magento supports a variety of languages and currencies. This is extremely useful for cross-border businesses. Additional changes in Magento 2 can also equip your online store with advanced functions. These include a reduced table locking problem, increased page caching, CSS handling with LESS and CSS URL resolver, and a better structure.
Apart from that, the Magento framework simplifies the integration of many third-party plugins to provide a seamless user experience.
Shopware
Highlighted features of Shopware are:
Product Management
Customers and Prices
Shop Configuration
Performance and Reliability
User Management
Cross-Browser Support
4. SEO
Magento
Magento is an SEO-friendly e-commerce platform. It provides conventional SEO URLs for products. In addition, with excellent built-in SEO features, Magento can boost your rank on search engines.
It offers easy access to create SEO-friendly URLs, tags, and descriptions with the right keywords. The platform, in particular, supports HTML5 and CSS3 for scaling photos on any device and videos.
As a result, shoppers using various devices can enjoy a seamless and convenient experience. Apart from that, the Magento websites can integrate with any third parties, including SEO extensions.
Shopware
Both Shopware versions (5 and 6) include a default SEO module that incorporates some of the most potent SEO optimizations on Google.
The latest version equips merchants with clear structures and friendly URLs. It allows you to construct SEO-friendly URLs, change meta titles and descriptions, use Rich Snippets, create a sitemap, and easily work with redirects and canonicals.
In addition, the platform also promotes affiliate programs and loyalty programs to increase customer engagement which can boost your rank in search engines.
5. Extension
Magento
Since it's an open-source platform, your business can tailor the source code to your business. Third-party software, applications, and utilities can be integrated into Magento easily.
For Magento 2, there are over 3,300 extensions to add to your online store. The number of categories is enormous, including accounting & finance, marketing, customer support, payment & security, report & analytics, and many others.
Shopware
Shopware offers over 2,000 extensions and plugins to integrate into your website. You can find themes, payment solutions, analysis tools, marketing features, etc. Some of them are free, but you mostly need to pay around $100 to $400, which is pretty higher than other platforms.
6. Theme
Magento
Magento's default has two themes, "Blank" and "Luma". Upon successful installation of Magento, the front will have the default theme "Luma".
On the Magento marketplace, there are around ten templates, which is quite limited compared to other e-commerce platforms. But you can find over 5,000 themes from third-party providers. And there are tons of extensions ranging from Instagram links to payment options.
Shopware
With Shopware, you can select a pre-made template from its library for over 290 website templates. These themes are separated into nine categories to match your industry, with free and paid options available. Shopware has more themes than Magento. However, the pricing may be higher.
7. Customization
Magento
It is not difficult to customize Magento's frontend. Merchants can use Magento components and themes to change and enhance the appearance of their storefronts.
After successfully installing the new theme, you can access the customizations in the Configuration section. Here, you are free to edit the theme by clicking on the elements on the website that you want to change. You can then start modifying its settings by selecting the site setup you want to customize.
This is also the place for you to choose your logo image as well as images, and videos on your e-commerce website. There are also 3000+ available plugins to renovate your Magento website.
Shopware
Because Shopware is an open-source platform, users can completely personalize their websites. You can create a new theme from scratch with the platform.
However, keep in mind that designing a fresh new website template is not "easy," as it takes a thorough understanding of design principles and technical abilities. It is advisable to hire skilled developers for your e-commerce customization project.
8. Support
Magento
Those using the Magento Commerce package have access to direct support from Magento and can also submit tickets.
On the other hand, Magento Open Source users would rely mostly on the official documentation and the help of Magento's community. With almost 450,000 members, they can offer answers to Magento issues in most cases. Of course, Magento Commerce users are eligible for these solutions too.
Shopware
You can access Shopware's knowledge source of training courses, best practices, tips, and techniques at any time. A "Go-Live" checklist and "Go-Live" training are also available, both based on onboarding experience.
They ensure that you are at ease and confident at every step of the process. If you have a question, need a solution, or want to discuss your product, their shop management experts are ready to help. You can contact them by phone, chat, and email.
However, the available online source of Shopware's support is limited compared to Magento.
Which Solution Should You Choose: Shopware Vs Magento?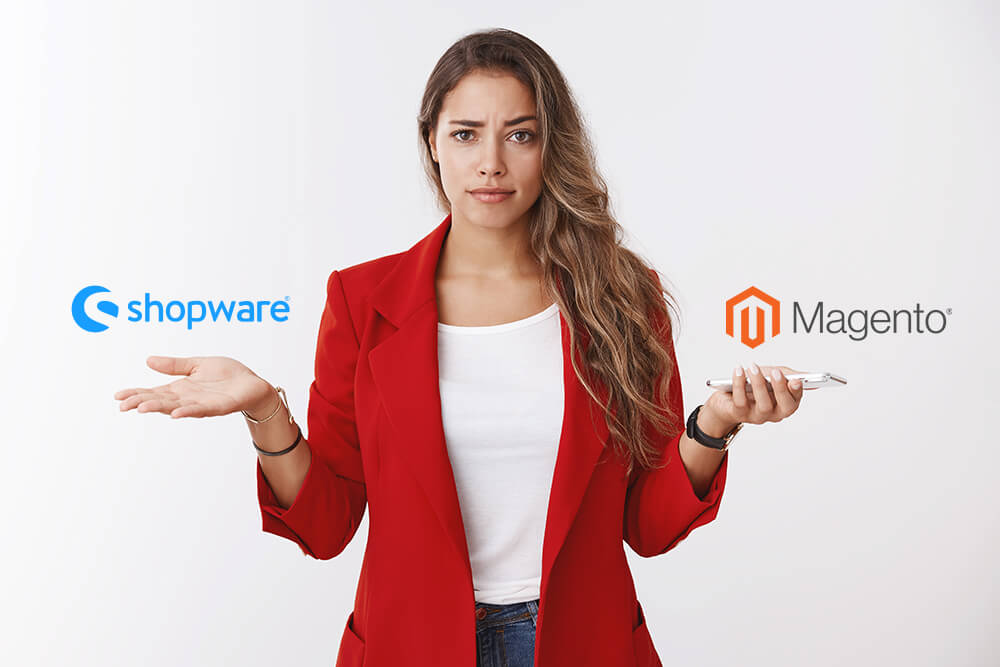 Shopware
As mentioned, Shopware runs well for SMEs, which necessitates less scalability. It requires a smaller budget compared to Magento and is easy to use.
And because of its excellent marketing capabilities and user-friendly customer experience, Shopware is better suited for B2C businesses.
However, there are some issues you need to consider when using Shopware. Many users have complained about its lack of core functions in the back-end.
And creating APIs takes a long time. Even for medium-sized product exports, feed production can take up to 5 hours. The control over inventory returns and core management is not working correctly, either.
Magento
When it comes to scalability, Magento outperforms Shopware. It is suitable for SMEs and large enterprises with a higher demand for product uploads and content.
By using Magento, merchants can boost flawless performance and enhance a seamless user experience. It is also a high-secured and flexible platform in terms of features, support, and customization. Magento is an excellent choice for B2C and B2B businesses.
Moreover, the platform has frequent updates that can fix bugs and errors that appeared in the previous version. The new update offers cutting-edge features to improve the experience of both owners and customers.
With many advantages, it is understandable that Magento demands a higher price than Shopware. And delivering a Magento website efficiently requires a thorough technical understanding.
If you are looking for a Magento developer to boost your online store performance, Tigren is always a great choice. With over ten years of experience in e-commerce development, our team has extensive knowledge about Magento's work. As a result, you will get the best-in-class service when partnering with us.
Not only can we deliver an appealing storefront, but our developers can also enhance your brand identity with engaging features. Our work highly focuses on effectiveness, transparency, and customer satisfaction. We offer various solutions to meet your demand, from Magento website development and PWA works to hybrid apps. Leave a comment below or contact us at [email protected] for the latest updates and best recommendations for your online business.