Looking for the newest and coolest online shops of 2023? Well, you're in the right place!
We've made a list of the Top 23+ eCommerce startups of 2023 that are creating a buzz. They're changing how we shop online and setting new trends. You'll want to watch these startups closely, as they're shaping the future of online shopping.
Whether you're an online shopping fan, a business person, or someone always excited about the next big thing, these startups will get you interested and might even give you new ideas!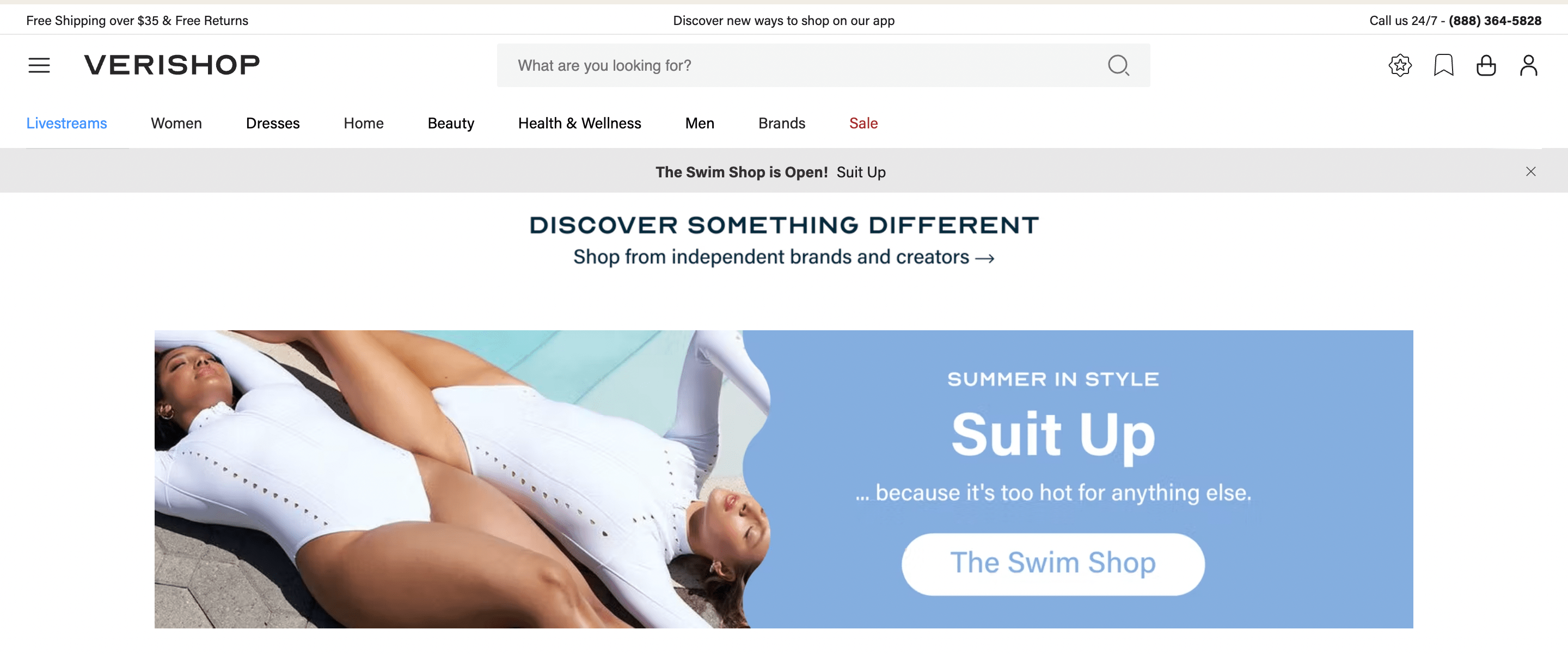 Verishop serves as a welcome option to assist you to switch up your purchasing habits if you're sick of the oversaturated market for gadgets, apparel, and home & wellness products. Verishop is an online store that handpicks a range of popular premium brands for home, cosmetics, fashion, and other areas. The foundation of this firm, which aspires to become the go-to online store for lifestyle items, is high-quality products.
Funding: $70 Million
Location: Santa Monica, California, US
Year founded: 2018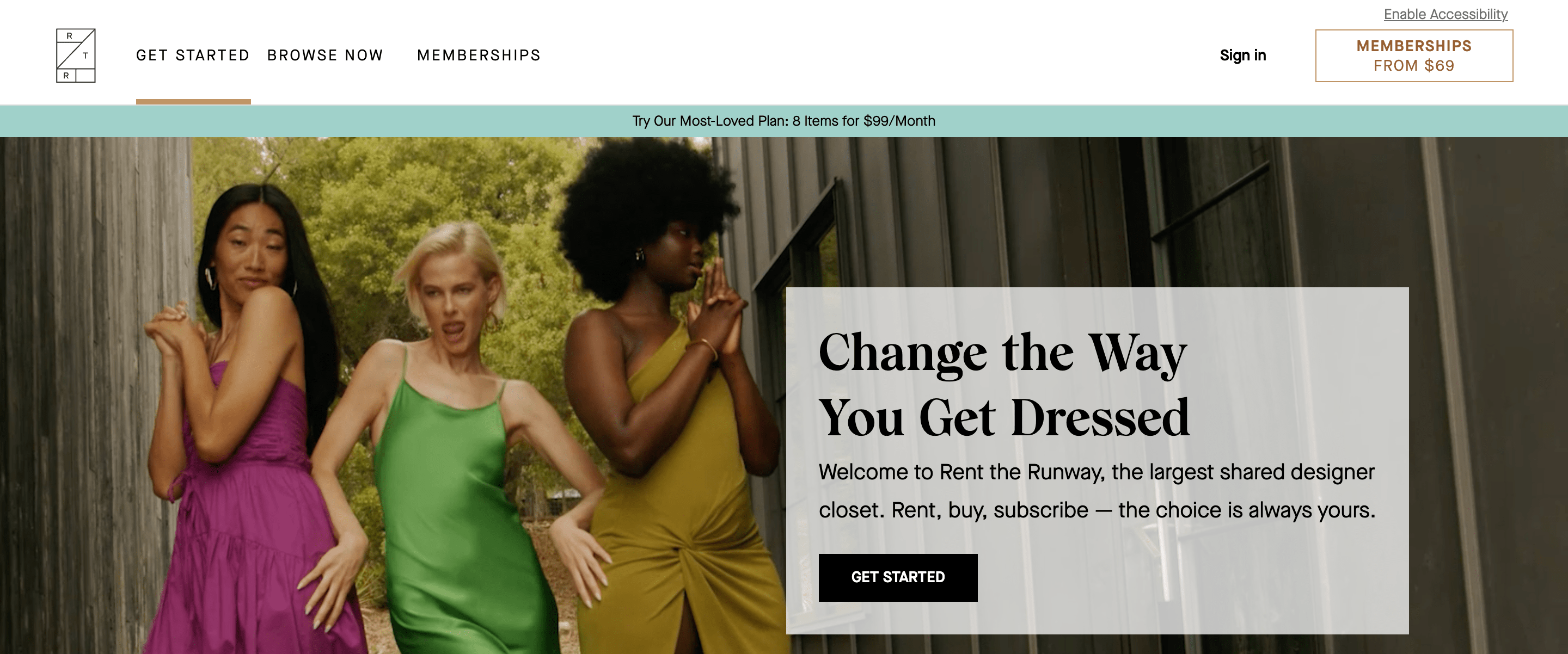 Rent the Runway is one of the most highly regarded luxury rental closets in the US, offering everything from wedding and formal wear to casual, work, and workout wear. With an unlimited $159/month subscription excluding taxes and shipping, dry cleaning, and insurance, customers can rent up to 4 suits at once with no limit on the number of times a month.
While the monthly fee may seem expensive, the service costs less than $2,000 per year, which is about the amount an average American household spends on clothing in a year, according to Business Insiders. The natural appeal of the service is that it allows customers to wear clothes they would never have bought otherwise, like a $1,500 prom dress.
Funding: $526.1 Million
Location: USA, New York
Year founded: 2008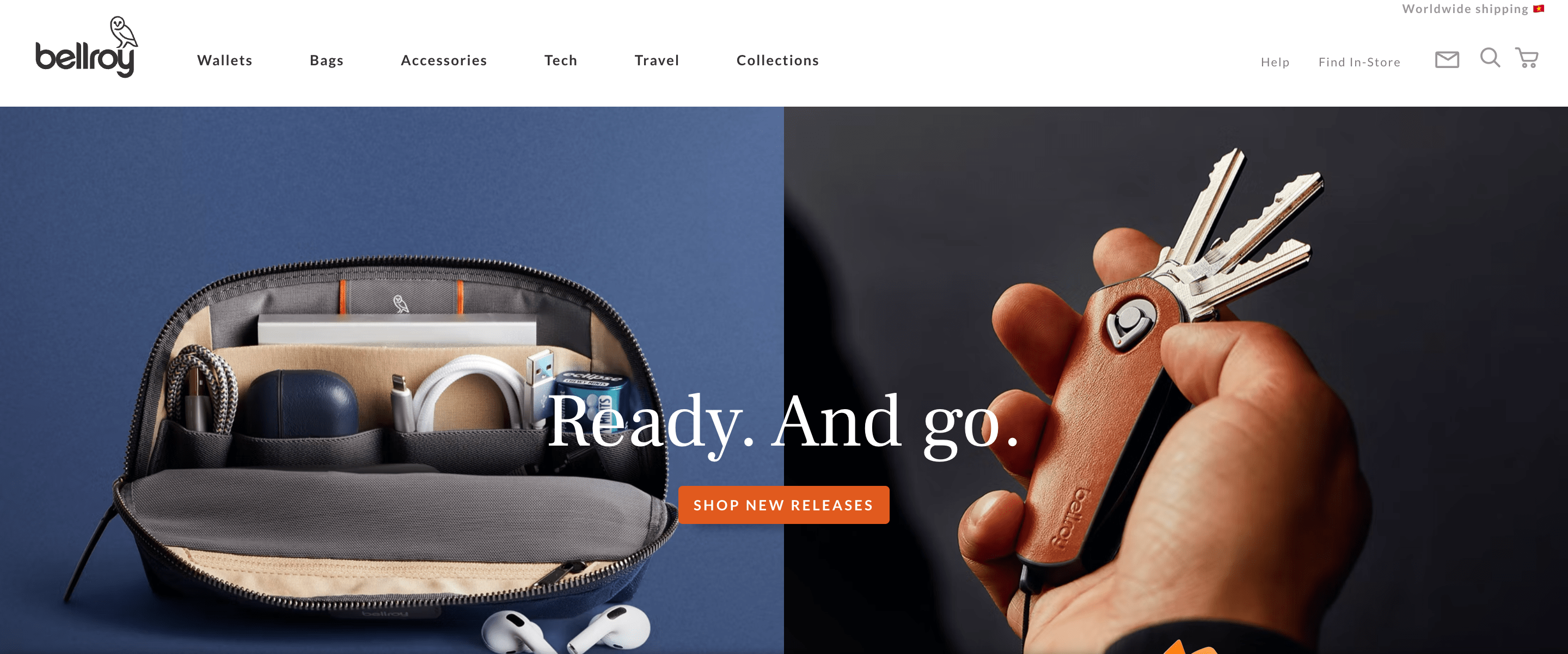 Bellroy is the following new eCommerce startup on our list. Bellroy aims to produce wallets that are as thin as possible while yet retaining elegance and usefulness. The company's product line has now grown to include accessories, purses, wallets, and more.
This startup is one to keep an eye on with its recognizable, customer-favorite "travel wallet". They are all flawlessly designed and manufactured with the best materials.
Funding: $8 Million
Location: Fitzroy, Victoria, Australia
Year founded: 2010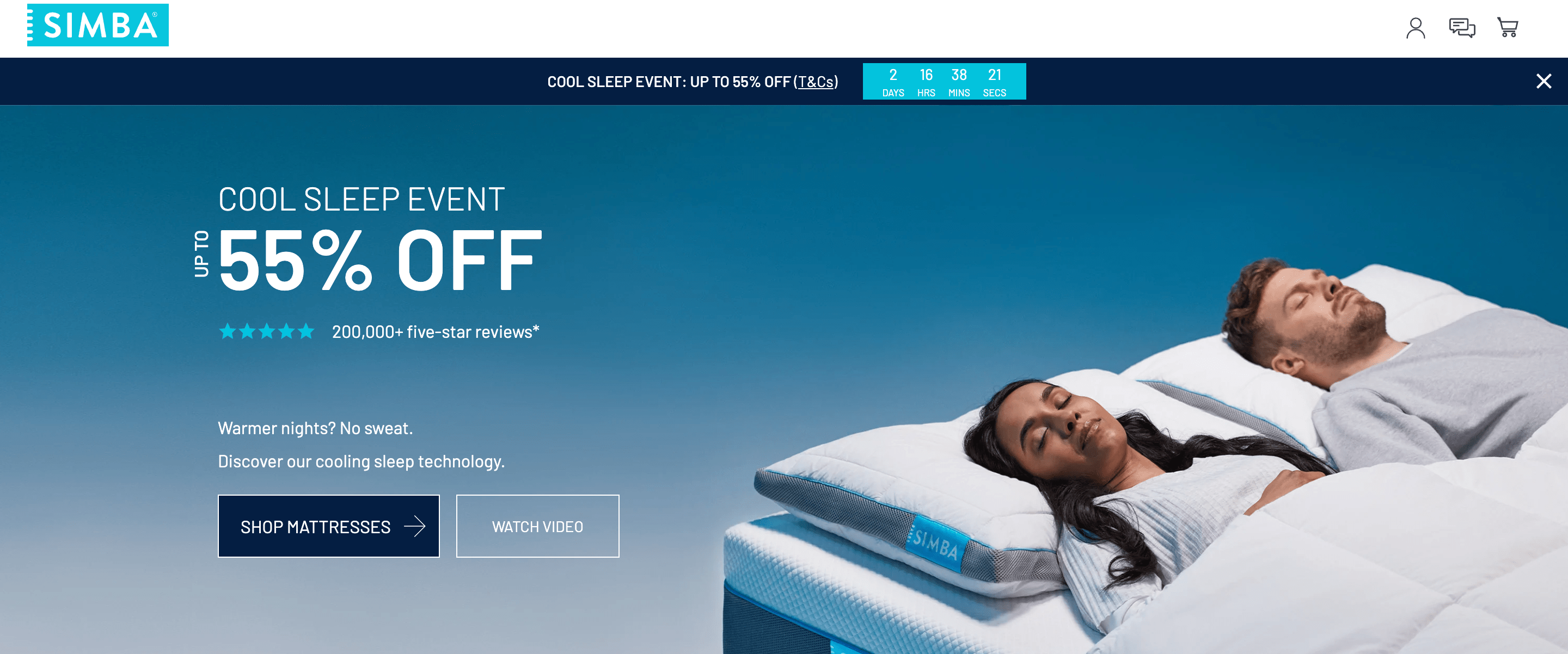 Another best eCommerce startup that is indispensable on our list is Simba Sleep. Simba is a direct-to-consumer mattress company that uses eCommerce to connect with its target market.
They have a quick turnaround with door-to-door delivery, so it's not only about the goods but also about how it's delivered. Additionally, customers can determine if they enjoy the product after a 200-night trial period!
Funding: $107.1 Million
Location: England, London, UK
Year founded: 2015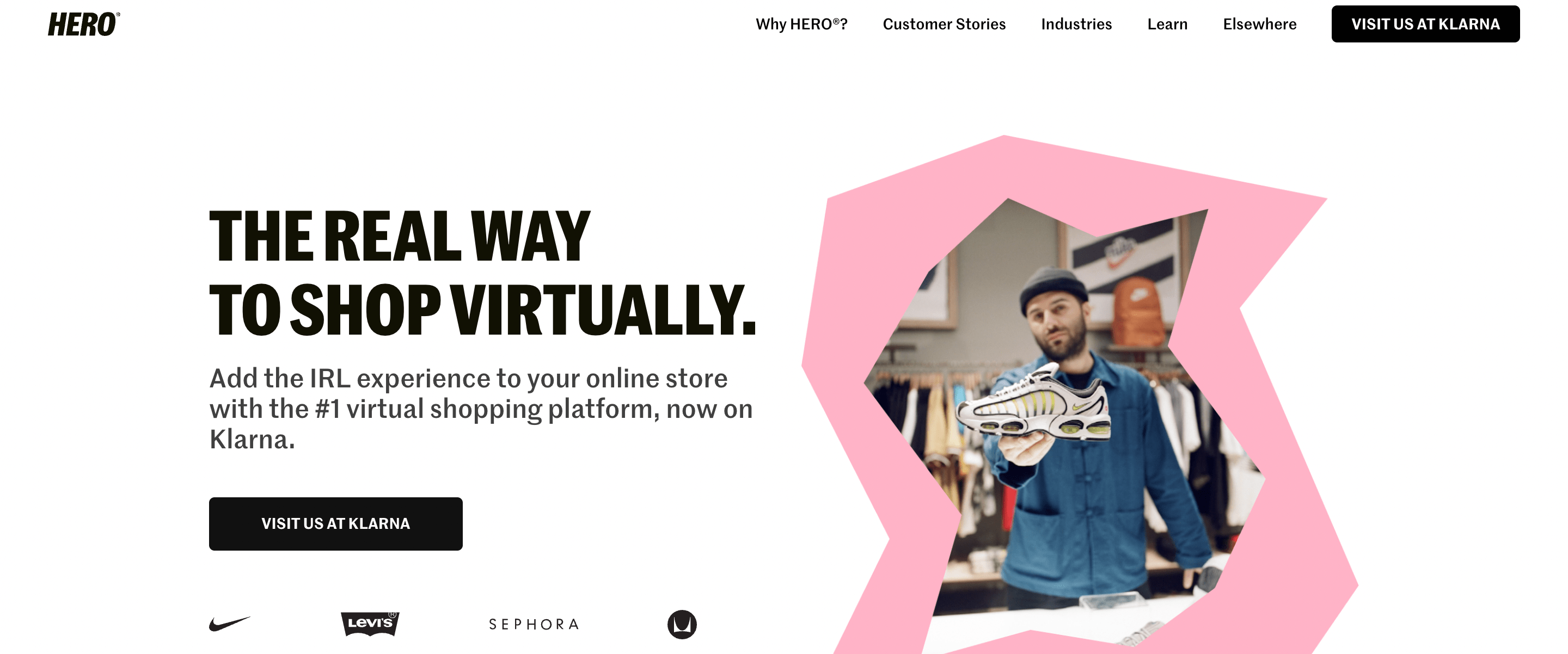 Hero is a unique eCommerce sales platform that gives companies a platform for both one-to-many video sales and one-to-one online buying. With the use of their technology, clients may communicate with them via text or video call, which they refer to as eCommerce made human. It aims to inspire and support customers while providing a quick and easy shopping experience directly from retailers.
Customers of shops now have the option to get in touch with them and make purchases whenever it's convenient for them using a phone or app that allows them to experience the product before purchasing without ever stepping foot inside a store. Hero may be the best platform for 2022's buying experiences.
Funding: $10 Million
Location: England, London, UK
Year founded: 2015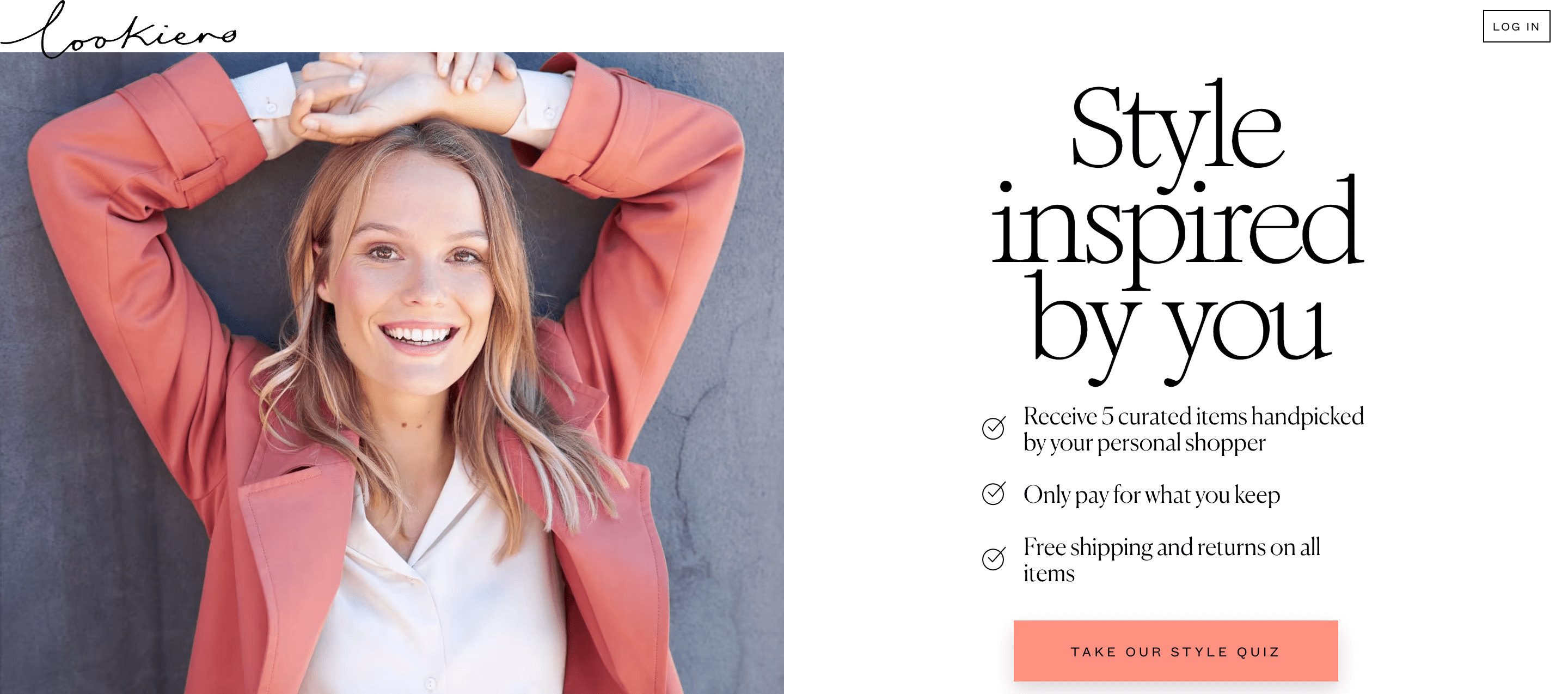 Next on our top eCommerce startups is Lookiero. It is a personal shopper service specifically for ladies. Five pieces of apparel, fashion, and accessories will be delivered to your home each month; you may simply retain and pay for the items you choose and send the remaining items back, post-paid.
Particularly, customers who keep all five products receive a 25% discount. They provide a variety of payment options and do not charge for the service if you keep one or more of the things. Besides, there is a small fee if you do not.
Funding: $53.6 Million
Location: Bilbao, Spain, France
Year founded: 2016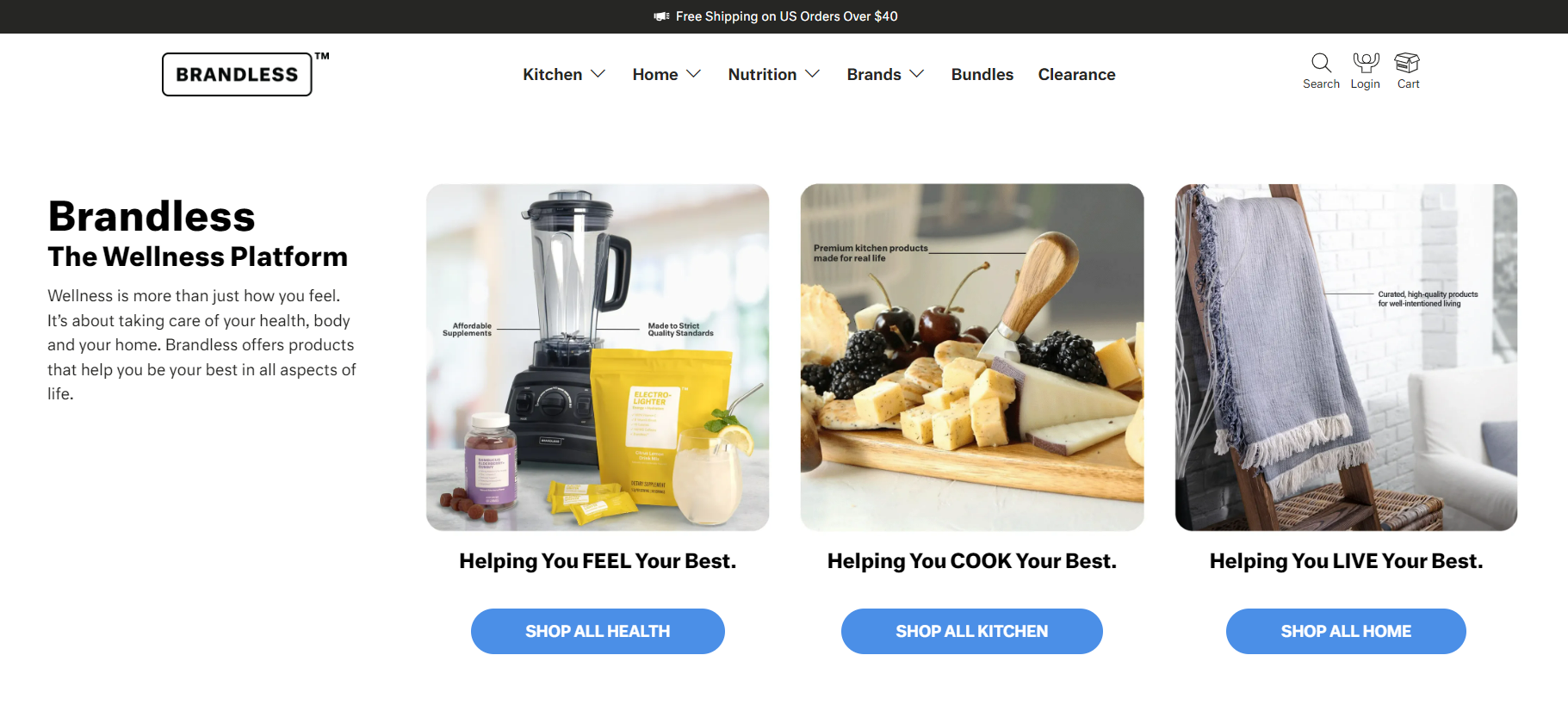 Brandless, a successful e-commerce platform, initially launched in 2017 with a focus on providing consumers with high-quality, ethically-sourced, and affordable products. In 2021, Brandless underwent a relaunch after being acquired by private equity fund Sycamore Partners. It transformed into a wellness platform catering to conscious consumers. The new Brandless eCommerce platform curates a selection of products from various brands that align with their standards of quality, sustainability, and ethical sourcing.
Brandless achieved success through a combination of key factors. First, they prioritized sustainability, health, and transparency by carefully curating products and ingredients that aligned with these values. Second, they fostered a strong community of conscious consumers interested in healthy and sustainable living, effectively engaging with them through social media and other channels, thereby building brand loyalty. Third, Brandless implemented an innovative pricing strategy, eliminating branding, advertising, and marketing costs to offer products priced at $3 or less, making them significantly more affordable than comparable brands. By providing low-cost shopping experiences with quality products that benefit both consumers and the environment, Brandless has resonated with their target audience and established a strong presence in the market.
Funding: $410.5 Million
Location: Draper, Utah, United States
Year founded: 2016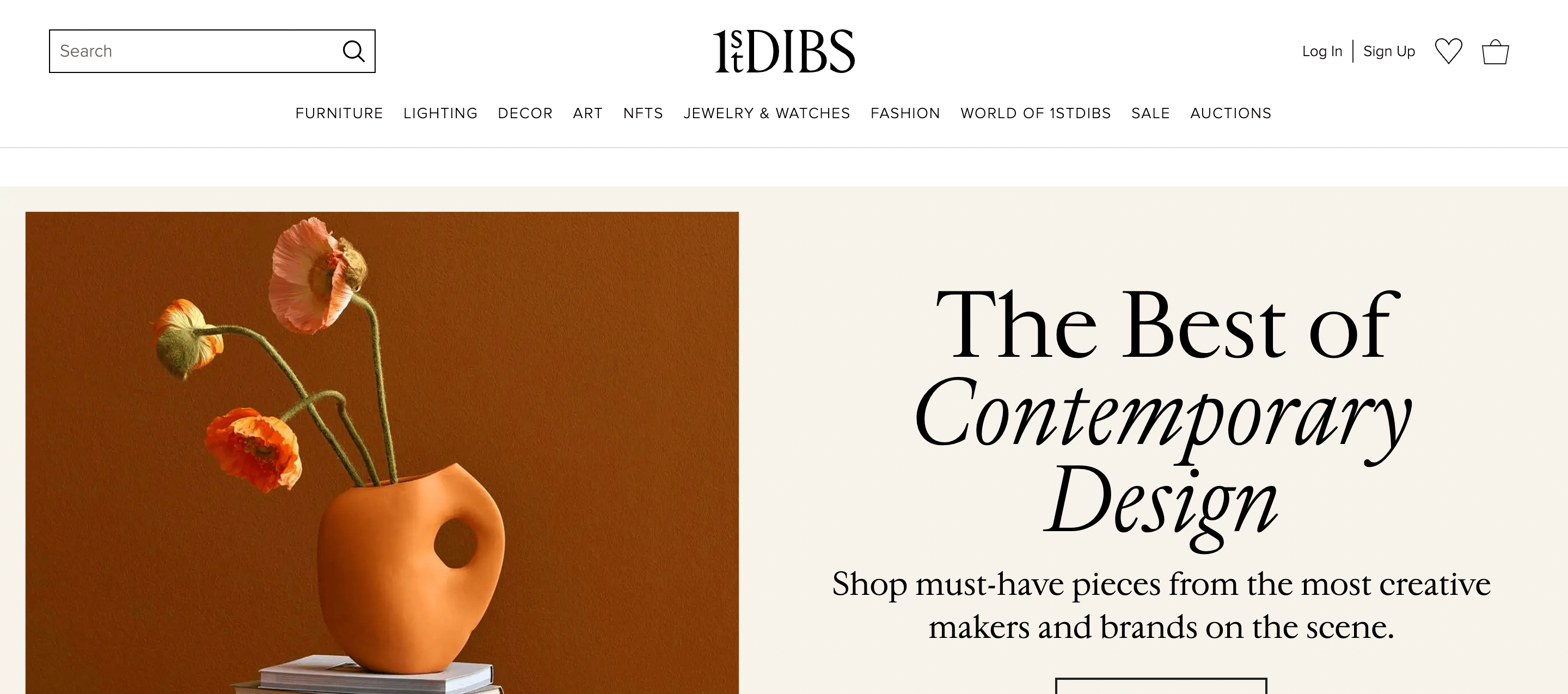 1stDibs is one of the most prominent companies in the new eCommerce startups. In the areas of furniture, fashion, fine art, and jewelry, 1stDibs provides a market for unique and sought-after items. ​​It has an internet platform that links esteemed manufacturers and merchants with affluent collectors who share a passion for exquisite creations. The biggest market in the world for exceptional design is there.
1stDibs provides a selected inventory that is not accessible anywhere else by bringing together many of the greatest sellers and creators in vintage, antique, and modern furniture, home decoration, fine jewelry, watches, art, and fashion from more than 600 locations around the world.
Funding: $253 Million
Location: New York, USA
Year founded: 2001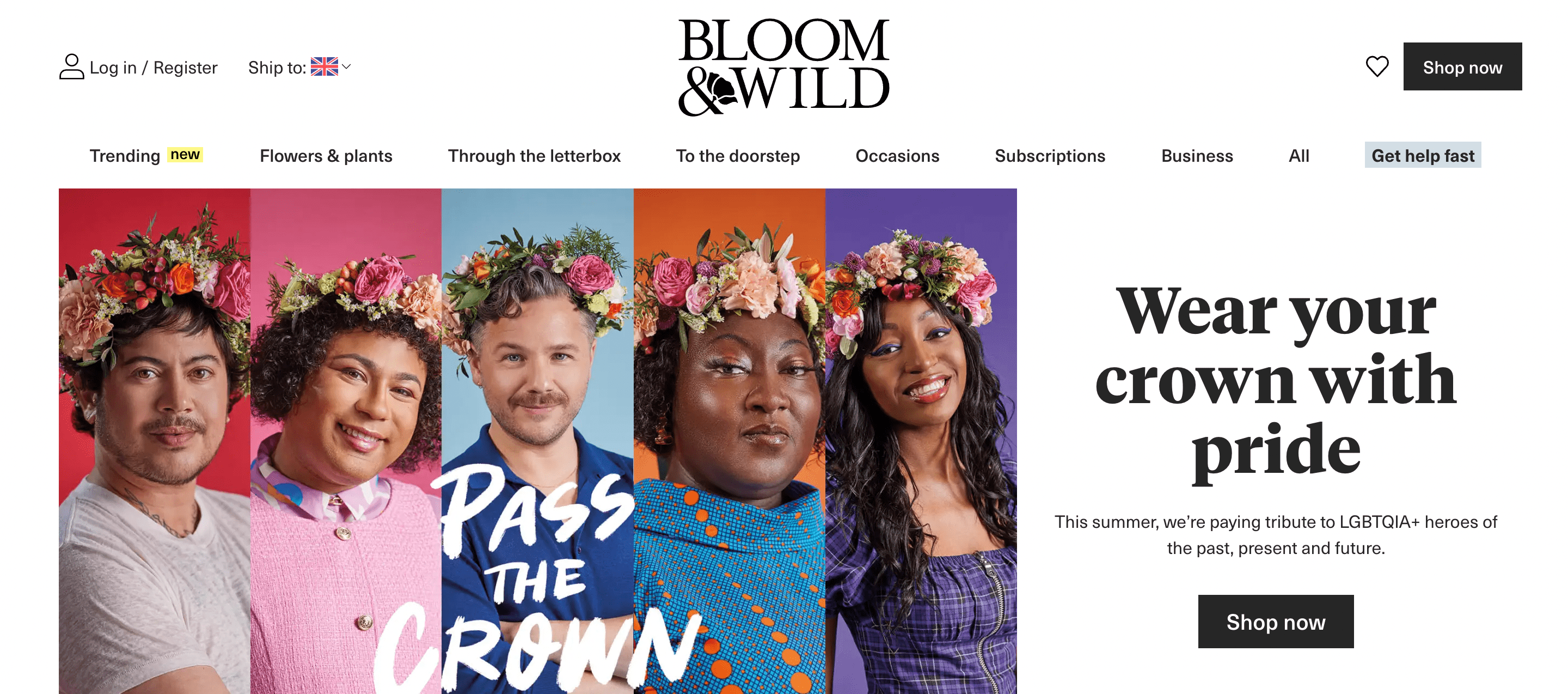 One of the most well-known businesses among the new eCommerce startups is Bloom & Wild. Bloom & Wild, a letterbox flower delivery service, offers a variety of flowers and bouquets that are carefully wrapped to fit through a typical mailbox.
Additionally, they provide a variety of chocolates, vases, candles, and houseplants. They want to become the industry leader in flower and gift delivery throughout Europe by utilizing the benefits of cutting-edge technology and predictive analytics. They strive to provide the best items quicker and fresher.
Funding: $146.3 Million
Location: London, UK
Year founded: 2013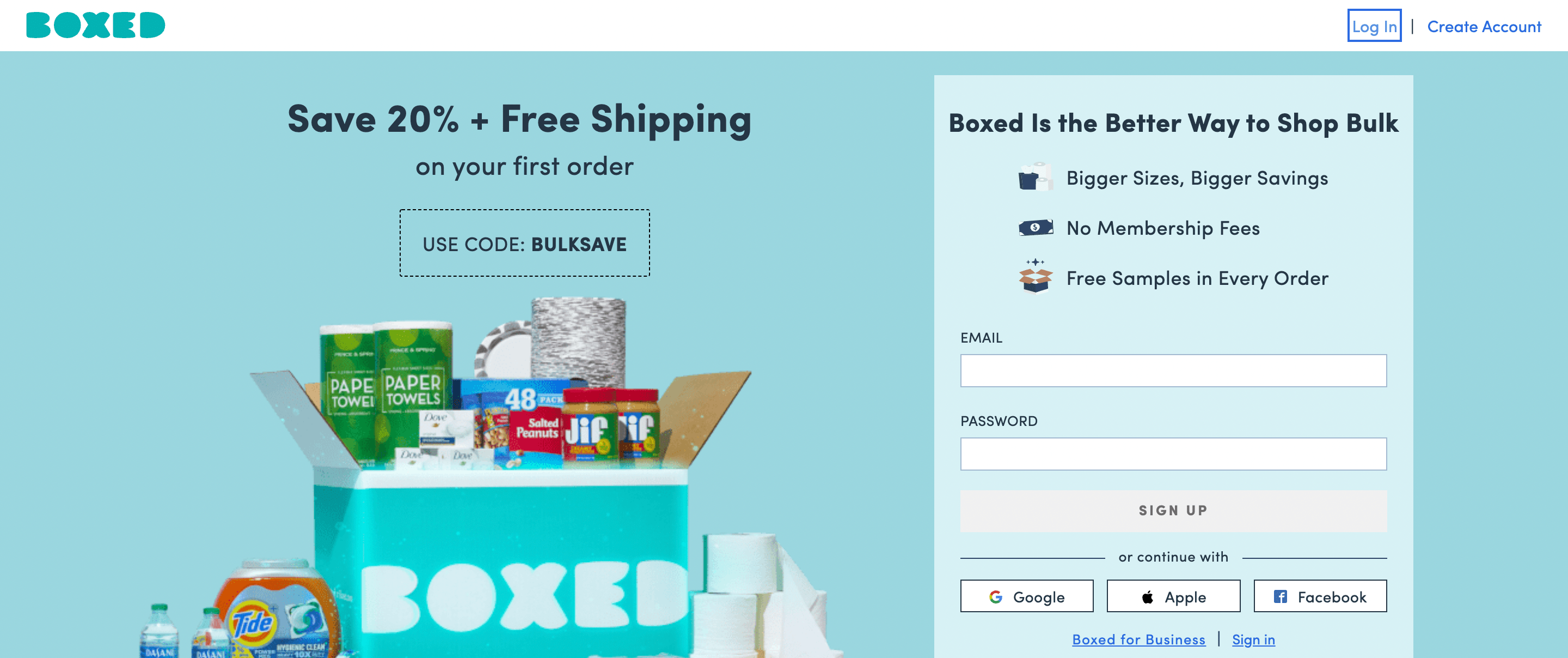 Boxed is an online warehouse club that sends household supplies, paper products, and bulk groceries right to your home. By providing bulk foods, paper products, toiletries, cleaning supplies, and office supplies, Boxed serves both homes and businesses.
Due to the company's tendency to sell in bulk, its goods sometimes have a cheaper cost per unit (i.e., the cost per pound, ounce, or other units of measurement) than those offered by other merchants. Contrary to certain well-known physical warehouse clubs, Boxed does not need a membership fee. The business does, however, have a membership option that, in some locations, allows for same-day grocery delivery and has a lower free shipping threshold.
Funding: $243.6 Million
Location: New York, USA
Year founded: 2013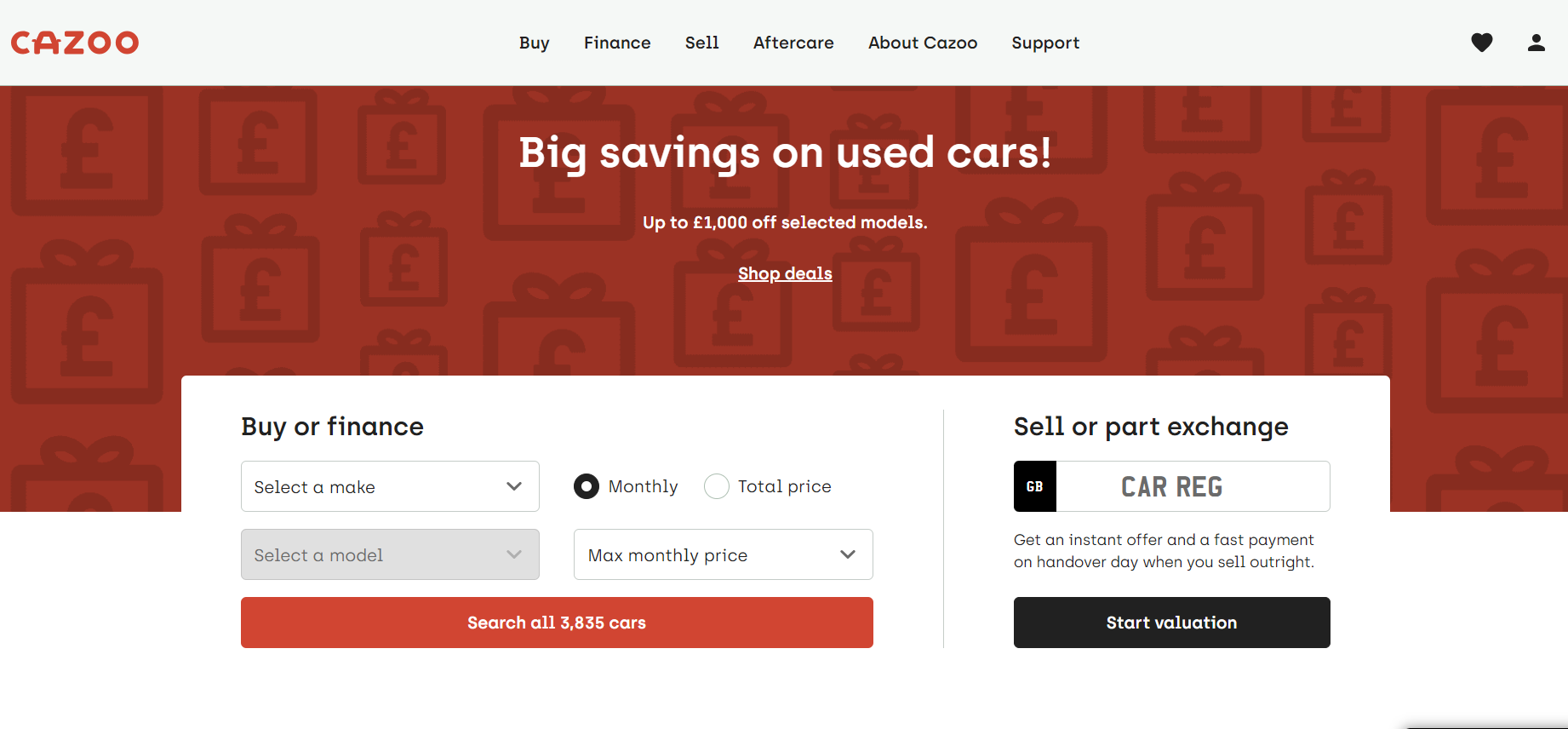 Cazoo, a rapidly growing eCommerce startup, has made significant strides in revolutionizing the online car buying experience. Established in 2018, the company has emerged as a major player in the automotive industry by offering a seamless digital platform for purchasing used cars.
Cazoo has achieved success in its eCommerce business by providing a user-friendly website and app that allows customers to browse a wide range of vehicles, compare prices, and complete purchases with ease. Selling a car through Cazoo is also convenient, thanks to free valuations and assistance with paperwork.
Moreover, Cazoo offers competitive pricing on their vehicles, often lower than traditional dealerships, as their online model eliminates many overhead costs. This enables them to provide cost savings to customers. Additionally, Cazoo offers free delivery and a seven-day return option, building trust and addressing concerns about buying a car online.
Funding: $2B (Post-IPO Debt)
Location: London, England
Year founded: 2018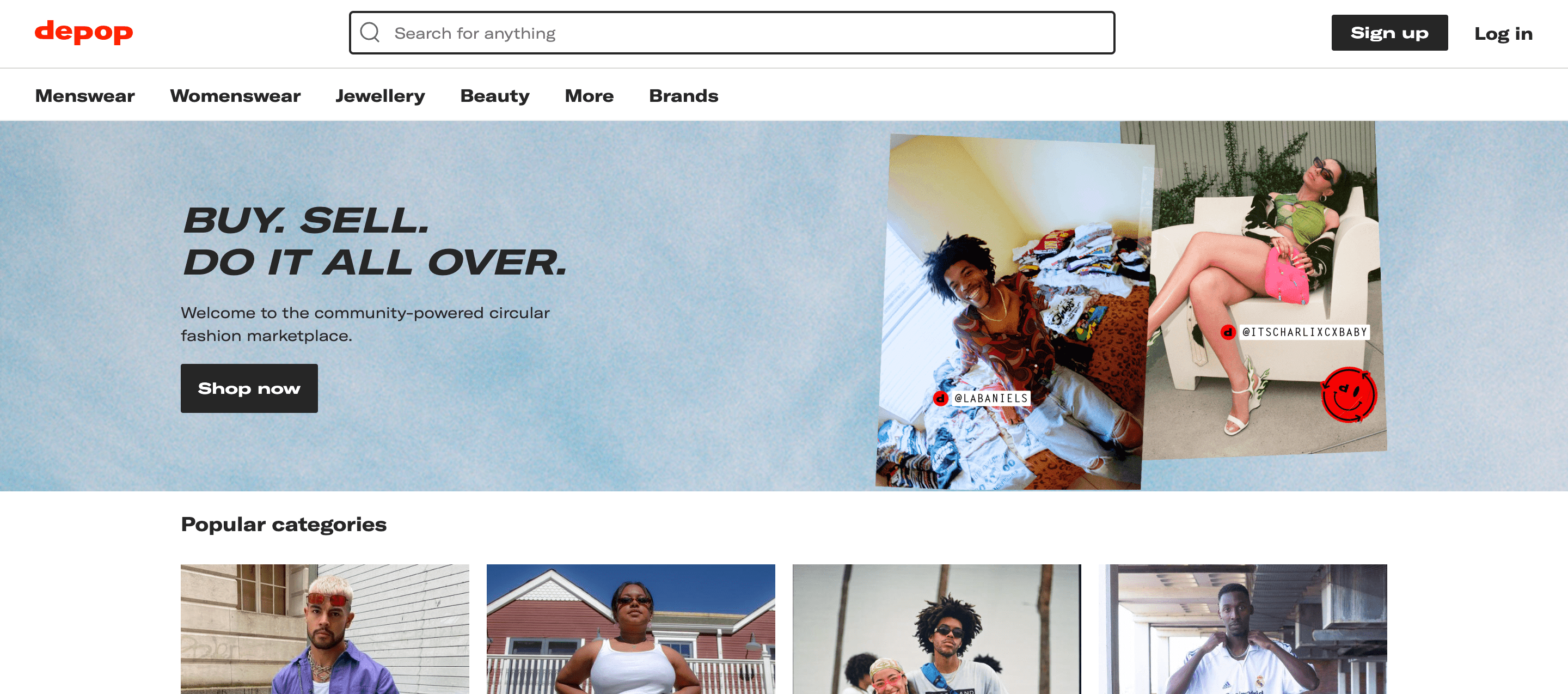 Young people can buy, sell, and get inspired on Depop's fashion marketplace. Simon Beckerman, a partner in the founding of both RetroSuperfuture eyewear and Pig magazine, launched it. It swiftly developed into a powerful app fashion marketplace where users may exchange new, used, vintage, and current apparel and accessories that might not be found anywhere else! Depop presently employs more than 200 people globally and has more than 15 million customers.
Funding: $105.6 Million
Location: London, UK
Year founded: 2011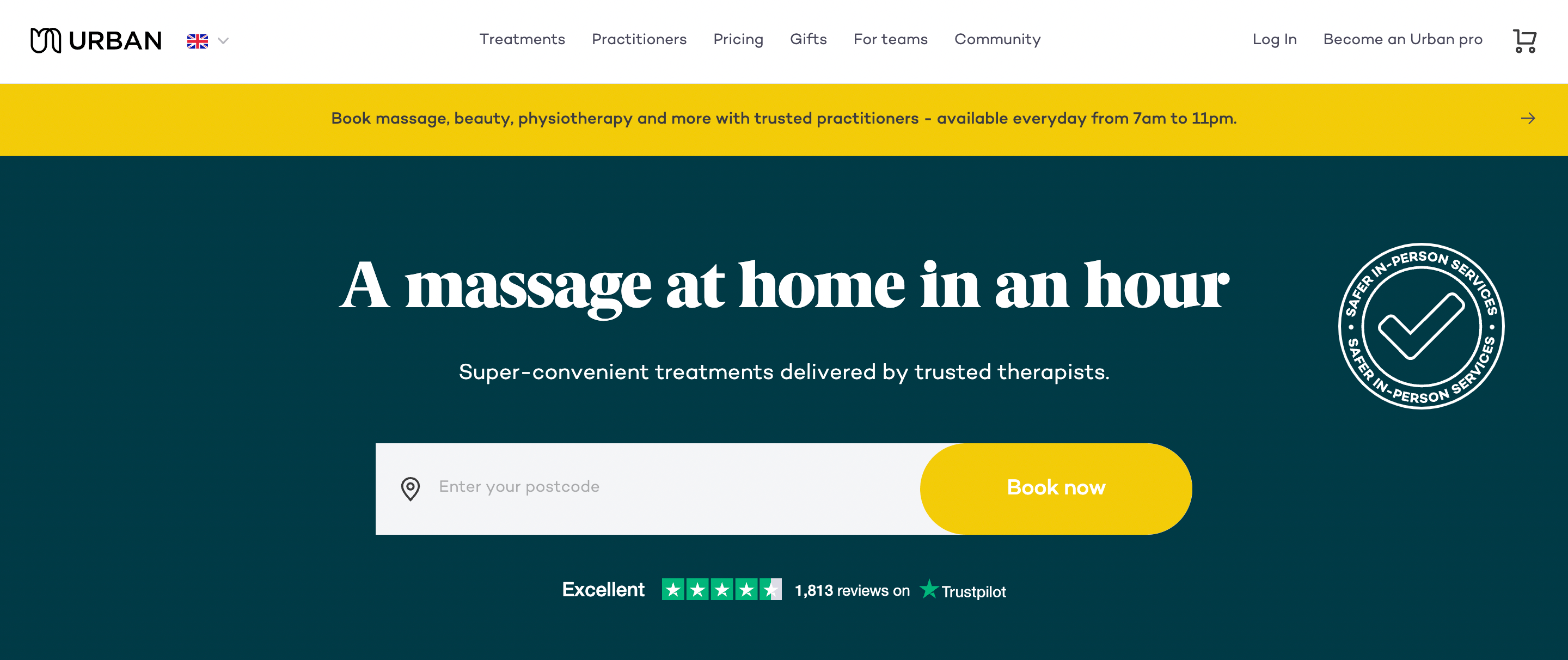 Urban is one of the businesses that are included in the top eCommerce startups worth watching in 2022. Specifically, Urban operates a wellness platform that enables clients to schedule online appointments for services including massage, personal training, osteopathy, and beauty consultations for in-person or remote locations. With almost 50 different therapies currently available, they match pre-screened providers with specific clients.
Funding: $35.7 Million
Location: London, UK
Year founded: 2014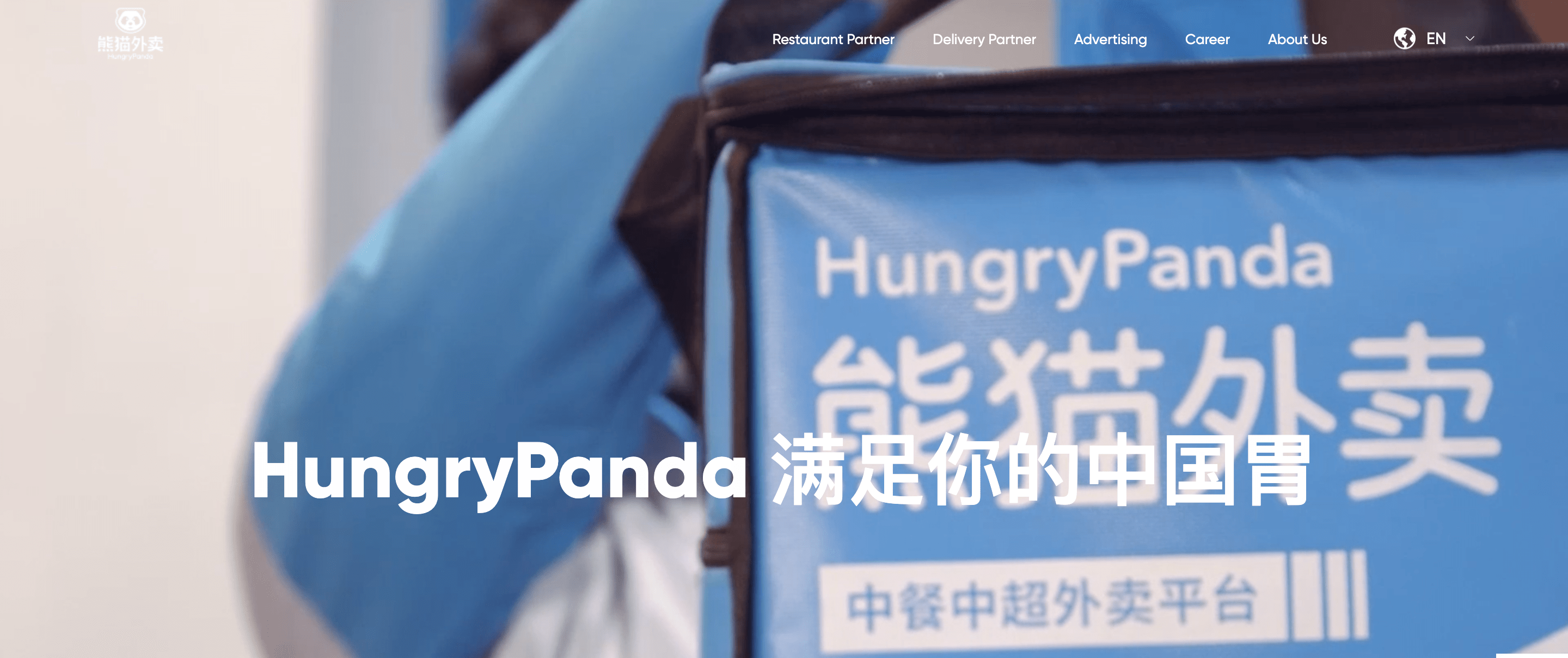 Since its founding in 2016, HungryPanda has served Chinese nationals and students studying abroad by delivering groceries and genuine Chinese cuisine. Their industry-leading operational efficiency and patented technology are the cornerstones of their success, which is based on a sizable vertical market with specific demands.
Customer satisfaction is always at the forefront of HungryPanda's operations, and the firm is dedicated to providing overseas Chinese with one-stop shopping options. In order to build a cutting-edge food and retail environment, the HungryPanda APP has an interface that is remarkably in tune with end customers' desires. It has also constructed an effective distribution system.
Funding: $220 Million
Year founded: 2016
Location: London, UK

In order to give online businesses a fair playing field and improve eCommerce for all parties, OnBuy.com was established in November 2016. The organization promises to prioritize the success of its customers and merchants by forgoing any form of self-selling and offering secure transactions, reasonable pricing, a broad selection of items, and all of these things.
Those wishing to sell on OnBuy will only compete with other sellers rather than the platform as OnBuy never keeps any of its own retail stock and every product on the site is listed by an independent company. The adaptability of OnBuy as a marketplace is one of its biggest assets. The website was developed to offer a venue where businesses of all stripes could compete on an even playing field.
Funding: $29.3 Million
Location: Poole, Dorset, UK
Year founded: 2016
Snackpass is a successful mobile app-based food ordering platform that specifically targets the younger generation, particularly Gen Z. The platform allows users to conveniently place and pay for takeout or pick-up orders from local restaurants, coffee shops, and other food and beverage establishments. Unlike traditional food delivery services, Snackpass focuses on facilitating the ordering process and enhancing the social experience, rather than providing delivery services.
Snackpass owes its success to robust social features that allow users to order food for themselves or as gifts for friends. By integrating social media with food ordering, Snackpass has differentiated itself from competitors and gained popularity among younger users. Also, Snackpass has implemented a rewards program that incentivizes users with discounts, free items, and the ability to skip long lines. The app also incorporates gamification elements to enhance the overall user experience. With its targeted approach, innovative features, and strategic funding, Snackpass has successfully captured a significant market share, particularly in college town markets, serving approximately half a million customers.
Funding: $95.6 Million
Location: San Francisco, California, United States
Year founded: 2017

Farfetch runs an online store that brings together several independent fashion stores. In addition to accessories, it sells purses, dresses, jackets, swimsuits, pants, shoes, knitwear, suits, and shorts.
They run a modular, end-to-end technology platform that was created specifically to link the global premium fashion industry. Their goal was to develop a single operating system that could handle the intricate requirements of both premium buyers and merchants. Their platform is based on a unique technological stack with API support, which serves as the framework for the three key elements: applications, services, and data.
5-year search growth: Regular
Location: London, UK
Year founded: 2007

The Hut Group, which began as a white label eCommerce supplier, has developed steadily and has now, in their own words, transformed into an internationally known end-to-end digital platform that specializes in bringing brands directly to customers worldwide, driven by THG Ingenuity.
Built on a foundation of industry-leading technology, a top-notch workforce, and a methodical strategy for creating worldwide brands, The Hut Group is quickly rising to the top of the list of online retailers around the globe. THG, which primarily targets the global Health and Beauty sectors, has over 100 high-profit websites that offer premium, non-perishable FMCG directly to customers after acquiring a number of well-known brands over the years.
5-year search growth: Peaked
Location: Manchester, UK
Year founded: 2004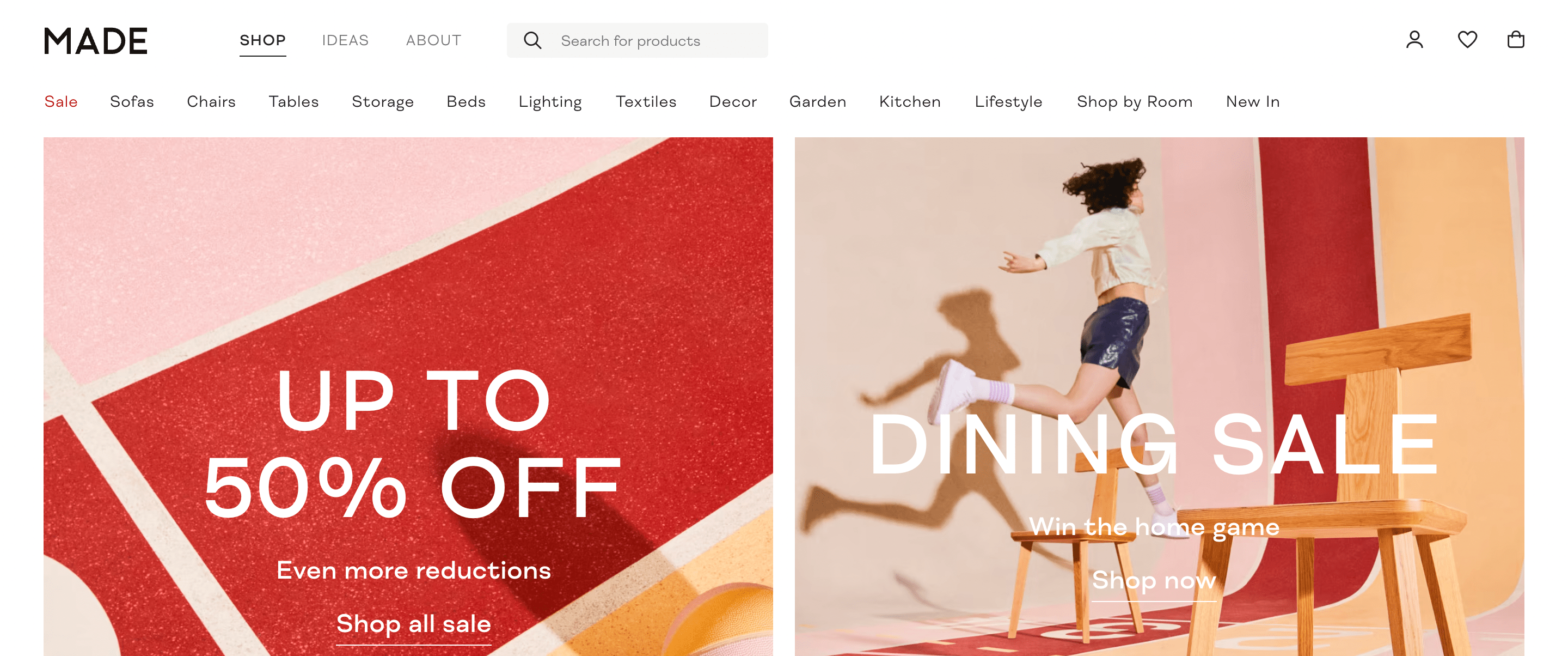 Made is also one of the new eCommerce startups that are worth watching in 2022. Through direct connections between customers and designers, Made is an online retailer that makes high-end designer furniture available to everyone.
In order to minimize the additional expense of middlemen, it works with independent designers and manufacturers to supply items directly from maker to customer. With no physical stores, they are only an internet shop, not even a warehouse. Additionally, sustainability is important to all they do.
Funding: $136.9 Million
Location: London, UK
Year founded: 2010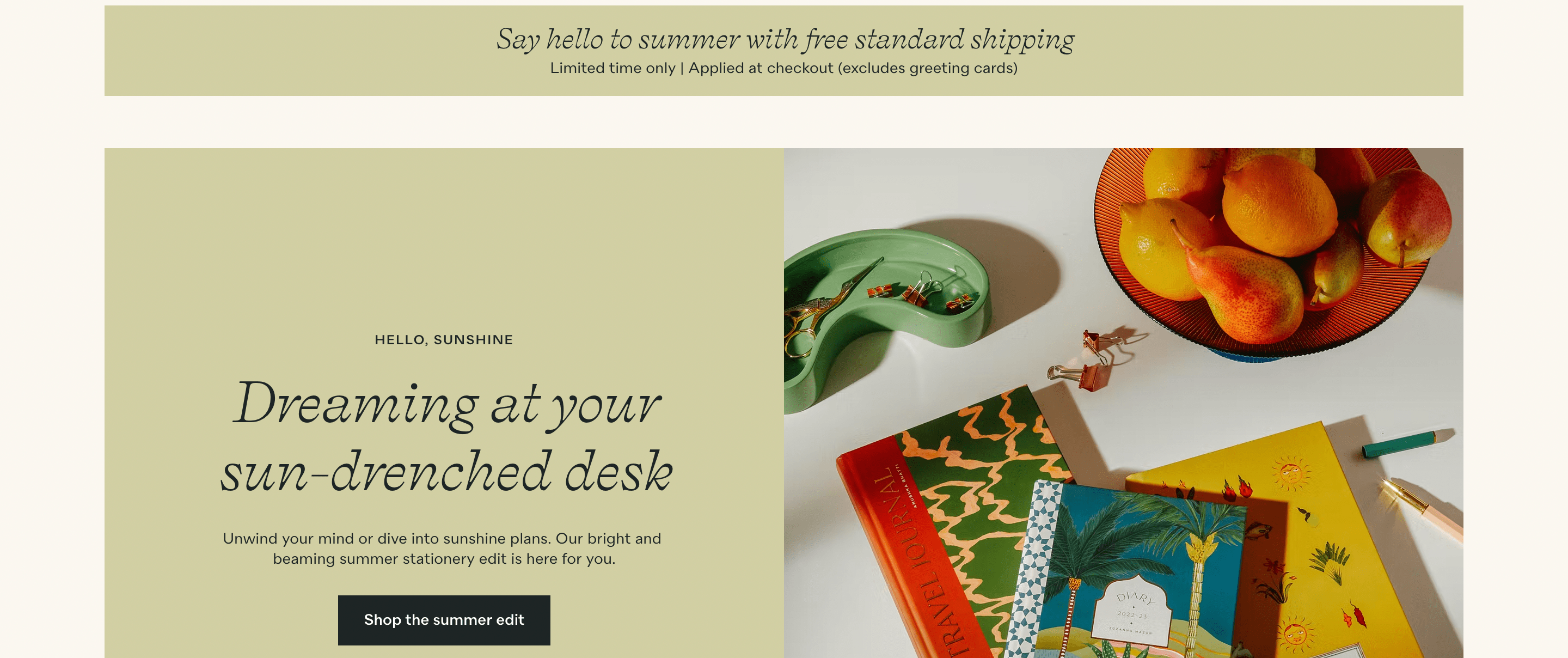 With the intention of encouraging people to connect with one another more frequently and in more meaningful ways, Papier began with exquisitely crafted and personalized greeting cards and stationery. Since then, they have expanded their assortment with a number of goods made from exquisitely designed paper, including wedding invitations, birth announcements, family picture albums, and others.
Funding: $12.4 Million
Location: London, UK
Year founded: 2015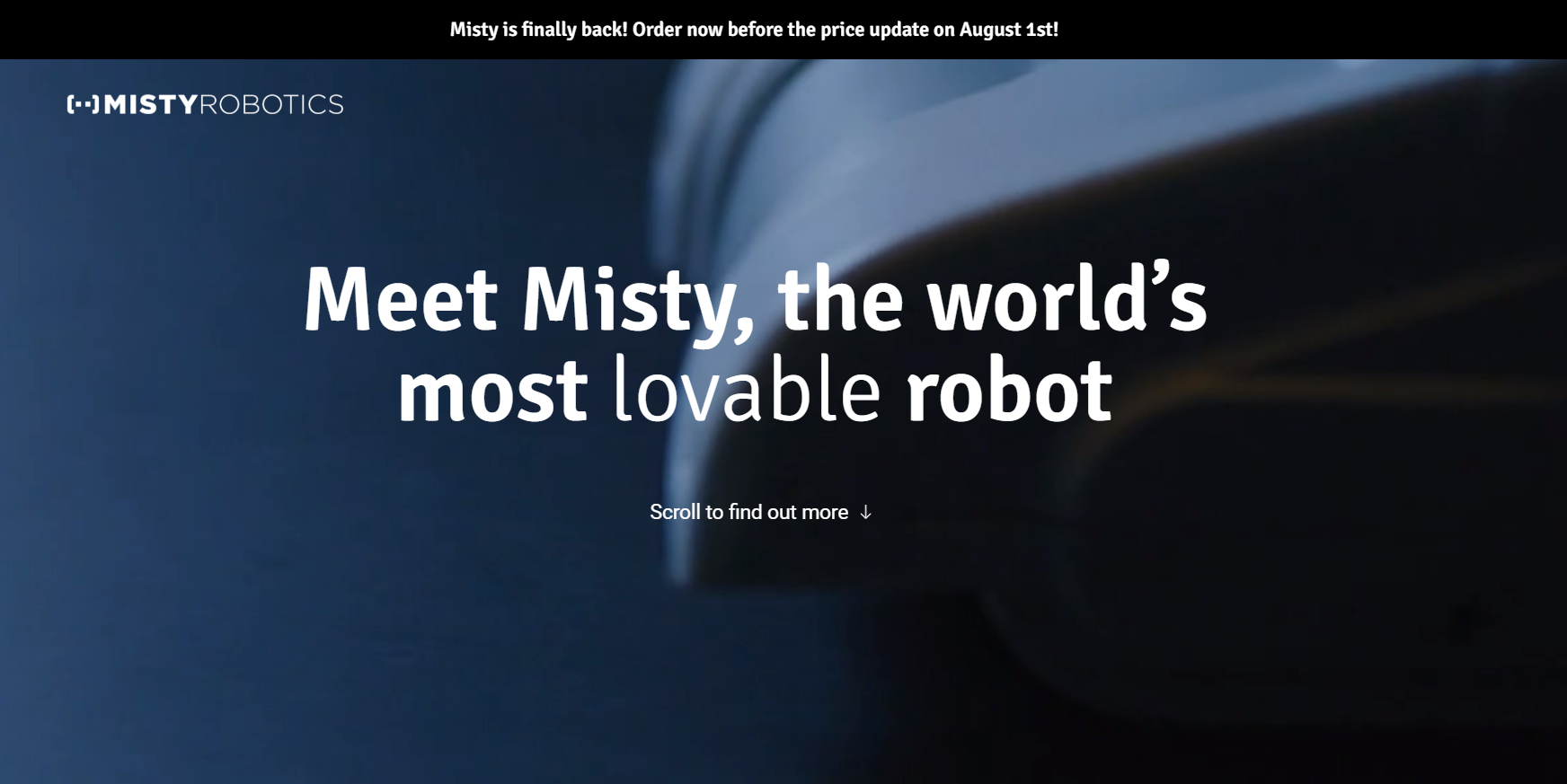 Misty Robotics, an innovative startup in the e-commerce industry, specializes in developing sophisticated robots for personal and professional use. Founded in 2017 and based in Boulder, Colorado, Misty Robotics has quickly emerged as a leader in the robotics field. The company is dedicated to creating user-friendly, affordable, and versatile robots, with a mission to democratize the use of robotics technology.
Misty Robotics differentiates itself by providing an open-source platform, allowing users to customize and modify the robots to meet their specific needs. The robots are programmable using JavaScript and Python, enabling users to create new skills and expand their capabilities.
Misty Robotics primarily sells personal robots like the Misty II, which can be programmed by users to teach coding skills, perform various tasks, communicate, and even recognize faces. The company has also demonstrated adaptability by modifying their Misty II model to serve as a Temperature Screening Assistant during the COVID-19 pandemic. Now, Misty Robotics continues to innovate and evolve its product line while maintaining strong community engagement and securing funding to support its growth.
Funding: $24.7 Million
Location: Boulder, Colorado, United States
Year founded: 2017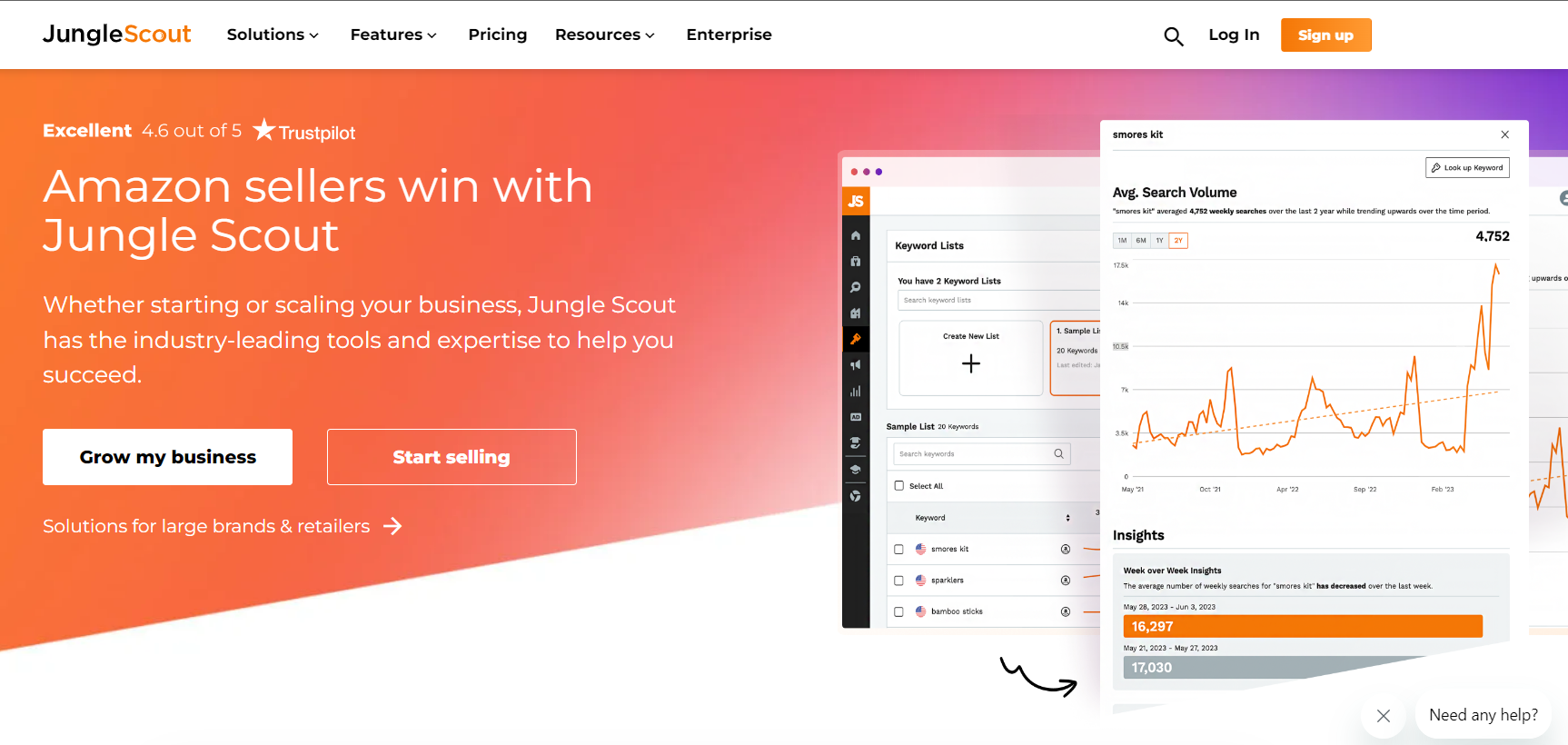 Jungle Scout is an all-in-one eCommerce platform that was founded in 2015 as the first Amazon product research tool. Over the years, it has evolved to offer a comprehensive suite of business management solutions and market intelligence resources. The platform is designed to assist entrepreneurs and brands in finding, launching, and selling products on Amazon.
By leveraging the power of Amazon, Jungle Scout helps small businesses increase their sales and enhance brand awareness. Their data-driven approach provides valuable insights, empowering business owners to make informed decisions about product selection, marketing campaigns, and achieving success on the Amazon marketplace.
Jungle Scout's eCommerce platform offers a range of solutions to its customers, including inventory management, product research tools, supplier discovery, and more. While Jungle Scout primarily focuses on Amazon, there are plans for expansion to cover solutions for other online retail platforms.
Funding: $110 Million
Location: Austin, Texas, United States
Year founded: 2015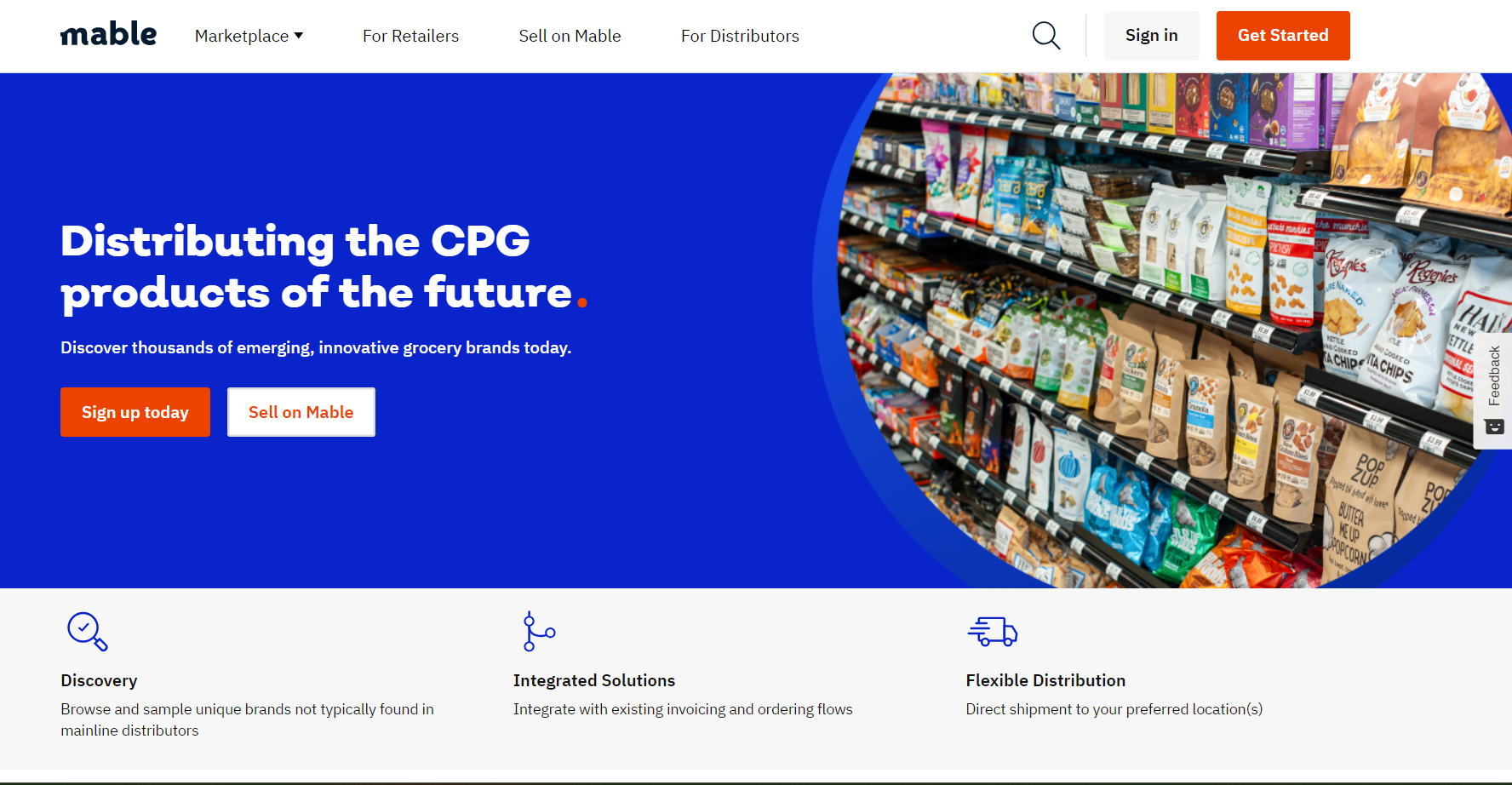 Mable is an e-commerce startup that has established an online marketplace catering to the wholesale shopping needs of customers. The platform focuses on connecting three key players in the grocery industry: regional distributors, emerging brands, and independent grocers.
Mable's approach allows regional distributors to showcase their products to independent grocers, enabling these businesses to access a wide range of brands and offerings. This not only benefits the grocers but also supports the growth and visibility of emerging brands.
Funding: $17.6 Million
Location: Boston, Massachusetts
Year founded: 2019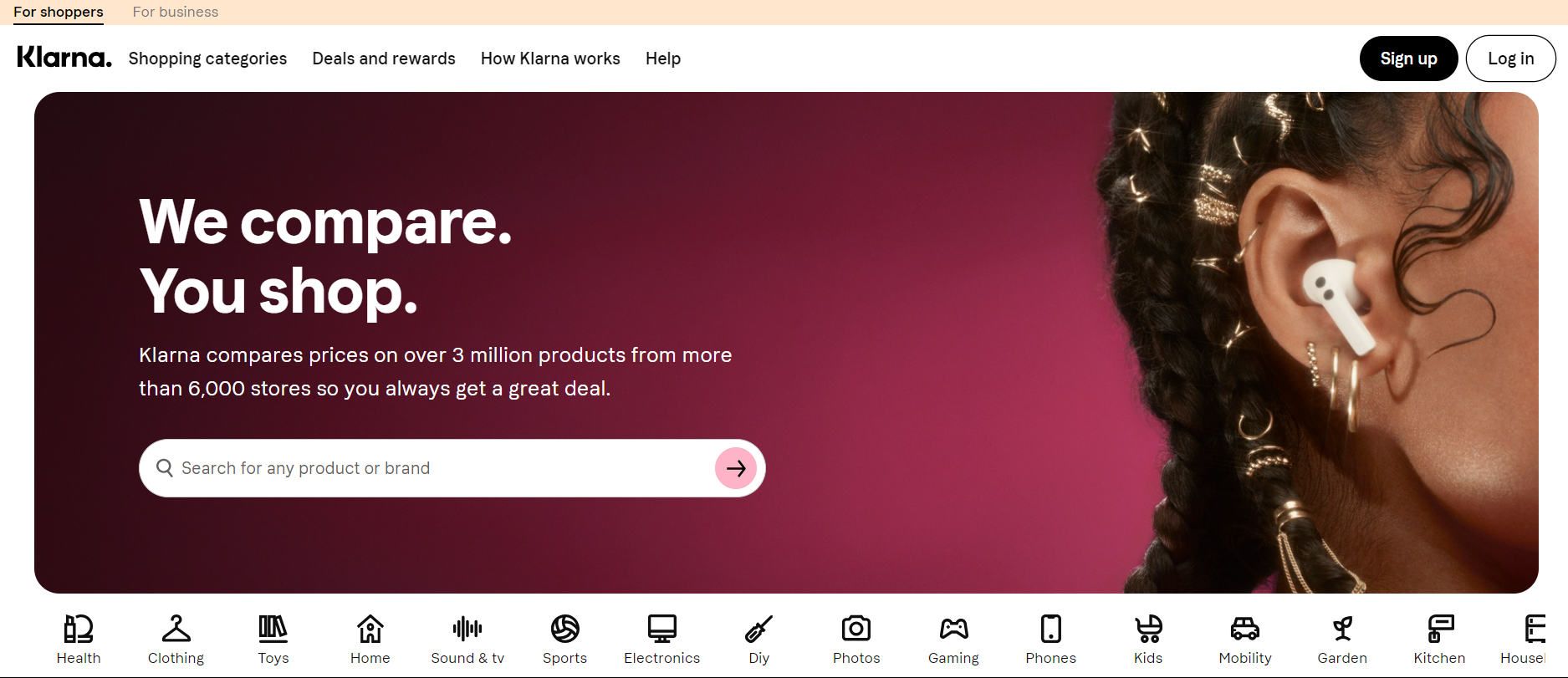 Klarna, a successful Swedish fintech company, has established itself as a leader in offering diverse payment solutions for online shoppers and retailers. The company's innovative services have gained a dedicated following, particularly among younger demographics seeking flexible payment options for their eCommerce purchases from various brands.
What sets the company apart is the buy-now-pay-later (BNPL) model, which allows customers to make purchases and pay for them over time in interest-free installments. This approach caters to the common need for immediate cash access.
Klarna has formed strong partnerships with popular retailers and e-commerce platforms, increasing its visibility and expanding its customer base. By offering an additional payment option to customers, Klarna enhances the overall shopping experience for both merchants and consumers.
Funding: $4.5 Billion
Location: Stockholm, Sweden
Year founded: 2005
Wrapping Up
Throughout our post, we've witnessed how these startups are leveraging advanced technologies, data-driven strategies, and customer-centric models to drive success in the highly competitive e-commerce space. By focusing on enhancing customer experiences, streamlining operations, and staying ahead of market trends, these startups have positioned themselves as potential game-changers.
By staying informed and proactive, companies can position themselves for success in an ever-changing digital marketplace. Here's to a future of thriving e-commerce ventures and exciting innovations!
Last but not least, with over 10 years of experience in eCommerce development, we can help you build an incredible website for your business. Find more about our eCommerce website design service and contact us if you have any queries.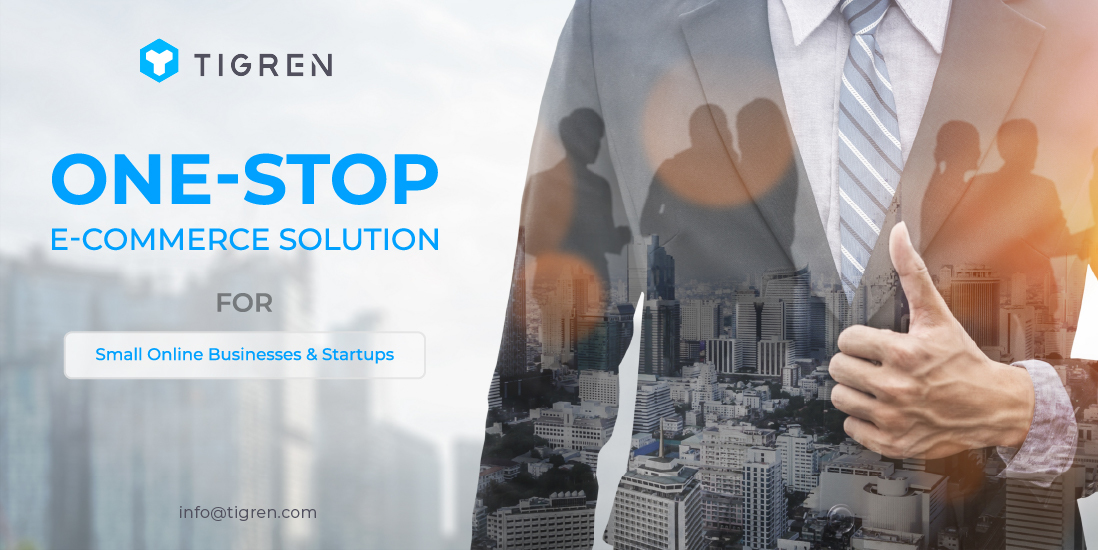 Related Posts:
9 Things I Need To Start An Online Business
A Perfect 1-Month Plan To Start An Online Business
How To Start A Small Online Business – 7 Steps
Online Business Startup Costs: How Much Money You Need To Prepare?