Our world is constantly changing, and businesses must adapt to stay competitive and meet customer needs. Therefore, business owners should anticipate some industry transformations that began in the run-up to 2021 to continue into 2022. Now we'll identify the top ten trending online businesses 2022 that are promising in the upcoming year in this post, which starts with forecasting business trends.
Predictions For E-commerce In 2022
1. The acceleration of globalization
While economic uncertainty appears to be rising in today's ever-changing corporate environment, two things are certain: the Internet and globalization. These two trends not only exist in this context, but they are also highly likely to be two of the most influential head-to-head heights of modern corporate economics, particularly in the context of COVID-19.
Throughout 2020, the fast adoption of digitally connected technology has brought up a world of opportunities for globalization. People no longer need to meet face-to-face; rather than that, they are moving to the online world.
During the pandemic, most employees who worked from home did not want to return to the office. And many of them have relocated from major cities to smaller, less costly towns.
Leading firms will increasingly adopt global strategies and technology in the future since it allows them to grow their consumer base globally, particularly in the 5G era. Businesses that refuse to change will risk falling behind their competitors.
2. Social Media Channels as a Sales Channel will grow stronger
Around 74% of consumers use social media to make purchase decisions. More and more people are buying items straight from the social media network they're on. In 2022, the use of social media for purchasing will become more widespread among modern users.
Social commerce (the practice of making purchases straight through social media) is steadily gaining traction. Instagram Shopping and the newly introduced Instagram Checkout are at the forefront of this movement.
Customers are sent to an eCommerce website to make purchases when they shop on Instagram. On the other hand, the new Instagram Checkout allows users to make payments straight on Instagram without going to the brand's website or app.
According to most observers, Instagram and TikTok will have fully functional e-commerce platforms with built-in affiliate networks by 2022.
3. More stores will offer customizable products strategically
Many e-commerce sites provided personalized items for customers in 2021. In 2022, this trend will continue to grow and spread.
Online retailers are using interactive content to understand client demands. They use surveys, polls, online interactive sessions, emails, and other methods to learn from customer behavior and create items that cater to various client categories.
Many large corporations offer clients the option to make adjustments online. The personalized items are subsequently sent to the customer's address. Nike, for example, lets consumers choose their patterns and colors for its Lunarglide models and some other product lines.
4. Mobile shopping is on the rise
One significant advantage of mobile e-commerce is the flexibility to shop from anywhere. In the United States, four out of every five clients buy online, and more than half do it on their cell phones. In Europe, mobile phones are used by 55% of consumers to make purchases. The trend of online shopping on mobile devices is predicted to grow strongly in 2022.
E-commerce firms are improving customers' purchasing experiences on mobile devices. Several e-commerce businesses are tweaking PWAs. A Progressive Web App is a web page that functions similarly to a native application. Thus e-commerce companies don't need to build applications for their stores.
Push notifications, the ability to work offline, and access from the home screen are just a few of the features available with the PWA. Users do not have to install store apps locally on their smartphones, improving customer experience.
As a result, the potential of e-commerce, particularly mobile commerce, will increase even more in 2022. Furthermore, there will be a shift in commodities, with businesses offering various new items to meet customer requirements during the pandemic.
Moreover, the number of firms entering the e-commerce sector continues to rise. Companies that previously only had physical stores are now starting to sell online. From then, in 2022, the competitiveness of businesses will continue to climb.
Top Ten Trending Online Businesses 2022
Here are the top 10 trending online business ideas that will thrive and be high-profitable in the following year.
1. Launch an e-commerce store
Every year, new trends arise that might help your business develop and fight with the competition, and 2022 will be no exception. As the pandemic fades, we may witness a slowdown in e-commerce penetration compared to 2020 and 2021; nevertheless, many e-commerce firms will continue to strive for this high growth rate in 2022.
Small companies appear to have a bright future in e-commerce. So, where should small businesses allocate their efforts to avoid being caught off guard by the next disruptive technology?
The most crucial thing is to invest in creating a mobile-friendly e-commerce site. Many people now rely primarily on their cell phones for computing. Year after year, mobile traffic has risen. More users visited the website from their mobile phones and tablets than desktop or laptop computers. As a result, the e-commerce website should perform efficiently on mobile devices as well as desktop computers.
Thus, building a PWA is the answer that can satisfy these needs. PWA can provide your online business with a variety of appealing features that will improve the customer experience. If you opt to employ PWA development service packages from trustworthy suppliers, this will not take much time and will save you money.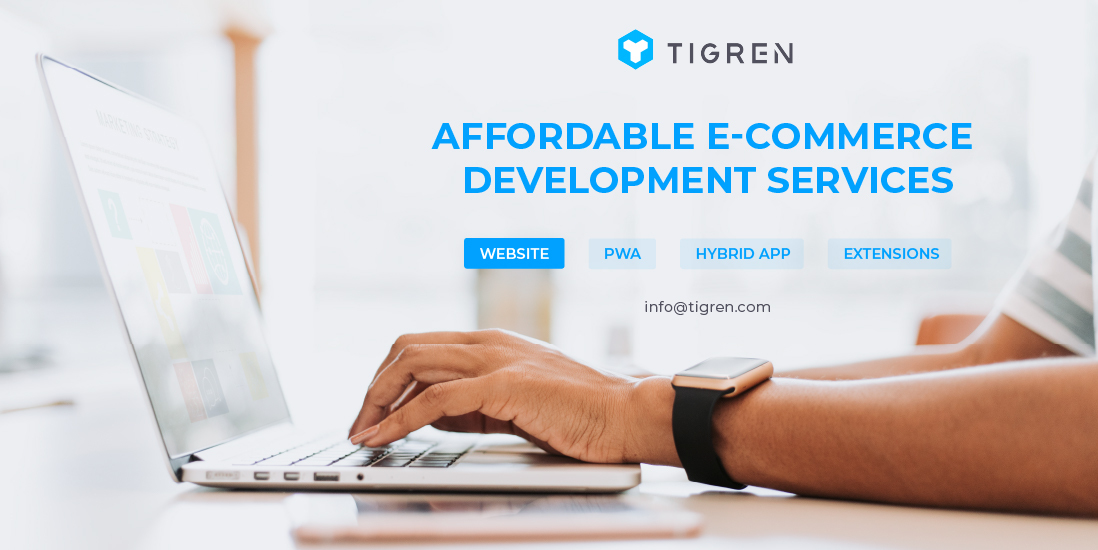 With more than ten years of experience in eCommerce web development and cost-effective services, Tigren is one of the firms that are trusted by SMBs and startups the most. The company provides both Custom website design and development services and All-in-one web development packages to meet the different needs of business owners.
2. Become a freelancer
75% of freelancers said their income improved due to their job change. Those with past job experience may build an intelligent brand using their knowledge and networks. Although web development, graphic design, and writing are in demand, any workstream will suffice.
You'll want to create a specialization to distinguish yourself as the freelancing market becomes more competitive. Defining your ideal consumer is typically one way to try to achieve this.
To promote their services online, freelancers frequently build a website. It is recommended to sign up on sites like Fiverr and have a LinkedIn profile to broaden your reach. The average freelancing wage is $21/hour. However, this varies depending on the sector and region and most importantly, the person's experience and skills.
3. Create a YouTube/TikTok Channel
With the advent of social media platforms such as YouTube and TikTok, video content creation has become one of the best online business ideas. Several channels have turned the video-sharing platform into a six-figure income source.
There are many different video topics to make, and many of them may be done at home. Product reviews, response comments, software tutorials, and cookery instructions are some of the examples. Or they can make interesting short videos that capitalize on current trends and garner many views and likes.
If you want to be a YouTuber, you'll need to focus on gaining 1,000 subscribers and 4k watch hours in the first few months. This way, you can join the YouTube Partner Program. Only after that will you be allowed to use AdSense to monetize your channel.
If you want to make a full-time living with only a million members, you might as well attempt crowdfunding, affiliate marketing, or other methods. A Youtuber with one million followers earns an average of $5,000 a month.
4. Begin a dropshipping business
This is among the best online business ideas for merchants who face a shortage of capital. You can collaborate with a supplier to sell their items on your site under a dropshipping business model. The seller is responsible for promoting the goods to the consumer, while the supplier is responsible for storage and delivery.
Because inventory management is unaffected, startup capital is typically lower. The average cost of setting up a dropshipping online store is around $150, which covers internet hosting, a domain name, and supplier directory membership. An responsive online store with proper digital marketing strategy are key aspects of winning in this field.
Yet, keep in mind that determining the quality of the products or monitoring the journey in real-time will not be feasible. A good suggestion is to verify with vendors before working with them to avoid issues.
5. Do affiliate marketing
In 2022, affiliate marketing will be one of the most cost-effective internet business idea. This form of marketing has grown in popularity in recent years, even though it is not well adapted to generating revenue. Most people believe it to be a part of digital marketing.
In 2020 and 2021, the pandemic has dominated a roller coaster ride in several sectors. In 2020, it will impact many aspects of life, including commercialization and affiliate marketing tactics.
You can use your content for advertising your brand's products or services. After that, provide a link to take the customer to the affiliated e-commerce store. When someone clicks on the link and buys anything, the marketer usually gets a commission.
As you start an online business with this method, you'll want to target a niche audience with a particular interest. This allows you to personalize your sites for that niche, boosting your conversion rates. Rather than promoting various items, you may advertise to the individuals that will most likely buy a product by becoming an expert in one field.
Furthermore, you may profit from at least a few innovative digital marketing strategies that are continuously being created. Make sure that all of your new tactics are current to guarantee that your conversion rates and, as a result, your profits are as high as feasible.
6. Start a business as a consulting firm
This is another excellent online business idea for people with an extensive understanding of a particular subject. This position aims to assist individuals in resolving issues inside their organization, whether they are connected to marketing, operations, or human resources.
Many advantages come with becoming a consultant, including choosing where and when you work, the type of work you do, and how much you charge for your time. Starting a consulting business is low-cost, and it's simple to scale to match your lifestyle and finances.
The objective should be to carve out a niche in the consulting industry by demonstrating how your personal and professional background translates into a distinctive point of view that adds value to the client. Finding clients is one of the most challenging aspects of running a consulting firm, especially when you're initially a newbie.
When starting your consulting firm, creating a strategy, managing money, and organizing and growing the business are considered. It would assist if you enhance your abilities in these areas and ensure that you know the legal and tax implications of working for yourself.
7. Do virtual tour business
This is one of the top ten online businesses to explore in 2022. Many businesses, including hospitality and real estate, use virtual tours. Before visitors can get to the actual place, you'll use pictures, videos, and other multimedia components to bring it to life for them. While you may make virtual tours of practically anyplace, apartments, houses, hotels, resorts, and neighborhoods are the most common.
Working from home is one of the most comfortable features of this profession since you have practically no recurring expenditures. Capturing everything eliminates equipment expenses after the first investment (unless you wish to replace the device entirely), and working from home eliminates the cost, utility, and other concerns.
Then you're only paying for transportation to go from one area to another and the costs of hosting your professional website (which should be under $80 per year). You can opt to promote in conventional media on occasion, but as previously said, most of your advertising will be done online.
Customers pay virtual tour companies to shoot, edit and distribute photographs and videos to create a virtual tour in a physical place. The price you charge varies greatly depending on the desired media type, location, and any add-ons the consumer purchases.
8. Create a website or a blog
One of the most lucrative online businesses on our list is starting a blog. A good blog is nearly as much about expressing your ideas on a topic as writing it. Remember to focus on the following areas as you get started:
Content of good quality: The more valuable the information provided to the audience is, the more likely they will become dedicated readers. Aside from that, the blog will have a better possibility of ranking in search engines.
The volume of traffic: Bloggers with a lot of traffic are more likely to attract possible business partners and offer their products or services.
Options for monetization: It would be much easier to optimize earnings by diversifying your blog income streams. Affiliate marketing, Google Ads, and sponsored content are all common approaches.
Depending on your blog's operational expenditures and monetization channels, you can earn $100-$10,000 each month on average.
9. Purchase and sell domains
When done correctly, buying and selling domain names is can be a successful online business. These properties can fetch premium prices, especially if they are in high demand.
Buying and selling domains is a thrilling experience that conjures up visions of buried pirate treasures or guessing the following Powerball-winning combination for some.
Unfortunately, domains that meet such criteria are rarely accessible. As a result, many rowers prefer names with regional keywords, with less competition.
To begin, use site checkers or auction sites to look for inexpensive domains. To increase your chances of selling, consider purchasing numerous domains directly. The next stage is to locate a customer, which can be accomplished by setting up a dedicated landing website or sending out promotional emails to potential buyers.
When it comes to buying domains to resell them, there is always a learning curve. Ask questions of others who have gone before you, engage in forums like namepros.com, keep up with industry trends using tools like domain.com, and reach out to the Afternic support team and GoDaddy Aftermarket.
10. Publish an E-book on your own
One of the ten online business ideas for 2022 is self-publishing eBooks. Thanks to the Internet, it is no longer necessary to submit a manuscript to a publisher. Selling e-books through personal websites or self-publishing platforms is now the primary source of income for some people.
E-books are a fantastic way to compile all of your previous posts into one thorough guide if you're a blogger. On the other hand, self-publishing platforms benefit from a pre-owned audience, even if you won't be prepared to claim an e-complete book's revenues. As a result, many authors build websites as a secondary source of revenue to supplement their income.
Reduced manufacturing and distribution expenses allow for larger profit margins when self-publishing an e-book. However, keep in mind that the lower overhead is reflected in, the lower price of an e-book than a printed book.
Looking at what similar books are selling for at the merchants you want to utilize is an excellent way to start when pricing your book. This will give you a decent sense of where you should target.
FAQs About Online Business In 2022
1. What are the best online business ideas in 2022?
This article has listed and analyzed the top 10 best and most promising online businesses in 2022, according to the trends mentioned.
You can read and refer to the following jobs to see if they are suitable for you: setting up an online store, becoming a freelancer, creating a YouTube channel, TikTok, business in the form of dropshipping, consulting services, creating blogs, selling domains, self-publishing eBooks, etc.
2. How to start an online business in 2022?
Now that you've compiled a list of business ideas that can be implemented online, it's time to pick one and get started. The following are the stages that will assist you in determining how to establish an internet business:
Pick a product or service that fits your skills, experience, and time constraints.
Research and research the general market as well as the niche that your product or service is targeting.
Build a business plan with short-term and long-term goals. There are also particular preparatory procedures to follow.
Register legal business according to the law.
Design a website that reflects your brand and fits with the trends.
Publish your content, product, or service.
3. Is there any unique online business idea to start with?
Thanks to a pandemic driven boost, pearl parties became especially popular among certain groups, so this could be a legit business opportunity for starting an online business.
Like any other business, starting a pearl party business will be hard work, and you'll need to investigate, browse, search and learn a lot. But in the end, you will manage to party your way to entrepreneurial success.
Wrap Up
This post has mentioned the top ten online business ideas you may start in 2022. They're all highly successful ideas that require little investment and that you can manage from home.
You can leave a note below if some information is missing or has more online business ideas.
Read More:
Thriving In 10 Ideal Online Businesses For Women
Top Online Service Business Ideas To Build Wealth Fast In 2022
17 Promising Home Business Ideas With Low Startup Costs
Grow Your Success With Top 5 Unique E-commerce Business Ideas
Guide To Build A Practical Business Plan For Online Store