Almost everyone instinctively thinks of an online sales website when they hear the word e-commerce. Is it, however, everything? So, what is e-commerce, and how does it work?
If you're curious about e-commerce and want to learn more about it, this article will provide a thorough analysis of the subject. Let's dive in!
Definition Of E-commerce
E-commerce refers to electronic methods connected to the Internet, mobile telecommunications networks, or other open networks to perform the entire process of commercial operations.
E-commerce, in its broadest definition, refers to any commercial activity carried out via electronic methods. Today, many people understand e-commerce in a narrower, more straightforward meaning, i.e., buying and selling products and services using electronic means via the Internet.
In addition to conventional activities (such as health care and education), e-commerce also includes trading in services (such as legal and financial services) as well as goods (household goods, clothing, etc.).
In summary, e-commerce is evolving into a revolution that can radically alter the way people purchase in the future.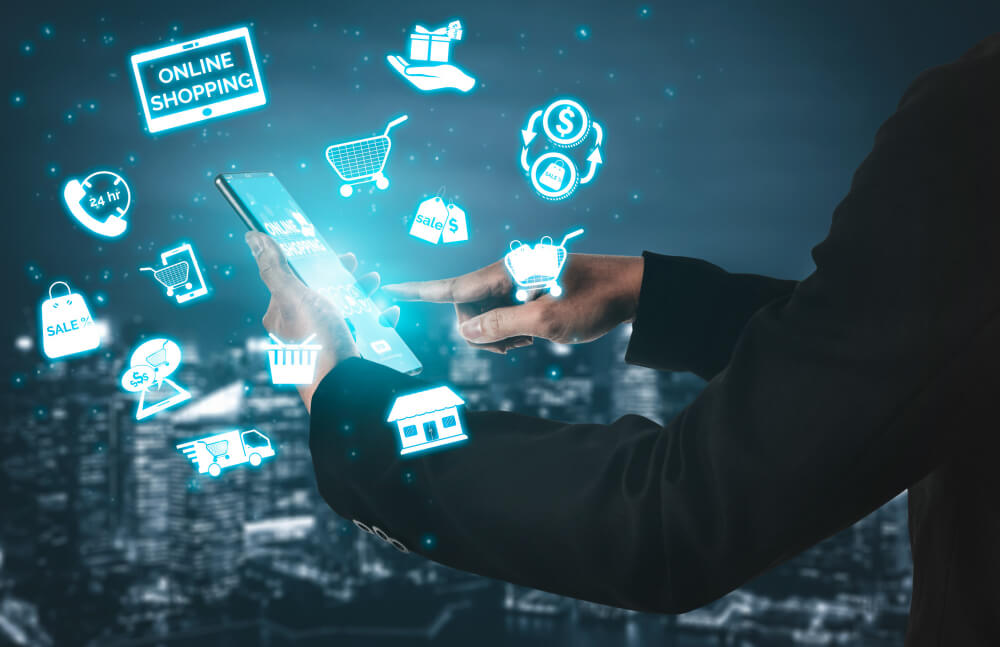 Popular Business Models For E-commerce
To fully grasp what an e-commerce firm is, we should first comprehend its models. The four most common e-commerce models on the market today are B2C (business to consumer), B2B (business to business), C2C (consumer to consumer), and C2B (consumer to business).
Business-to-Business (B2B)
Business-to-business e-commerce occurs when a firm purchases goods or services from another company through the Internet. This also includes firms that provide financial services and business software such as customer relationship management (CRM).
Because of the massive inventory of sophisticated items, B2B online sales tend to be more difficult than other types of e-commerce. Business-to-business sales generally concentrate on raw materials or packaged or mixed products before being sold to clients.
Business-to-Consumer (B2C)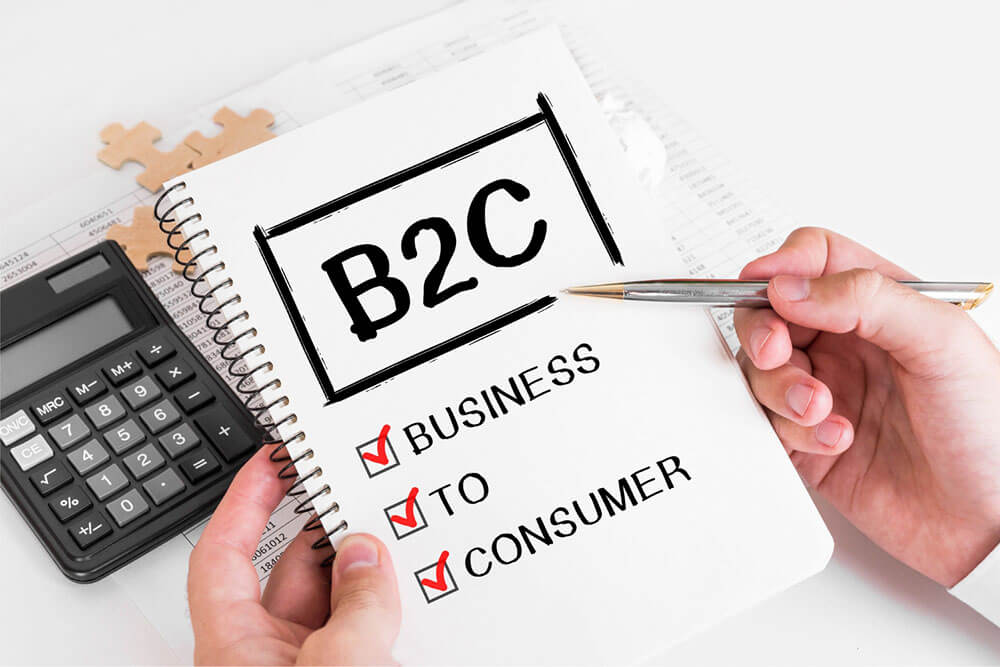 Unlike the B2B model, where transactions and purchases are made between businesses or wholesalers, the B2C model is a typical retail model that a company sells to consumers through e-commerce websites or other transaction channels.
This is the most well-known model, and it also has the biggest market share in e-commerce. Many firms with significant offline sales have implemented e-commerce systems throughout the world, including famous fashion brands such as Adidas, H&M, Zara, and other products such as electrical appliances, home appliances, bedding, pillows, etc.
Consumer-to-Consumer (C2C)
Users sell items to one other on C2C sites, which function as exchange, buy, and auction sites on the Internet. These websites and applications, born out of the expansion of the E-Commerce sector and growing consumer trust in the online sales paradigm, allow users to transact in return for a monetary amount.
These might be goods they produce themselves, such as crafts, or items they possess and wish to sell secondhand. The website received a tiny commission. The creation of a C2C website needs considerable consideration.
Consumer-to-Business (C2B)
C2B commerce occurs when customers generate value for businesses. There are several ways to create value. C2B can be as essential as a client posting a favourable review for a company or a photography website buying photos from freelance photographers.
Furthermore, C2B refers to firms that acquire used items from regular internet users.
Benefits That E-commerce Brings to Businesses
Because of the advantages that e-commerce provides to businesses, we can conclude that it is increasing and developing. Before establishing and expanding this business approach, entrepreneurs must first comprehend and utilize its main benefits.
1. Benefits of e-commerce for businesses
Overcome geographic limitations
Overcoming geo-restrictions is one of the most prominent benefits of e-commerce. If a company has a physical location, the geographic region it can service may limit its client base.
With the creation of an e-commerce website, the lack of agents will no longer be an impediment; consumers from all over the world will be able to learn about and complete transactions on your website.
Furthermore, the introduction of e-commerce provides freedom for both customers and company owners since it only requires a mobile device or a computer to administer and shop.
Expand consumer base with the help of search engines
The conventional commercial strategy relies mainly on the brand's popularity and connections to drive the business model through physical storefronts. Meanwhile, e-commerce will enable search engine traffic characteristics to be controlled.
The most apparent tendency is to use Google to find an item they're interested in and then go to an e-commerce site that sells that product, which they've probably never heard of before. The client base will not be limited to a specific geographic area and can grow to other potential markets.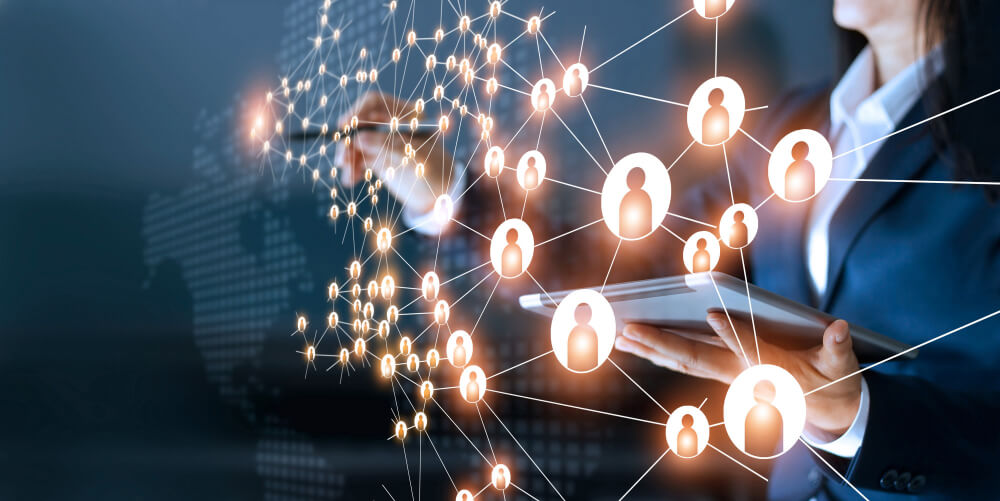 Affordable investment costs
The lower investment costs are another significant advantage of e-commerce. The following are some of the other expenses that e-commerce may save for businesses:
Advertising and marketing: Management of search engine traffic, pay-per-click advertising, and putting ads on social networking sites are some of the cost-effective strategies.
Premises, real estate: Rather than acquiring or renting huge valuable plots of land to establish a store in a specific location, firms will need to invest in a server infrastructure to store e-commerce system information at a much lower cost.
Human resources: Employers can save money on labor costs by automating work processes such as payment via online portals, inventory management, bills of lading (BOLs), etc. And for small online shops, they can manage most of the tasks themselves.
Easily keep in touch with customers
E-commerce systems allow businesses to collect contact information in emails, making it easy to send automatic and personalized emails to their customers and clients.
Online businesses may let consumers know about a discount, advertise a new product, or check in with a customer for a personal touch with much less effort. Other online technologies such as cookies help customize stores and analyze consumer behavior for better service in the future.
Be flexible in scaling
A physical store's growth necessitates a rethink of how to accommodate more consumers in the same area. A more considerable amount of staff is required, as so is the construction of additional booths.
It's far easier to extend and grow with an e-commerce website, though, as it's more flexible. The website can still be maintained during system updates, but businesses will need to collaborate with a technical team (which can be outsourced or in-house).
Allow ordering 24/24
Because e-commerce sites can operate around the clock, business hours are now 24/7/365. From the merchant's perspective, this helps in increasing the sales for them. An "always open" store is much more convenient from the customer's perspective.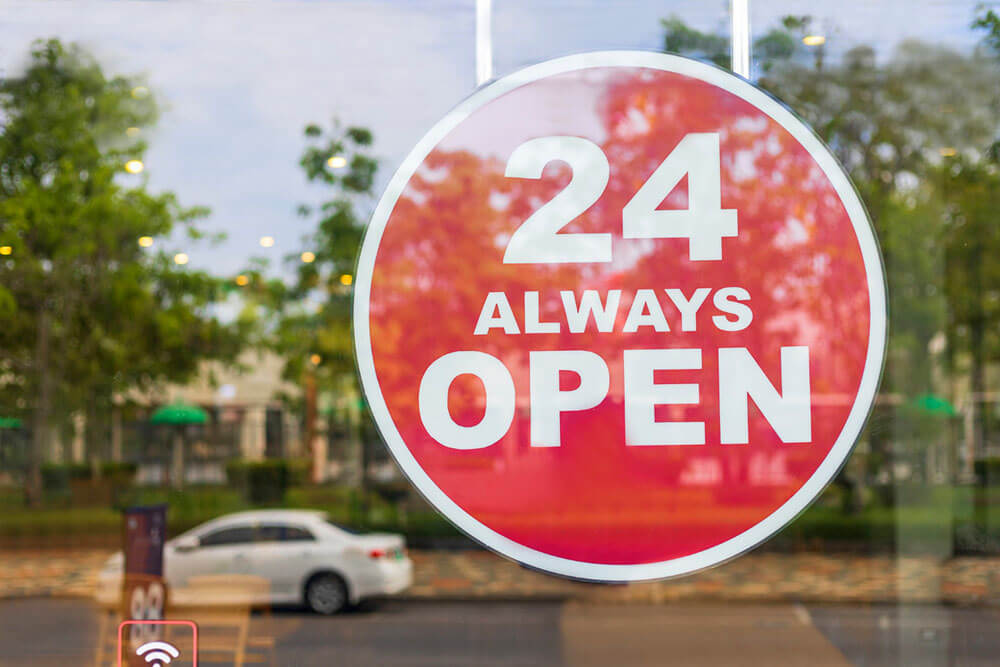 Other advantages include
Increase the business's prestige and image.
Improve customer service quality.
Expand new business partnerships.
Simplify and standardize transaction processes.
Increase productivity, reduce paper costs.
Improve information access and reduce transportation costs.
Increase transaction and business activity flexibility.
2. Benefits for consumers
Additional product and service options
Due to the increased number of providers available through e-commerce, buyers now have more options. With a quick search on Google, customers have a list of providers who sell their desired item, with many choices of prices, materials, sizes, colors, etc. From there, you have complete freedom to pick where you want to buy based on your criteria.
Pushing the boundaries of space and time
Customers may shop from stores all around the world from wherever they are and at any time. Consumers may order goods from a retailer hundreds of kilometres away with just one click. And customers can place orders at any time, day or night, on the online store.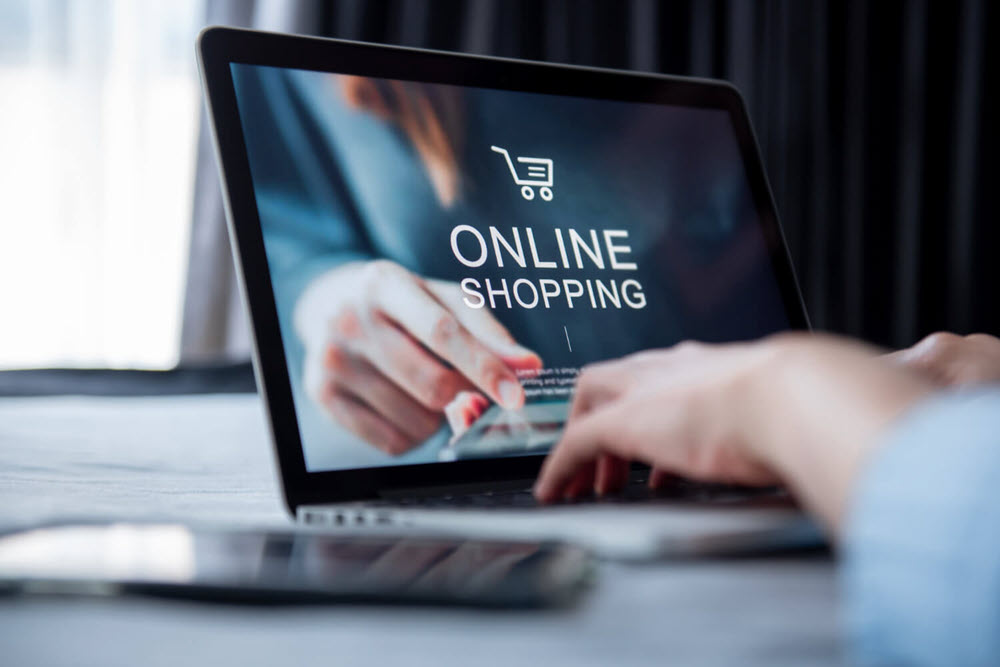 Reasonable pricing
Customers can compare prices more easily from different providers and find the best price since information is more accessible, uncomplicated, classified by different prices, from low to high.
Reference from the community of shoppers on the e-commerce platform
Everyone participating in the e-commerce business environment may interact and exchange knowledge and experiences quickly and effectively. Customers may refer to the reviews for a product to determine whether it is what they want, making it easier to decide.
How To Start An E-commerce Business
Although establishing an e-commerce business is easier than opening a brick-and-mortar store, it's still not a walk in the park. You need a clear plan with goals and multiple phases, and only when you do right at each stage will you be able to make your online business grow.
1. Research the e-commerce business model
Beginning to investigate business models before entering the market is an essential step that owners must take. Don't act on hunches since establishing an internet business still takes a significant investment.
As previously said, before deciding what to sell online, you must first grasp the various business models accessible, such as B2B, B2C, C2B, C2C, and others, and make the best decision based on your business's goal.
2. Research and explore the niche of e-commerce
Don't try to sell everything! Research and find out a market that offers opportunities for business. Then, examine and determine the market competition, and see whether you can differentiate yourself from the others.
Depends on your products, you may also cross-promote with other business owners in that area, become a shareholder (or purchase) an affiliate, and expand your client base by partnering with them. You will no longer have to worry about the expense of delivering several items if you can take advantage of a few affiliate marketing possibilities.
3. Choose a business name and consult a legal expert
After you've finalized your e-commerce company strategy, the next step is to pick a name. You'll want a name that is unique, easy to recall and clearly explains what your company is or does.
Your website name and your company's legal name don't have to be identical, but keeping them consistent offers its own set of advantages in the long run. Furthermore, operating an internet store necessitates the acquisition of a license, such as a business license.
Check with your city or county to discover what kind of sales tax or business permits you'll need, and double-check that the business is permitted before you start running.
4. Choose an e-commerce platform and create a unique website
One of the steps that will decide your e-commerce business's success is this one. Constructing an e-commerce website is similar to building a physical storefront. This website will serve as the public face of your company since it will be the first thing your consumers see and utilize to locate and purchase your products or services.
It is not easy to select the best e-commerce platform. Things like loading speed, functionality, compatibility with various payment methods, business structure, web developer abilities, SEO-friendly features, and so on should all be carefully considered. Some of the most popular platforms for e-commerce business are Magento, Shopify, WooCommerce, etc.
You may seek bespoke e-commerce website creation services if you can comfortably handle the price and have a high demand for design, considering the cost and your company and website construction requirements.
You should find e-commerce packages if you have a modest to medium budget and the needs aren't too tricky. A package service generally includes everything from website design and development to domain registration and hosting, as well as a short development period.
There are a lot of companies on the market that provide these development packages at reasonable costs and of excellent quality. Tigren is one of the top companies in this field and you won't be disappointed with their service. Tigren's e-commerce web development packages are an excellent option to start. Tigren's services are both high-quality and cheap, especially for startups, when compared to other suppliers.
5. Sourcing or listing products
This is also a part where you need to put a lot of thought into it. Merchants can either produce their items or opt to acquire them from wholesalers, or they can post their products and services on the company's website, where they can advise on how to sell them.
Raw materials or items may be obtained through flea markets, craft stores, estate sales, established retail enterprises, or even friends and family. You may also use the Internet to search for product sources to verify costs and quality first. Determine what you require, where you will obtain it, and how much it will cost.
It is also critical to personally evaluate product quality before selling to clients because high-quality items quickly establish buyer trust and loyalty in future purchases. As a result, your store's reputation will spread more broadly, even if it is a new store operating on an internet platform. You can test items from several suppliers to select one that will supply reliable, high-quality products and with whom you can work for a long time.
6. Combine the marketing of online stores and businesses
Setting up an e-commerce firm comes with a to-do list that can be followed and organized, but expanding one is different. New marketing efforts are essential at this stage. It is necessary to promote its marketing efficiently after the website is up and running to expand a firm.
To begin with, you need to catch consumer's attention, there are some ways to go about it. You can use social media for advertising items, make trending posts about your business and products, or record close-up videos of things so that buyers can be confident in the quality of the products you give.
The second approach to attract traffic to your website is to invest in content and quality. In addition, minigame programming and promotion events should be considered. The fan pages organization of programs and minigames will greatly enhance contact with your online sales page.
Other good marketing strategies are investing in customer service, getting consumers to write good reviews for your business, and optimizing product prices. You may learn more about approaches to promote effectively on the Internet.
Wrap Up
These tips and tricks should have provided some insight into the e-commerce sector, its benefits, and how you may start a business within it.
To thrive in the future, you must grasp what e-commerce is all about and create concrete plans so that your business may expand. Also, remember that you should always keep learning and be updated with information as this is a constantly changing market.