WooCommerce and Magento are among the best E-commerce platforms. While the former is more straightforward and suitable for novices, the latter offers in-depth features and tools to help create the best online stores. If you are already familiar with the nuts and bolts of running an online store with WooCommerce, you should consider switching to Magento for the sake of both yourself and your customers. Don't know where to start? Lucky you, this article is a comprehensive (and updated) guide to migrating from WooCommerce to Magento.
Why Should You Migrate From WooCommerce to Magento?
We start with a prime question, "WHY?" Of course, you can still follow the easy path and keep your WooCommerce subscription, but as mentioned, migration to Magento will yield better results for your online store.
Let's briefly compare Magento vs WooCommerce to see how the latter is more beneficial for online businesses.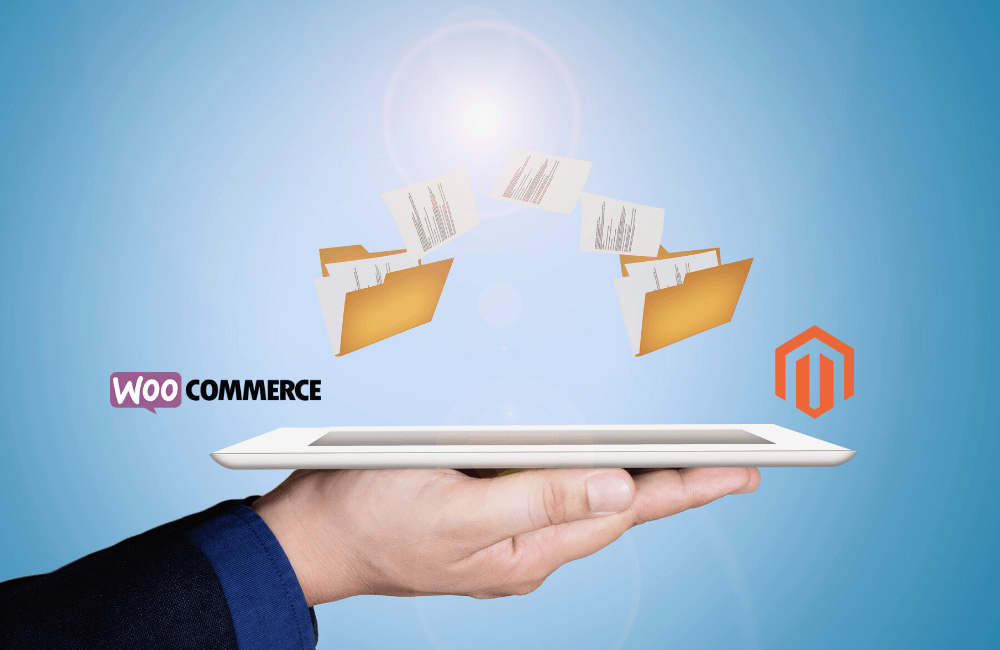 Pricing
At first glance, WooCommerce appears to be a completely free platform. That being said, it still offers merchants premium extensions, some of which come with different time subscription options. Magento pricings work the same way. While Magento Open Source is a free Community Edition, it also has a premium version for large companies (the Magento Commerce Edition).
A striking contrast between the paid versions of these two platforms is that WooCommerce has no setup charge and no monthly fees. Each transaction with US-issued credit or debit cards costs you 2.9% + $0.30. Each transaction charge an extra 1% fee for cards issued outside the US. On the other hand, Magento subscriptions start at $2000.
Hostings
Whether you are using WooCommerce for free or you are paying for its extensions, you are required to find your web host. Recently, this may not be a problem anymore as WooCommerce itself has introduced some of its trusted hostings for stores of all sizes (i.e., new, growing, and large).
The Open Source Edition of Magento requires you to do the same thing as Woocommerce. In other words, this version is self-hosted. However, the paid version comes with several cloud hosting plans, including unlimited bandwidth and free domain names.
Features
WooCommerce supports unlimited products and allows users to choose their payment processor through plugins. Regarding Magento, this platform also enables merchants to add unlimited products. However, Magento has multiple robust built-in features and tools that remove the need for extra plugins, covering from sales, inventory, catalogs to marketing and report functions. Third-party extensions are also integrated to make payments and logistics easier.
Customization
WooCommerce goes hand in hand with WordPress. Accordingly, it supports nearly all WordPress themes. WooCommerce is also highly customizable as it allows users to personalize their site to their heart's content.
Magento also offers a theme-based system with various customization options. Apparently, the process would be more complicated as it requires a decent level of coding expertise and experience to grant the best result for your online store. Nevertheless, this also indicates that the customization capability of Magento is limitless.
Security
WooCommerce offers its users fundamental security features to help safeguard your store. However, it may be vulnerable to malicious attacks or hacking. In contrast, Magento proves to be a more secure platform with an encrypted connection, firewalls, and frequently updated security patches. This makes your store more stable and reduces the risk of being hacked or breached.
So, what should I choose?
In a nutshell, although Magento comes with higher costs and requires technical know-how for customization, it is still superior to WooCommerce in regard to other aspects (e.g., performance, security, etc.). Thus, switching from WooCommerce to Magento would be a real trade-off, but we highly recommend doing so.
Common Methods To Migrate From WooCommerce To Magento
Method 1: Manual migration
This method basically means that the whole migration process is a huge DIY project. As a matter of fact, you have to start all from scratch. Manual migration involves familiarizing yourself with absolutely everything about WooCommerce and Magento, with extensive knowledge of coding, designing, and other technical know-how.
This method is too burdensome and time-consuming, even impossible for non-techies. Bear in mind that you still want your online business to go swimmingly amid this migration. You, as a merchant, still have to seek customers, sell products, and earn money. After all, time is money, so a waste of time is largely similar to a loss of profit. Therefore, we do not suggest getting down to the migration process yourself.
Method 2: Hire a professional
This method sounds straightforward enough. You'll get a professional individual or team to handle the platform migration for you.
By professionals, we mean freelance developers or, even better, an agency. They are no strangers to everything listed above, ranging from WooCommerce and Magento knowledge to coding and programming. With the help of those professionals, the whole migration process is done quickly with minimal issues. Later support may also be provided if you find a glitch in your Magento store afterward. The cost of hiring professionals also varies wildly as it depends on various factors such as your store size, number of products, SEO, and other relevant features.
When checking the expert or the agency's profile for your web migration, pay attention to their experience, portfolio, and feedback from previous clients. If the person or the agency is reliable, they should have received many praises from these clients.
Method 3: Use an automated shopping cart migration tool
For the time being, this is the best way to switch between two E-commerce platforms. It takes less time with minimal effort (only the core knowledge of using the tool). Also, you don't have to worry about the risk of data loss or security breaches. In most cases, those tools are 100% safe to use. We strongly recommend this method for these benefits.
Accordingly, two trusted names that we suggest are LitExtension and Cart2Cart.

LitExtension ranks among the world's top shopping cart migration services. It supports special data types on over 120 E-commerce platforms, allowing for a fast and simple migration process at the highest level of security. LitExtension is trusted by world-top brands such as Shopify, Wix, WooCommerce, and Magento.
With LitExtension, the migration process from WooCommerce to Magento is fairly simple. It involves registering an account, setting up the source and target stores, configuring items, and running the migration.
LitExtension pricing costs start from only $29. However, it also depends on other factors such as products, orders, customers, and blog posts on your store.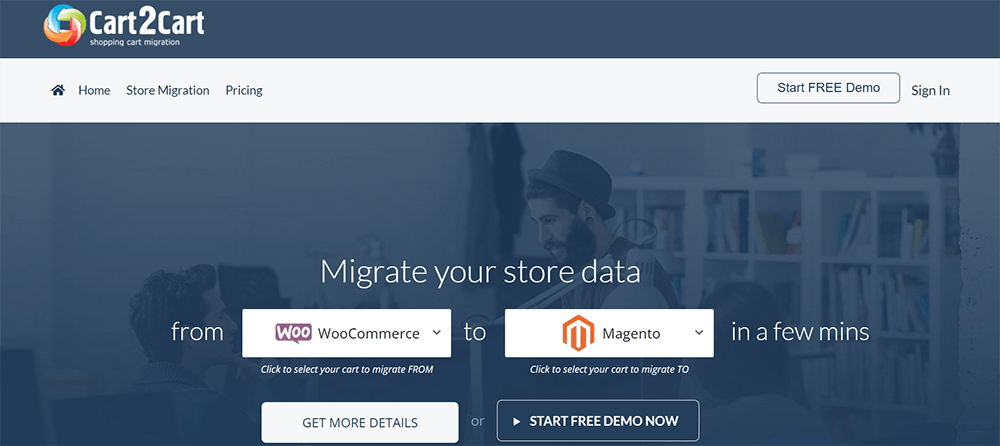 Cart2Cart is another migration service that allows for quick and simple migration between E-commerce platforms. It requires little tech skills yet promises a remarkable success rate of 90%. Cart2Cart is also recommended by big names such as Shopify, OpenCart, PrestaShop, etc.
The 4 steps of migration in Cart2Cart are 1 – Connect your source platform (WooCommerce); 2 – Connect your target platform (Magento); 3 – Select the right data to migrate; 4 – Launch the process.
With Cart2Cart, the average migration cost for a store with 1500 products is just $99. For small and mid-size stores, the cost starts from &29, while this is $299 for large enterprises. Other factors include the number of products, customers, and orders.
The 5 Steps Migration Process From WooCommerce to Magento
Step 1: Decide the time and the key data required for migration
You may want to decide the best time for migration, ideally when traffic to your website is at its lowest point. Also, making a list of key data for migration is vital, so it helps you avoid being stuck at the configuration step.
Step 2: Create a backup of the database
Technical errors are unavoidable, so make sure to create a backup of your store database. You really don't want an unexpected bug to occur amid the migration and wipe out your data in a blink of an eye. Prevention is always better than cure.
Step 3: Export data from WooCommerce
This step is pretty simple to understand. Just like packing your stuff before moving to a new house, you need to export the selected data from your WooCommerce store and make them ready for migration.
Step 4: Import data to Magento
Magento has its own protocols and rules for importing data from other platforms, so make sure your Woocommerce to Magento product import meets the requirements. For instance, source platform size or special characters can disrupt data transfer. Check for any incompatible points from your Woocommerce to Magento product import or coding sync.
Step 5: Post-migration activities
This step involves choosing and installing Magento themes and extensions that you need for your store. You may also want to try accessing your store as a customer to check for potential bugs and glitches and fix them as soon as possible.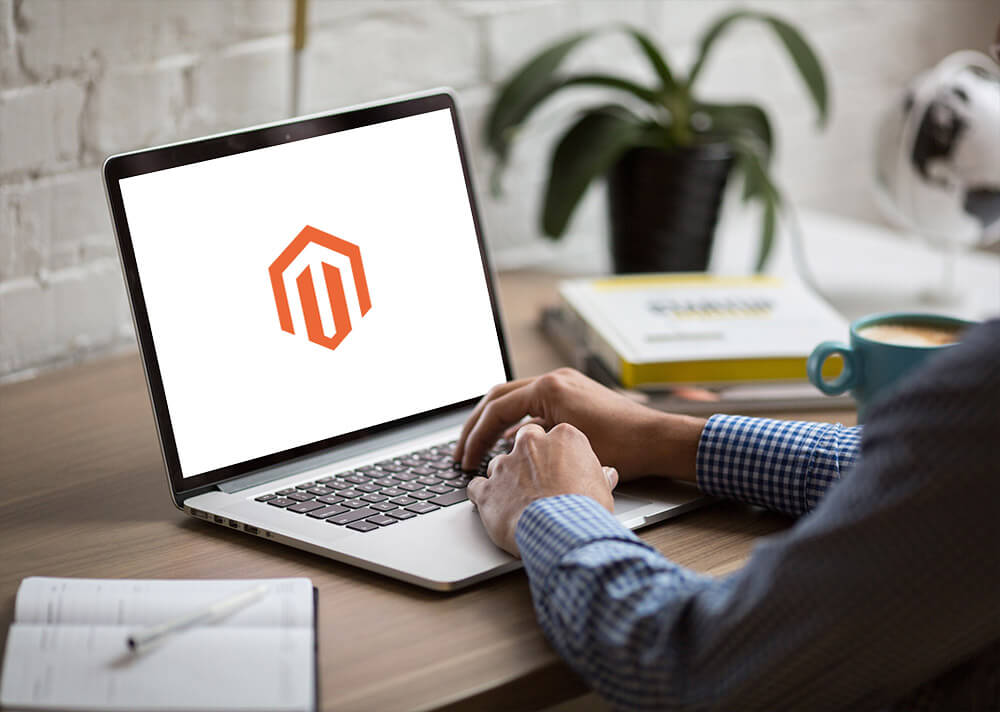 Bottom Line
Switching between E-commerce platforms is must-have knowledge for online merchants today. Among them, WooCommerce to Magento ranks among the most popular migrations, as in most cases, it marks the evolution from a modest-sized store to a large business. We hope this guide answers some of your questions about powering up your E-commerce business.