A successful online sales and marketing plan has always required an eye-catching, high-converting website design. If you're planning to launch a new T-shirt website and aren't sure how to make it stand out, the following list of the best t-shirt ecommerce websites will provide you with plenty of ideas. If you're looking for inspiration for your website, look at these 20 finest t-shirt ecommerce websites.
Top 20 Best T-shirt E-commerce Websites To Learn From In 2023
Attractive T-shirts in limited quantities
Every day, there are discounted items for a limited time. If you don't act quickly, you'll miss out on owning your favorite item at a reduced price. The brand has successfully pushed clients to make impulse decisions with this campaign.
User-friendly website
Tee Furry has done an excellent job streamlining its interface, even with thousands of shirts. All design categories are displayed on the front page, making it easy for customers to find their products.
Extensive product catalog
Underground Printing offers print-on-demand services on multiple products. Though first-time visitors might be overwhelmed by the offers, the diversity of products can certainly meet their needs, from t-shirts, hats, to tote bags.
User-friendly web structures
Underground Printing features a simple design, but this is its strong point. The well-organized structure lets people find items more efficiently. A collection of reviews may be seen near the bottom of the page, which helps gain more customer trust.
Quality products
Elevated Faith's products are lovely and well-printed, even though they don't have a large selection. Every T-shirt has a message for a specific situation. It explains why, despite their high pricing, things sell out so quickly.
Beautiful store design
The brand uses stunning photos to generate a strong sense of femininity in its layout. With positive vibes in the air, the most fantastic stuff appears. You'll want to scroll up and down the page to see more of their offers.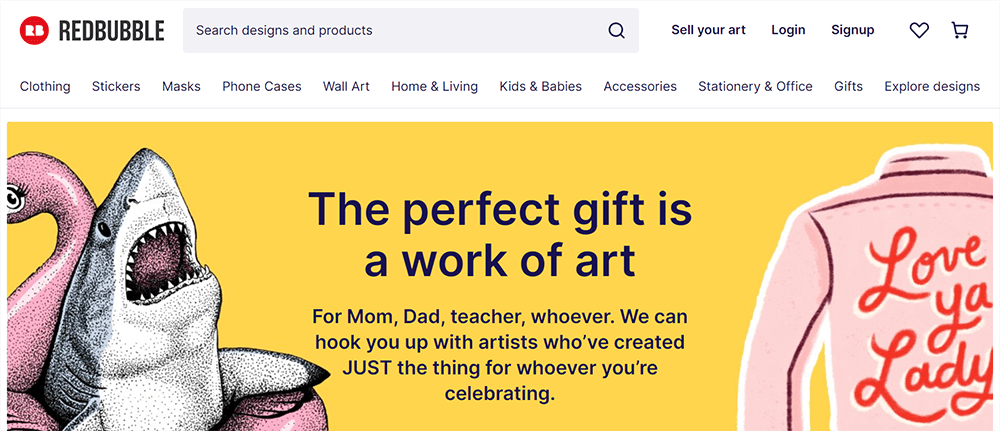 Various T-shirt Designs
Redbubble has some unusual t-shirts for men and women. It's a one-stop-shop for nerdy tees, including clothes relating to certain bands, movies, shows, and video games. Every t-shirt is designed by an independent artist, ensuring that you'll find something unique.
Dynamic and colorful website design
The brand displays high-quality photos of every item they sell with meticulous attention to detail. With yellow and pink as the dominant color, the bright store design immediately attracts customers. The usage of bright images combined with enough white space strikes the perfect balance!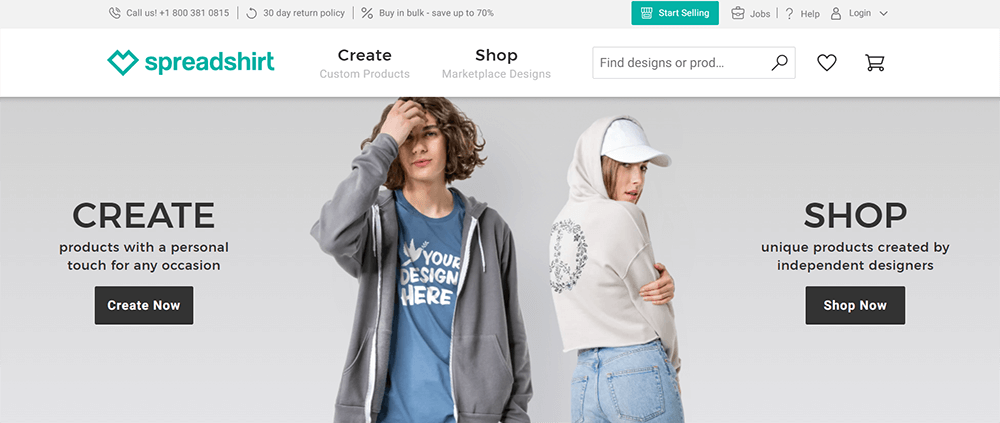 Personalized T-shirts
Spreadshirt gives you complete control over your T-shirts, from designs, fabrics, and colors to special finishing (for corporates). The design process is straightforward to comprehend and apply, particularly first-time consumers.
Usage of large photos
This is what a user will notice the first time visiting the Spreadshirt store. The large photos let the brand highlight their products, which are already categorized. Below, they give details about their USP – various designs, top printing methods, and group orders.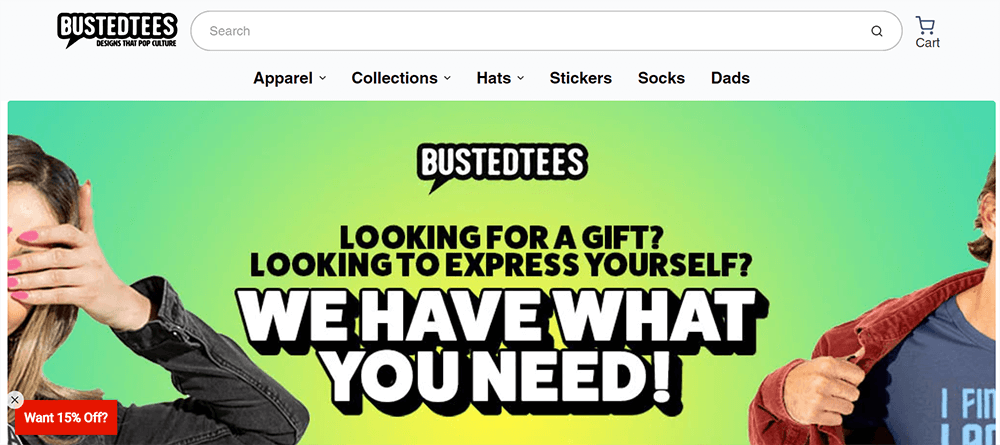 Unique T-shirt Ideas
BustedTees offers one-of-a-kind shirt designs that are sure to turn heads. Their love for invention makes viewers eagerly anticipate their new products. Mockups' slogans and features are up-to-date and in line with the trends.
Good visual appeal with large photos
Customers will be impressed by the large images, neatly arranged according to each design model and product type. This recipe will attract customers' attention from the very first time. The reviews and actual photos of customers are arranged in the middle of the homepage to encourage people to purchase.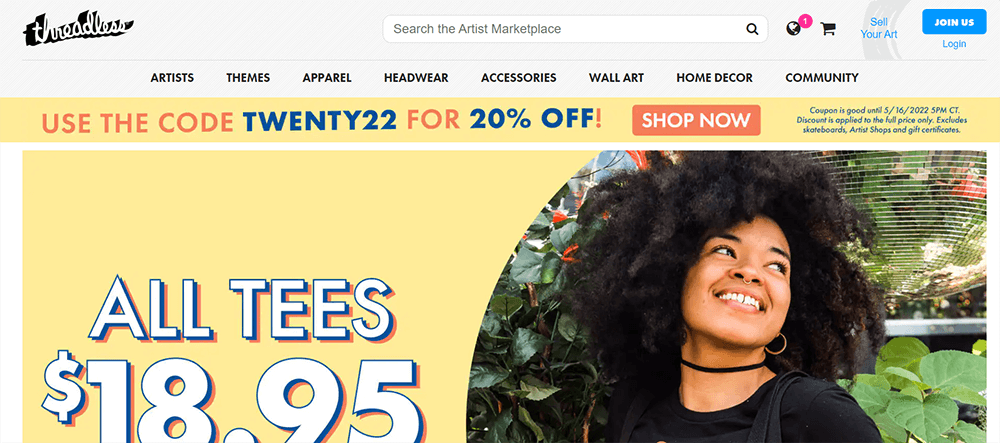 Eyecatching Graphic Designs
Threadless has a massive selection of exciting t-shirts, making it one of the best T-shirt ecommerce websites. Some shirts are actual art pieces, while others have pop culture references, charming drawings, and witty sayings.
Threadless gives you options for size and fabric type when buying a t-shirt. Fitted, extra soft, premium, standard and heavyweight unisex, and tri-blend options.
Pop-up view
The most noteworthy feature of Threadless is probably the pop-up view. Users can click on a shirt and view it in a pop-up box. They only need to close the box to get back to the category page, saving the hassle of finding the old position on the previous if they view the product on another separate page/tab.
Unique graphic designs
SnorgTees provides a range of amusing shirts created by the company's staff and independent artists. Each week, the site offers a few new designs and limited-edition shirts to be purchased quickly. While SnorgTees' shirt colors, fabric kinds, and fits are limited, the shirts are still worth getting for the designs.
Neat homepage
You will always see the designs presented. All you need to do is to browse and find a suitable model. This saves time as well as gives customers more choices. SnorgTees has done a fantastic job categorizing things to avoid the overpowering sense that many e-commerce platforms may provide many product categories.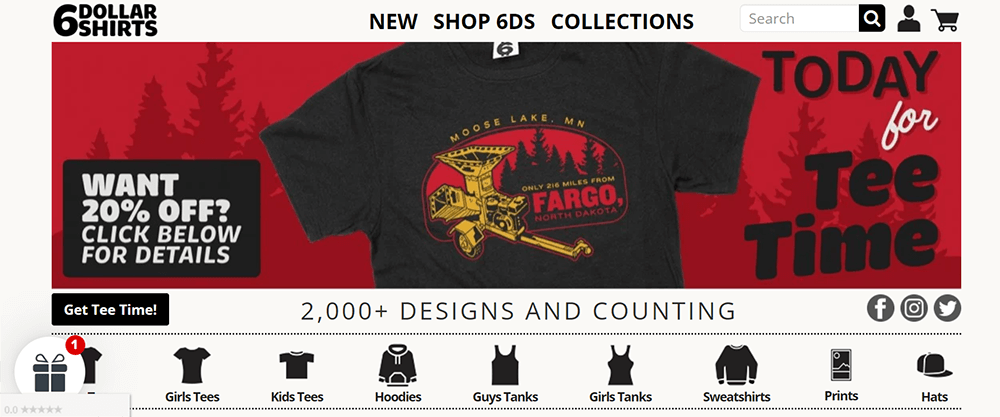 Cheap Price with good designs
6 Dollar Shirts offers t-shirts that are both reasonable and clever if you're seeking cheap graphic tees online. Shirts are available for $6, as the site's name suggests.
Whether you're looking for gaming tees, science shirts, or political tees, 6 Dollar Shirts can offer you. This selection makes it an excellent spot for geeky presents for programmers, video game fanatics, or humor.
Beautiful web design
6 Dollar Shirts designs their website with a youthful style. They use a lot of icons with the same theme with text to create an exciting feeling; for example, animal designs will have a cat icon next to them.
Colorful T-shirt Designs
TeePublic is owned by the same people who own Redbubble. It also has a massive collection of distinctive graphic t-shirt designs created by independent artists.
Choose from various t-shirt styles, including classic, relaxed, v-neck, slouchy fit, etc. Not to mention that each article on TeePublic comes in multiple colors to choose from.
Appealing, colorful web design
TeePublic's website design is a beautiful reflection of their brand. The team's artistic side and passion for design are shown in the playful elements, distinctive font, and infinite TeePublic photos. Although the collection is extensive, the sections are organized to allow you to browse and locate what you're looking for quickly.
Good stuff at the best prices
Shirt Woot frequently highlights a specific set of shirts and offers them for sale. They might sell retro gaming tees for one week, then discount cat-themed tees for the next. They also host a unique competition – the Derby. Every Thursday, a new theme is introduced, and members can submit their designs to the site.
Amusing web design
The website is unique and entertaining. Since it's an Amazon company, the design is similar to Amazon's main site. The product graphics stand out because of mixed media, including photos and illustrations. The site is designed to showcase the brand's identity while providing users with a visually pleasing shopping experience.
Unique and detailed designs:
Society6 is known for its high-quality, fitting, and creative graphic t-shirt designs. T-shirts are divided into collections according to the design topic.
Interest-free payments and great product recommendations
Though the price for each shirt isn't over the budget for most people, Society6 makes it even easier by offering installments. This sets it apart from other e-commerce T-shirt businesses. Besides, the web suggests items that feature the same artwork to each viewed product, improving cross-selling.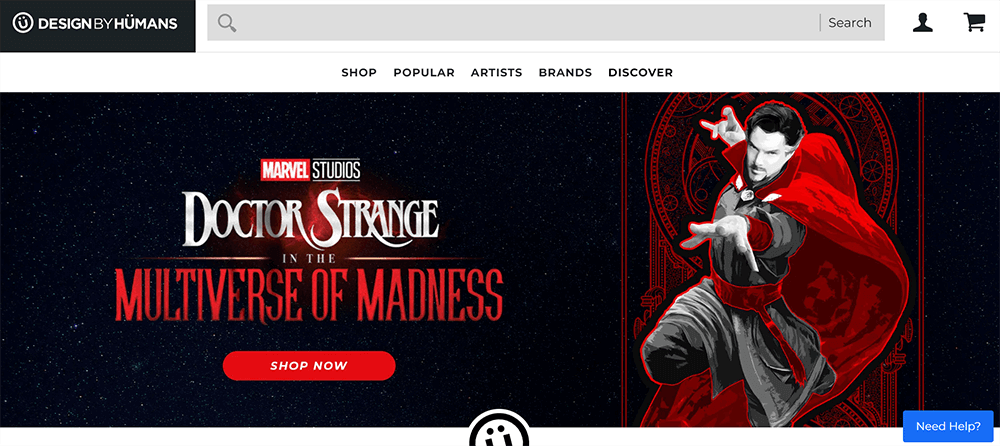 Diverse T-shirt collections
Shirts from your favorite show, movie, or video game are easy to find on DesignByHumans. There are also artist-designed shirts if you look for something more outstanding.
Attractive store layout:
DesignByHumans website is easy to navigate. Customers will have no problem browsing the store or instantly finding items with advanced filters. A discount pop-up will appear when you click on the website, encouraging buyers to purchase.
Great Custom T-shirts
Rushordertees' online design tool connects you with an online artist community to create personalized artwork. You'll find unique and fun graphics here that you won't find anyplace else. You may create your T-shirt design with artwork or utilizing clipart. Standard screen printing, embroidery, and a sublimation heat transfer option are available. Their quotes include everything.
User-friendly design tool
Understanding that their tool should be easy to use for everybody, the brand makes sure they deliver this. Customers can add text, change colors, upload clipart, etc., for the chosen T-shirt style with only a few clicks. Users may also use the ready-made designs from the brand.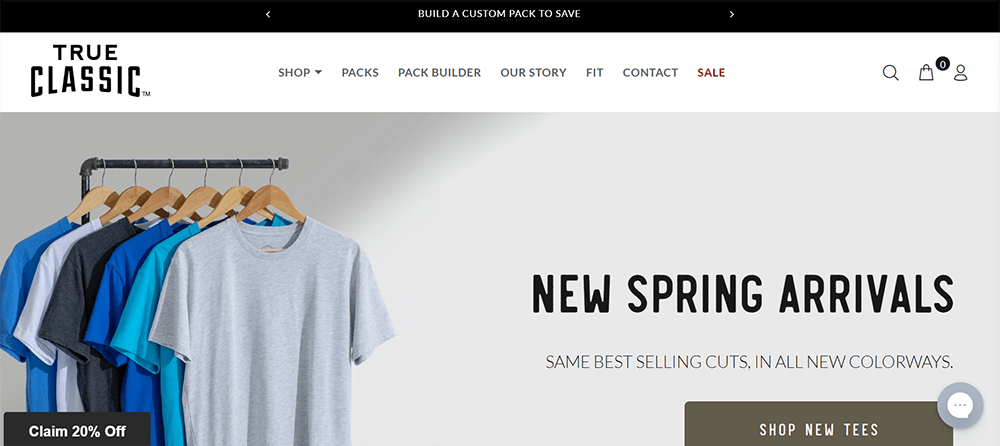 T-shirts that go in packs
True to their name, the T-shirts are of classic styles with plain colors. The uniqueness is that they focus on selling T-shirts packs of 3, 6, or more. The brand does offer single T-shirts, but it's more likely that their customers will buy the packs because then they have more shirts for lower prices.
Minimalist online store
The user interface is straightforward, with plenty of white space. A well-designed typeface hierarchy improves a website's readability, making it easier for customers to understand your company. Also, the brand highlights their differences with reasonable prices, custom fit, and excellent quality.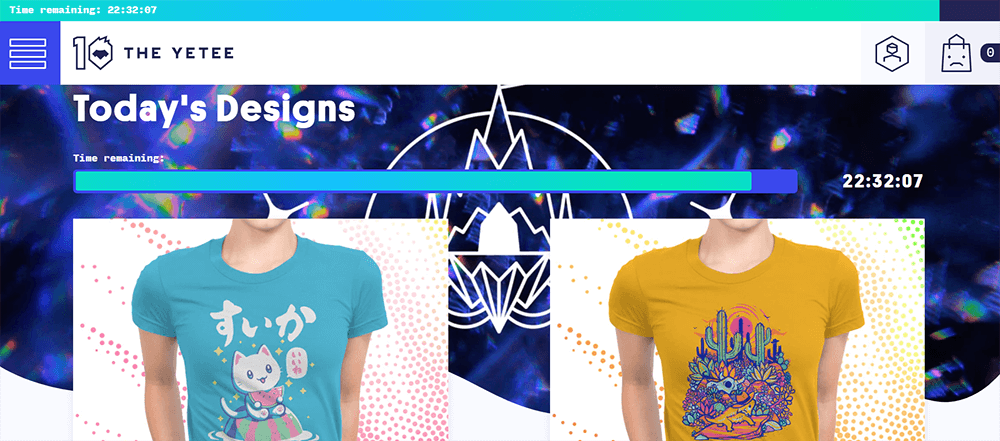 Unique cartoon designs
The Yetee is known for its outstanding cartoon T-shirt designs, making it a popular T-shirt store for the young generation.
Colorful homepage visual
Anyone visiting The Yetee's website for the first time will be blown away by the blocks of colors and bold texts combination. With neon blue as the dominant color, the bright store design immediately attracts new customers. The usage of bright images combined with some white space strikes the perfect balance!
Everyday style
Although Cuts doesn't have a vast product line. The T-shirts are basic styles but are appropriate for most situations, with easy-to-wear colors (black, white, pacific blue, coyote, etc.) and prime materials (Pima-cotton, pyca pro, etc.). This is how Cuts keep their items selling out quickly.
Clean and simple web designs
As the brand's T-shirts are simple and for everyday use, their web embraces the same style. Cuts use full-width photos and looping films on the homepage, showcasing how effortlessly stylish their models are with the elegant shirts.
High-quality material
Cotton Bureau goes for quality, offering customers choices between 100% cotton, tri-blend, and poly-cotton. Their product photos give off the feeling of quality material with nice designs (following a not-too-bold but not-too-ordinary style).
Organized layout
IThe brand takes customers straight to the category page with advanced filter functions. With the background, the T-shirts and their designs stand out clearly. The "change on-screen display" icon in the screen's right corner is a noticeable feature. Visitors can switch between looking at only the artwork or the product photo.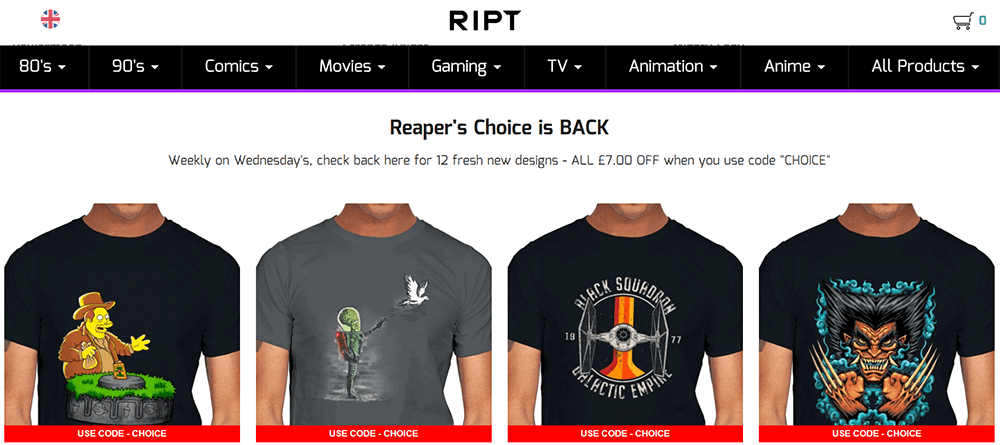 Up-to-date ideas
RIPT artists are those that have a never-ending love for making impressive designs. Their T-shirts have a touch of parody and pop culture to them. Users can discover goods on sale, encouraging customers to purchase more and establishing a shopping habit.
Impressive web layout
RIPT's website immediately immerses visitors in the purchasing experience. It communicates its brand values through lifestyle and product photography. RIPT places large photos to help users imagine how the shirt would look on them, improving the shopping journey.
Quality print-on-demand T-shirts
This is one of the best websites for those who want to start a print-on-demand t-shirt business. Printful offers a wide range of quality products and customization options. The website offers a handful of e-commerce platform connections to make it convenient, saving time for uploading and managing products.
Super-easy shopping experience
The site has a modern and neat design with a bright color scheme and excellent photographs. It features excellent top navigation, letting users quickly find their needed items.
How Does The T-shirt Market Develop Recently?
The global Custom T-shirt Printing Market size was estimated at 4.31 billion USD in 2022 and is expected to reach 4.71 billion USD in 2023, rising to 9,009.3 million USD by 2032 (Grand View Research). The T-shirt printing market is estimated to contribute between 2% and 3% to the clothing market.
According to Future Market Insights (FMI), the global Custom T-shirt Printing Market will surpass US$ 9,009.3 Mn by 2032, with a CAGR of over 9.7%.
All these statistics and predictions have confirmed the potential of the T-shirt market.
What Criteria Make A Good T-shirt E-commerce Site?
Launching an e-commerce store means making many important technical and creative decisions. In addition to having outstanding designs of T-shirts, building a beautiful website also does a lot for your business.
1. Reliability
When consumers walk into your store for the first time, they may be unfamiliar with your brand, product quality, or devotion to customer satisfaction. Although the transaction may gain their attention, they must trust you before buying.
When creating a website, every company should have two critical trust indicators:
Contact information
A website lacking contact information is less likely to attract potential customers. Include an email address, phone number, and mailing address if available. This information and about pages might give potential buyers the impression that they are purchasing from a real person.
The return policy
The return policy makes it easier for customers to return items they are unhappy with while also increasing sales by lowering shopping cart abandonment and creating confidence and trust in customers.
2. Good visual appeal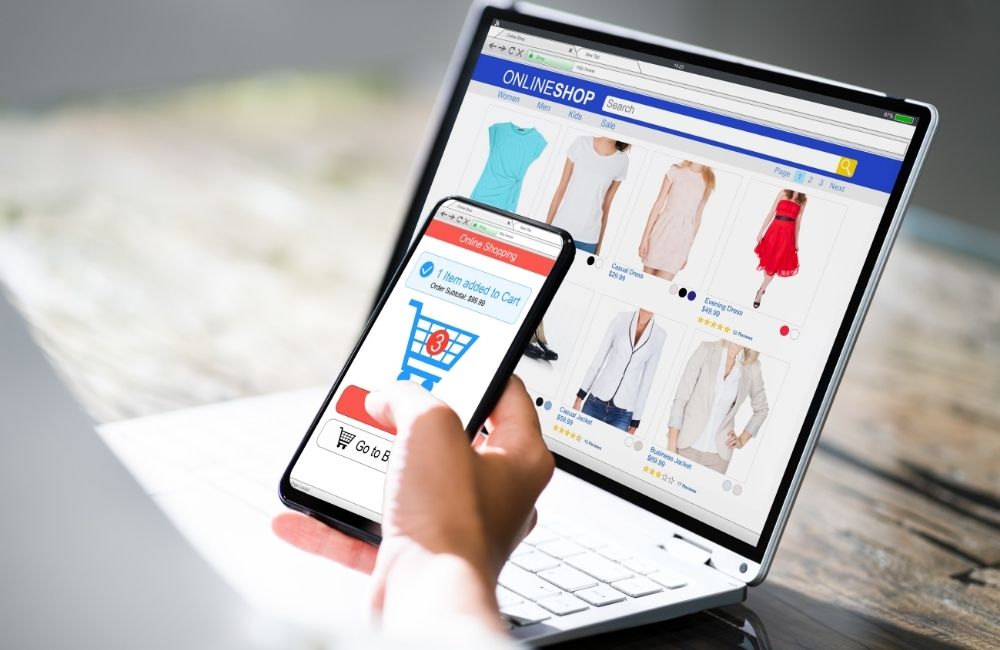 Product photos
Visual appeal is essential to help customers imagine your product online and click to buy. Perception is crucial it comes to selling items online. People develop their first impression of your website in just a few milliseconds.
Your product picture acts as an internet ambassador, expressing the promise of your goods. Because your customers can't touch, taste, feel, or wear your product before purchasing it, they'll rely on your visual effects to determine whether it's right.
Colors
You must consider website colors and fonts in addition to product photographs. Your product may be fantastic, but if the aesthetics of your website—particularly the colors and fonts—aren't up to par, your customers will be put off and may not buy. The aesthetic of your store has an impact on the overall shopping experience.
Color is one of the most effective instruments for evoking interest and emotions. It can also direct clients through the buyer's journey by drawing their attention to critical portions of your website.
Fonts
Finally, you must consider typography. Clients prefer innovative and engaging typography to outdated fonts like Times New Roman. Typography provides the emotion behind the data, even if your content only shares information.
Body fonts will become your workhorse, utilized for all other copies on your website, from product descriptions to check-out instructions, and unique headline fonts will bring energy to your brand.
3. Responsive format for mobile and web
Mobile traffic accounts for almost half of all web traffic and has been around 50% since early 2017. You risk losing many prospective customers if your site isn't mobile-friendly.
In addition to adopting a mobile-friendly, responsive website theme, make sure to:
Adjust your layout for finger scrolling.
Use clear, pop-up product images.
Reduce many fields on the checkout page.
Add to cart buttons, etc.
4. User-friendly
Customers can quickly and easily find your products using the website navigation. Good navigation also aids your website's SEO, allowing it to be found in search results.
The site should be appealing to visitors and persuade them to click on the product or category of things they want to purchase.
Self-explanatory categories should be used. They need to be divided into subcategories to find what they're looking for quickly.
After users type their query, the search bar should be easy to find and immediately list all relevant things available.
Build T-shirt Online Stores With Tigren
The examples above will provide you with a lot of inspiration to create a beautiful design with useful functionality for your T-shirt website. Consider each for unique and distinct creative ideas when deciding what elements to include.
And if you're having trouble finding a reliable ecommerce development agency, Tigren, which offers top-notch ecommerce website development services, is your best bet.
We will transform your website into an e-commerce site with many of the most cutting-edge features available today and an attractive design that will draw in customers. And if you have any demands for updating and differentiating the structures and features or establishing a website with your signature, we will always be happy to help.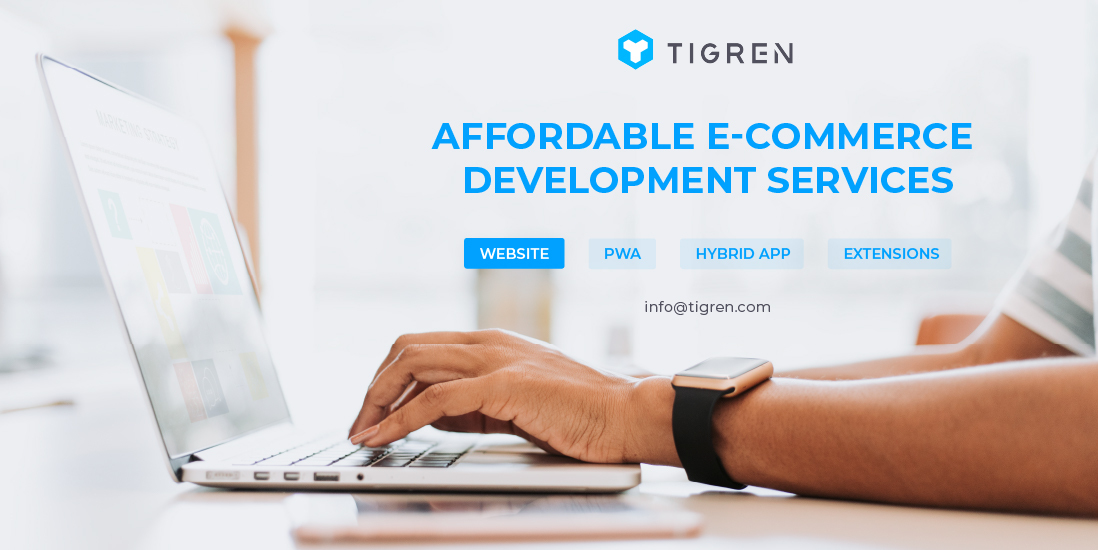 Read more:
The Beginner Guide Of Multi-vendor eCommerce Website Development
12 Mistakes That Make A Bad Ecommerce Websites (+Examples)