Picture a world where websites feel as smooth and responsive as your favorite apps, even when you're offline or on weak connections. That's the power of PWAs—a revolution reshaping how we interact with the digital realm.
Whether you're a tech enthusiast, a web developer, or simply love impressive digital experiences, these 15 PWAs will inspire you to embrace tomorrow's web today. Let's get started!
What Is A Progressive Web App?
Converting usual websites to PWAs has been a hot topic over the last recent year, so you might probably hear something about it. This new technology encompasses modern web APIs to provide users with an experience on par with native apps.
Owing to the PWA, we can build fast-loading dynamic apps with full-screen mode, push notifications, and a place on the customers' home screen – without any hassle associated with downloading, installing, and updating the apps.
Additionally, PWAs can work offline, allowing users to continue browsing the app even when the network connection is poor or absent, which is impossible for a mobile browser or native app.
Go deeper into Progressive Web App's technologies, it utilizes service workers, web app manifests, and other web-platform features in combination with progressive enhancement to deliver app-like experiences.
Outstanding Examples of Progressive Web App
1. Lancome
Another well-known brand that applied the PWA technology successfully is Lancome cosmetics. At Lancome, they found a paradox that although mobile users have risen dramatically in recent years, their mobile web conversions are very low compared to desktop conversions.
After that, they built a mobile app, but it satisfied Lancome's loyal customers who have regular purchase needs and are willing to download the app. Finally, they decided to build a PWA, and here is what they got: a 15% decline in bounce rates, a 50% increase in mobile sessions, 17% growth in conversion rates, etc.
Instead of updating their underlying site minimally, Lancôme looked to the modern web technologies – PWA to provide an immersive, app-like experience. By utilizing service workers, they ensured a dependable user experience even on unreliable networks and implemented push notifications to re-engage users effectively. Their outstanding PWA boasts an impressive performance score of 94/100 on Lighthouse, a tool for enhancing web page quality.
2. Alibaba
As you might know, Alibaba is one of the largest online B2B firms globally, which has served more than 200 different countries. Therefore, delivering a great mobile experience is always their first concern.
First, they focused on developing the mobile web and mobile app with nice design and user-friendly functionality. However, they gradually realized that these are not perfect tools for customer engagement and then came up with a solution – building a PWA.
Fortunately, this is a wise strategy when they experienced an explosion in their conversion rate (76%). Additionally, their PWA is immensely effective in engaging the users on the site since the number of active users grew by 30%.
3. AliExpress
AliExpress, the popular e-commerce platform, achieved remarkable results with its Progressive Web App (PWA) strategy. After implementing the PWA, the conversion rates from AliExpress to new users soared by 104%. Moreover, users visited twice as many pages per session, and the time spent per session increased by an average of 74% on all browsers.
The PWA's success was not limited to boosting conversions; it also provided a significantly improved user experience. AliExpress aimed to invest in a better web experience across all browsers, and the PWA fulfilled that goal splendidly.
As part of the Alibaba Group, AliExpress followed the PWA trend and reaped the rewards. Their users now enjoy a smoother and faster shopping journey for a wide range of products, including clothing, electronics, and more.
This real-world example showcases the power of PWAs in enhancing user engagement, driving higher conversion rates, and delivering a seamless online shopping experience. AliExpress' success demonstrates how embracing PWA technology can lead to tangible business growth and improved customer satisfaction.
4. Trivago
Trivago is a travel site that utilizes Progressive Web App technology to deliver seamless interactions to its customers. Trivago PWA has an intuitive interface that makes it easy for travelers to compare prices of different hotels, read the reviews, or book a selected hotel.
Users who added Trivago to their home screen experienced a 150% increase in engagement, with an average of 2 repeated visits. The PWA's fast loading times contributed to a better user experience.
Offline access, though currently used by 3% of users, showed promise, with 67% of those using it returning to the site when the internet connection was restored.
Trivago's PWA achieved an impressive 97% increase in clicks on hotel offers, showcasing its effectiveness in driving conversions.
5. Starbucks
Starbucks, the renowned coffee chain, embraced Progressive Web App (PWA) technology to enhance its online ordering system. The PWA allows customers to browse the menu, customize orders, and add items to their carts even without an internet connection, catering to on-the-go customers and areas with unreliable connectivity.
With its compact size, the PWA is a hit among users and has doubled the number of daily active web users, with desktop users now ordering at a similar rate as mobile users.
PWAs offer speed and efficiency, enabling quick and seamless ordering experiences. They also take up less storage space on devices, making them easily accessible even with limited space.
Since its launch, Starbucks reported an impressive two-fold increase in daily active users and a significant 23% boost in order diversity.
6. Twitter Lite
Twitter transformed its mobile app into the agile and feature-rich "Twitter Lite" Progressive Web App (PWA) in 2017. The results were impressive, with a 75% increase in tweets sent, 65% more pages per session, and a 20% lower bounce rate. The PWA provided users with a fast and engaging experience, consuming only a fraction of device storage compared to the previous native app.
Twitter Lite's PWA was designed to cater to its 80% mobile user base, offering lower data consumption and improved access for users with weak internet connections. It included features like "Add to Homescreen," web push notifications, and temporary offline browsing, enhancing user interaction and accessibility.
The success of Twitter Lite exemplifies the power of PWAs in optimizing mobile experiences, increasing engagement, and delivering substantial business benefits. By adopting PWA technology, Twitter created a lighter and more efficient app that delighted its users and improved overall performance.
7. Pinterest
Pinterest is by far the most familiar website when we look for creative ideas. However, its conversion to signups and mobile app installations is too low (roughly 1%). That's why they moved on to PWA.
By embracing PWA technology, Pinterest enhanced the user experience, encouraging longer sessions and higher revenue. The success of their PWA highlights the significance of providing users with a fast, efficient, and seamless mobile browsing experience. Pinterest's journey showcases the potential of PWAs to drive business growth and improve user satisfaction.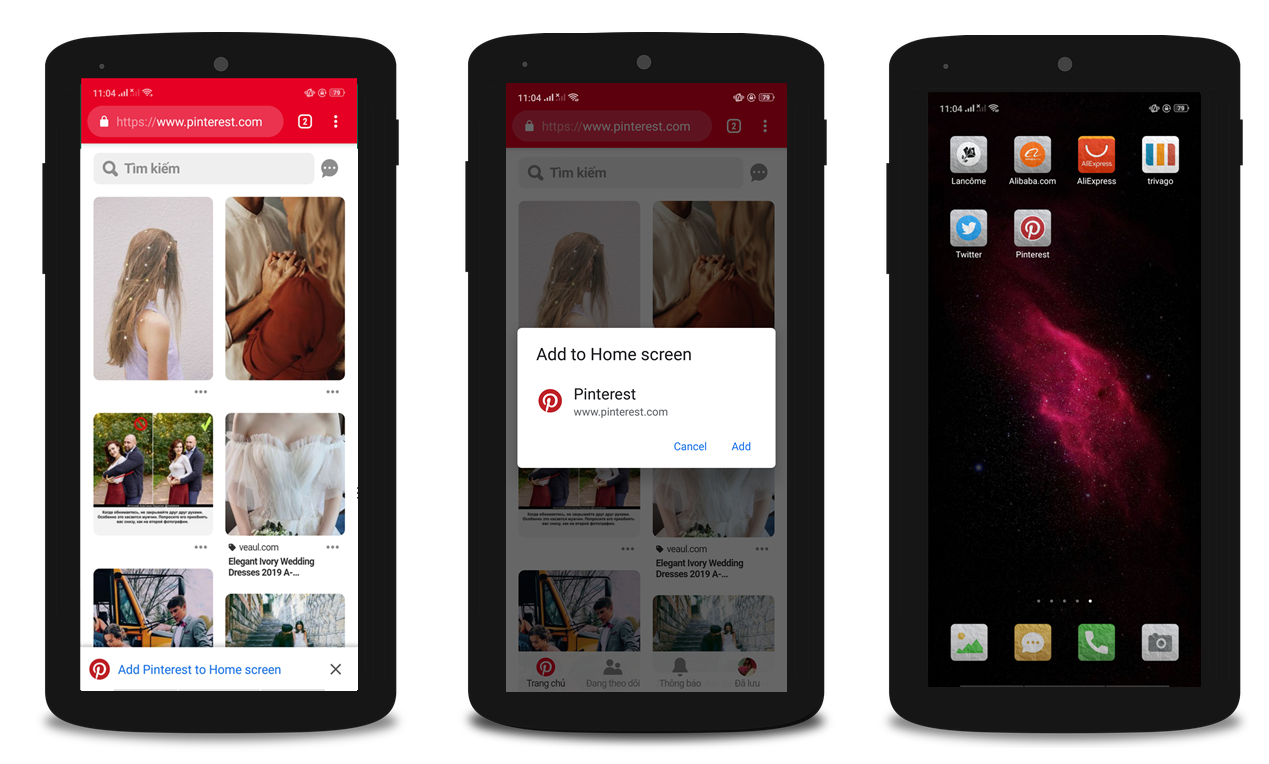 Pinterest achieved many impressive results: higher revenue from user-generated ads (increasing by 45%), higher ad click-through rate (rising by 50%), and improved user engagement.
8. Uber
Uber, the popular ride-sharing company, leveraged Progressive Web App (PWA) technology to enhance its web app and expand into new markets. By rebuilding its original website as a PWA, Uber aimed to provide a booking experience similar to its native mobile app, even on slower networks and with limited storage space.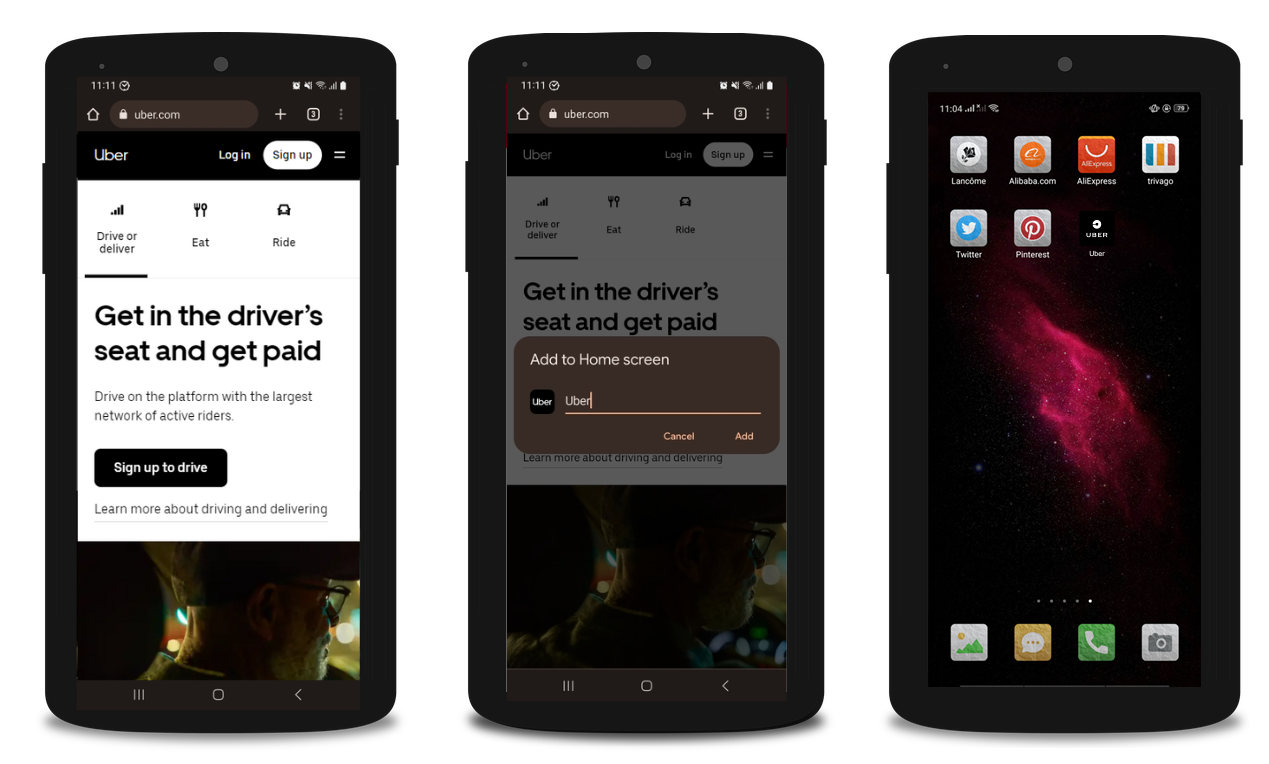 The Uber PWA's primary benefit lies in its versatility and accessibility. It can be accessed on 3G or even 2G networks, accommodating users with low-end devices and limited network resources. The compact file size allows the PWA to be downloaded within seconds, reducing bounce rates and improving user retention.
With the PWA, Uber ensures quick ride requests regardless of location, network speed, or device. The lightweight core app of only 50kB loads within 3 seconds on 2G networks, delivering an app-like experience on modern browsers.
9. Spotify
Spotify, the popular music-streaming platform, experienced significant success after transitioning to a Progressive Web App (PWA). The move was motivated by the need to avoid Apple's 30% app store commission and to create a faster and more adaptive user experience.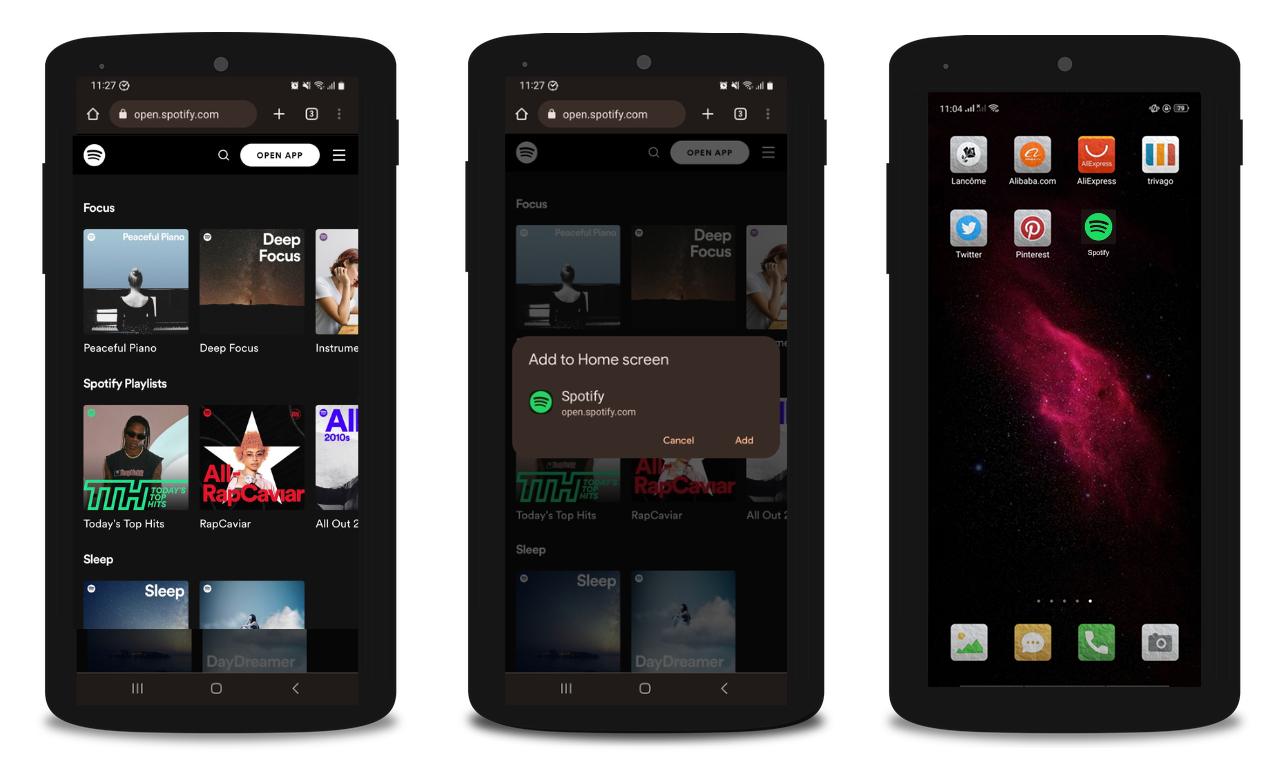 Since the launch of its PWA in 2019, Spotify saw impressive results. The free-to-paid conversion rate surged from 26.6% to 46%, indicating a substantial increase in premium subscriptions. In 2021, the conversion rate soared to 58.4%, surpassing industry records.
Spotify's PWA offers all the benefits users expect from a progressive web application. It is lightweight, operates offline, and provides an immersive and customized user experience. The PWA's ability to function smoothly across devices and offer tailored playlists based on listening habits contributed to its widespread appeal.
10. MakeMyTrip
MakeMyTrip, India's leading travel company, achieved outstanding results after adopting Progressive Web App (PWA) technology. By developing a PWA to cater to users with intermittent connectivity and low-end devices, MakeMyTrip saw remarkable improvements in conversion rates and user engagement.
The PWA delivered a fast, reliable, and polished mobile-web experience, reducing page-load times by 38%. As a result, MakeMyTrip's conversion rate on the PWA tripled compared to their previous mobile site.
The PWA's linkability and offline capabilities made it a perfect fit for the Indian market, where many users prefer the mobile web and have limited data resources. With a growth strategy in mind, MakeMyTrip is reaching users in 24% more cities through their PWA. By offering a seamless experience regardless of the operating system, the PWA has become a profitable and effective solution for driving mobile traffic.
11. Flipkart
Another impressive case is the PWA of Flipkart – the largest Indian e-commerce store. Their PWA is called Flipkart Lite proved to be the ideal solution, resulting in a 70% increase in conversions and a 40% higher re-engagement rate. Users spent three times more time on Flipkart Lite than on the native app, and 60% of customers returned to the PWA.
Also, it's worth noting that since most of the mobile users in India are accessing the site via a 2G network, PWA's fast-loading page feature and offline functionality are precious.

According to the Flipkart survey, more than half of their visits come from this modern technology. Moreover, the engagement rate from their great PWA is much higher than from other sources (mobile web and native app).
12. Wego
Wego, a travel booking platform, saw remarkable results with its Progressive Web App (PWA). The PWA delivered instant page load and smooth experiences, increasing mobile conversion rates by 95% and reducing drop-off rates by 20%.
With the PWA icon on users' home screens, brand awareness grew, leading to more bookings. The PWA's speed and efficiency attracted 26% more visitors, with faster load times and reduced bounce rates.
Logged-in users benefited from auto-filled forms, streamlining transactions. The PWA's native app-like appearance and single-tap payment options boosted ad click-through rates by 3x, resulting in higher customer spending.
Among iOS users, Wego experienced a 50% increase in conversions and 35% more time spent on the app. Overall, the PWA brought a staggering 95% increase in conversions, nearly doubling their previous performance.
13. Lotto
Lotto, the popular lottery platform, implemented a Progressive Web App (PWA) to provide its users with a seamless and efficient experience. The PWA loads extremely fast and works well with low-end devices and poor internet connections, making it a handy companion for lottery players eager to know the latest results.
The introduction of the PWA brought significant benefits to Lotto. Users found it more exciting to start playing, as they could quickly access the platform at any time. This improved user experience led to a remarkable 50% increase in the conversion rate, indicating higher engagement and more players actively participating in the lottery.
The PWA's smooth user experience and availability in both German and English further enhanced its appeal, catering to a broader audience of lottery enthusiasts.
14. BMW
BMW, a pioneering brand in the car industry, embraced Progressive Web App (PWA) technology to improve the customer experience on their website. The new BMW PWA delivers a captivating 'wow' experience with high-resolution images and videos, loading almost instantly (4X faster than the old site).
The impact of the PWA was profound, with significant data-driven evidence to support its success. BMW witnessed a fourfold increase in users clicking from the homepage to a BMW sales site, indicating higher engagement and interest in their products. The PWA's lightning-fast load times contributed to a 49% increase in site visits, while the mobile user base grew by an impressive 50%.
Despite its fast loading times, the BMW PWA didn't compromise on rich content. The platform boasts an abundance of high-resolution videos and images, providing a captivating experience that draws potential customers deep into the sales funnel and encourages exploration of BMW's vehicle lineup.
15. Telegram
Telegram, the alternative communication app with around 500 million registered users in 2021, made a significant shift by replacing its aging native mobile app with a progressive web application (PWA). The previous app suffered from a clunky experience due to outdated architecture.
The new Telegram PWA offered users a secure and efficient platform for sending and receiving messages, along with some offline functionality. This decision to embrace PWA technology proved to be a game-changer for the company, resulting in impressive data-driven outcomes.
Since transitioning to a PWA, Telegram experienced a remarkable 175% increase in users since 2018, indicating a surge in popularity. The retention rate also saw a boost of 50%, highlighting the enhanced user satisfaction and engagement. The company's user base has grown by 40% annually, showcasing the long-term success of the PWA approach.
Additionally, Telegram saw a 50% increase in sessions per user, indicating that users were spending more time on the platform, enjoying a seamless and agile experience. By adopting PWA technology, Telegram succeeded in providing its vast global user base with an accessible and efficient way to communicate securely across all devices.
Is PWA Necessary When We Have Already Had A Mobile App?
Yes, why not? PWAs have several advantages over native apps. For example, it's easier to persuade customers to install a PWA than a native app. While the users need to click on the "Add to home screen" button and wait for a few seconds to install the PWA, they have to go to an app store, search, download, and install the app.
Not yet, PWA accounts for less data storage than the native app. In short, if your store can offer both the PWA and mobile app, it will be the greatest thing for the customers.
Has anyone adopted Progressive Web Application and got success?
Yes, many businesses developed their unique PWAs and gained tremendous success. In this article, we will show you several impressive examples of PWAs this year.
How To Build Your Own Progressive Web App?
You probably realize the powerful capabilities and potentials of PWA via our examples of Progressive Web Apps. Up to now, this technology has been widely applied across industries, from media, entertainment, travel to social networks and e-commerce.
If you want to transform your e-commerce website to an advanced Progressive Web App, Tigren can help. Find more information about our PWA development services and ready-made solutions here.
Read more:
13 Excellent Hybrid App Examples That Will Inspire You
PWA vs SPA: Which Is Better & How Are They Different?