If you are passionate about building a fashion start-up, there's never been a better moment to start an online boutique than ever, as more and more people shop for clothing, shoes, and accessories online. With all the tremendous benefits that technology and eCommerce give us, everyone can go online and launch their own business easier without common-seen worries of a brick and mortar store (location, human resources, high expense, etc.).
However, it does not mean that you do not need to put any effort into it since business is never easy. The good news is that you are reading this blog in which we point out what you should do in the whole process of starting an online boutique.
Starting An Online Boutique 6-Step Checklist
1. Identify a market gap
A market gap is a market segment that is currently not served by existing enterprises or served not well enough. In reality, there are always a group of customers whose needs are unmet in any market. Your job is to find them and give them what they truly want, as identifying target customers plays a vital role in a business's success, whether online or not.
A common mistake is that small business owners frequently think too big, while it is usually better to think small when it comes to a niche in the market. The more specific your target market, the more likely you are able to target the right customers effectively.
But not too small! You must ensure that there is demand in that market and it is large enough to support sustainable development.
For example, you find out that there is no cosmetics store specialized for teenagers who are financially dependent and looking for affordable products. It would make sense to offer them reasonably priced accessories such as bags, hats, pieces of jewelry, and so on. You can also sell free-size and plus-size clothing, these items are in increasing demand today.
In brief, when you boil this down to its very essence, a market gap is a solution to a problem that isn't being addressed right now. Solving it is the path to success, making your products sell themselves.
2. Build a business plan
Without a specific strategy, doing any kind of business is nothing more than a risky action. Don't rush to jump into the manufacturing process or fill up your stock; create a business plan first to guarantee that you can turn your idea into profit.
Before deciding to start your online boutique, you must have had these questions in mind: "How much inventory do I need to start an online boutique?", "How to start an online boutique with no money?" or something more specific like "How to start an online clothing boutique?". You will see the answers for them in a business plan.
Below are some of the most important components to include in your online boutique business plan:
Market analysis
There are many great techniques to get an insight into the market, such as market research, SWOT analysis, etc.
You will find out demographic information about customers, including their age, location, and income. Then go a step further and capture the social media channels they prefer.
There, you can confirm whether there is a demand for your product, how big the current market is, and how fast it is growing. Make sure you have a lot of numbers to back up your claims.
In this case, useful tools such as Google Trend or Facebook's Audience Insight are definitely what you need.
Business model
Choosing a business model is one of the first things you have to consider when opening an online boutique.
Online merchants and wholesalers of apparel and accessories usually fall into one of the following categories: reselling, handcraft, print on demand, custom cut and sew, private label, and drop shipping.
You can also combine different models into your boutique to create an innovative and profitable business. For example, you can apply the print-on-demand drop shipping model, in which the on-demand printing and fulfillment company will help to turn your ideas into actual products and ship the items to your customers.
Operation plan
This part consists of works related to financial planning, seeking labor force, and so on.
It is essential to know how many staff you may need (a few people or just you is enough), how much money you have to invest, and how much you could earn.
What if you are not good at numbers? Ask for support from your friends and family. We are pretty sure that they are willing to help.
Marketing strategy
As a newbie in the marketplace, you need to make a big announcement. This requires a smart marketing strategy that is suitable for your target audience.
Try different methods to get your brand name out there and attract as many potential customers as possible. There is a wide range of options, including social media marketing, email marketing, CPA marketing, and so on.
For example, if your target customers are teenagers, try Tiktok affiliate marketing. This social media platform has been really in vogue in the past few years, particularly among youngsters.
What we have mentioned are just several criteria in a standard business plan. You can pick up a suitable (and free) template for a business plan from the internet with more detailed instructions.
3. Find suppliers
Even if your boutique's products are handcrafted, you'll still need to buy materials. To get a good deal, having a wide network of suppliers or manufacturers is a must. Because you will be working with them frequently, be sure that you can develop a long-lasting relationship.
A reliable supplier is someone who provides you with high-quality products and a high level of support. A good way to know this is by checking reviews from the other people who have worked with them before.
However, having a stock of your products on hand means you'll have to deal with storage issues. You will have to keep track of stock levels while handling orders, packaging, and deliveries. If all of that seems like too much to handle, dropshipping could be the alternative option for you.
4. Build your brand
Choose a brand name and logo
Brand name, logo, and slogan are among the factors that contribute to brand recognition. A good brand recognition plan goes beyond a memorable business name to include color schemes, logos, visual aspects, and even a tone of voice that your customers can associate with your brand.
Due to its indispensable role in building brand trust and brand equity, brand recognition is extremely important. It keeps your brand in front of the mind with customers.
With the help of online tools, you can now create these branding elements on your own. With just a few clicks and searches with key phrases such as "how to start an online boutique for free", you will get everything in your hand.
If you're short on time, you can hire a skillful freelancer on sites like Upwork and Fiverr to do logo designing, product filming, and more for you.
Price your products
One crucial facet to consider is the customer lifetime value. It is a must to offer products that retain customers, keep them coming back, and loading items into their shopping carts to maximize your income.
How to do so when you start an online boutique? It depends on your products' quality or either their price. Choosing the price point for them is a decision that affects every aspect of your business, from target customers to estimated revenue. So make sure you have included all the important numbers in your plan!
5. Prepare for legal requirements
"How to start an online boutique legally?" You also must have asked yourself this question from time to time. There are specific legal requirements you must meet before starting your business and making money with it.
We know it is not an exciting thing to do, but if you want to avoid future problems, you must get used to this. Your boutique must comply with all applicable regulations and legislation in your region.
One of the very first things to do is register your business to make it a legal entity and get your business licenses to operate. Also, you should register your trademarks to protect your brand name and logo. Apart from it, you must be aware of laws related to sales tax, copyright, or even shipping restrictions in your country.
6. Create your eCommerce website
When you finish the above five steps, you are almost ready to run your business. In the technology-driven world, there are various ways that you can choose from to sell your products online. For instance, you can sell them on a marketplace such as Amazon or your own website.
However, your purpose is to do business and develop it in a long term, we suggest building your own online store and using it as an official channel to connect with your customers.
Don't worry! You don't need much experience to get started these days as reliable eCommerce platforms and website builders such as Magento, Shopify, etc., make it simple to develop a customized shop within a blink of an eye. With an impressive ecosystem of 150,000 innovators, Magento is one of the most favored in the market at the moment, therefore, surely is a brilliant choice.
Once you choose your favorite platform, let's say, Magento for example; then you will need to look for a professional Magento website development company to set up your store.
During the site development, you will need to prepare product descriptions, banners, CMS pages' content (e.g.: about us, refund policy, terms, and conditions…) so the developers can add those to your website.
Tigren
Tigren is a Vietnam-based eCommerce development firm with nearly ten years of experience. We provide numerous eCommerce services, including web design and development, optimization, support on Magento and other popular platforms. Plus, we also offer a library of high-quality extensions that will vastly improve the functionality of eCommerce websites.
By choosing Tigren's services, we will build a stunning website for your online boutique within the shortest time and lowest cost possible.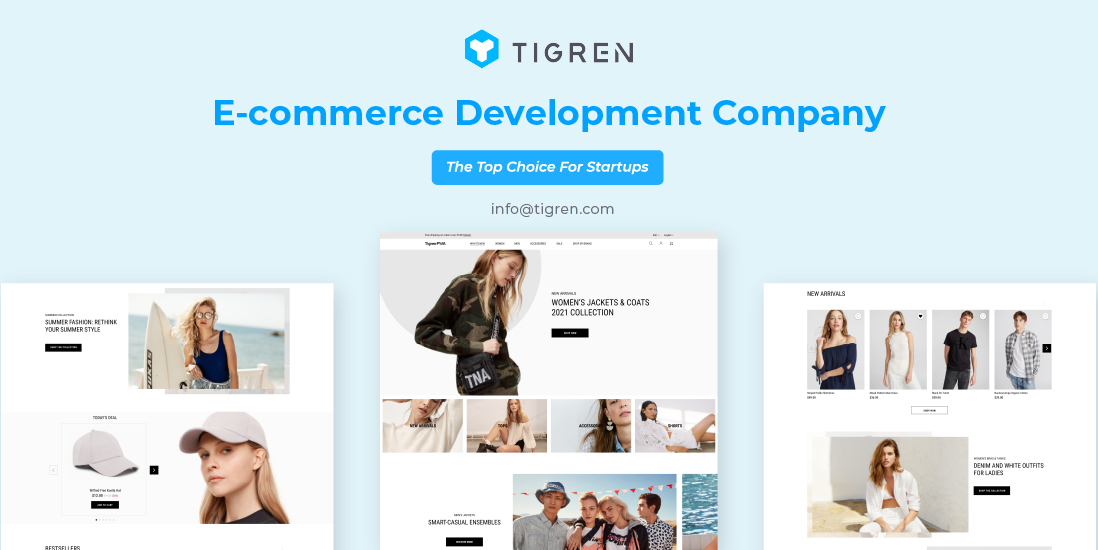 Other Essential Factors
The most important is saved for last. Although starting an online boutique, in general, is similar to starting other types of online business, it does require additional criteria.
Sense of style
Needless to say, to survive the fashion industry, you must be creative and have an eye for fashion. This means that you should have a good sense of style, pattern, and color combination.
A clothing store owner who can mix and match different clothes to create a combination that fits each person will be able to attract more customers to their store.
The same goes for accessories boutiques that their owners should be able to give excellent recommendations for their target audience depending on their interests and usage purposes.
This sense of style also applies to your boutique's concept and website's layout. Make sure that your storefront theme is striking and aesthetic to leave a good impression. This will significantly impact your store's conversion rate.
Trending items
Fast fashion and fast-fashion retailers such as Zara and H&M have dominated the worldwide market by copying the latest runway styles.
As you can see, the fashion industry is dependent on current trends and their styles. For this reason, to sell out of your products, keep them on-trend.
Last Words
The things mentioned above may seem overwhelming to do. But believe us, now that you know how to start an online boutique with this checklist, it turns out to be not as challenging as you thought, or at least not as hard as building a physical one.
The best part is that you will also have the opportunity to delve into the fascinating world of eCommerce that is full of exciting things to discover.