In a digital landscape that never stands still, Progressive Web Apps (PWAs) have emerged as a force to be reckoned with. They're not just a trend; they're the future of online retail, combining the best of web and mobile apps to deliver a seamless, fast, and engaging user experience.
In this article, we've handpicked 35 incredible Magento 2 PWA examples that aren't just successful; they're a source of inspiration. Whether you're a seasoned Magento pro or just beginning to explore what's possible, these real-world examples will spark your creativity and fuel your drive to take your online store to the next level.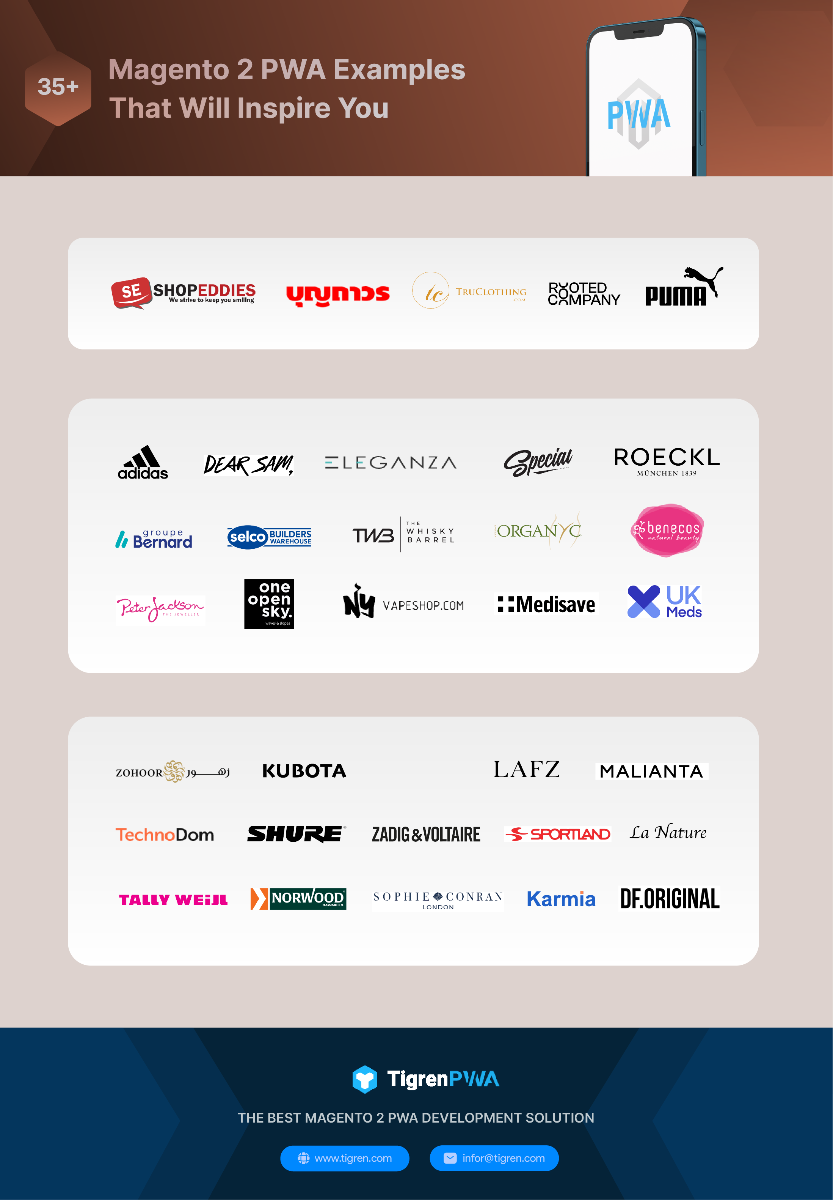 ShopEddies is one of the very first Magento 2 PWA examples in the Magento community. They realized the huge potential of Progressive Web App early and made a decision to convert their traditional website to a PWA.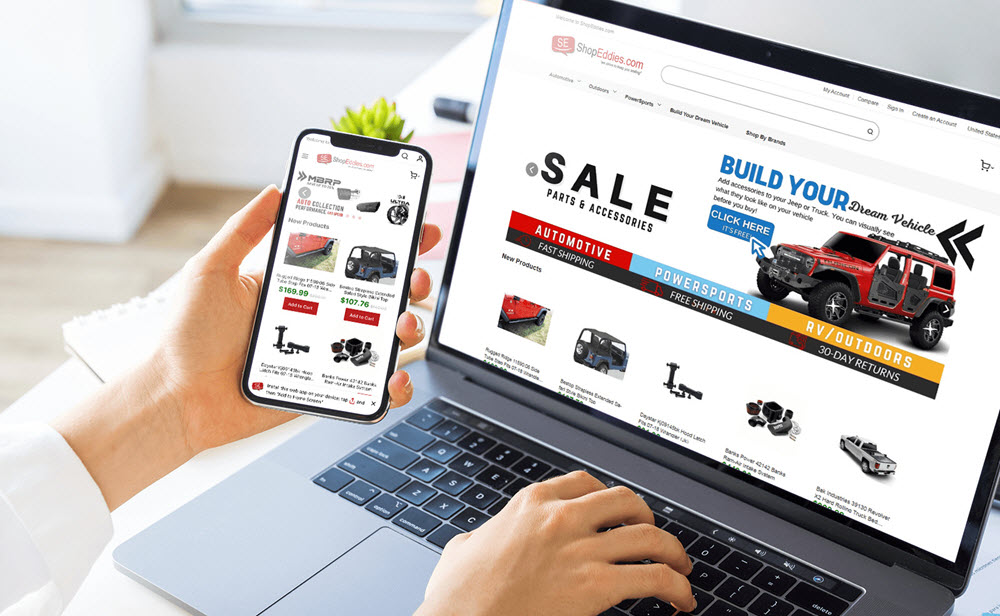 This firm is now providing affordable and high-quality parts for cars, trucks, RVs, and power sports. Taking advantage of Tigren's Magento PWA theme, ShopEddies has completely changed its shopping experience. The new store has a lightning speed and app-like PWA site with a simple but modern design. Moreover, it is also upgraded with some new advanced eCommerce features to offer the best user experience to its customers.
Boonthavorn is a popular Thailand-based interior furniture company that started its journey in 1977. After seeing the potential of Progressive Web App, they decided to change their website to an amazing PWA.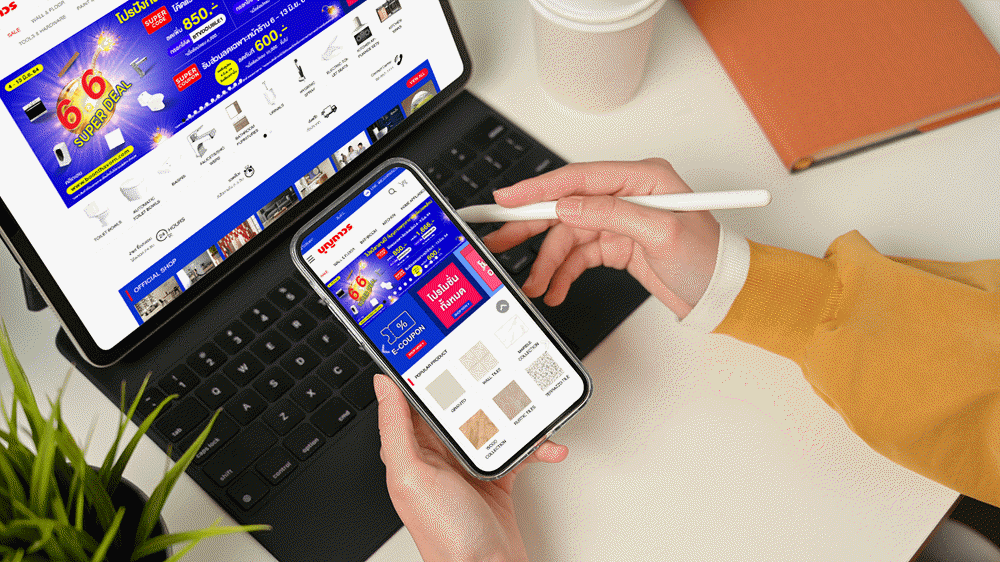 Thanks to Magento 2 PWA, now Boonthavorn has a better user experience (with app-like features) while still maintaining a lot of functions from the original site such as improved sorting, layered navigation, product labels, automatic related products, social login, blog, etc.
One of the best Magento 2 PWA examples is TruClothing. This firm was taken to the eCommerce world in 2010 and has grown from strength to strength since then. Realizing the importance of the mobile shopping experience, they have integrated their website with Progressive Web App.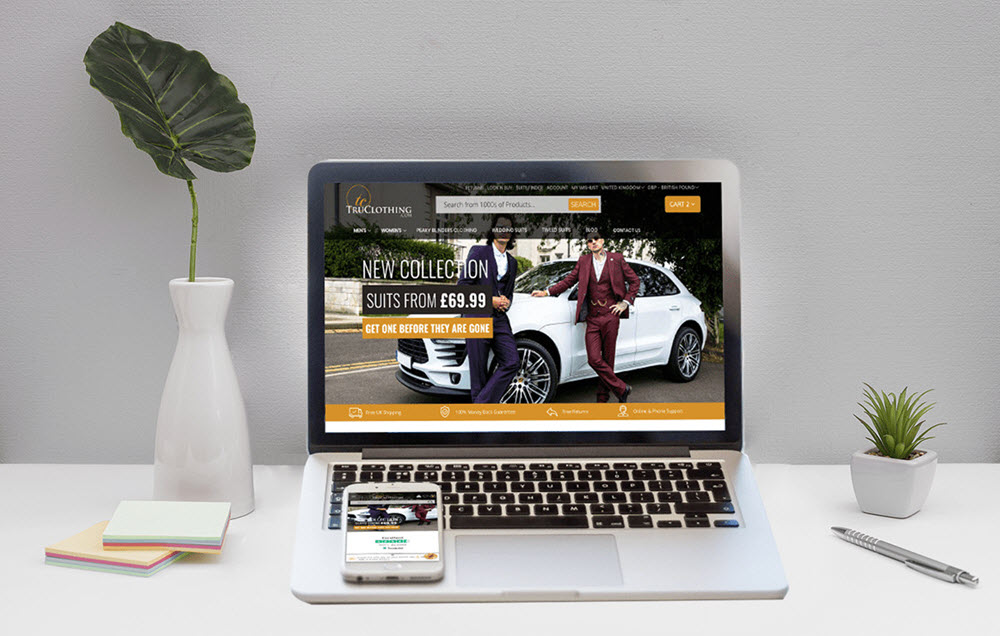 After transforming their normal website into a PWA, there have been plenty of positive changes. Its new PWA helps bring a whole new look and feel to its storefront. Now, TruClothing has an elegant but modern design with great features while maintaining all existing functions of the website.
4. Rooted Objects
Rooted Objects is an online marketplace from India. They connect consumers with brands that respect people and the planet. They realized that their customers mainly used mobile devices to visit their site, and slow mobile web performance would significantly impact conversion rates. Therefore, they soon understood that PWA is the best solution to their problem.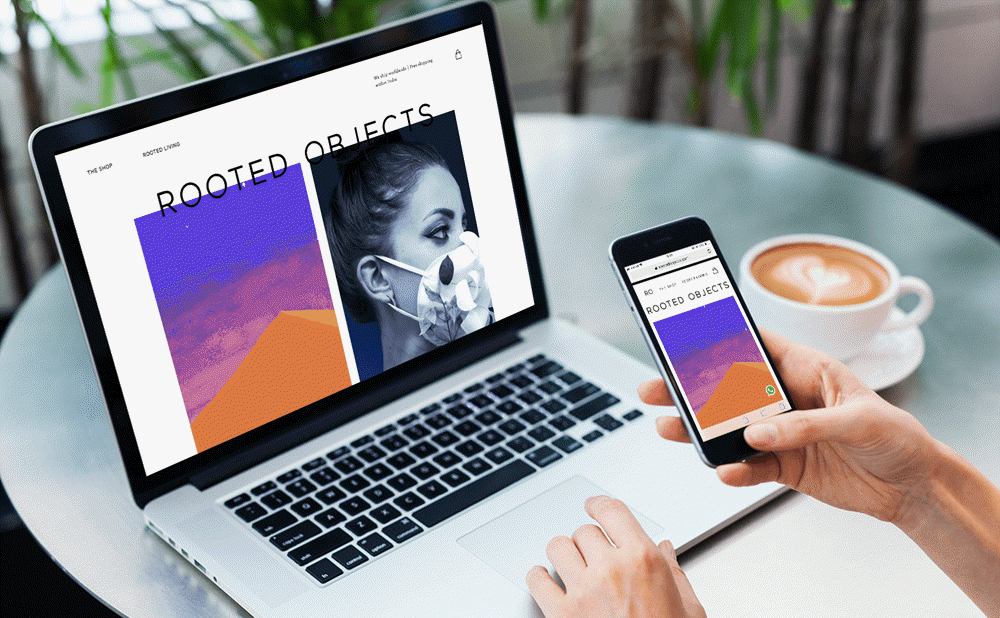 Launching PWA has helped Rooted Objects improve the site's performance, reduce page loading time and bounce rate, and improve their eCommerce conversion rate. The problems of slow and dropped checkout are solved completely by Magento 2 PWA.
When it comes to Puma, we all know that it is one of the leading sports brands and top choices for athletes. However, not many people know that Puma also prioritized continuously improving their mobile website experience. After making their switch to Magento 2 PWA, they can see the instant result with its well-designed web app.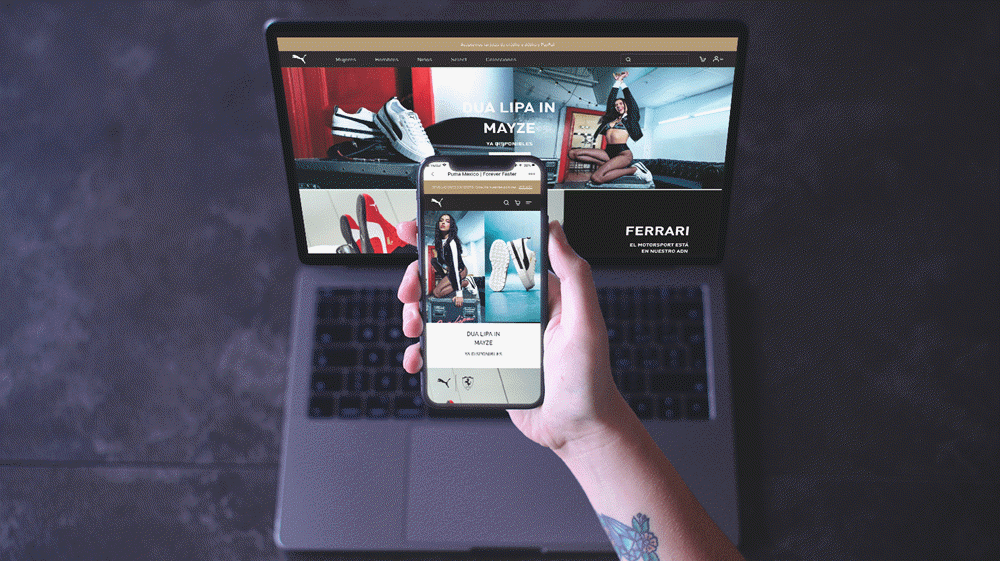 Puma's new PWA works efficiently on any device and it even works in 2G networks. Their users now can experience a more excellent and friendlier web app than their old version. PWA did a really good job of creating a better user experience and increasing customer engagement. PWA also focuses on the site's speed, ease of navigation, product discoverability, and the simplest process to make a purchase.
Adidas is also one of the most well-known sports brands in the world with its purpose to change lives through sports. Knowing the increase in the number of mobile users, Adidas saw the need to change and renew. In other words, they needed to provide their mobile users with a faster, more reliable, and more engaging experience.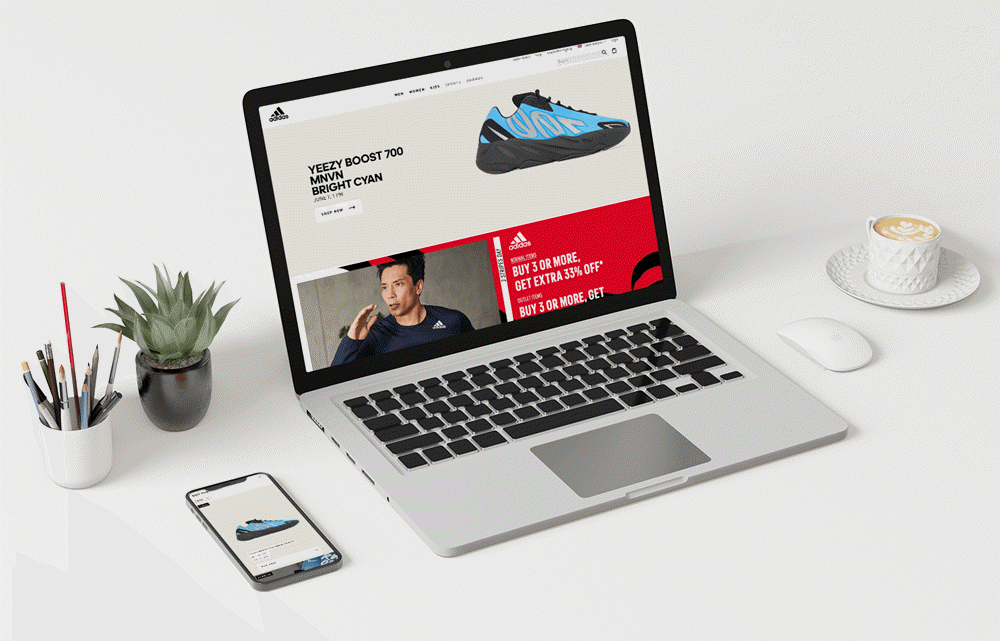 The leading sports brand had its mind at the right place by introducing Magento Progressive Web App to mobile users. Adidas's PWA combines the best of a website's features and a native app's features together to deliver a more robust experience for their customers.
Dear Sam is a Swedish-based company that specializes in creating high-quality art and posters. It was founded on the love of art and offered a unique selection of posters, print art, and frames. This company also saw the opportunity of increasing its profits by focusing on its mobile users.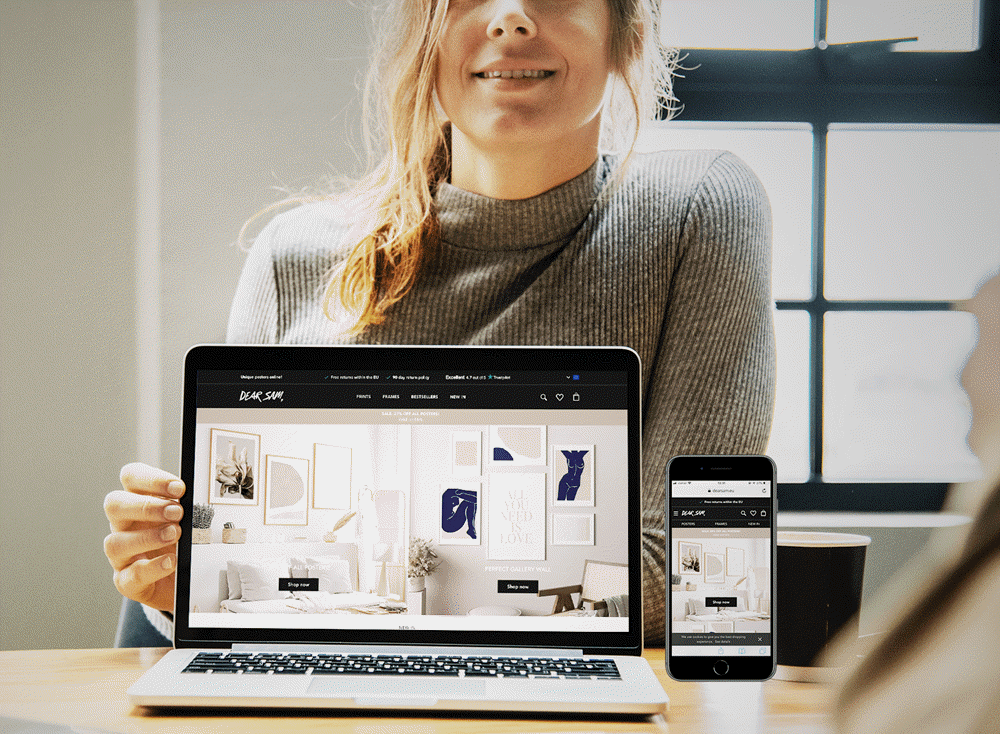 Dear Sam is a Magento 2 PWA example that is done right. After converting their site to PWA, not only did the design of the website become more impressive, but the page loads faster and is more satisfying to use.
Eleganza is a famous high-end fashion retailer which is based in the Netherlands. They are well-known for selling brands such as Versace, Michael Kors, Valentino, and so on. In addition to its online stores, Eleganza also has five brick-and-mortar stores throughout the country.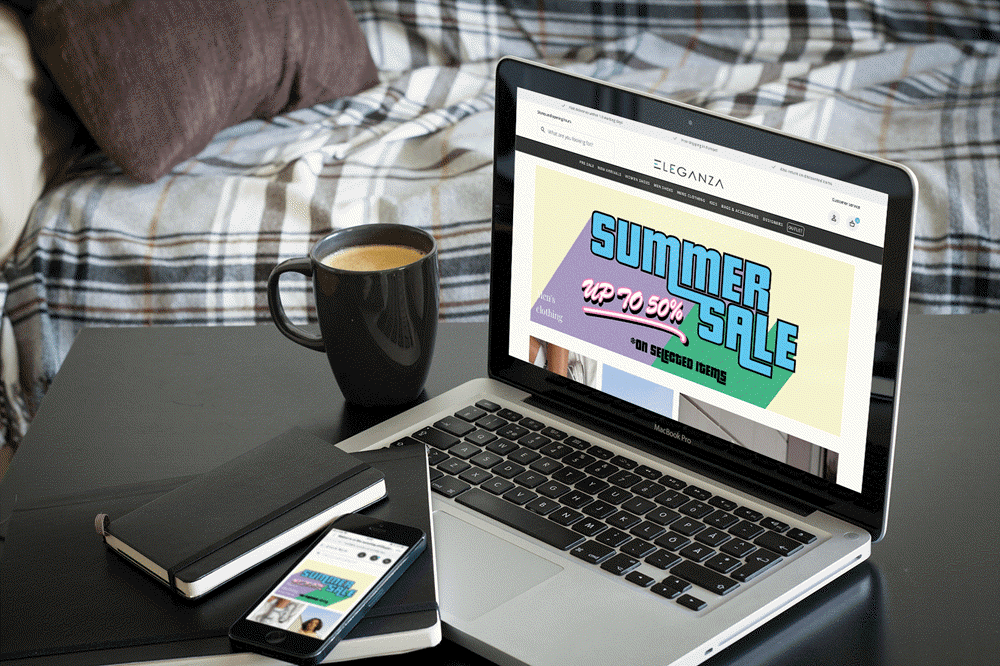 However, they saw an opportunity to increase their revenues and offer a better shopping experience when 90% of their customers visit their sites using mobile phones. They decided to embrace Magento 2 PWA to have a more app-like design and decrease the serve loading time.
An important aspect of Eleganza's PWA is the checkout experience. Besides, they also work on offering their customers more secure payment options. After all, Eleganza's PWA is a worthy investment and one of the rewarding Magento 2 PWA examples.
Special Milano is an Italian company that focuses on streetwear style. This business provides its customers with amazing shoes, clothes, and accessories from famous brands like Nike, Adidas, Vans, and Reebok. They do have a store in Milan, but they also want to enter the online market and create a more unique user experience on their website.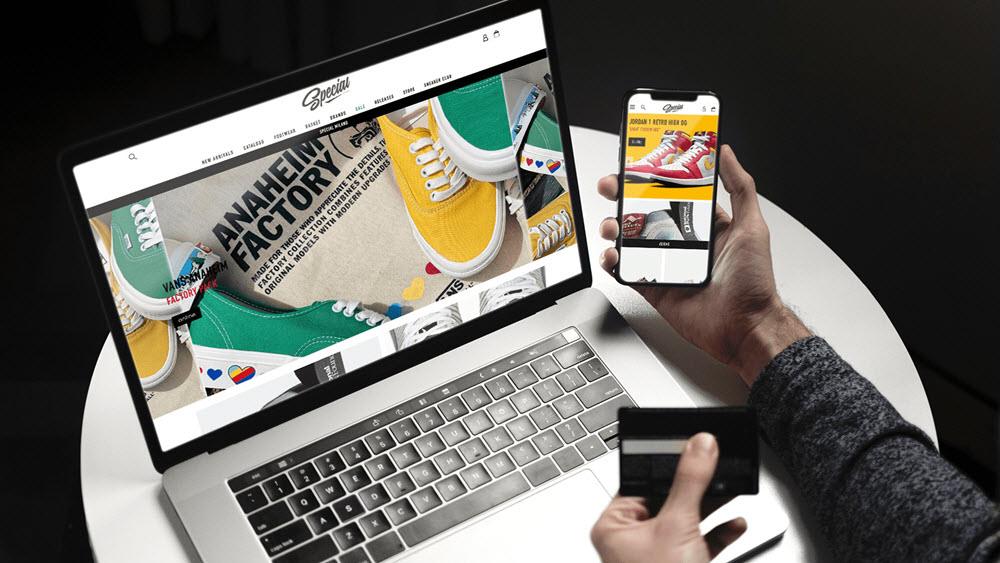 As a result, Special Milano PWA is introduced to offer its customer an aesthetic website with the world's hottest shoes and clothes.
10. Roeckl
Roeckl, which is a family-run fashion business, saw the weakness of its website when it lacked a truly responsive experience. Then, they decided to give their business a complete makeover by implementing Magento 2 PWA.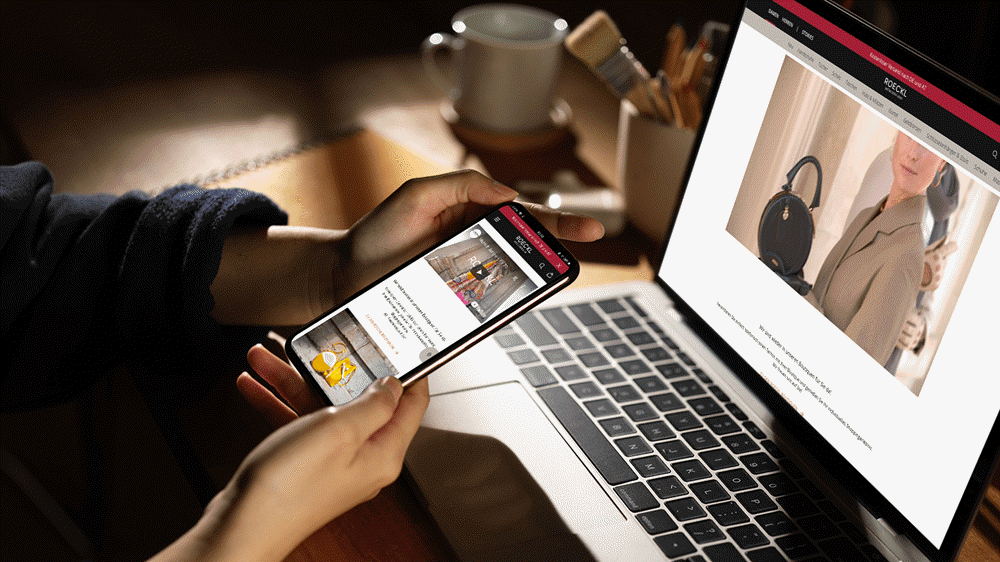 With PWA, their website can bring customers the best performance. It is capable of delivering content even when the network connection is unstable. Besides, their website also became much more attractive and responsive with the help of PWA.
Auto Bernard is a French car distribution company with a complex catalog. They wanted to stand out from too many competitors in the field, so they aimed to provide customers with a way to book and buy their cars directly on their website.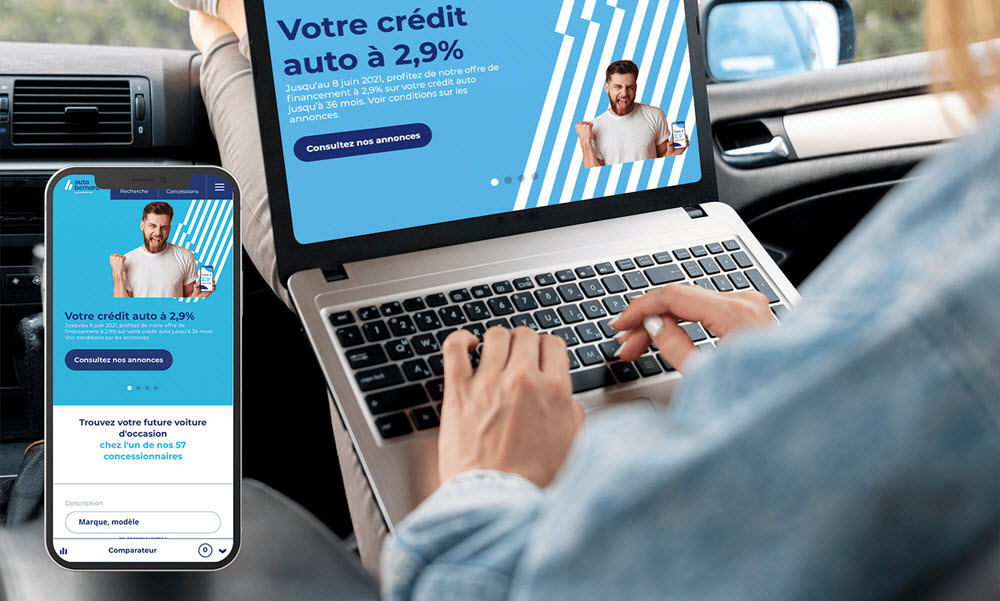 Auto Bernard is one of the stunning Magento 2 PWA examples. It met every request that Auto Bernard made and allowed customers to compare three vehicles, make appointments, and request a quote on their site.
12. Selco
Selco is one of the most well-known and established builder's warehouses in their industry, with more than 15,000 products for building contractors and tradespeople to choose from.
Selco has enjoyed eCommerce success since it invested heavily in its online presence. They understood that they needed to place more focus on their mobile users to grow their business. That's the reason why they chose Magento 2 PWA as the solution to up their game.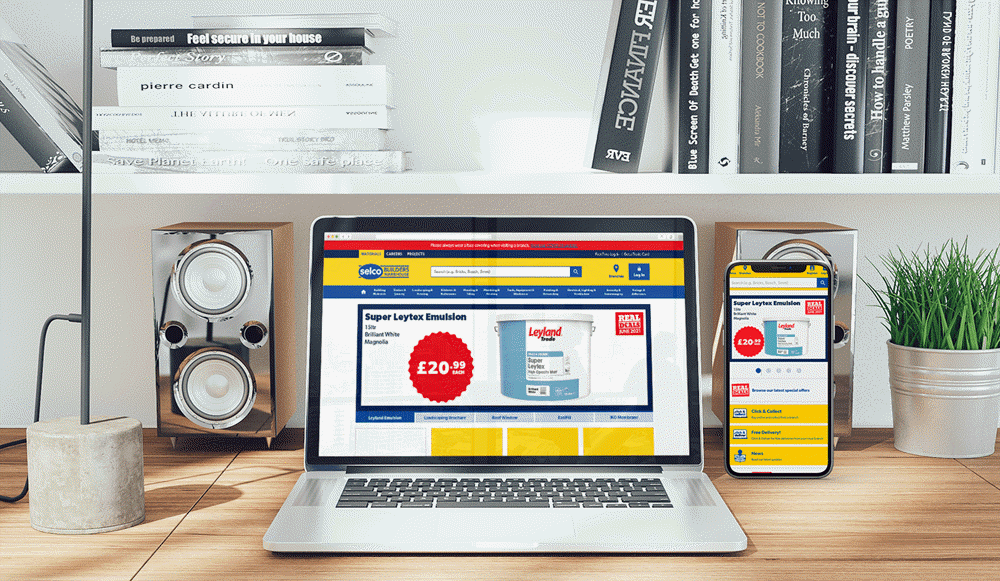 Now their customers can do everything with their PWA. Specifically, tradespeople and contractors can use the app to plan and carry out their projects whenever and wherever they want, even when they are offline. In addition, customers can also find and add materials they need and finish their payment right in the app.
The launching of PWA had a direct influence on the company's performance when there has been an increase of 50% in project list leads that were sent by their customers.
The Whisky Barrel is an Edinburgh-based online whisky specialist with exclusive bottling and impressive collections of high-quality whiskies and rums.
There was an increase in demand for unique bottlings and they needed a site that could deliver the best user experience. And PWA – an innovative solution was what they went for.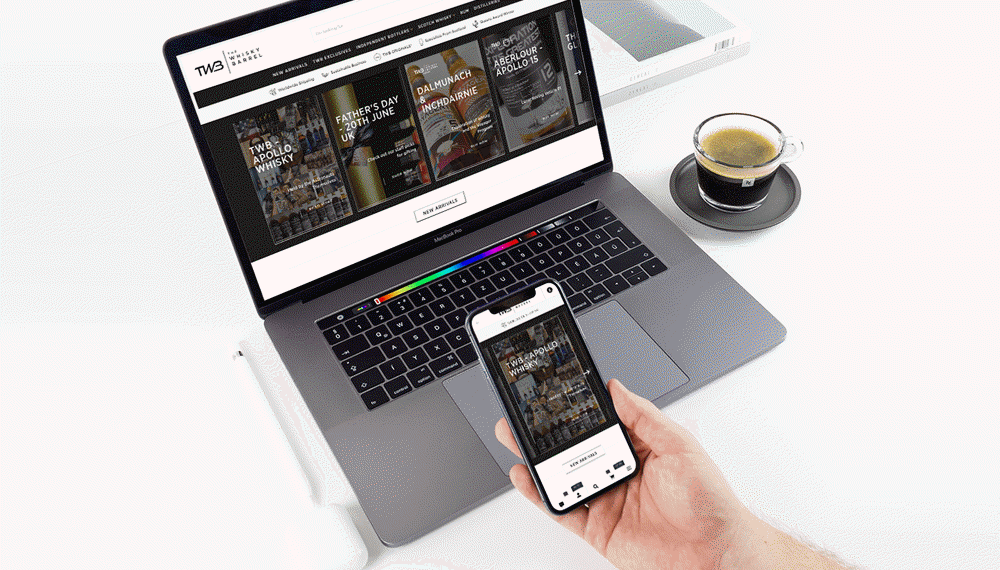 PWA was the ideal fit for The Whisky Barrel as it has not only significantly improved user experience but also withstand the high traffic during peak periods. Plus, The capabilities of Progressive Web App have upgraded their site speed, their look and made the Whisky Barrel stand out.
Another impressive company in the Magento 2 PWA examples list we cannot miss is Organyc – a UK-based organic and natural products provider. Being a pioneer in their field, Organyc wanted to develop a site that could represent their products and bring their customer the best experience.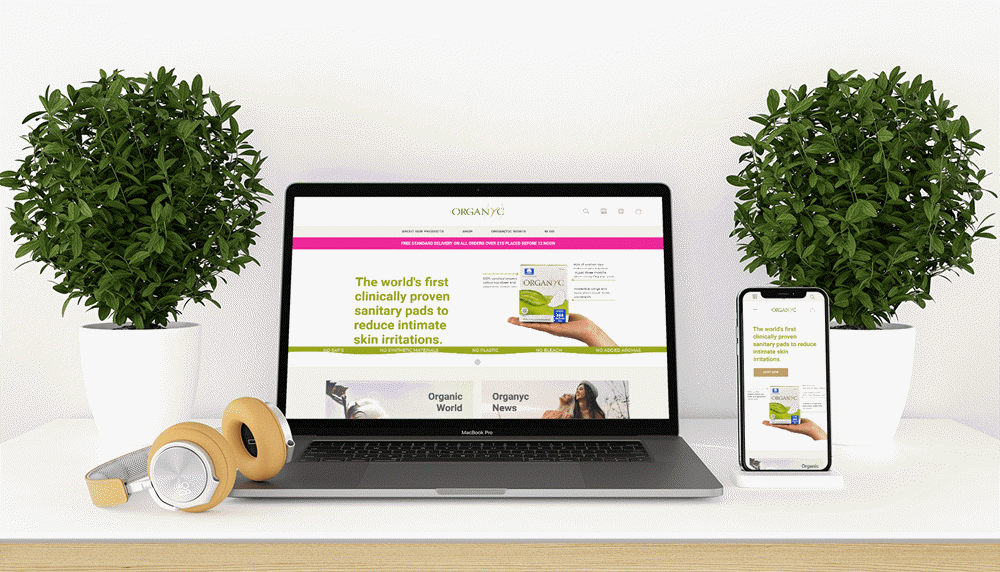 Seeing the huge potential of PWA, they decided to build a PWA and knew they were right when they saw the result of PWA. Their new PWA site has a modern and clean look, with the ability to convey their brand's value perfectly. They really put their mind into developing their PWA to help their customers with their needs. Now customers can create a box of their own or choose from a pre-designed collection of boxes.
Based in the heart of Germany, Benecos is what you should go for if you are into organic cosmetics. Like other cosmetics brands, Benecos also needs a site that can show off its personality and values.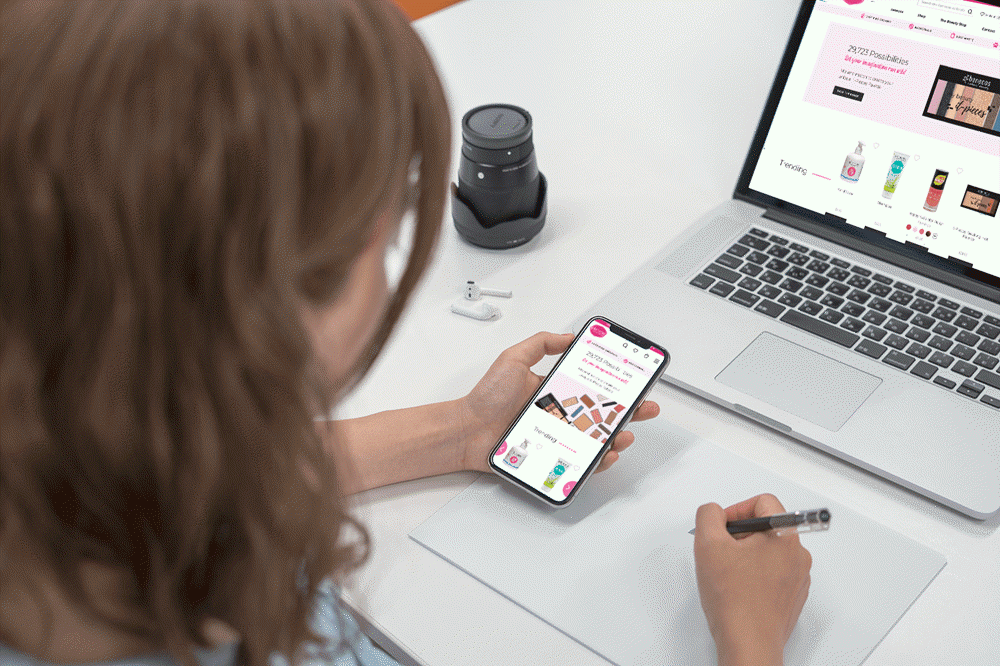 Similar to the goals of other Magento 2 PWA examples, Benecos's goals were offering their customers an app-like look and features. The new PWA of the site perfectly goes along with their products and creates a welcoming vibe when customers visit their site.
Serving a high number of visitors each month, Peter Jackson had a Magento 1 site that didn't perform as well as it should in order to drive customers. And similar to other eCommerce businesses, site speed was their main concern.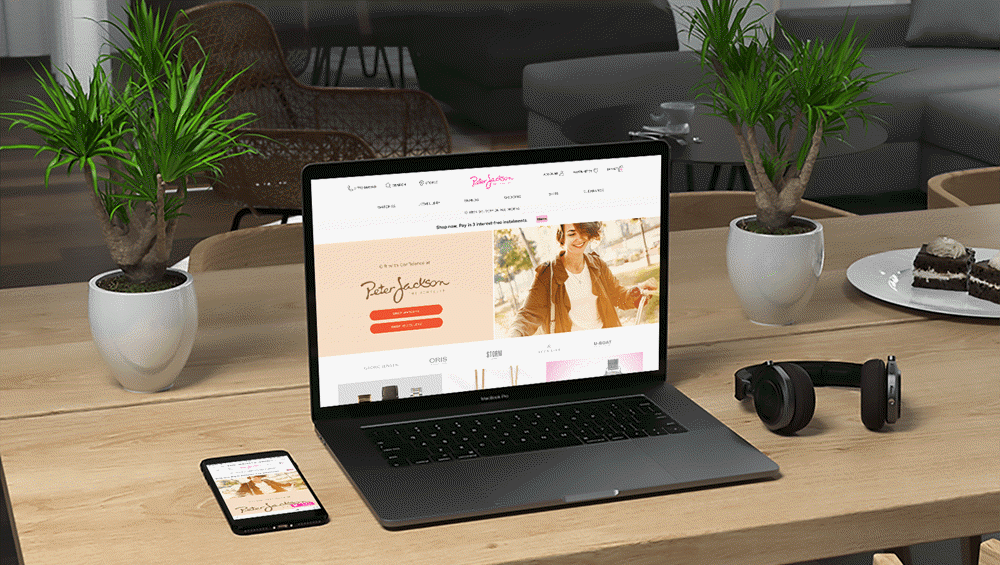 Their site used to take a lot of time to load, which really disappointed their customers. Besides, their old site didn't have an easy wayfinding experience. The lack of easy-to-use filtering options had a bad impression on users since it made them spend more time browsing.
Eventually, Peter Jackson launched an advanced version of their mobile website using the Progressive Web App. Their new site is lightning speed fast, supports all devices, and has a fantastic look. With the new version of their site, users can browse categories more easily and faster, which leads to more engagement and conversion.
One Open Sky, a Denmark-based company, is one of the leading dealers in water and snow sports. They offer a wide range of sports equipment for many sports with more than 10,000 products.
They soon saw the weaknesses of their site and wanted to create a better user experience for their mobile website. They needed to offer an app-like experience to users and PWA had proved to be the ideal choice for One Open Sky. You can check their site on your smartphone and feel the amazing results by yourself.
NY Vape Shop is a big vape shop in New York City with a variety of styles, colors, accessories, and options. They always gave priority to their customer satisfaction, which was the reason why they migrated to Magento PWA.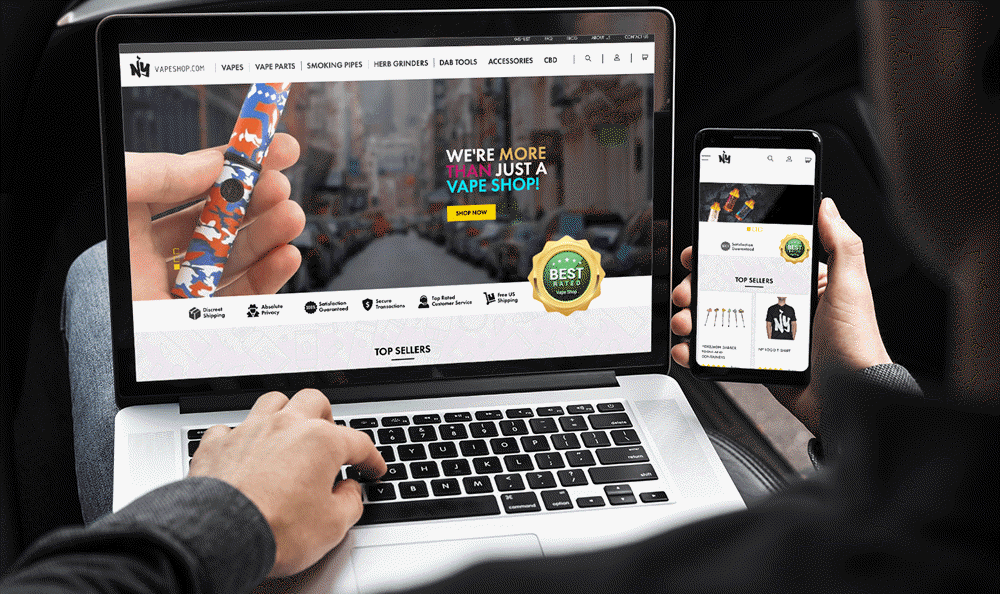 Thanks to a well-designed PWA, more vape shoppers became interested in browsing for their new vape in NY Vape Shop.
Medisave is a medical and nursing equipment supplier with a huge range of products. Their old site could not meet their expectations, which lead them to their adoption of PWA.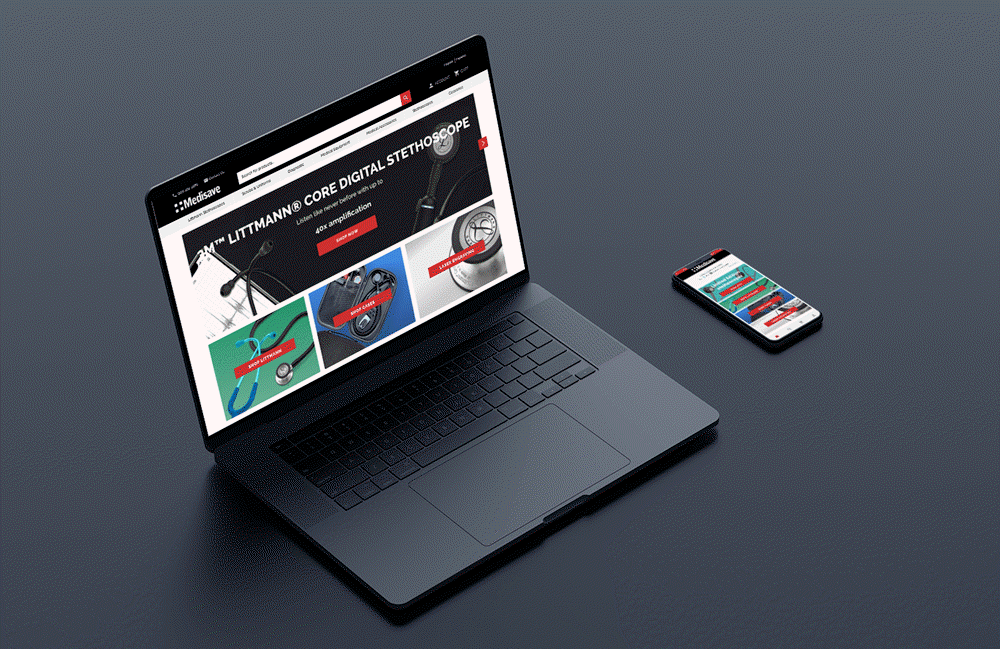 Like other Magento 2 PWA examples, Medisave can bring its user experience to a whole new level. In addition, it also helped them handle their huge catalog of products and make their customers buy their products easier. The great changes that PWA brought about proved PWA was a good investment.
UK Meds is a family-run healthcare provider which provides a range of medicine directly to their patients. However, their old eCommerce site could not keep up with the rapidly rising traffic and orders coming from online customers. Plus, they wanted to make it simple to shop for medical products online and have them doorstep-delivered.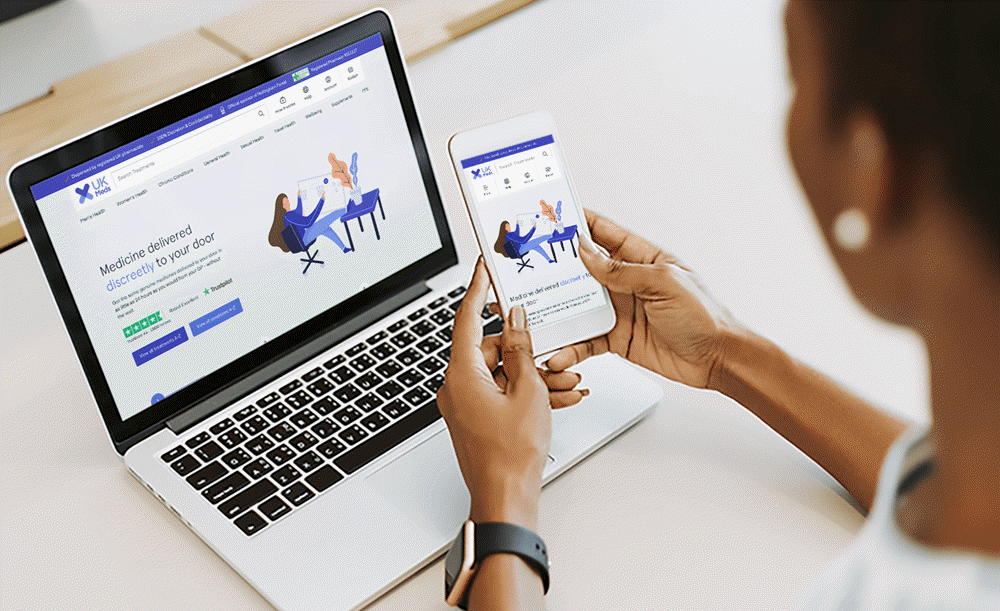 That's why they needed a new solution, and PWA was what they opted for. As a result, their new PWA is fast, modern, and able to cope with peak demand as they hope.
21. Zohoor
Zohoor is a well-known online perfume store in Saudi with more than 25 years of success. With the goal of telling stories through the craft of perfume making, they needed a site with a great user experience to express themselves. And so Magento PWA is what they went for.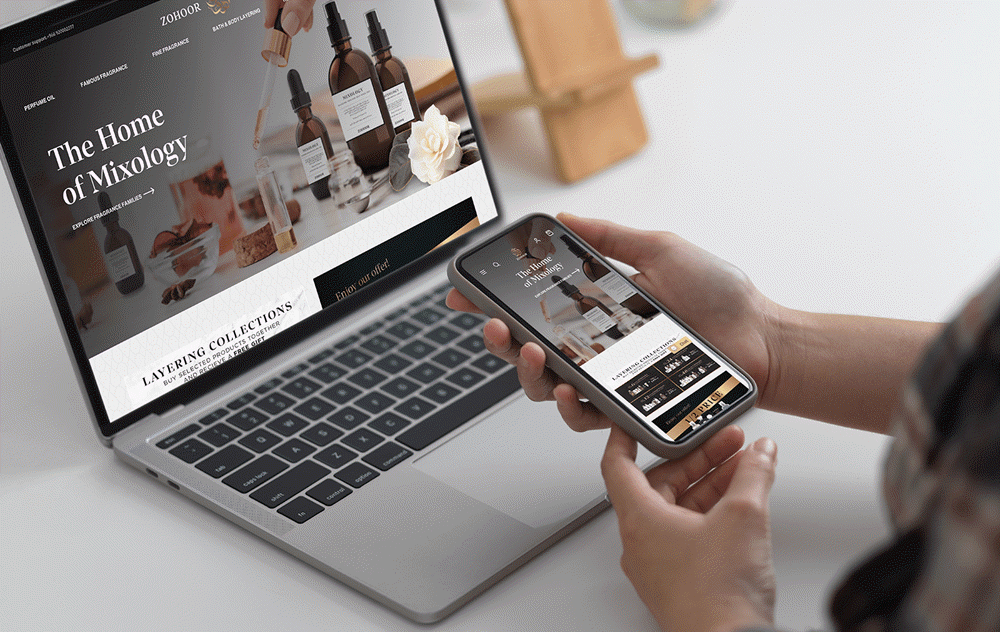 PWA helped them provide simplified mobile navigation and a reduction in clicks to increase cart checkout. In other words, PWA is helping them bridge the gap between online and offline.
22. Kubota
Kubota is an iconic Polish shoe brand with 25 years of experience in the market. In 25 years, they have undergone many huge changes, from selling mostly in local shops to being available mostly online.
Realizing the potential of online customers and wanting to let no opportunity to waste, Kubota took the first step to adopting Magento Progressive Web App. But why did they choose PWA?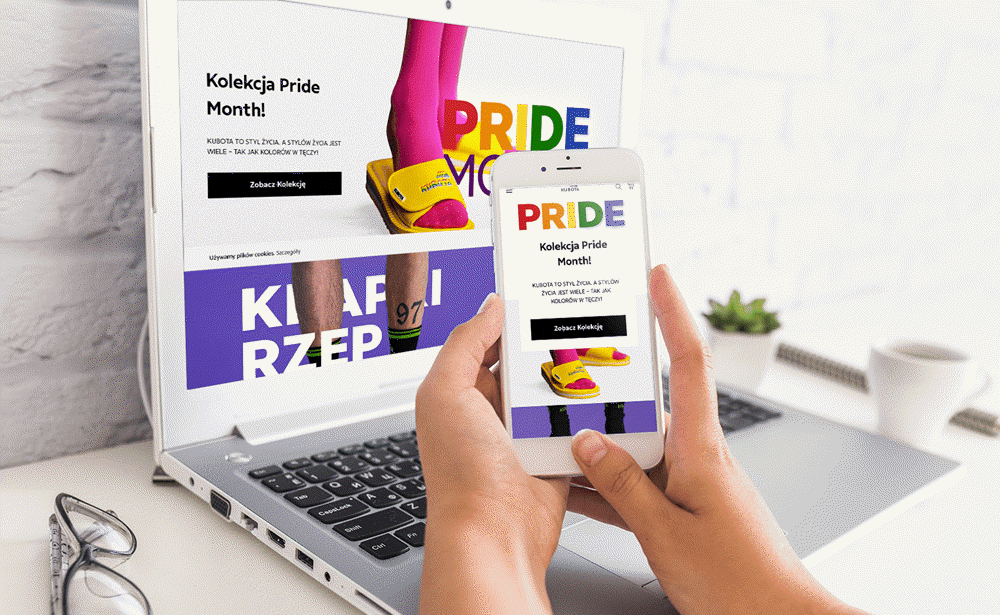 PWA met all of their expectations and there is no doubt why they fell in love with it. Specifically, Kubota wanted a solution that is compatible with all mobile devices and independent of the user's operating system. Besides, they also required their new site to be fast, secure, and easy to update. A PWA offered all of those and even more than that.
The UK's leading British formal wear Brand, Dobell, needed a way to gain technological advantages over its competitors. They aim to offer designer formal wear for anyone anywhere in the world. In addition, Dobell also wanted to exceed customers' expectations when shopping online, so introducing PWA was the perfect solution.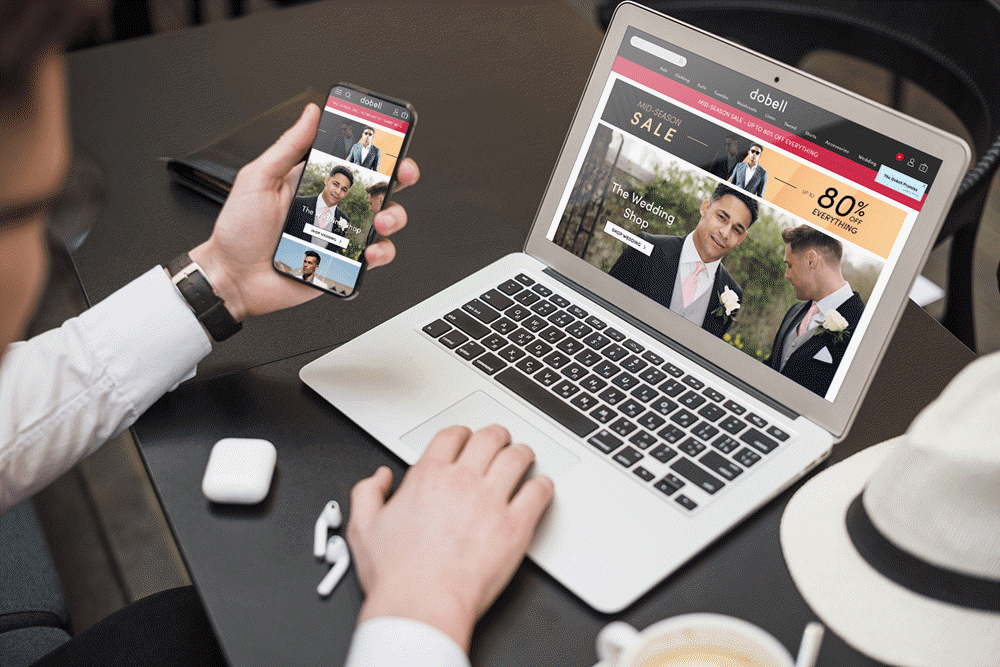 At present, their site is loading at lightning speed in less than 3 seconds. Moreover, their users can really feel the ease of the app when searching for a specific product.
Lafz is a brand in the collection of the world's largest halal-certified personal care brand – Believe Cosmetics Singapore. Like other eCommerce businesses, the site speed is their main concern and their old site was not very good at doing its job.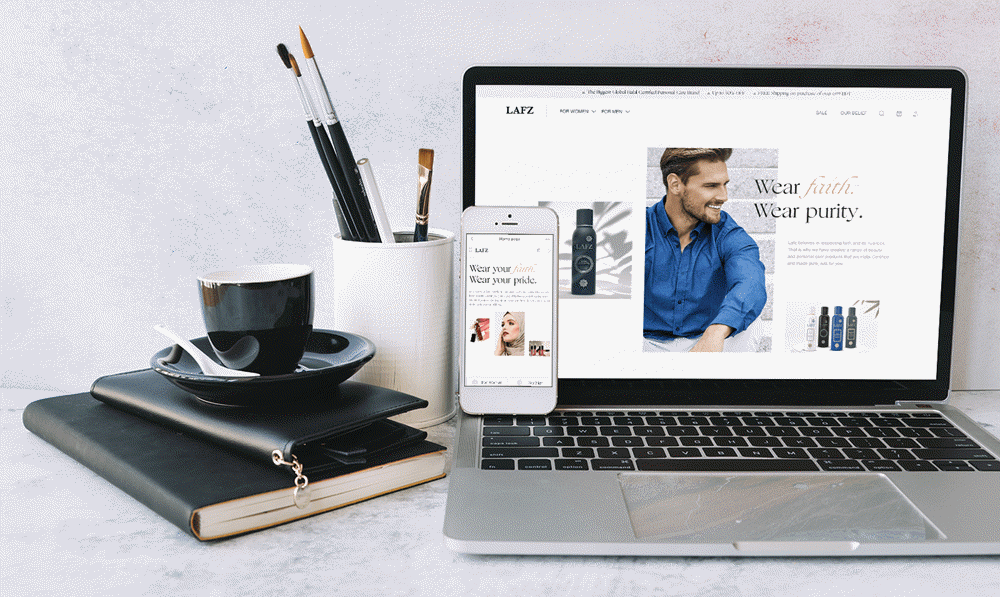 After taking many solutions into consideration, PWA for Magento was what they fell for. In other words, PWA was what they used to refine their online shopping experience.
Their PWA was designed with the goal of hooking their customers to spend more time exploring the app. Since the launch of PWA, Lafz has received much better user engagement and conversion rates thanks to PWA.
25. Malianta
Rising fashion brands usually focus on online presence, and so does Malianta. Malianta is an Italian-based startup that specializes in producing leather bags and small leather goods. To take the best preparation to run an online fashion business, they spent a year testing out the online market.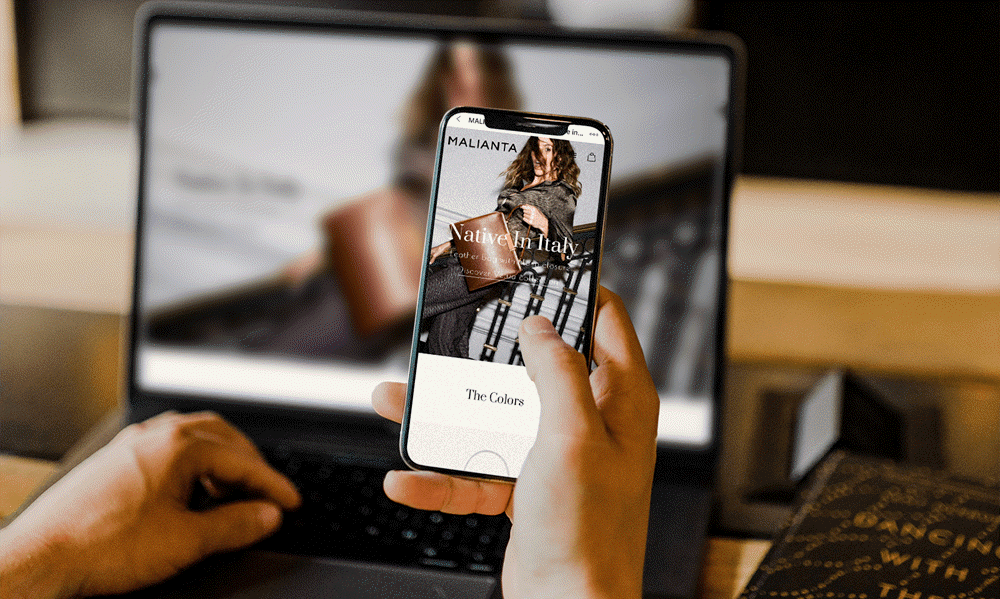 Finally, they decided to launch the new online store using PWA to ensure the best performance.
They used to have a Magento 2 site, but it was slow and the bounce rates were high due to the landing pages' loading speed. PWA makes Malianta feel that they are doing something really good for their customers as PWA fixed all the limits they had. Using the "less is more" approach, they made their processes and shopping experience really easy and simple for customers.
26. Technodom
Technodom is one of the biggest household appliance and electronics retailers in the world, with significant business growth and expansion over the years.
Although they have been thriving in the market, their online store lacked engagement and performance, which gradually turned into a limiting factor. Not wanting to be left behind, they needed a solution to deliver a better experience and support their future development.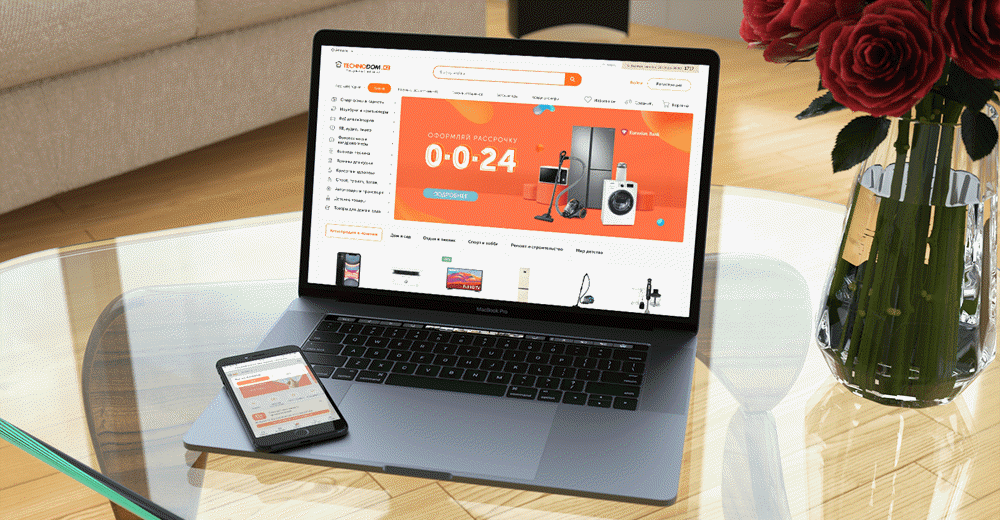 PWA was what immediately came to their mind. Thanks to PWA, their customers are enthusiastic about the performance and shopping experience they get when browsing through their site. After all, this project was a huge Magento 2 PWA example success.
Since its foundation in 1935, Shure is a leading audio product supplier with high-quality products. Hoping to use technology as an advantage over their competitors, they looked for a solution to upgrade their website.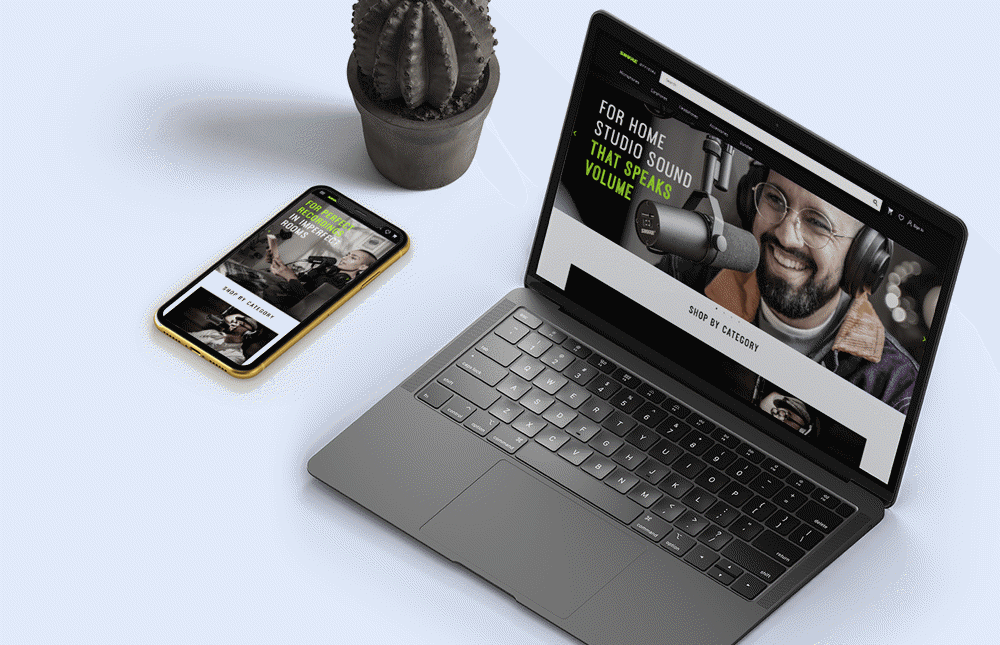 Fortunately, they found Magento PWA development and it was a perfect strategy for them to improve the user experience and faster their customers' shopping journey.
Zadig & Voltaire is well-known for being the statue of the fashion industry for nearly two decades. Knowing that performance is the key factor leading to the success of any online business, they decided to take their online website to the next level by complementing PWA.
In the fashion industry, smooth user experience and page load speed are the number one priorities. Waiting for pages to load slowly is really frustrating and takes the fun out of shopping.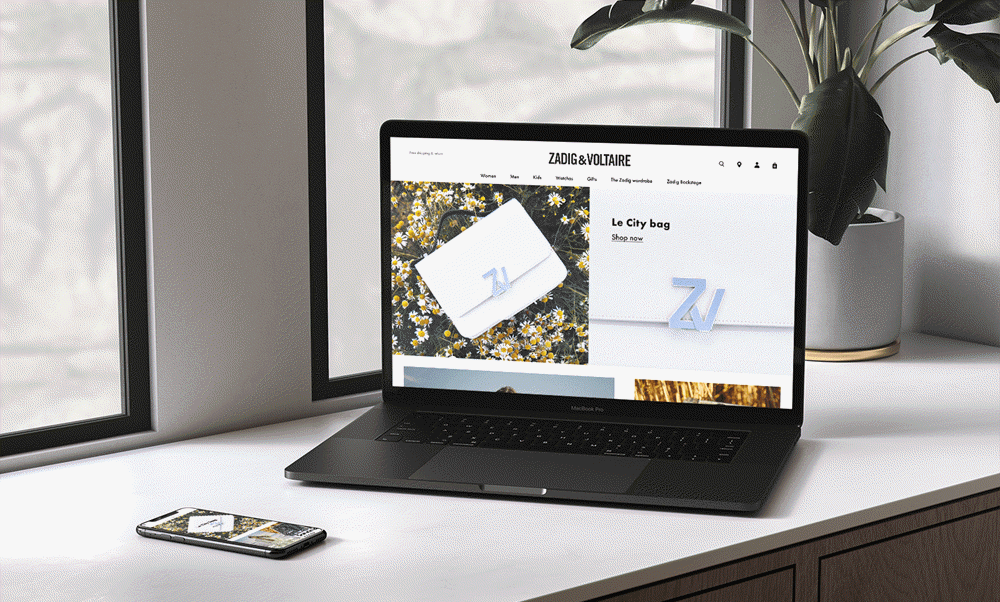 However, developing Magento PWA has helped them solve all of these problems. Converting to PWA not only guarantees faster page loading speed but empowers Zadig & Voltaire to offer a perfect user experience for both mobile and desktop users.
Zadig & Voltaire didn't jump into the development of PWA on a large-scale project. Instead, they chose to test out some design ideas and functionalities of PWA first. What they did is a perfect approach for any online businesses who are not sure if a solution is suitable for them. And the result completely satisfied them and proved PWA's worth.
Sportland is a rising sportswear retailer with more than 50 products and 3 brick-and-mortar stores. Understanding that their site needed a transition to spice up the user experience, they decided to convert their site to Magento 2 PWA.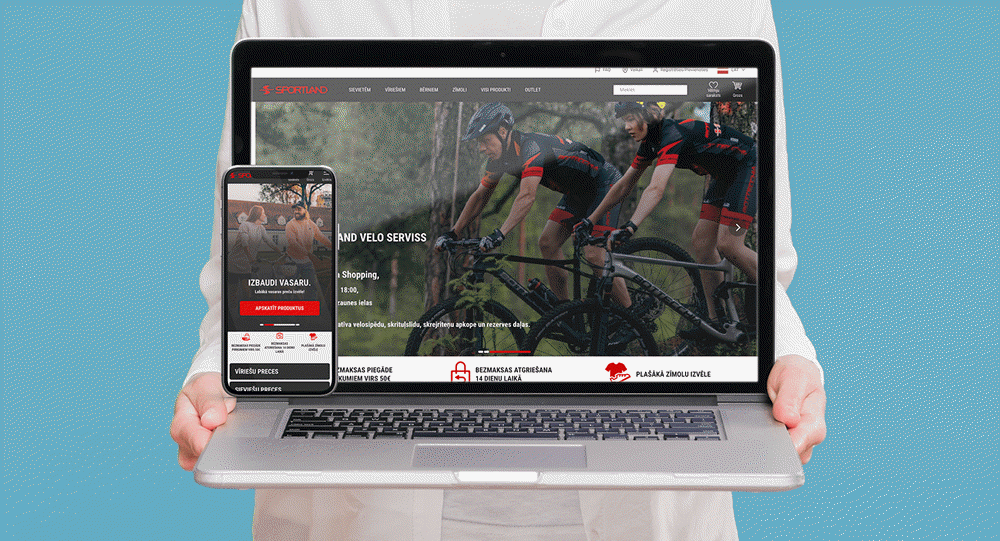 Their new PWA is fast, responsive, and easy to install. With PWA, users can quickly find the products they are looking for or browse while they are offline. Moreover, users can also filter the search with many features to find the products easier.
30. La Nature
La Nature is famous for its splendid and unique jewelry and fashion accessories collections with over 16,000 products. Seeing the limits of their old site, they looked for a solution that can address all the issues. Naturally, Magento 2 PWA with an app-like experience was the ideal answer.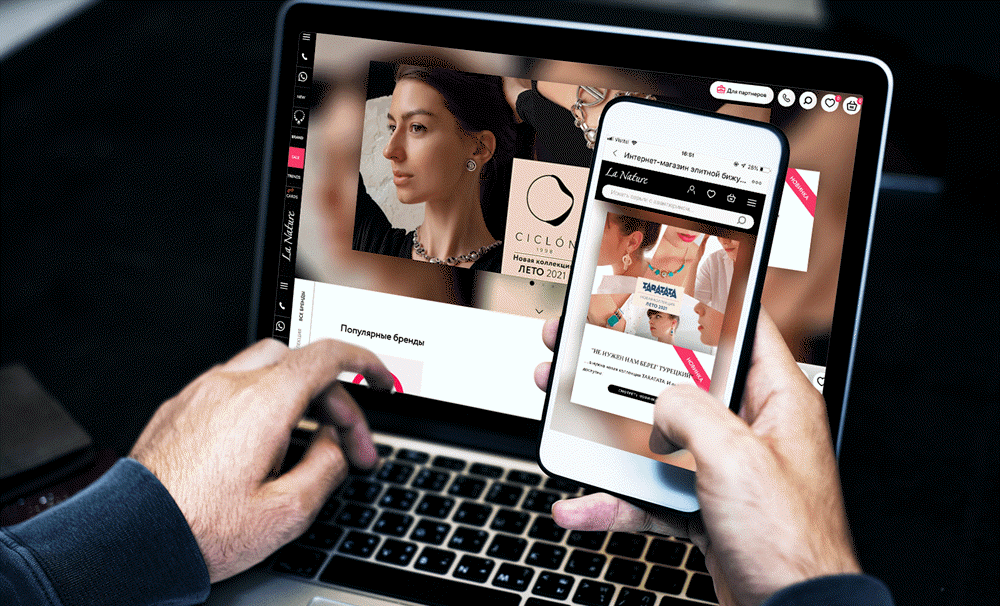 After switching to PWA, the results they saw were totally worth it. PWA helps reduce the catalog's first loading time by up to 1.5 seconds and the catalog switching page time up to 0.1 seconds. It also unifies the user experience and eventually leads to an increase in conversion rates.
31. Tally Weijl
The next business among eCommerce sites that thrive after switching to PWA we must mention is Tally Weijl.
When searching for a strategy to better the shopping experience, they realized that PWA and their site were a match made in heaven.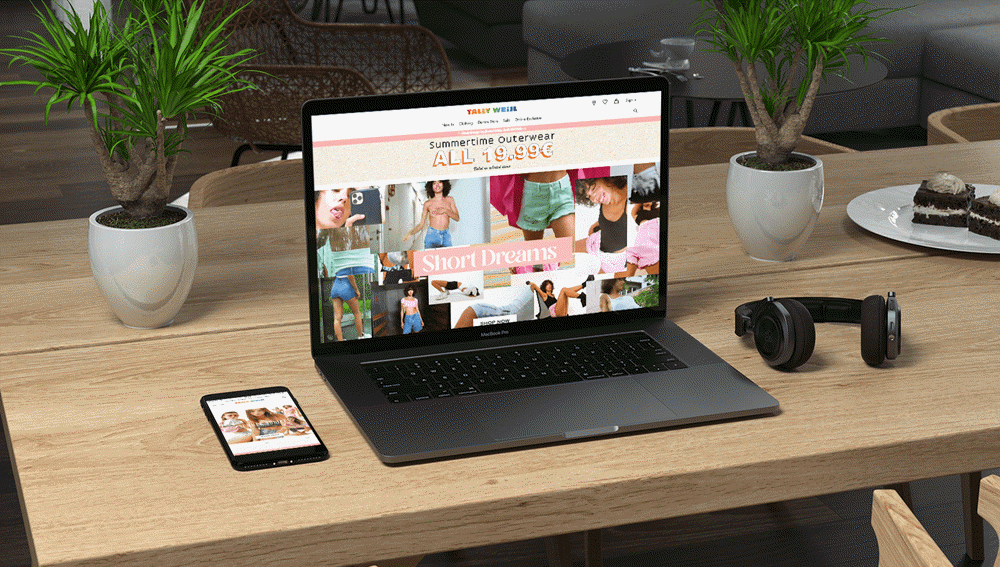 PWA enabled them to individualize the shopping experience, enhance customer engagement and support the diversity of their products. Their re-born site focused on exactly what online customers need. This leads to an improvement in user satisfaction and overall revenues.
Their new product pages are really plain but great and equipped with useful features.
The next example of Magento 2 PWA website to mention is Norwood Sawmills, a global manufacturer of portable sawmills and mobile forestry equipment.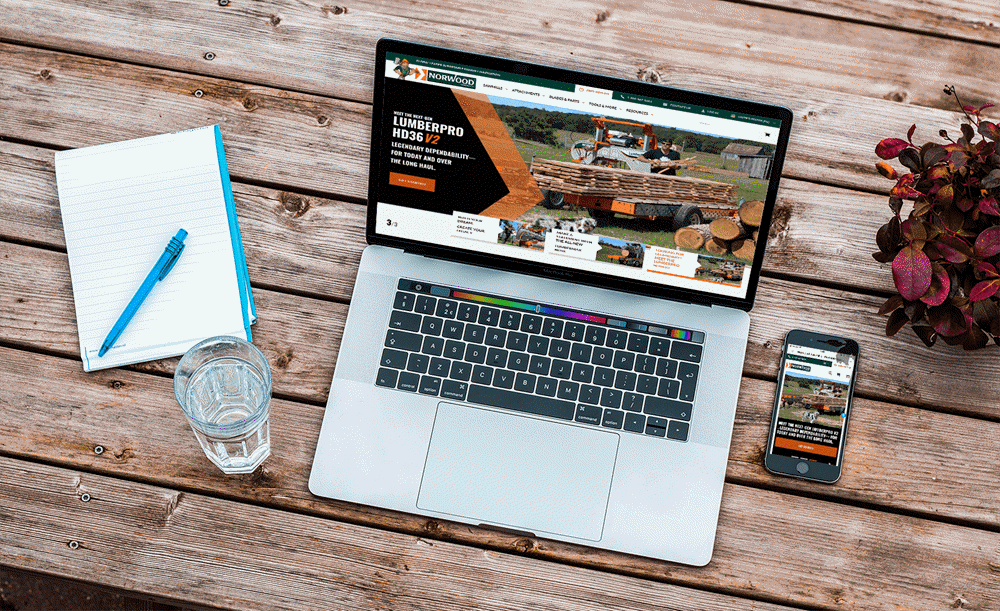 After using PWA, their site is super fast and visually appealing. It is really convenient for customers to search for products and switch between pages. Besides, their main page also has uncluttered products with large images and relevant product information.
Let's take a closer look at Sophie Conran, an inspirational home and garden online business. Sophie Conran is an outstanding example of how Progressive Web Apps are applied in the home and garden industry.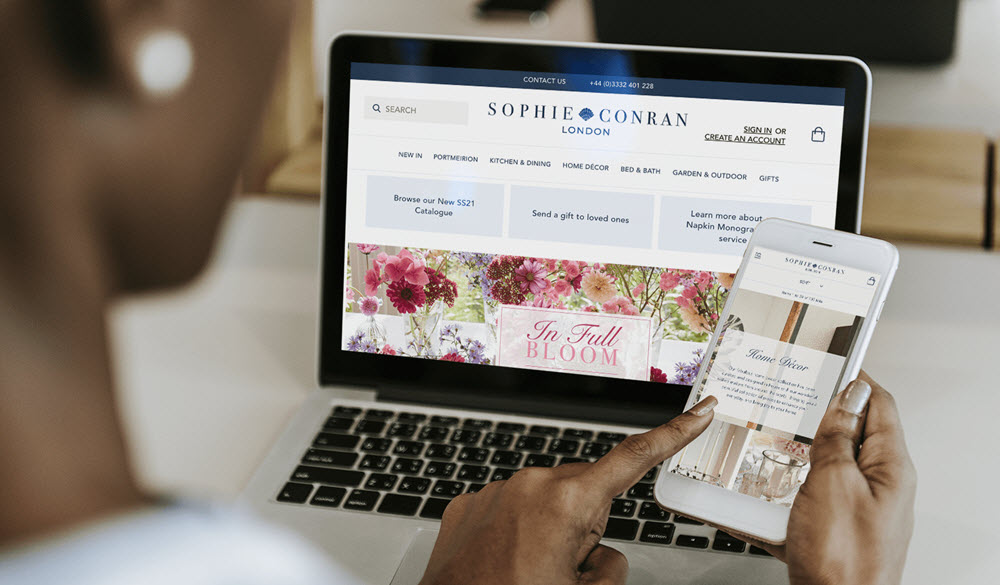 Sophie Conran wished to provide a great user experience and make their shopping experience as simple as possible. This is why they opted for building a Progressive Web App.
PWA helps Sophie Conran cater to the needs and tastes of their demanding customers and increase user satisfaction.
34. Karmia
Karmia is a perfect Magento 2 PWA example. Karmia is a charity startup in Silicon Valley with the goal to establish the biggest nonprofit donation service in the US.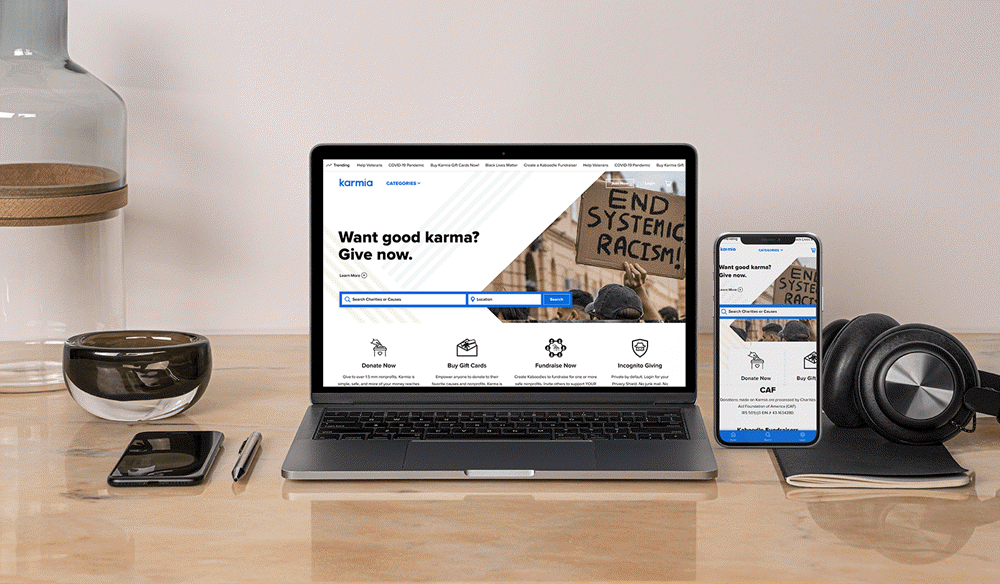 To do that, they needed to engage as many users as possible and show their business's difference. Luckily, they found PWA – the technology that allows them to approach their goals.
Their PWA site has a distinct memorable presence and amazing features that can keep users on their site for such a long time.
35. DF Original
The last outstanding brand in our list of Magento 2 PWA examples is DF Original, a sports fashion brand with more than a hundred retail stores across the globe. In recent years, DF Orginal has witnessed an unusually large number of users accessing its site through mobile devices.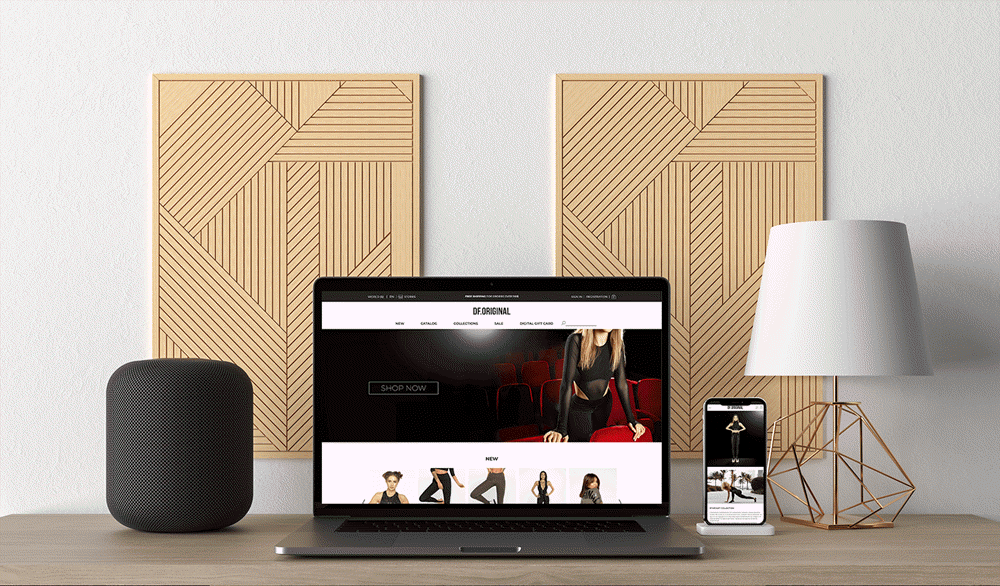 Deciding to take advantage of this opportunity, they chose PWA as the new solution to their site after many considerations. PWA has almost all the features that a native app has, while still being present on the web which could help their site's rank.
Should You Invest In Magento Progressive Web App?
Through mentioned Magento 2 PWA examples, it's clear that Progressive Web App is a perfect alternative to native apps.
However, developing PWA for Magento can be a waste if not planned properly, but with a trusted partner, it can be the key to a business's success.
If you are looking for a Magento PWA development company, Tigren with ready-made PWA templates for Magento is one of the first ones that are worth your consideration!