Magento omnichannel is a concept favored by multiple E-commerce businesses, as it allows for better customer experience, brand awareness, and revenue, to name a few. But why?
"Omnichannel" is the latest buzzword in various business sectors such as Marketing, E-commerce, and Customer Service. Going hand in hand with technological advancement, an omnichannel approach emerges as a future-proof solution to help businesses connect and engage with customers via a centralized system.
Magento is a market leader in the industry of E-commerce. With powerful tools and features, Magento offers an all-inclusive solution for businesses. Of course, they cannot ignore the enormous potential of being omnichannel. This platform should be an ideal place to start adopting such a strategy.
If you are an aspiring merchant and wish to level up your business with a Magento omnichannel approach, this article should be your ultimate guide. Below you'll find everything from the definition of omnichannel commerce to using Magento to build your own omnichannel business.
Scroll down to learn more!
An Overview Of Omnichannel Commerce
What does it mean to be omnichannel?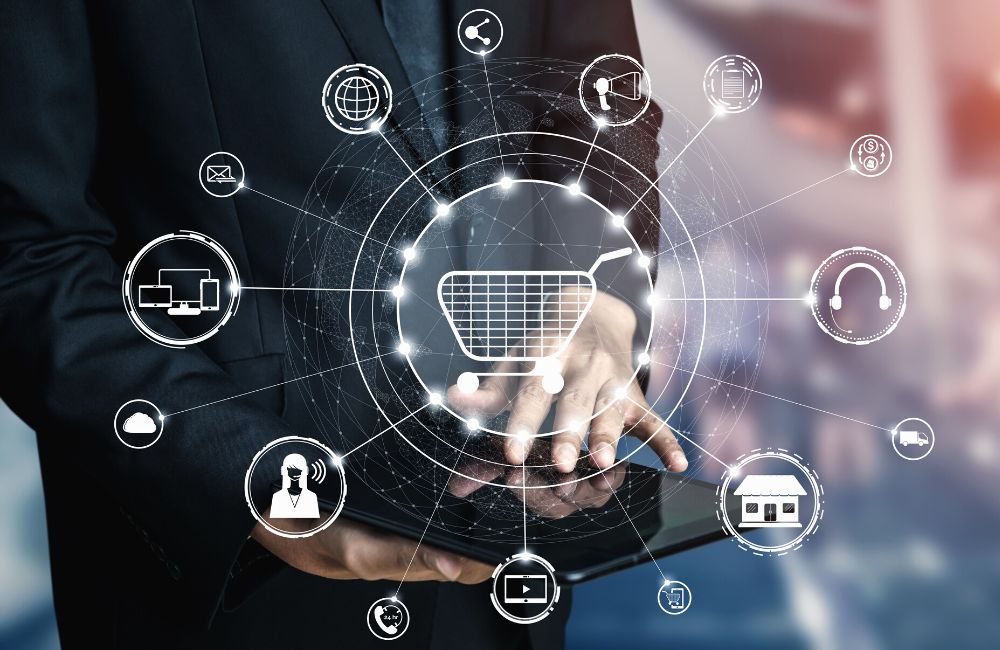 To start with, let's break down the word "omnichannel". The prefix omni- means "all" and "channel" refers to the medium through which a company can communicate its messages with customers. These include a brand website, social media, SMS, emails, phone calls, live chat, or even brick-and-mortar stores.
Hence, "omnichannel" can be understood as a customer-oriented approach where channels are interconnected to create a seamless shopping experience. That also means aligning the touchpoints so customers can easily switch between channels. For example, after paying the bill for a product, buyers can make their way to the physical store to pick it up themselves or simply request a delivery order.
Accordingly, omnichannel commerce (or omnichannel retail) is an E-commerce approach to boosting sales by providing a seamless customer experience regardless of the channels used.
Why does an omnichannel strategy matter?
The answer is simply because it benefits both customers and businesses alike.
On the customer side, there exists a shift in their shopping behaviors. To get the product is of utmost importance to them, irrespective of where it comes from, be it an online or offline shop. Thus, customers enjoy a smooth transition between shopping channels, allowing consistent interaction with the sellers. An omnichannel strategy offers a personalized shopping experience, helping buyers save time and make better decisions. Above all, they feel a connection and priority. Needless to say, customer satisfaction is positively correlated with an increase in sales.
On the business side, omnichannel commerce has great advantages in establishing across-channel visibility, efficient store management, profound insights into customers' preferences, and a decision-making process to improve the quality of their service. Some of the world's top brands that have switched to omnichannel and reaped the rewards include Apple, Disney, Starbucks, and Walmart.
To further consolidate the effectiveness of omnichannel commerce, let's take a look at some eye-opening statistics:
For almost 90% of retailers, an omnichannel marketing strategy is critical for their success.
Using three channels instead of one for a marketing campaign results in a 287% higher purchase rate.
Companies with the best omnichannel customer engagement strategies turn 89% of buyers into loyal customers.
By 2023, the global omnichannel retail commerce market is projected to grow to $11.01 billion.
What are the differences between omnichannel and multichannel?
At first glance, the two concepts seem pretty similar. However, there are two key differences between them: the purposes each is used for and the connectedness among channels.
As regards the purpose, omnichannel focus on customer experience. An omnichannel approach is more customer-oriented in that it helps businesses actively engage with their buyers and creates a consistent shopping experience. By contrast, multichannel lays stress on customer engagement. It strives to maximize the reach and spread the brand image as far and wide as possible.
As regards the relationship among channels, both strategies target customers with a large number of available channels. However, for omnichannel, the channels are interconnected, while the channels in multichannel are often separated.
For a detailed comparison between the two concepts, go to our article "Omnichannel vs Multichannel".
Why Should You Opt For Magento Omnichannel?
Here we go through a list of Magento's latest features suitable for adopting an omnichannel approach.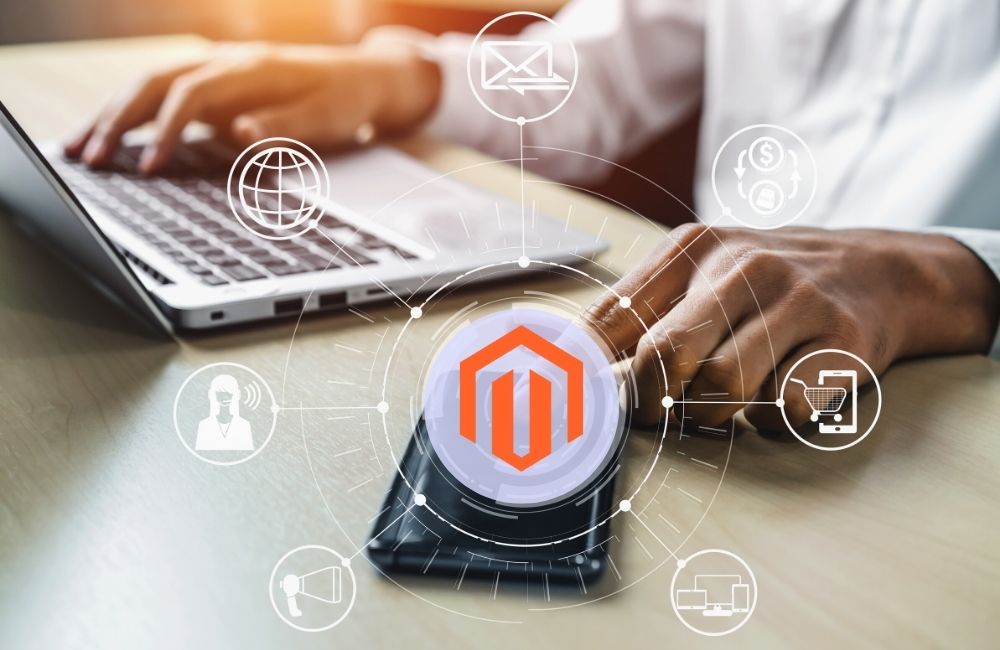 1. Multi-brand solution
As mentioned, being omnichannel is all about aligning touchpoints so that customers enjoy a consistent shopping experience from your store. In this aspect, Magento has done so well.
By adopting an all-in-one-place management system, Magento allows you to take complete control over your business, regardless of how many stores you have or how big your target audiences are. With Magento, you can totally get rid of the need to own various operating systems to ensure your business is running smoothly.
Keeping it all together without switching platforms will then become a piece of cake that will bring you great ease in managing your E-commerce stores. This is also a feature that makes Magento the best friend of an omnichannel business.
2. Mobile centricity
By 2021, mobile commerce sales will account for 72.9% of total E-commerce sales. Accordingly, creating the best mobile shopping experience for customers has become an essential part of any business that adopts the omnichannel strategy.
Gone are the days when buyers read about a product from a local shop and made their way straight to it, to discover it had been out of stock for ages. Nowadays, rather than taking time to a physical store or tediously browsing a brand website to find an item, savvy customers prefer to use their smartphones to do everything on all possible channels.
Here is where the good news comes in. Magento is one of the most mobile-friendly platforms out there. PWA Studio is one Magento feature that allows you to create a powerful progressive web application that meets customer needs. Other tools Magento has to offer include responsive themes and mobile-friendly checkout, all of which provide a mobile-app-like experience.
3. Powerful user experience
Adopting an omnichannel strategy with Magento is really a no-brainer. Everything here is easy for non-techies to minimize the time required to complete a task and maximize your team efficiency. Magento also comes with an intuitive and effortless admin user experience (UX), so you don't really need professional help to proceed smoothly with your content delivery.
Besides, Magento is synonymous with its well-stocked library of templates that make your website fully responsive and beautifully displayed on all kinds of devices. This is to make sure that your business establishes a cross-channel presence.
Magento omnichannel also takes minimal time to deploy. This is crucial in the event of crashes and bugs, as you're allowed more time to detect the errors, preview your site and store views, and test the site compatibility. The list of possible benefits goes on.
4. Product recommendations
The key tool behind this feature is customer segmentation and personalization, which plays a critical role in any omnichannel strategy. As for Magento, customer behavior is tracked and reported so that you can gain better insights into their preference.
At this point, your Magento-powered store can recommend similar yet better purchases in all the channels. For instance, a soft spot for fashion is expected from the behavior of a buyer using a laptop. The next day, chances are that she will bump into a dress or accessory recommendation from your mobile store. The thing is, be it a smartphone or a tablet, customers are more likely to meet their following favorite products.
5. Inventory and order management
Cross-channel sales means it is much more challenging to get hold of your product availability and attend to every single order request. However, this is just a doddle for Magento. Thanks to those amazing features, you can take complete control over your stock and delivery. For instance, inventory tracking and flexible order fulfillment. What makes it even better is that all these tasks are carried out from just one place!
Let's look at an example. Real-time stock accuracy is critical to omnichannel commerce. You don't want customers to show up in your brick-and-mortar store to pick up "the last dress in stock I saw on your website", only to know that it has been sold out for weeks and welp, your website has not been updated till then.
6. Data analysis and visualizations
Omnichannel sales means you have tons of information to process, simply because each channel will generate substantial amounts of data, from customer behavior to product-related information such as trendy items, newest collection updates, coupon usage, etc.
Magento omnichannel grants you the best overview of your business. It incorporates analytics and frequent reports on various aspects of your business so that you can decide your next move. Moreover, these data can also be vividly illustrated with customizable dashboards and export options.
7. Optimized performance
We have used the keyword all-in-one-time more than once to refer to the convenience of Magento. Of course, this keyword still rings true as regards Magento omnichannel. In fact, you don't have to splash out on a high processor to make sure your Magento-powered business will operate just fine.
The performance of a Magento omnichannel approach is indisputably powerful, ranging from its cloud structure to help deploy a store of any size, to great scalability and availability across all channels. Besides, varnish page caching is integrated to optimize the loading speed of your site regardless of the channels in use.
8. SEO-friendly
Finally, it is safe to say that Magento is SEO compatible, allowing you to increase your store visibility and brand awareness no matter what channel your customers use. Even with the large number of Magento's available tools, you can still install other plug-ins or extensions to drive even more traffic to your stores.
Another noteworthy thing is that the optimized performance of Magento also serves to help your websites to handle the huge quantity of traffic. No lagging, no congestion, just interest and satisfaction from the buyers.
What Benefits Can Magento Omnichannel Offer For Store Owners?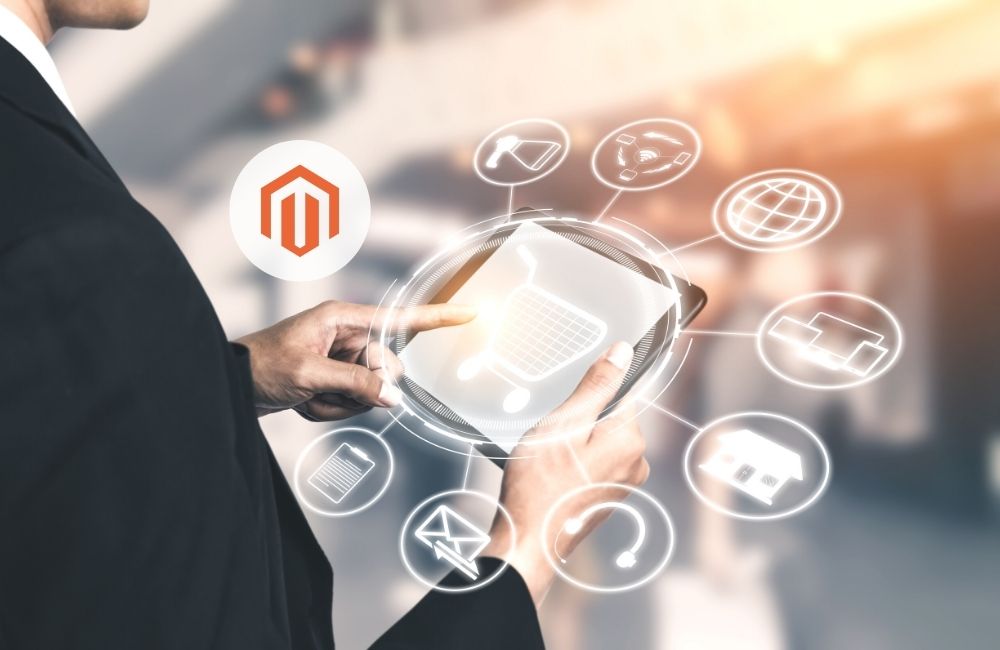 1. Better store management
Using Magento Omnichannel means everything is done in just one place. This allows more time and resources to attend to the other needs of your E-commerce business.
2. Boost sales & Drive revenue
Mobile-friendly, suitable product recommendation, great comfort in accessing and switching channels. The combination of all these factors promises a rise in your business sales.
3. Increased brand awareness
Don't worry if this sounds too difficult. As your business tactics in various channels go right, your presence will be enhanced continuously. As a result, it is just a matter of time before it makes a name for itself.
4. Better customer experience
This is about timely customer support and adjustment to meet consumers' requests. As a result, higher levels of satisfaction, as well as retention rate, become attainable.
How To Level Up Your Business With Magento Omnichannel?
There are two possible ways to adopt an omnichannel strategy for your Magento business. You can consider doing it yourself and seek professional help.
Do it yourself (DIY)
To manually achieve an omnichannel status, you'll need to set up a centralized data management system with Magento. These include:
Sales activities
Procurement
Order fulfillment
Inventory & warehouse management
Loyalty & customer management
This is where things get more technical than ever, so we prefer not to go into details. Unless you are a tech geek, building a Magento omnichannel business from the ground up will be a real burden. Therefore, we suggest you refer to the second method below
Seek professional help
An expert, an experienced developer, and a professional team should be your go-to choice when setting up a Magento omnichannel business. They know where to find the right setups, the steps to start deploying, or the system requirements. Although in some cases, you have to pay them a deserving amount of cash, you can ensure that your E-commerce business will run flawlessly with minimal error. Timely support is also provided in case of a mishap so that your business will not suddenly stop and cause you a loss of profit.
Final Words
Magento omnichannel is becoming the standard in the E-commerce industry. Especially for those Magento partners who wish to go omnichannel with it. The plus points are crystal clear, as we've seen above. So if you are an online merchant and crave a better and more efficient method to connect with customers, then omnichannel in general and Magento omnichannel in particular are here to stay.