In the last few years, we've seen a significant increase in the ubiquity of the Progressive Web App. It is an indispensable technology for all Magento e-commerce websites and is expected to gain much more traction in the upcoming years. Therefore, it is important to follow the remarkable Magento PWA development trends in order to keep your online business on top of the competition.
If you find difficulty outlining the PWA development for your own business, this article is the best fit for you. It will indicate the astonishing future directions of Progressive Web App Development for your Magento stores.
The Advent Of Progressive Web App
In 2015, Google introduced the Progressive Web App. This new concept is a perfect blend of websites and native apps, delivering website visitors with an app's look and feel experience.
Thanks to Progressive Web App, end-users will have a much more gratifying journey with its powerful features. In more detail, customers can add this favorite app to the home screen, access it even in offline mode, and receive push notifications about special offers and events.
Pleasing experiences will, in turn, help e-commerce stores achieve lower bounce rates and higher conversion rates. It ultimately leads to an increase in sales revenue.
Without a doubt, by combining the essence of two worlds, PWA ushers a new era in the development of online stores. As a result, PWA quickly grabbed the attention of Magento merchants.
Therefore, there is a rising demand for merchants for this top-notch technology. Consequently, Magento development companies are working harder than ever to provide solutions to convert Magento websites to PWAs.
Related Article: Pros and Cons of Magento PWA Development to Consider
In the next parts, let's discover trends of developing Magento PWA, as updated from time to time.
Magento PWA Development Trends Over The Years
[2015-2018] PWA Extension Was The First Magento PWA Integration Solution
Advantages
Many extension development companies released PWA extensions for Magento right after the arrival of the Progressive Web App. It put the first flag in the development of Magento PWA.
At that time, using Magento PWA plugins is the only solution that empowered integrating PWA into Magento websites.
The highlight of those extensions is the low cost and easy installation process. The cost to purchase a PWA module for Magento is from free to $200.
Limitations
Undeniably PWA Extension brings certain benefits to the Magento website. However, its advantages could not hinder its obvious drawbacks. Consequently, after its introduction, the PWA Extension failed to satisfy the expectations of Magento merchants.
Change almost nothing in the storefront
PWA is well-known for its mobile-first design and experiences. However, Magento PWA extensions don't have any effect on the storefront design, except by removing the URL bar.
Fail to faster website speed
The development of the PWA proves that the Magento merchant prioritizes users' time by providing faster loading. However, the PWA Extension failed to deliver this PWA advantage. After being integrated with PWA Extension, the Magento website did not record any growth in website loading speed.
Lack of PWA functions
The most unfortunate aspect of the PWA Extension is that it only provides a small subset of the Progressive Web App's features. Offline mode, for example, is only available on certain pages of the whole website.
As a result, users don't realize any significant changes in stores even when visiting Magento websites that have PWA plugins installed. In other words, they cannot feel what's called "app-like experiences".
In a short conclusion, using the PWA extension is clearly not a proper solution; that's why developers keep researching to come up with another better method.
[2019 – 2020] Magento PWA Studio Was Released & Replaced PWA Extension
To solve the limitations of PWA extensions from third-party providers, Magento released the professional Magento PWA Studio tool in 2019. This tool helps companies to build a fully functional Progressive Web App for their website.
Generally, Magento PWA Studio was developed by the official Magento team to assist developers in building a Progressive Web Application on the Magento 2 platform.
Magento PWA Studio had many improvements and was far more efficient than using the PWA plugins. As a result, it speedily became a viral phenomenon at that time. Therefore, Magento merchants quickly shifted to using this tool.
Noteworthy Improvements
Deliver flawless PWA features
By using Magento PWA Studio, you can enable all the basic features of a Progressive Web App on your Magento website. It contains an add-to-home screen, background sync, push notifications, and offline mode.
As a result, with PWA Studio, your Magento website can truly provide an app-like experience to the end-users.
Change the original website structure
Your website structure will witness significant changes after using Magento PWA Studio. The PWA Storefront will replace the website's front end and then communicates with the backend via APIs.
Consequently, any changes or errors in the back end might not immediately impact the front end as before.
In other words, you have complete control over the content and are not constrained by backend configuration. Accordingly, it is a big step forward because the structural change will make your store run smoothly.
Undeniable Drawbacks
Unattractive interface
Despite numerous design tweaks, the interface of the Magento PWA built with PWA Studio is not optimized for desktop use. In other words, the website design is still pretty simple and sketchy.
You can visit the Magento PWA Studio demo (Venia) to know more details.
Missing basic Magento features
Compared to a standard Magento website, Magento PWA created by PWA Studio lacks some core features such as add to compare, add to the wishlist, product review, etc.
The long period of development
Typically, if you choose to use Magento 2 PWA Studio, you will still need to hire a developer to build additional features to make it ready to use.
As a result, developing a comprehensive Magento PWA will take a long time (from 3 months and above).
[2021-Present] Magento PWA Theme Becomes The Best Solution
It must be admitted that Magento PWA Studio far outperforms PWA extensions. However, it still contains several flaws. Therefore, it raised the need for a better solution for Magento Progressive Web App development.
And Magento 2 PWA theme appeared to address all the shortcomings of its formers.
Because some Magento PWA Themes are built on top of PWA Studio, these inherit all the potential advantages of PWA Studio but surpass Magento's tools regarding design, functionality, and development time.
Therefore, installing ready-made PWA templates for Magento has swiftly become the hottest trend at the moment.
Noteworthy Improvements
Appealing design
One of the most impressive benefits that PWA Theme brings to Magento online shopping stores is its eye-catching and neat design. Most Magento PWA Themes put a lot of care into the user interface of the store.
It then provides a much more optimized design than the Venia PWA Studio demo. To get a better idea, you can look at the Magento PWA demo of TigrenPWA.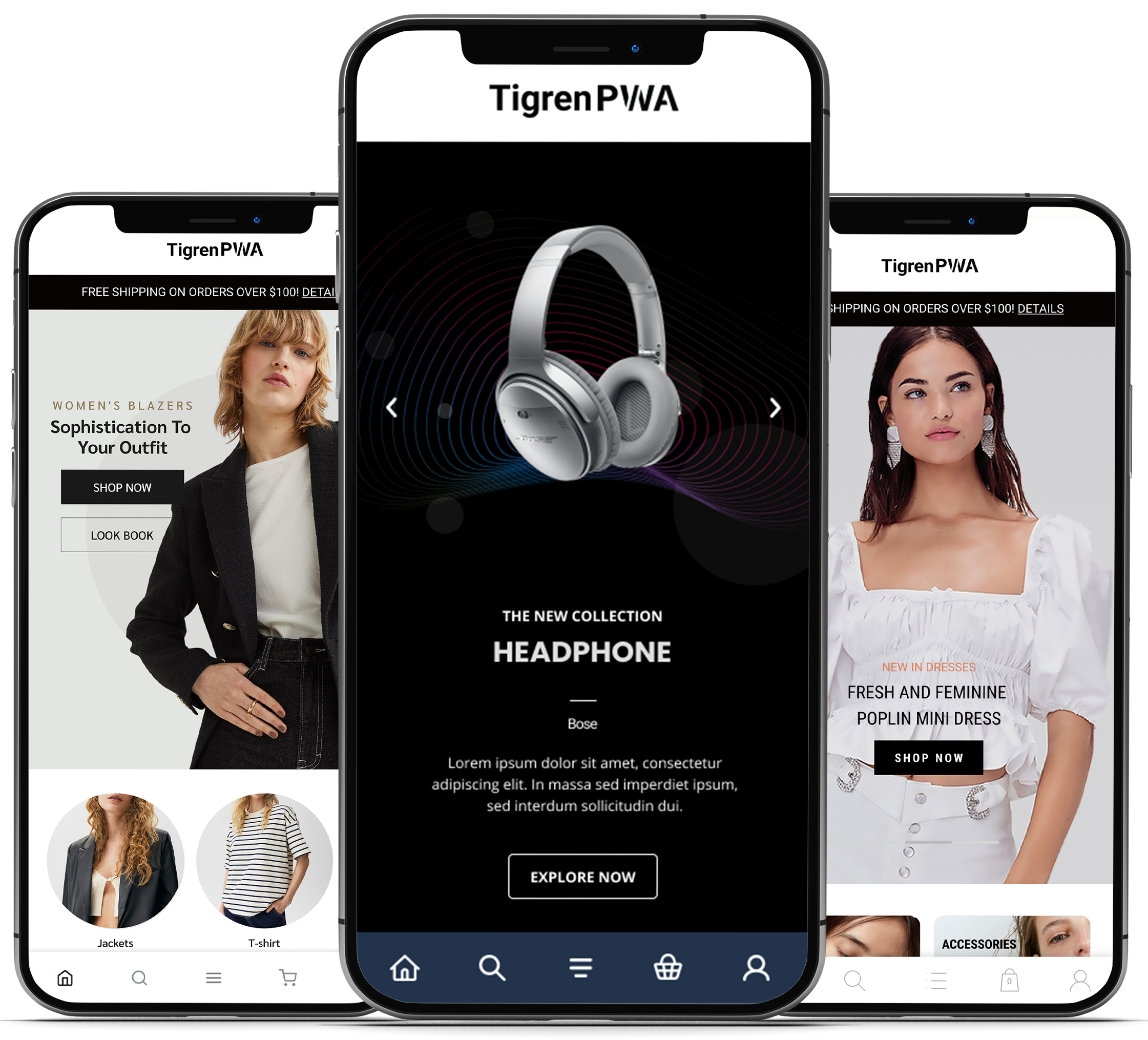 Dynamic advanced functions
In addition to providing basic Progressive Web App features, a Progressive Web App Theme also integrates advanced features for the Magento website.
Some features that might be included are banner management, improved sorting, mega menu, live chat, product labels, and so on. It then can distinguish your online store from the competition, making customers always satisfied when browsing your website. Meanwhile, Magento PWA studio does not support any of these features.
Outstanding Magento websites using PWA Theme
After many innovations, it can be stated that the Magento PWA theme is the best method to build the Magento Progressive Web Application nowadays. Recognizing this critical point, many merchants have used the PWA templates for their Magento stores and gained great success.
ShopEddies
ShopEddies sells parts and accessories for Jeep, Truck, Car SUV, RV, Dirt Bike, Motorcycle, Boat, and Golf Cart. It has successfully developed Magento PWA using TigrenPWA Theme.
The entire process of developing ShopEddies Magento PWA took only two months. ShopEddies now has a lightning website loading speed and a better customer experience. Besides, it improves user satisfaction through a refined interface and PWA advanced features such as Product Part Finder, Improved Layered Navigation, and One-step Checkout.
Boonthavorn
Boonthavorn is a Thailand e-commerce company famous for home decorations, tiles, bathrooms, kitchens, lamps, light bulbs, furniture, and electrical appliances with a huge number of products (greater than 100k). It is one of the manufacturers that embraced PWA technology.
By adopting Magento Progressive Web App, Boonthavorn has attracted more customers than ever before, and its revenue has increased dramatically. Compared to the firm's initial website, the new store delivers both a better design and more powerful performance.
Have You Caught Up With Magento PWA Development Trends?
Progressive Web App enables your Magento Store to optimize user interface and experience, especially on mobile. As a result, keeping up with Magento PWA Development trends is essential to shape the success of your business.
Besides, opting for a ready-to-use Magento PWA Theme or a Magento PWA design and development service is certainly a lucrative decision to start your project. It will help you to unleash the full power of PWA technology.