Along with the increasing demands of customers for eCommerce, so are the expectations laid on the digital platforms. Satisfying both user-friendliness and responsiveness, Progressive Web App Ecommerce is thought to be the future standard, highly sought-after combination by many businesses.
In this post, we'll introduce you to 10 outstanding cases of successful Progressive Web App Ecommerce early adopters.
10 Outstanding PWA Ecommerce Examples That We Adore
Problem
For those who have purchased products from Pure Formulas, they may know the store's loading time was highly jammed, especially during checkout. This consequently creates high cart abandonment rates and low conversions.
After switching to PWA
After implementing PWA Builder on the web, they started to understand how PWA Maker can help their business thrive. Visitors now have a faster website, can make a customized menu plan in their favor, and quickly look up products. The results?
23% increase in sales from mobile
The conversion rate rose to 14%
The average order value increased by 9%
Problem
ShopEddies is a one-stop platform aiming to fulfill any adventurous person with high-quality parts for cars, trucks, RVs, and power sports at the best prices.
Having an unattractive-looking and relatively slow, dull interaction is the biggest motivation that enables ShopEddie to seek Magento 2 PWA to cut down on time.
After switching to PWA
Tigren's PWA design was minimalistic, and intuitive, with room for custom modification. Along with core functions, ShopEddies has customized features such as improved layered navigation and a year-make-model filter to enhance stability with existing extensions.
This creates a smooth and streamlined buying process to improve conversions and hold customers around for longer.
Problem
Truclothing is a successful franchise of formal clothing for men, with 30+ stores across the UK. To fulfill the mission of bringing affordable but high-quality suits to more customers, they are always searching for innovative solutions.
After switching to PWA
With PWA, Truclothing surpasses the everyday mobile browsing experience with a more engaging and native-feel journey to be outstanding. Leveraging the TigrenPWA theme, they are equipped with robust custom features that build credentials and bring satisfaction to customers.
Problem
The next on our PWA example list is an Indian-based business, among those PWA's earliest mobile adopters.
Flipkart is an entertainment platform that allows visitors to play games, watch movies and even share ideas like a social site. Thus, speed and performance improvements are their priorities.
After switching to PWA
Their PWA helps to re-engage users in many ways and fully optimizes their speed to be smoother even with a 2G network. Here are some proofs:
70% uplift in conversion rate
40% uplift in user engagement
3 times lower data in use
Problem
Garbarino is an Argentina-based e-retailer offering a massive collection of household necessities.
It's one of the giants in Argentina's competitive retail market. Hence, they would like an efficient solution to improve the site performance and engagement level.
After switching to PWA
The mobile interface of Garbarino after PWA integration is highly favorable. They bring the look and feel of native to mobile browsers while delivering a neat, user-friendly, and convenient experience.
Along with the built-in wanted features like filters and discounts, PWA helps Garbarino reduce the loading time and retain more on-site customers. Here is the change they witnessed:
27% increase in conversion rate
35% more page views
9% lower in bounce rate
Problem
Excited about the name? Then welcome you to visit Scandinavian countries on one beautiful day. This Finnish company has chosen many highly customized PWA solutions, from features to multi-level checkout processes, thus ensuring an enlightening, safe, and reliable user experience.
After switching to PWA
Aiming at the young customer group, Timetravels invested in complex built-in features and highly interactive processes with PWA to trigger the most out of youthful emotions.
Problem
If you are a fan of thrifting, you might have heard about 5miles. This virtual marketplace connects sellers to their local buyers. However, they failed to fulfill the technology gap as an intermediary, so they suffered from a high bounce rate and low retention.
After switching to PWA
5miles's first initiative was to build a native app, but the high fees of operation and maintenance came. Opt-in for PWA was one of the best decisions to relive the platform.
The highlight is their real-time bidding process, allowing users to get a rare bargain at a stealing price. An optimistic future for them is:
50% reduction in bounce rate
The conversion rate witnessed a rise of 30%
30% more on-site time spent
Problem
Bloomique is the Netherlands' poetic garden of diversified plants and flowers in the 21st century. Being organized conveniently from origin to caring requirements to purposes, Bloomique services are just on-point with tailored botany advice to each customer. However, their web wasn't attractive and optimized for top performance.
After switching to PWA
Transforming with both PWA storefront and powerful built-in features, Bloomique achieved a longer time on-site with their eye-catching look and feel while strongly connecting and re-engaging with prospects and recurrent customers.
Problem
Bright Star Kids is where you can find all cool customized stuff for kids, based in Australia. Customized good is the differentiated point of BSK, but they are complicated and are in large quantities. Thus, with a considerable amount of product data, the business needs a web to handle the heavy workload.
After switching to PWA
The platform can now ensure responsive interactions and high-functioning performance by implementing PWA. They even redesigned the storefront and optimized it with top-notch UX and UI to be friendly and engaging for moms and children.
Problem
One of the Middle East's biggest stores is here. Noon sells about everything, from groceries to baby care. Noon's pain in the chest is how to create a satisfying buying journey for their diversified audience.
After switching to PWA
Since many of Noon's customers in the Middle East face low-level connections regularly, the solution is to create a fast, simple, and easy-to-use while maintaining professional services.
Recap
PWA has transformed the eCommerce landscape in many ways. We have introduced you to these 10 successful Progressive Web App Ecommerce examples. Now it's your turn to leverage your store inside out and ready to thrive.
With 7 years of experience in PWA development, Tigren is the reliable partner who you can trust to deliver a high-performing, smooth, and salient PWA adaption tailored to your site. If you have any inquiries, simply drop them at [email protected], and we'll respond to you within 24 hours!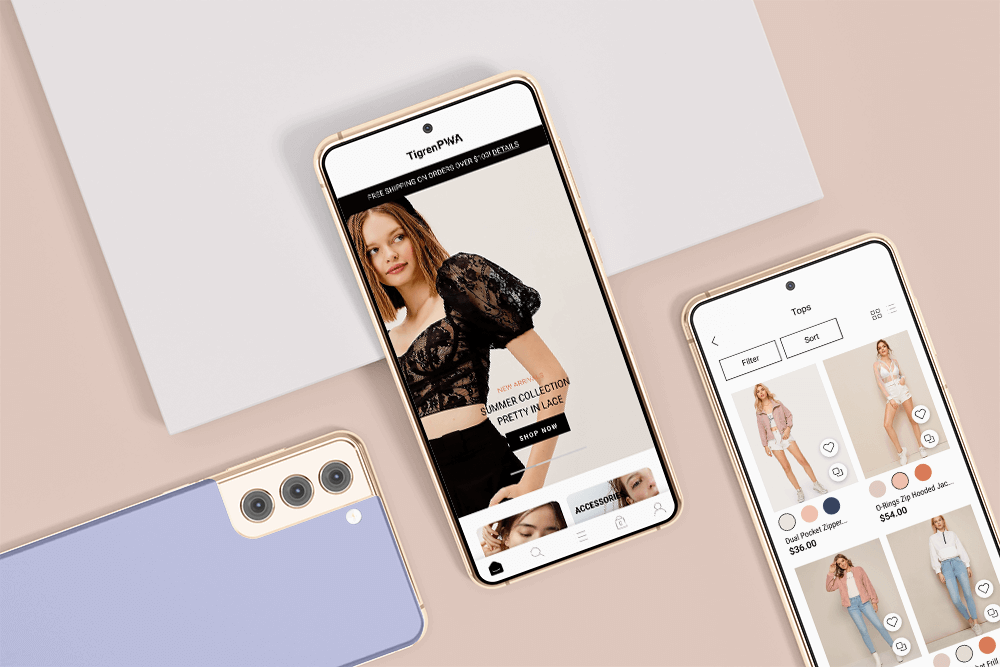 Read More:
[Infographic] 40 Examples Of Progressive Web Apps (PWAs)
10 Surprising Progressive Web App Benefits For eCommerce Stores
Introduction To PWA Ecommerce Development
How To Use Progressive Web Apps? A Simple Guide For End Users
Steps To Choose A PWA Development Company That Cannot Go Wrong