All Progressive Web App development companies mentioned in this article have years of experience and are pioneers in the market. They have completed hundreds of successful projects for their clients and continue to support them in growing.
Let's find out who they are and what they offer to rate the best solution provider of your choice!
Criteria Of A Legit Progressive Web App Development Company
1. Company's portfolio and background
To determine a company's capabilities, browse through its portfolio. Going through their portfolio will help you gauge their relevant experience and check if their template design fits your vision/ interest. This will give you insight into the company's running, and it is a testament to the strength of the company's expertise in service design and development.
2. Credibility in the market
The next step is to check out the company's online reviews or check out their testimonials. A company's reputation can be reflected in the quality of its service, customer reviews, and testimonials. In particular, you need to refer to and evaluate the company's previous PWA projects. Try contacting previous customers to refer to them to assess whether the quality is good or not.
3. High-quality service
PWA is a new technology. To build a great PWA, you can use many solutions. Each solution is tailored to the needs and circumstances of your current website. Therefore, service providers need to have good services, ensure quality, and solve many customers' needs.
4. Reasonable & transparent price
Budget plays an important role, especially when you are in the early days of your business. So make sure that the progressive web app development company you choose offers cost-effective solutions within your budget. Furthermore, service packages should have transparent pricing. Don't be fooled by the low prices because they can have hidden costs later.
5. Great support
The company you choose should provide the service even after launch and live. Once your website is up, you may need server administration or digital marketing help. Having one supplier handle all of this is a boon for your business, reducing operational hassles. Hiring a company experienced in handling all your current and future needs can give you a better return on your time and money investment.
The Best Progressive Web App Development Companies For Your Consideration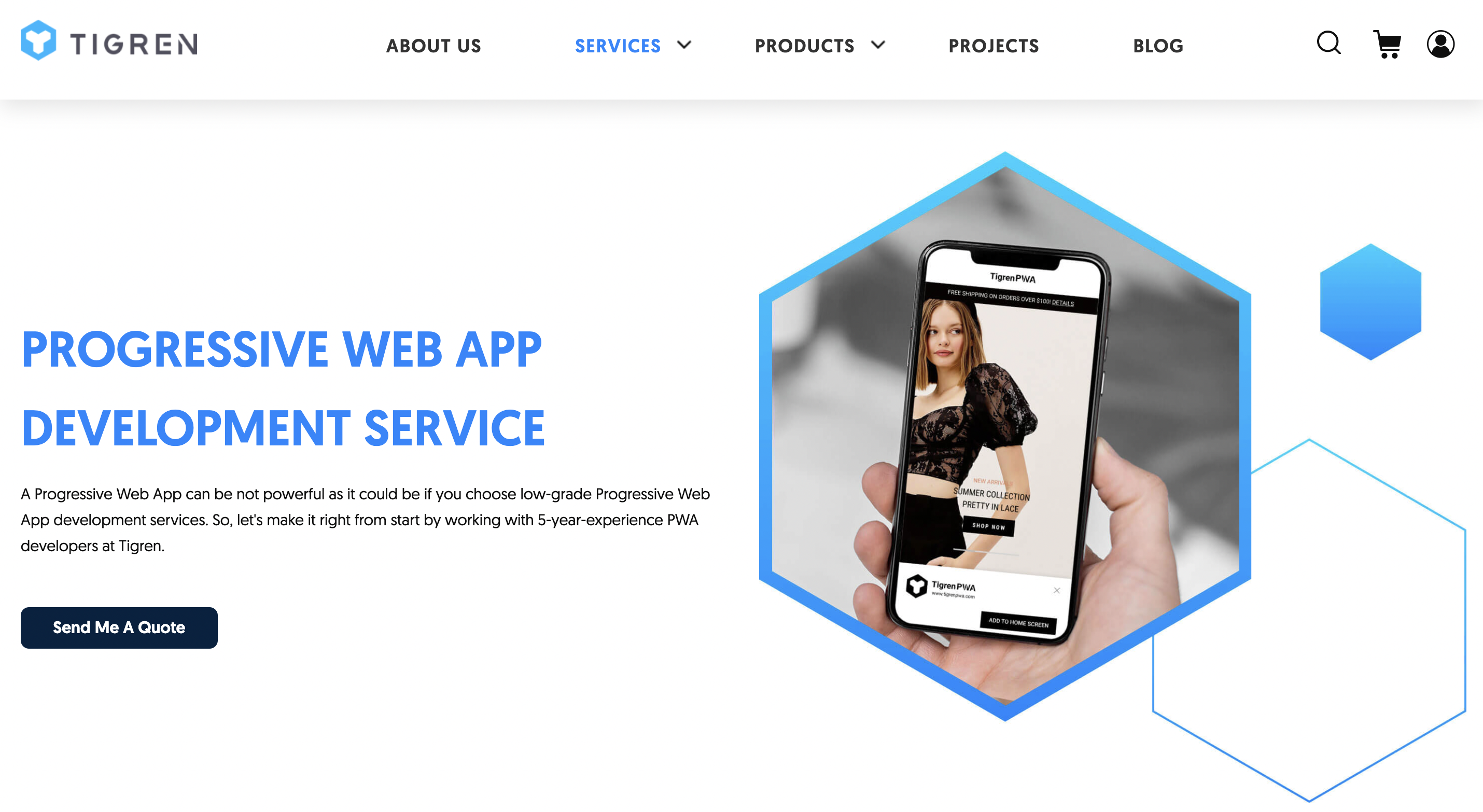 With tremendous experience working in web and PWA development, Tigren keeps its pioneering position in this field. In order to develop a quality PWA for clients, we always look for the most efficient regarding each client's situation. We do our best to build PWAs that meet requirements in design, functions, and performance.
Our clients come from all over the world, they consider Tigren one of the best outsourcing software development companies in Asia. Some outstanding projects that you can refer to are ShopEddies, Truclothing, Boonthavorn, etc.
And we go beyond what other service providers do. We offer free post-development support for our clients in 3-6 months. We understand how tricky PWA can be for first-time users, so we make sure we've got our clients' back.
Expertise: Progressive Web App development, E-commerce development, Magento development, and other web/app services.
Why choose:
Innovation guaranteed
Free support guaranteed
Reasonable price offering
A Creative team with great experience
High-quality services
Quality development approach
Bamboo Agile has been a major player in the web development field since the company's inception in 2002. Based in Tallin, Estonia, the company has collaborated with clients from dozens of countries globally to create powerful web applications in a variety of domains.
Some of the team's most notable web projects include an operating system for schools, numerous EdTech applications, a multitude of advanced online stores, HR software, and a telehealth application.
Expertise: Web application development, MVP development, eCommerce development, Shopify development, UX/UI design, etc.
Why choose:
MVP consulting
Complete transparency
Flexibility in processes and pricing
Proven industry experience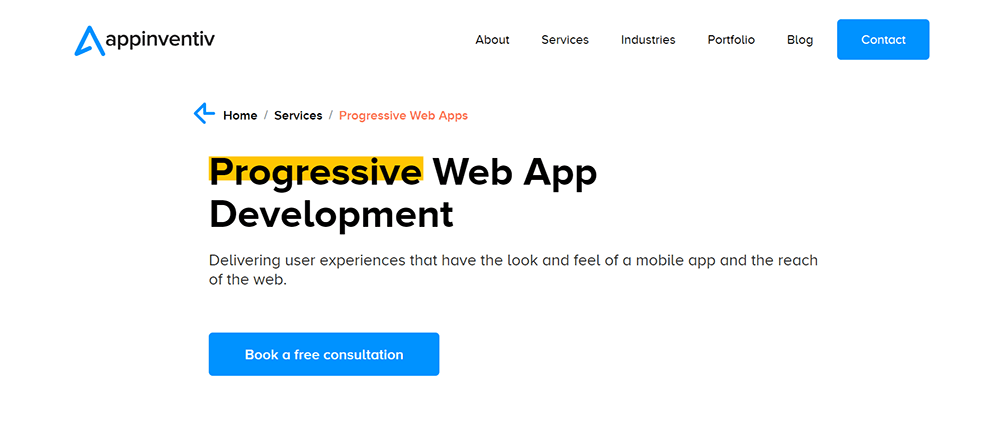 The second name in our list of Progressive Web App development companies is Appinventiv. This firm is an award-winning organization that provides impeccable technology solutions to startups. The company started its journey in 2015 and today has more than 650 technologists, engineers, and professionals dedicated to bridging the gap between customers' ideas and reality.
The sole goal is to facilitate richer customer experiences and more thoughtful, innovative solutions through on-time delivery and post-development support. To date, they have successfully delivered over 1,000 projects.
Expertise: iOS/Android app development, Blockchain development, Flutter app development, PWA development
Why choose
Rich experience working in PWA development
Growth-oriented services
Timely Delivery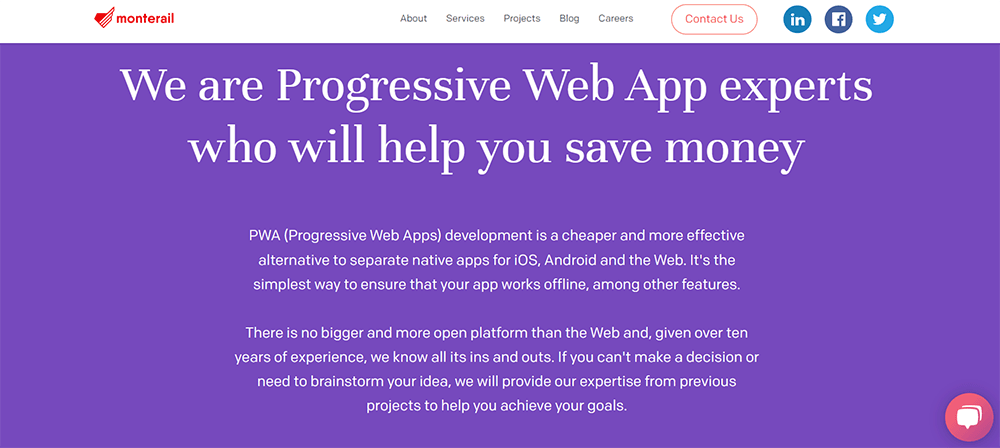 As a full-service software development company, Monterail handles restaurant web applications with exceptional features and functionality. With a value-based approach and a team of 110+ experts, they deliver incredible mobile and web applications to businesses of all sizes.
The company is an official Vue.js partner and has delivered over 300 projects to over 170 clients worldwide.
Expertise: Web application development, mobile development, application development, HR software development, etc.
Why choose:
One-stop service
Technical Lead Support
Experts with many years of experience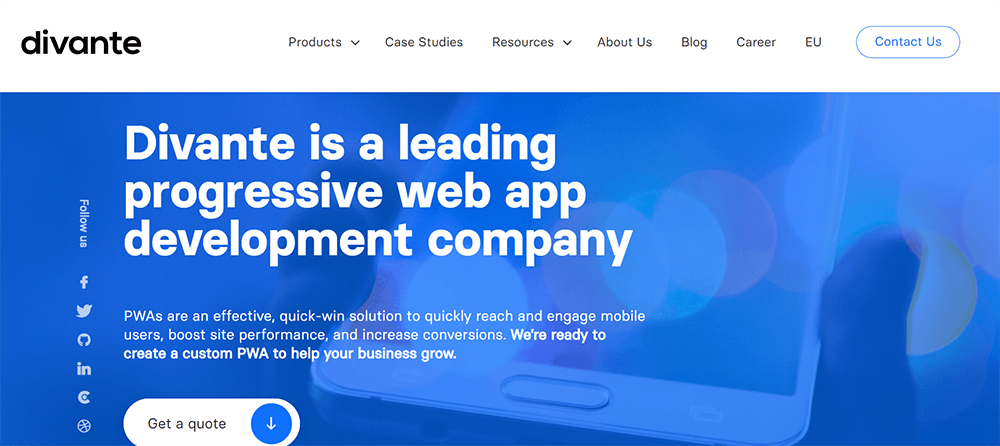 Divante is an expert in delivering best-in-class e-commerce solutions and products for the B2B and B2C sectorSupportinging customer sales. It defines entirely new ideas, implements the latest technologies, and provides an unprecedented user experience. They leverage state-of-the-art technology with modern JS, microservices, and headless architecture to develop custom PWA solutions
Divante services and products enable them to expand their business and increase their competitive advantage.
Expertise: Ready-to-use PWA solutions, Storefront Cloud development.
Why choose
Time & material project work
Ongoing support & maintenance
Creative Services & experience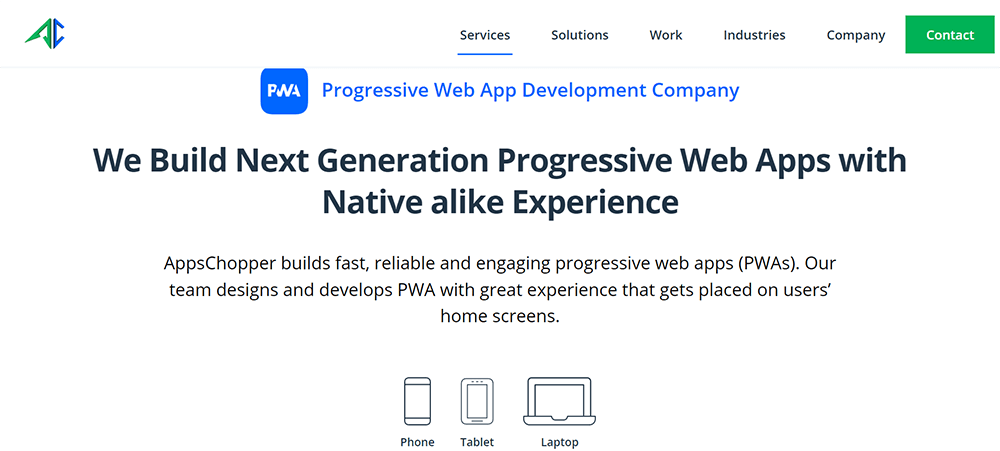 AppsChopper, a Webby Central LLC Company, is a creative app design and development agency with offices in New York, Walpole, and Boston. They are a team of creative mobile app experts who create elegant designs, engaging experiences, secure code, and test their usability. They combine both web and mobile world by building superfast progressive web apps and using the right tools to serve customers.
Expertise: PWA development, Mobile Apps Development
Why choose
Customer-oriented solutions
A Creative team with great experience
Value-driven and focused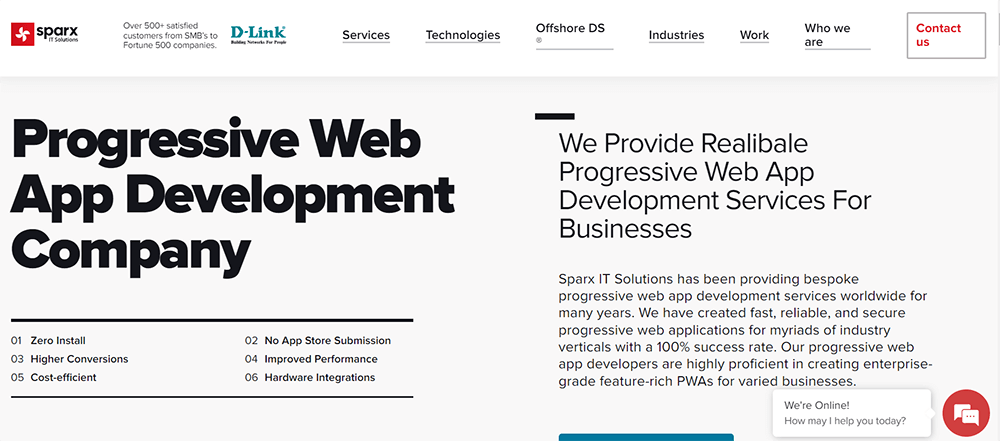 Sparx IT Solutions is a NASSCOM-recognized, ISO:9001, mobile and web solutions provider serving since 2007. Their state-of-the-art software solutions help clients modernize traditional and complex challenges. Sparx uses the latest technology to provide various digital solutions, including mobile and web application development.
Expertise: App development, E-commerce development, blockchain, DevOps automation.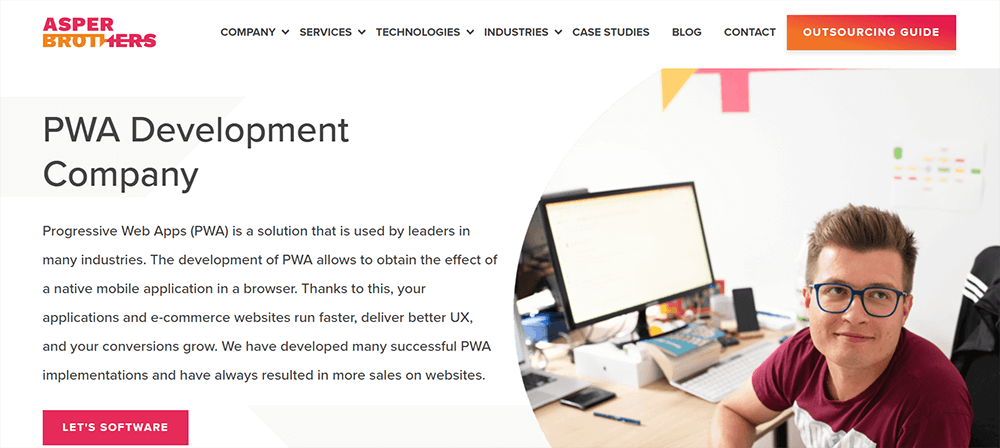 Asper Brother is a Polish company that develops software for SMEs, companies, and startups worldwide. They rely on fraternal solidarity – that's how we do it. We have 30+ engineers working on UX/UI, backend, frontend, and DevOps.
Expertise: Progressive Web App Design, Progressive Plugin Development, Android App Development.
Why choose:
Skilled Workforce
Advanced Methodology
Expeditious Support
Flexible Hiring Models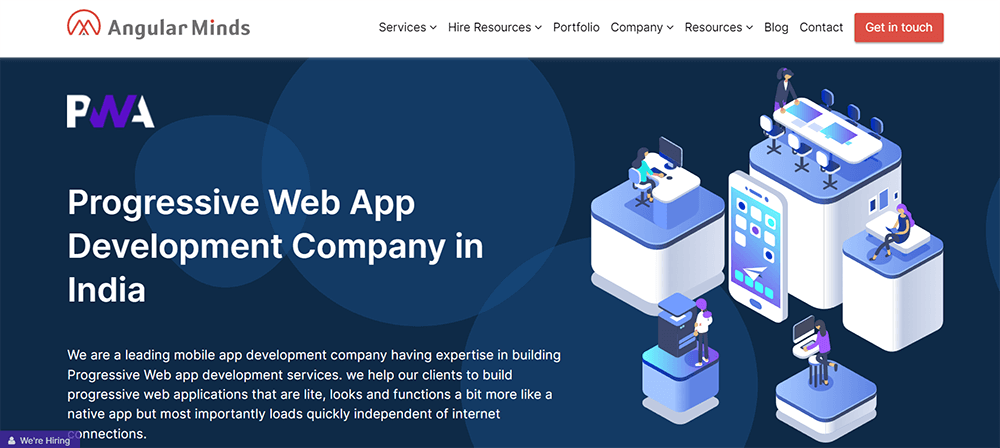 Angular Minds is rated as the leading AngularJS application development company, providing a high-quality and wide range of web and mobile application development services for the web, iOS, and Android platforms. The company also provides web development services to its global clients.
As one of the top iOS and Android app development companies, the Angular Minds team has extensive experience developing innovative Android and iOS platform solutions.
Expertise: Web app development, mobile app development, business enterprise services.
Why choose:
An experienced team
Innovative Approach
Great Services & experience
Agile Development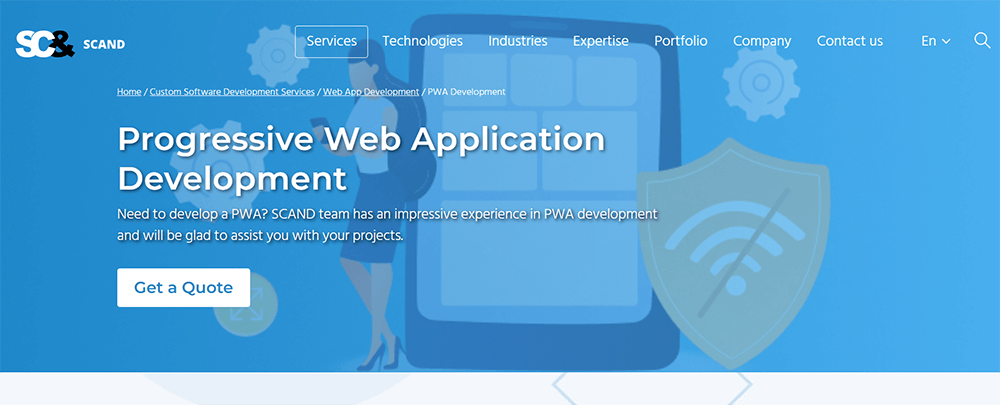 Scand is a custom software development company based in Minsk, Belarus, in the heart of Eastern Europe. They have over 20 years of IT experience, over 700 successful projects for hundreds of clients worldwide, and over 250 experienced engineers.
Expertise: E-commerce Solutions, Media and Entertainment Solutions, Social Network Development
Why choose:
An experienced team
Innovative Approach
Good Idea analysis and execution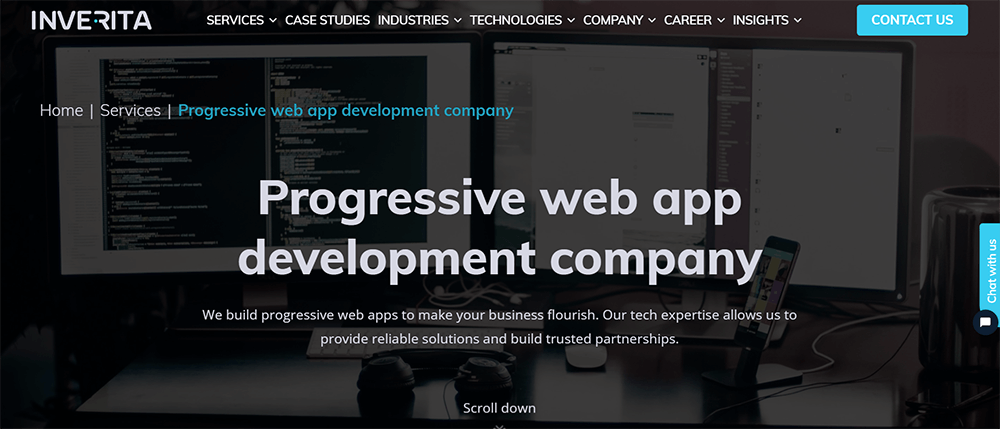 InVerita is a values-based custom software company focused on developing web, mobile solutions, quality assurance, and team scaling services for clients. Headquartered in Lviv, Ukraine, with offices in Chicago and New York, the company pursues unique values ​​that place quality of delivery, customer satisfaction, and personal employee growth above sales and profits.
Expertise: Custom software development, IoT software development, mobile app development, web development.
Why choose:
Extensively experienced experts
Outstanding web app development
Ongoing support & maintenance
Creative Services & experience
Sum Up
Enterprises of all kinds are now adopting the latest technologies, like Progressive Web Apps, to give a better user experience. Mobile network performance is no longer an issue for businesses that shifted to eCommerce and adopted eCommerce PWAs to offer the best converting experiences.
So, what are you waiting for, build your own PWA, or refer to the suggestions above, to choose a suitable progressive web app development company for you. Select a provider that meets the requirements and situation of your company.
Read More:
Steps To Choose PWA Development Company That Cannot Go Wrong