You've got a great business idea but don't know where to start? Don't worry, because this article is written for you. With this comprehensive yet straightforward 20-point in the starting of an online boutique checklist, you will know exactly what to do and how to narrow down all the tasks into groups to accomplish your goals.
Strategic Preparation For Online Boutique
1. Choose A Niche
A niche segment is less competitive as you focus on a specific need preceding businesses underlook. Thus your online boutique may see quicker sales in return.
After finding your market, sketch out who your target customers are and have a prospect-oriented view in mind.
2. Select Your Product
Consider adjusting your boutique offering to the relevant and uniquely valuable option for customers. The product should solve the problem that you've identified as an opportunity. You should go for products that make your brand stand out in saturated online markets like beauty or fashion.
3. Choose Your Brand Name
Now let's visualise your boutique in more deets. How will you name it? What is the first thing you want visitors to remember? How do they recall your online boutique?
You should choose a name that is easy to remember while sounding nice and can express your brand characteristics. Then illustrate your brand idea into a logo with suitable and satisfying symbols, shapes, colours and fonts.
4. Decide Your Value Proposition
What is a Value Proposition? It's a concise statement that best captures the uniqueness of your boutique while describing your tempting offers.
A compelling value proposition should be based on trustworthy, engaging, and persuasive words, for example:
LG: "State-of-the-art Living Experience"
Subaru: "The most adventurous, most reliable, safest, best Subaru Outback ever."
Samsung: "Get Ready to Unfold Your World"
If you can show your value to customers, they'll be more convinced to buy from your store, not to mention a good statement can leave an impression on their minds.
5. Set Business Goals
The next point in starting an online boutique checklist is setting your goals. Try to imagine how you want your business to develop (with KPIs or specific numbers), giving yourself a clear steer direction to follow in a period of time.
You can start tracking figures such as quarterly sales, post-tax revenues, and growth from these goals. Other data such as traffic and conversion rates should have some targets for them.
6. Prepare A Financial Plan
After setting out your goals, now you need a financial plan. Note down your investments, even small money, right from the beginning to keep track of balance effectively. You can calculate the basic costs such as website development, inventory, shipping, and marketing.
Determining specific proportions of your total budget would let you know how far you can go for each cost above.
Checklist for Opening an Online Boutique
7. Select A Hosting Space And A Domain Name
To create a website, you need to rent a hosting space and buy a domain name. Your domain and brand name should be the same. But in case someone else has used that name, try to add adjectives related to your product for a new name.
To choose an ideal hosting space, pay attention to their location as closer hosting locations can assure more reliable performances, compare cost-offer correlation to the market average, and look through reviews or testimonials.
8. Choose An E-commerce Platform
If you aim for a professional e-commerce platform that allows you to make customised changes from design to functions and features, look for Magento. But Magento is open-sourced, so unless you are tech-savvy and know all about coding, you should hire developers to help you set up the rest of your online boutique website.
Other pre-made website-builder platforms like Shopify require a monthly subscription. They offer various website themes, but you will have less control over your selling sites.
9. Find An Online Store Builder
Building an e-commerce website for your store is like building your brand, your online presence that will attract and allure your prospects to know more about you. It's your most important touchpoint with your customers; therefore, you need to find reliable, competent, and experienced developers to help you with.
With 10 years of experience in Magento development, Tigren has helped many e-commerce businesses and start-ups worldwide ignite their offer and expand their customer base. We offer 2 e-commerce website development packages with numerous exclusive benefits for the client's best interest.
10. Design Storefront
Usually, there are 5 main parts every online store nowadays requires: homepage, product listing, shopping cart, checkout method, landing pages. Each needs careful UI and UX design to be attractive, convenient to follow, and responsive.
11. Find Suppliers
There are several ways you can get your supply of products or materials:
Third-party wholesalers: You'll receive a total quantity of high-quality products, but you will earn fewer profits or must sell for higher prices.
Direct product sourcing: If you can choose a trusted producer, you will be more profitable for no extra costs.
Handmade: This option takes time and effort. Unless the person is you, the employer fee can be pretty pricey compared to how much you make.
Regardless of the type of supplier you choose, ensure they are reliable and can deliver products/ materials with consistent quality and on time.
12. Decide On Logistics
Inventory and shipping are essential to your boutique since you're doing e-commerce. The price may vary due to which companies you're working with. But carefully search for tips and reviews online.
13. Carry Out Legal Registration
Depending on the area or country, you might be required more or less than these legitimated affirmations. Seller's Permits, Business License and Certificate of Authority are some common documents you'd need for a business. Be sure to find out about these legal documents and complete them before officially opening your online store.
14. Establish Store Policies
Decide the way your store works and let customers know. Be clear about your service, products, and things like privacy policy and refund policy on your website. This will also increase customers' trust in you.
15. Go Live
At this phase, you have successfully gone through half of the way. From here, you should also create your presence elsewhere like social media, announce the new name, enter the market and start building your brand.
16. Start Promoting
Promotions nowadays are all about creating engaging, positive, and satisfying relationships with customers. Always remember, use an intimate, authentic, and honest tone of voice while delivering to them, or else your messages will be excluded from their daily lives.
To reach out to new customers, use ads to give prospects a chance to know about your business. SEM, displays advertising and social media ads are crucial options to select.
17. Testing
At first, you wouldn't know what features, content, or functions best suit your customers' needs. Trial-and-error is the way to improve user experience and find ways to drive more sales.
18. Tracking and Measurement
Now to make the response you want above, you need tracking. The cool thing about the Internet is that it allows you to track everything. From how long prospects stay at your site, to how they react with your new product/ content.
However, most measurements must be set up beforehand by embedding certain pieces of code. So add this to your notepad so that you can measure all that you want and know more about your audience.
19. Analyze and Predict
Right after the tracking process is the analysing phase to make scientific-approval predictions.
There are several popular analysis software that you can use to grasp customers' opinions from data and numbers. After analyzing, see which aspects need improvement and what method you can apply for better performance. Besides, your store's performance analysis will help make predictions for future sales and other costs.
20. Expand Your Market
When you have created your brand community and maintained it excellently for quite a long time, it's time to expand the scale of your boutique. Look for potential customer groups with similar interests that you may meet with new and relevant products.
Useful Tools For Online Boutique Management
Managing an online business is massive and exhausting, especially with start-ups. But don't worry, there are some powerful and productive tools to help you. Best of all, many of them are free so that you can use them confidently.
Recap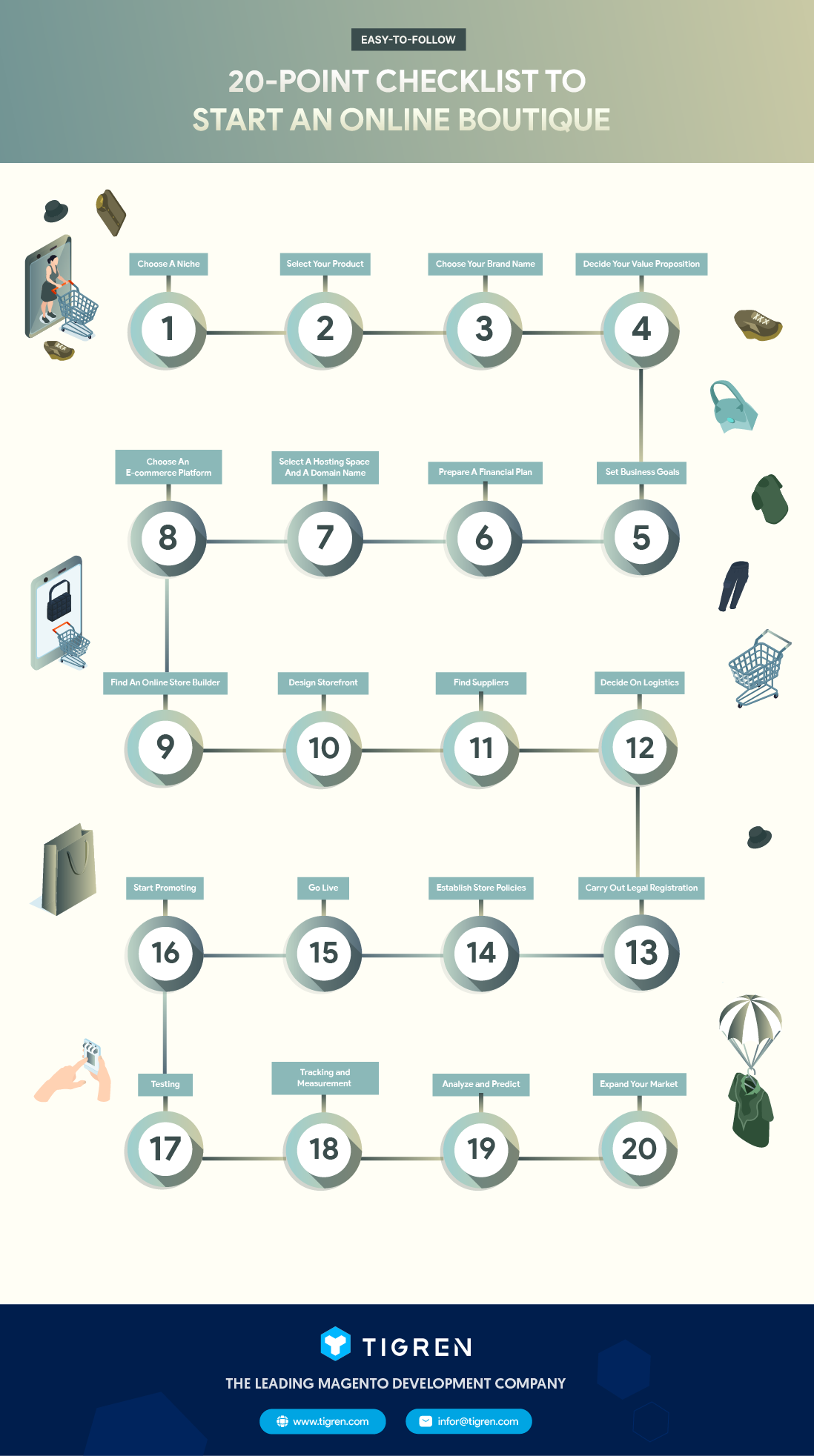 Hopefully, you have found this 20-point starting an online boutique checklist easy to follow. Among all of this, there's one core thing you should keep in mind that end-users only see your online website as your brand visibility.
So you should focus on ways to improve your customers' experience on-site. A smooth-running website with eye-catching designs and innovative features, as well as an always-on contact line which appears timely, are several ways you can start considering.