If small online business owners are looking for ways to accelerate their site loading speed and improve the shopping experience, this case study is for you. Learn about AliExpress PWA and how it brings multi-billion revenue for this giant Chinese marketplace.
The keyword is what PWA brings to the table, and we bet you have so many inquiries about this future-next standard for every website, so let's get started.
An Overview Of AliExpress

Established in 2010, AliExpress serves as a global retail marketplace to outsource low-cost goods from mostly Chinese manufacturers and distributors to the rest of the world.
Due to the rapid increase in types, sizes, and supply, AliExpress soon became one of the biggest platforms providing original products for subsequent local and global distribution.
Owned by Alibaba Corp., AliExpress is compared to US eBay, facilitating transactions and partnerships between small businesses and independent merchants.
Currently, over 100 million products from more than 80 categories are on AliExpress's display shelves, serving the interest of monthly worldwide users that exceeds 200 million.
AliExpress Challenges Before PWA Integration
With the motto, "Smarter shopping, better living!", AliExpress aims to be the world-leading platform where shoppers can quickly and easily find what they're looking for.
Witnessing the rapid growth of mobile commerce, which is increasing three times as much compared to ecommerce, the marketplace leaders decided to invest in their mobile presence.
After research, they realized a severe mismatch in performance between the website and mobile app. Their platform back then was not optimized for mobile, while this is their primary source of discovery.
At first, they decided to go for a mobile app but found it challenging to build a similar user experience on the website as engaging as the native app.
After considering the solutions, they finally went for PWA for two main reasons. Not every user would download the app. It took a larger investment yet couldn't totally manage to attract users for installation and re-engagement. Besides, they simply needed a mobile platform that converted a non-app user to an app user.
The Outcomes Of AliExpress PWA
Design
The design didn't have any significant changes but rather the little details into layout rearrangement or font adjustment.
The note-worthy point of PWA is that the end-user doesn't require to handle any update manually. Instead, the changes will automatically sync in the background after one load or re-load.
Functions
Apart from the ability to work across browsers, offline usage, and reconnect with frequent buyers by pop-up messages, here are the specialties of AliExpress PWA:
The loading speed is incredibly satisfying, with the first-page load taking place within 3-5 seconds.
Every page transition is a one-time load per visit. Thus, driving each interaction with the site runs seamlessly and swiftly.
All the elements and effects appear almost instantly and fully after the transitions.
If not because too many offerings are displayed, the navigation is quite clear and straightforward.
The layouts: we like how they put the overall product review on the top just behind the search. Clearly, they understand that online shoppers only start considering the products if they gain good reviews. This small detail will help the buying journey occur smoother and faster for their audience.
Great hover effects that are placed just right without getting users annoyed.
Results
0,4% increase in total new users; 82% increase in iOS conversion rate.
Double pages visited total per session per user.
74% increase in the total time spent per session.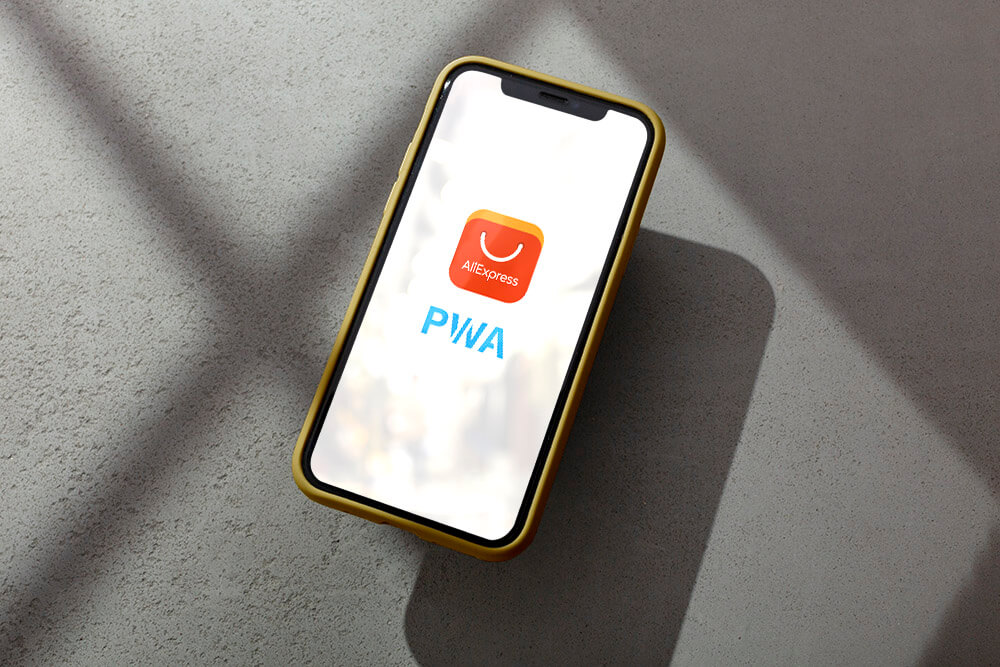 How To Build A Website Like AliExpress PWA?
Develop An Ecommerce Website
Here are suggestions from the AliExpress marketplace about core features to focus on:
Registering phase: It can be a nuisance to stop creating another account and discourage the order completion, so make sure your registration process is short and sweet.
Product listings: aware of how skeptical users may feel about online shopping, so ensure you provide as much information about the products as possible.
Search tool: look for the one with keyword suggestions or similar products if you have a huge portfolio like AliExpress. Various Filters and sorting can help narrow down the types to their liking.
Check-out process: users may have multiple orders to proceed with, making this step quick and intuitive. It's best if they have the option to save the payment information and a simple re-filling system for the next buys.
Ratings and reviews: one of the most critical factors that contribute directly to sales. Us humans want approval from the majority before we decide to follow their actions.
Develop A PWA
How PWA works
Using the service workers as core technology has been a stand-out point for PWA to have the ability to adopt the best use of native applications to a progressive website. PWA, at its root, is a website; that's why it works well across browsers.
With storage APIs and app shells, service workers can pre-cache the site content to instantly serve it the second time a user visits the page.
Besides caching power, a service worker can intervene and process network requests by handling multiple caches, minimizing data flow, and saving unfinished user-generated interactions when the connection goes out for later synchronization.
The way these caching works has helped developers concentrate on the website speed. The more optimizing they did, the lighter, faster, and more streamlined the performance got. And that's exactly what AliExpress had gone for.
Criteria for choosing a reliable PWA development provider
Service options: first you would like to narrow down from eCommerce services or digital development services to PWA development services. Then depends on what your business needs, whether is to build a PWA from scratch, optimize and update PWA or apply a PWA theme to your existing website. 
However, note that PWA can work for any website, so if you own an online store, check for the ecommerce PWA solutions or platform-specific PWA solutions.
Experience and expertise: PWA is relatively new yet it requires skillful developers with seasons of expertise to respond to various scenarios. You can check this by the number of years providing the PWA services and the number of PWA projects taken.
Ratings and reviews on third-party platforms: Trustpilot or Clutch is where you can start digging. By reading other projects' descriptions, you can deduce whether the agency has carried complex, middle or simple services.
Testimonials and previous works: once the provider has your belief, check out their official website and testimonials, and see what's best about the agency. Hiring a place for their strong point should be better than other services with less understanding.
Location: lastly, outsourcing your PWA development to an Asian country will promise the cheapest fee for world-standard quality projects if you've followed the above steps. Countless small businesses outsource their requirement to lower hourly rate areas.
Introducing Tigren PWA Development Services
About Tigren
If you're looking for a vetted and reliable PWA solutions agency for ecommerce stores, Tigren is the name you should start checking over. We have researched and provided Progressive Web App development from the year Google coined its name.
We are among the fastest-growing ecommerce services agencies, with a strong specialization in Magento. Over the last decade, we have worked with nearly a thousand global clients and frequently receive on-retain projects.
About Tigren PWA
We offer custom PWA development services, either scratch or different solutions, all come at affordable costs to equip your store with advanced functionalities and extra care.
If you simply want a customized PWA theme for your existing website, we have the premium one, best optimized for the Magento platform. If you want to keep your current design while integrating PWA, we can recreate it to adapt to new PWA features.
Depending on the project's complexity, you can enjoy at least 3 to 6 months of our free support. After that time, we can continue supporting you monthly with updates, bug fixes, and regular optimization.
FAQs Of PWA Development After Integration
1. How do you 'market' a PWA without an app store?
It's actually even easier than how you would promote a native app. Instead of calling out separately on iOs or Android users, now everyone can access the online store with any browser they have.
At the same time, you can promote PWA through the deficiencies of native apps, which is how they can install a PWA store on the home screen without wasting storage or instant updates.
2. How can small eCommerce companies adopt PWA when most of their users don't even know of it?
Suppose you decide to become one of the early adopters of the next big thing. In that case, you have to be responsible for informing your target audience about this transformation you're undertaking.
Google introduced this concept of progressive web app in 2015, and they're doing a great job with the community of developers and reaching out across big brands.
Now it is your time to go out there and tell your audience about the juicy benefits they'll get with the latest updates, straight from your effort to create a better shopping experience.
Takeaways
AliExpress before and after PWA was a total blast to the users when it comes to buying online, especially the performance on the mobile platforms. AliExpress PWA is simply faster, lighter, easier, and more attractive.
With the help of PWA, they now remain consistent images across various screen sizes, all to create a meaningful buying experience. And the platform has done a fantastic job in optimizing the loading speed.
Related Posts:
WordPress PWA: Everything You Need to Know
Twitter PWA: Discover Its Exciting Features
TikTok PWA: Another Great Example Of Progressive Web App