Travelling won't be the same with Trivago, a service business of the new age that allows you to plan for your trip right from home easily. As a leading website-based company, Trivago is all too familiar with technical advancement and innovation. So when Trivago PWA appeared, we knew that it must be something worthy of a case study that following digital businesses can experience and learn.
Trivago PWA is another big success of PWA adoption with excellent implementation, raising the standard of mobile browsing to the next level.
An Overview Of Trivago

One of the fastest-growing booking services in the travel industry, Trivago was founded in 2005. It quickly became a meta-search engine for the world's most extensive hotel listing, taken from over 300 websites across the virtual planet.
A meta-search engine means that Trivago is a platform to scrape other websites' content to compile a list on their pages, where these data will be compared in terms of prices, places, and more.
As a result, users can't make a direct booking via the Trivago website. Instead, the German introduces you to any booking sites for the accommodation type you want to stay in.
Trivago's main source of income is from referral commissions. Whichever hotels want to be on Trivago's listing site will pay a specific ratio as Trivago outbound fee, subscription fees, called revenue, and an extra fee for visitor click-through rates on available special deals.
To this day, Trivago has attracted over 5 million hotels and other hospitality services across 190 countries.
In December 2016, Trivago appeared on the NASDAQ stock exchange under TRVG with over 1000 employees. In February 2022, the world's hotel metasearch engine reached 8.4 million unique visitors globally, growing from December 2021's 8.2 million.
The Background That Led To The Born Of Trivago PWA
There has never been a time like these two recent decades with the enormous transformation of the online landscape where the travel industry is being disrupted.
New technology constantly evolves. Thus, Trivago must be aware of every emerging technology out there, as their competitive edge lies in staying ahead of the evolution.
There's no better way to reach the audience than via mobile devices. The rising of smartphones has become tremendously significant for consuming digital products that whoever owns the majority of mobile adoption first wins.
Data showed that more Trivago users access the site via mobile than other screen sizes. Users are more familiar with mobile products, leading to millions and millions of potential prospects outreach for Trivago.
How Is Switching To PWA Can Solve Trivago's Problem?
Issues With The Performance
Mobile data tends to be pricey, and if they had decided to invest, the return profit wouldn't have been a problem. When it comes to new app downloading, users can perceive several costs, such as the hassle of finding the app, the waiting, the adapting to changes, and the storage. It's also hard to ask them to try a new app to see what it's like. The idea of attracting a new audience via native apps seemed rather tricky.
Most of the time, users need an active connection to handle their requests. However, the network sometimes tends to be unreliable, even in areas with strong 4G, especially when they need to get moving in the middle of a search, check-out, or any session in between.
The more hustle their lifestyle is, the less Internet disruption they require. Recognizing the demand, Trivago began searching for solutions to stand out. In the end, all the clues led them to PWA.
They knew PWA could infuse a new air to the outdated mobile webs with the native apps' functionalities: home screen shortcuts, full-screen view, splash page, push notifications, and offline access.
However, they first didn't know PWA could launch perfect A/B tests on users even through an interrupting network, thanks to the build of background sync API. Therefore, they almost turned down the integration.
One special thing about PWA is that it can be partially developed, followed by essential conditions. The whole idea of PWA is to adopt modern web app technology to create something that benefits both the merchants and the users.
With Trivago, they decided to go with areas of performance that were most helpful for their users, focusing on out-of-network access first, then popup messages and home screen shortcuts.
Issues With The Design
The hardest thing when restructuring a site is that you need to create a user interface that matches functionally and visually with the existing patterns occupied but, at the same time, elevates it to better use. While on mobile, another problem emerges in ensuring the new site runs agnostic and is not confusing.
With PWA, Laura Oades, a Trivago designer, said that it was "a real opportunity" for the creative to challenge themselves to solve the "unchartered territory in design" that PWA obtains, to reach a new standard that's yet to be discovered.
The Impact Of Trivago PWA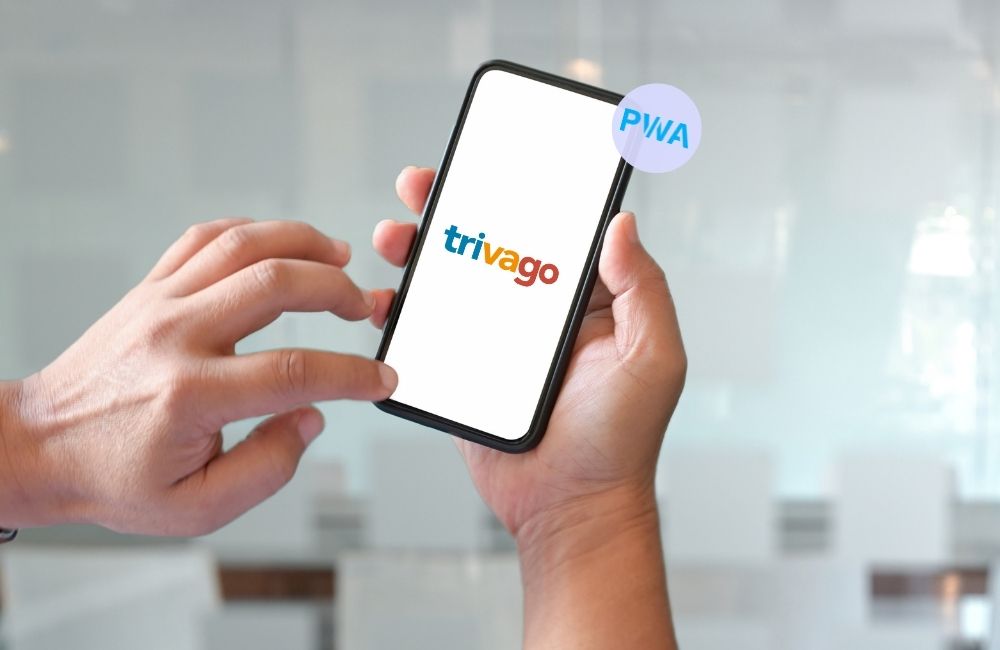 Trivago PWA is now present in 55 countries with 33 languages. More than half a million had the Trivago icon on their home screen, and many have been impressed with the changes.
The engagement level for those who added Trivago to the home screen had a 150% increase, and users' repeat visits doubled on PWA.
Google Lighthouse gave Trivago PWA a fairly good score. Both First Contentful Paint and First Meaningful Paint are fast, loading in 2.12 seconds only. However, it took Trivago PWA a solid 11.58 seconds, way too long for their page to get interactive with users.
Offline access was still in limited use with 3% of adopters. However, its growth rate has significantly changed over time as both users started to expect the feature, and the Trivago team promoted it well.
The value of saved progress in the lost connection is sufficient, especially with disrupted sessions. Data showed that 67% of those who accessed the offline mode returned to their site when the Internet appeared again.
With all achievements and issues left for re-consideration, Trivago PWA brought back a 97% increase in clicks on hotel offers. When major conversions are earned, one couldn't say it wasn't a successful one.
How Can You Build A PWA Like Trivago?
Trivago Strategy To PWA Leverage
Trivago knew what they were looking for. First, PWA caught their eyes when several features seemed like a perfect solution for their issue.
They were searching for new technology to take the lead in offline mode. Then they realized that without a great first impression, users wouldn't bother installing the app they used several times a year.
That was when the idea of developing browsers that could mimic the act of native apps but better with discoverability and higher visibility. Trivago took the accessibility factor via a standard mobile browser​ seriously as they wanted to ensure the experience remained the same across all devices.
Finally, as time is sensitive to a technology-based company like Trivago, they put all effort into building and launching the most valuable features first, namely offline usage, push notifications, and the adding to the home screen​ prompt.
Overall, this strategy enabled them to innovate quicker, with less the burden of huge investment up front and gathering human resources on a daily novel web app technology such as PWA.
Premium Tigren PWA Services
Tigren PWA Solutions
Considering the premium PWA services to create a high-quality user experience with PWA. When mentioning the premium league, by no means do we refer to the price of services only. Instead, we are talking about the exclusive features that will help you stand out from the crowd.
Tigren charges a bit higher than other PWA development companies, yet our quote is far from expensive or unreasonable. It's worth so much less than what you will receive in return. We aim to maintain long-term relationships with our clients and grow as they grow.
You can ask us to help you with full Progressive Web App development, partial custom development, optimization, and maintenance, or our flagship premium ready-to-use PWA solutions.
Why Choosing Tigren PWA
Based in the dynamic country of Vietnam, Tigren has strived for over 10 years to offer high-quality eCommerce solutions to global small and medium businesses. Tigren specializes in the Magento platform. Recognizing the potential of PWA, we have studied and are well-armed with the technology since 2015.
We are a team of well-trained, highly experienced young talents working across different time zones to discover and exploit the best within us.
That's why we always try our best in every project, and you'll get at least 3 to 12 months of free support, depending on the project.
Key Takeaways
In the future, where most activities will be conducted online, and websites become a commodity rather than a luxury, PWA turns out to be vital as it's an economical solution for the value of merchants and users. Seeing the innovation story of Trivago PWA would give you an idea of how important it is to be an early business adopter.
With all these new technologies evolving, we want you to be among the first to use your potential and bring our mission to even more people.
Related Posts:
Pinterest PWA: Boosting Mobile Performance The Right Way
Uber PWA: The Perfect Case Study For Progressive Web App