Will you choose to shop from a web with poor design and bare minimum functions or one decently made with intriguing features and loads fast? We all know users prefer the second, and businesses understand this too. That's why we want to give you the best e-commerce web design tips which promise to rocket your site's engagement.
A Basic E-commerce Website Does Just Fine!
A well-designed e-commerce web helps communicate credibility and professionalism
These days, people grade a business' credibility and professionalism over its online presence. Lacking a decently made e-com website popping up on Google will make a business lose potential purchasers' trust.
Therefore, having a website dedicated to selling and promoting your products is a wise choice.
However, the work doesn't stop there!
To stand out, you need to put more effort into designing your website. Factors like neatly organized and attractive elements, pleasantly color mix, etc., are what customers use to consider whether a business is reliable and seriously invest in their experience.
Good e-commerce web design makes a better impression on customers
At the very first moment, if a customer is well-impressed by your e-com web design, he is more likely to develop an assumption that your staff behavior, your services or products, and your quality are equally good.
After all, an impressive e-commerce web design is purposed to satisfy visitors and convert them to buyers or improve sales.
So What Makes A Good E-commerce Web Design?
Visually aesthetic while still brand-driven
Your web design should show the nature of your brand besides looking pretty. In other words, it should demonstrate the brand's core in both UX and UI. The combination of colors, the fonts, the layout, the shape of buttons, the style of language, the speed and movement when the buttons transit, etc., need to say something about your brand's style.
Let's take a look at Rino & Pelle website.
It's a luxury outerwear brand noted for its unique designs that use uncommon fabric combinations and meticulous craftsmanship.
The color palette is a simple combination of 3 major shades: light grey, light violet, and black, which emit a vibe of girliness yet not too soft, enough to see the modernness and professionalism.
The images are of high quality, picturing models and clothing dynamically and uniquely styled.
The font is stylized in a modern yet not cut-and-dry way and still keeps the embellishments with serifs typeface to make it more like a "boutique for women."
Fast loading
Faster is better.
More than half (53%) of mobile site visitors will leave a page that takes longer than 3 seconds to load. Surely you've come across this statement somewhere. It shows how important speed is.
Web speed plays a huge role in sales conversion rate. A web that loads faster is more likely to satisfy visitors, and when the visitors are happy, they will possibly make a purchase.
Besides, web speed has been a ranking criterion for search engines for a long time. This means if your web is fast, it has a better chance to rank higher and be more visible to customers.
SEO friendly
You're all aware of SEO's critical for a website's success.
SEO will help improve organic discovery and quality web traffic while also providing 24/7 promotion. If your web has good SEO, it is more likely to rank from some position to 1st place on Google, dramatically enhancing trust and credibility among potential customers.
User friendly
In many cases, customers will defer their buying decision when the website is too difficult to use.
You wouldn't want your website to have features that make users question their meaning or purpose.
User-friendliness should be prioritized to ensure a better user experience, thus guaranteeing a better conversion rate.
Safety
Since that is the place where people spend their money, they always want it to be worthy.
Remember to protect your customers when they are using your web because once they have privacy issues or their money gets lost, you will lose their credibility. Even worse, they'll share their bad experience online, which will vastly harm your reputation and sales.
Helpful Tips For An Outstanding E-commerce Website Design
Update your display
To make your website look attractive, constantly updating its display is recommended.
You should learn about the latest web design trends to apply them to your marketing campaign or web design adjustments, of course when they're suitable only. But if you can do so, it gives users a hint that you're keeping a close eye on their experience.
The next step is to contact experts in web design and development. They can work with you to come up with the most practical adjustments.
Prioritize user-friendliness
Any web consulting professional out there will advise you to make web navigation intuitive. Keep it as simple and foolproof as possible so users learn their way around quickly. Research also shows that intuitive web navigation contributes significantly to improving conversion rates, boosting user experience.
Besides, your e-commerce website can be as fancy with many creative features as you wish but still needs to be convenient. For example, the search bar should be placed in a common position at the top right of the page. Most websites have the same search bar location so users can find it immediately.
A back-to-top button is also a good idea. It would be a very frustrating experience when they have to manually scroll up your page, possibly leaving an unpleasant impression.
Employing Breadcrumbs for your web will keep track of a user's movement around a website. It gives them a feeling of direction on the site to browse back and forth between categories.
Don't forget to organize the product filters smartly so that buyers can find their suitable items and make a purchase effortlessly.
An e-commerce web should be mobile responsive because more people are accessing it from their smartphones and tablets.
Last but not least, improve with the feedback from customers. They are those who can see the issues your website has when you can't see them on your own.
SEO friendly
The most common way to optimize your web for the search engine is to make your content enjoyable, easy to skim with keywords and internal links.
But SEO entails more than simply loading your website with relevant keywords in order for search engine spiders to discover it. It also needs natural, well-written texts, etc. that are understandable to potential purchasers.
Notably, there should be a decent usage of images and videos to make the content more straightforward and interesting.
Posting regularly helps too. Diversify your content with product posts and news, tips, and so on to keep people coming back to your site even when they don't plan to make a purchase.
Learn to improve conversion rate
An e-commerce website is only considered successful when it has a high conversion rate.
Roll out campaigns for better marketing and sale results. You can learn from business case studies, workshops/courses, or from your competitors. Analyze to understand why businesses grow or shrink, and are their websites and activities are the main reason behind these changes.
How Tigren Can Help?
Building a website can be easy, but an e-commerce site that converts like crazy and looks beautiful and professional with all the above qualities is another story. You'll need a trustworthy unit with experience for that.
With 10 years of e-commerce design and development and commercial know-how, Tigren can create professional and user-friendly e-commerce websites that ensure your sales!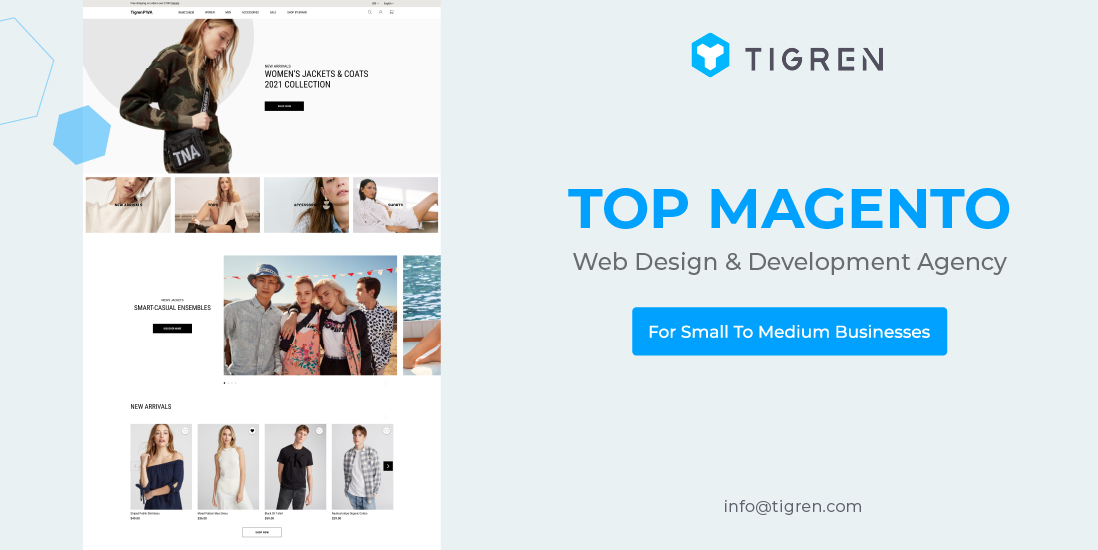 Wrapping Up
Depending on your business type, an e-commerce website can be optional. Yet, the best advice is still to own a well-designed e-com website if you are selling any products these days because of the immense benefits it offers.
We hope the e-commerce web design tips above are helpful and partly contribute to your lucrative businesses.
Read more: