Web design is a critical aspect of any Magento business. Done right, your website can be the first point of contact with your customer or client and can also help convert them into a lead or a paying customer. Your web storefront can impact the way that your business is perceived, especially when you start a brand-new website. You need to be sure that you're getting something that is going to help you represent your brand in the best possible light. It's regularly recommended to apply a well-designed and feature-rich ready-made theme in that case. However, there are a ton of Magento 2 themes and templates available with a variety of designs and functions.
If you want to build a website but having trouble finding the right theme, you're not alone.
To make it easier for you to choose a suitable one, we have composed a list of the best Magento 2 themes for every kind of business, together with information on their features and prices.
Let's begin our exploration and see which one best fits your company's demands!
Why Should We Use Ready-Made Magento 2 Themes & Templates?
Ready-made Magento 2 themes and templates are the best way to kickstart your website development project. The reason is that you don't have to worry about coding or design. You can just focus on content creation and customization, which saves a lot of time and money. Plus, it's an easy way to quickly build an online presence.
Besides, Magento 2 themes come with pre-designed layouts and sections that are optimized for search engines and easy on-page SEO. Apart from that, you can be able to customize these templates by adding your own branding, images, and text. Some even have an integrated drag-and-drop editor so that you can easily add content such as videos and images without any technical skills.
Criteria to Choose the Best Magento 2 Themes For Your Store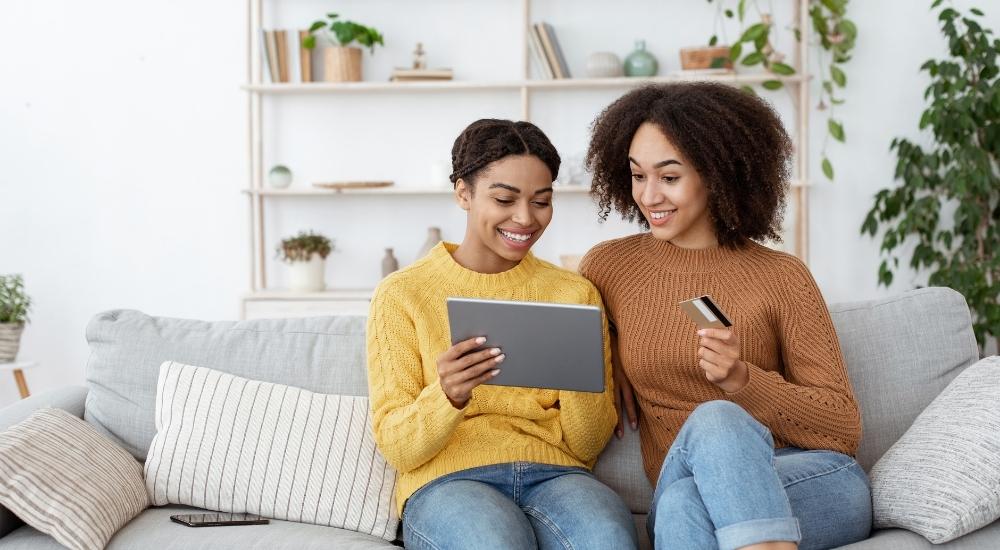 1. Attractive store appearance
The importance of website design to Magento eCommerce businesses cannot be understated. A well-designed website can make the difference between a successful online store and one that struggles to attract customers.
Therefore the visual impact of a theme is one of its most crucial components. A captivating Magento theme has the power to leave a lasting impact on visitors. A website with a beautiful and impressive theme always conveys the professionalism of its owner.
2. User-friendliness
Although the utility is just as vital as having a visually appealing layout, your customers should find it simple to choose what they want, organize deliveries, and make payments. To ensure the quickest sales funnel, the website theme's UX and navigation must be easy to use.
3. SEO-friendliness
You don't have to worry about getting seen by Google because Magento offers an SEO-friendly atmosphere. However, the underlying code of your site also affects how your website is ranked. Therefore, we advise that you pick a theme that has SEO-friendly elements.
4. Page loading speed
An eCommerce website's loading speed is a key factor in determining whether the store can draw clients or not. Your business will suffer if your website takes a long time to load for two reasons. One is that online users have extremely little patience. The second argument is that a slow website will cause Google to lower your site ranking.
5. Site responsiveness
Responsiveness is a key factor in the success of any website. It can make or break a project, and it's something that needs to be taken seriously from the start. In other words, you must select a fully responsive Magento theme to satisfy different website visitors with their devices (desktops, laptops, smartphones, tablets…).
6. Flexible customization
When it comes to Magento website templates, it's important to be able to customize them. This can be done by adding your own content, changing the layout, and so on to match your brand identity. You should seek one that gives you customization flexibility.
7. Built-in blog
Today, blogs are an essential part of every website. They allow you to share your products and services, or expertise with your target customers. Also, they give you a platform to engage with your buyers and attract new potential ones.
You must regularly update the blogs with new content if you want to keep your eCommerce website at the top of the search results. Make sure the blog features are available in the Magento template you use.
How To Find High-Quality Magento 2 Themes?
High-quality themes for Magento 2 are not so easy to find. There are many templates out there that seem to be good. However, as soon as you begin using them you will realize that there is really a lot of difference in quality. Moreover, most Magento templates are just not up to the task of providing you with top-notch service for the long term. In case you want to make sure your website is successful, it is imperative that you select the best templates on the market.
Searching in Magento theme marketplaces: There are various themes available for purchase on Themeforest, Envato, TemplateMonster, etc. For the most accurate assessment of the theme's merits and shortcomings, consult others who have already used the theme in question and read reviews.
Ask Magento experts: We also strongly advise you to do it this way because the professionals understand what is best for you. You'll save a lot of time picking the right theme for your website because the professionals at reliable web development service providers are all highly qualified and experienced. With over 10 years of experience in Magento website design and development, Tigren experts can help you find out the best themes that meet your needs. Just tell us your requirements, and we are glad to help!
Most Fascinated and Recommended Magento 2 Themes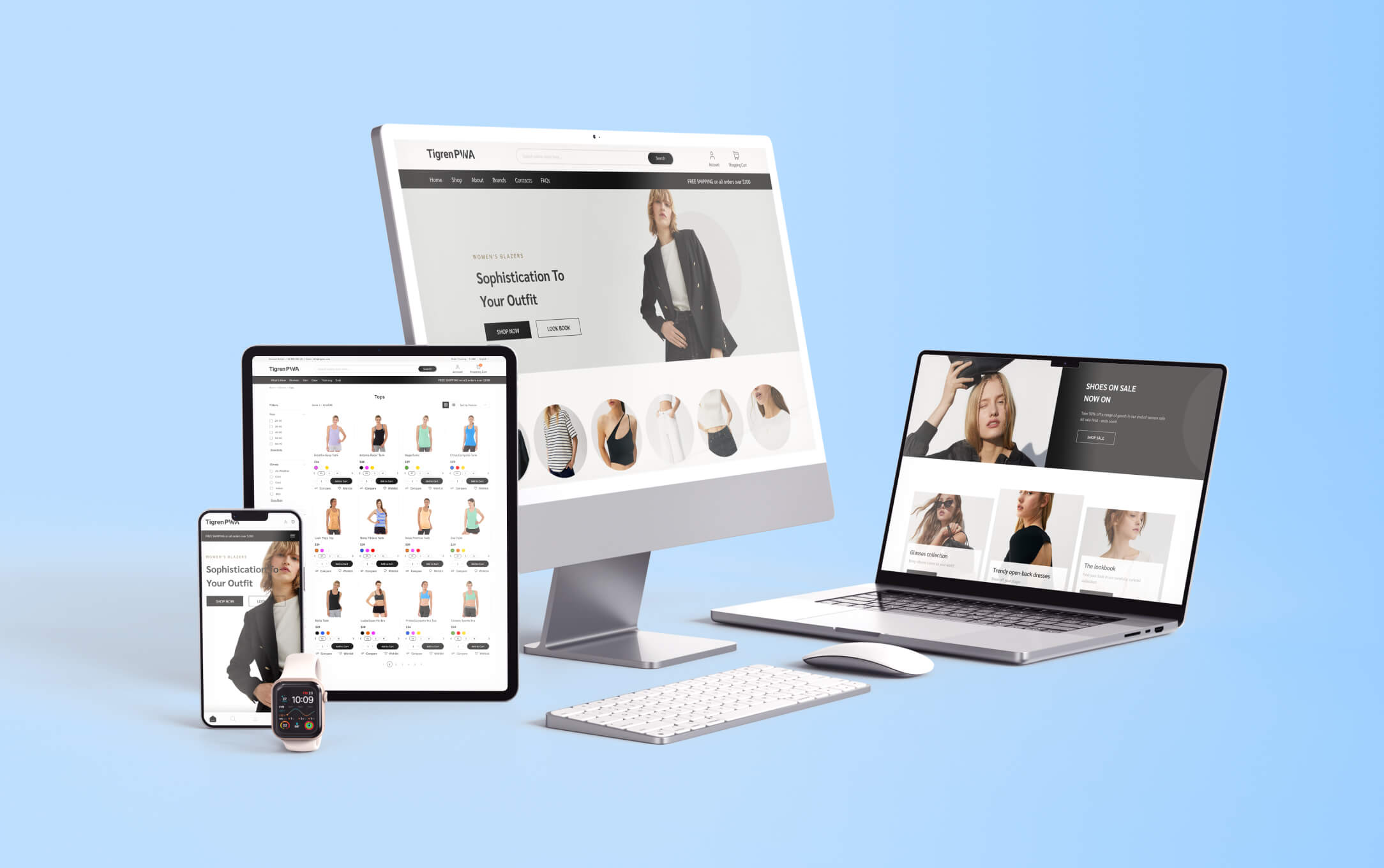 Technology/ Electronics version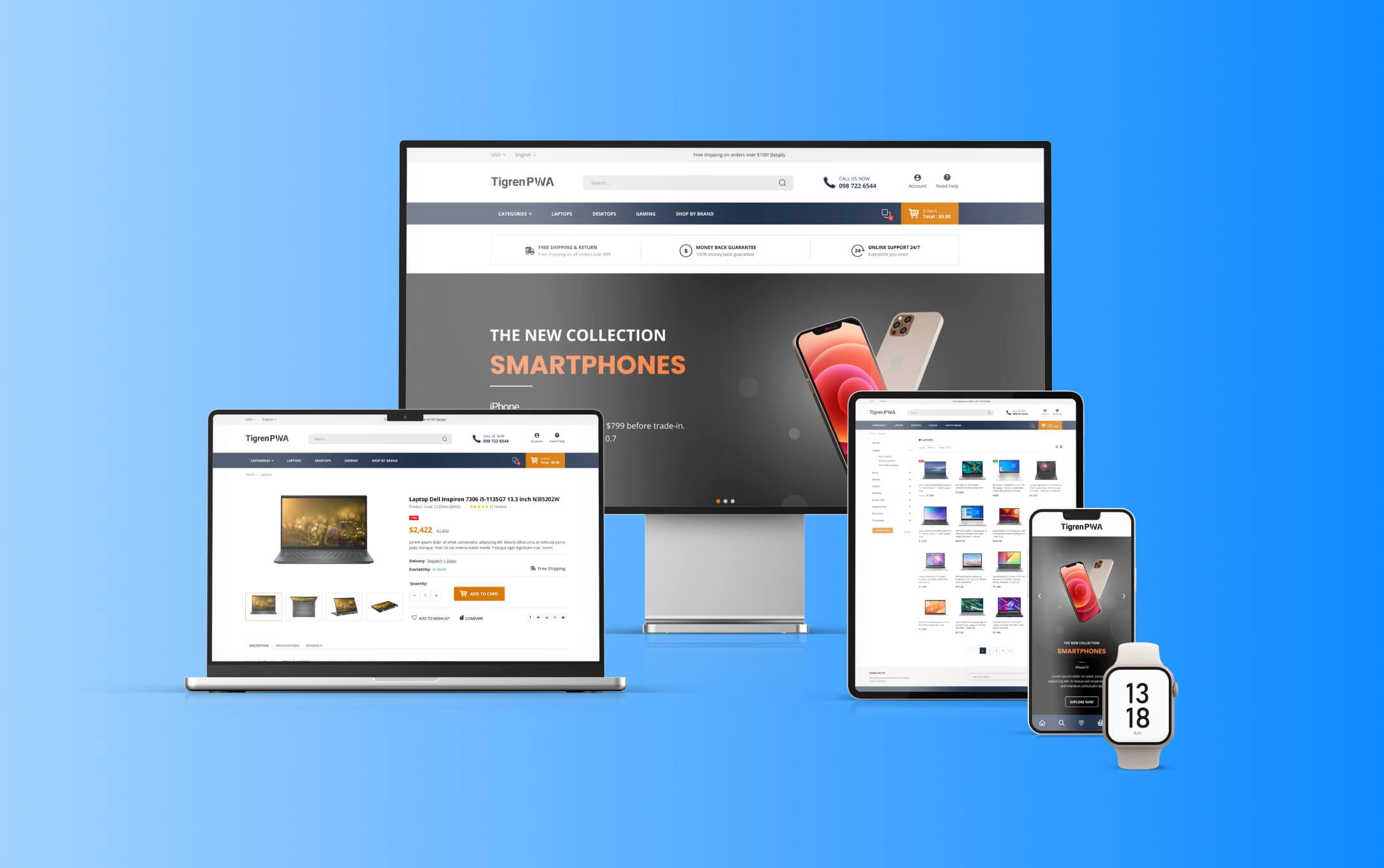 TigrenPWA is a Freemium theme built using Magento PWA Studio that is only available for Magento 2. It offers an app-like shopping experience that is advantageous to both users and merchants by combining the strength of a responsive website with that of a native application. 
>>> View demos <<<
The user receives a more enjoyable shopping experience supported by a quicker page load time, a store icon on the home screen, full-screen mode, push notifications, etc.
This is true to say that this is the most special Magento 2 theme on the list, not only providing an elegant website design but also adding the latest powerful Progressive Web App features such as adding to home screen and sending push notifications. That's why the premium versions of Tigren's Magento PWA theme will cost you more than the rest of the list. But it deserves.
More differences between the TigrenPWA theme and regular Magento templates are revealed here.
Outstanding Features:
3 storefront versions (fashion & electronics)

Instant loading, lightning interactions

Icon on mobile home screen
Push notifications
Full-screen mode
Fully responsive
Accessible on offline mode
Cross-platform availability
SEO-friendly
Price: $0-799
Read More: Magento Progressive Web Application (PWA): The Definitive Guide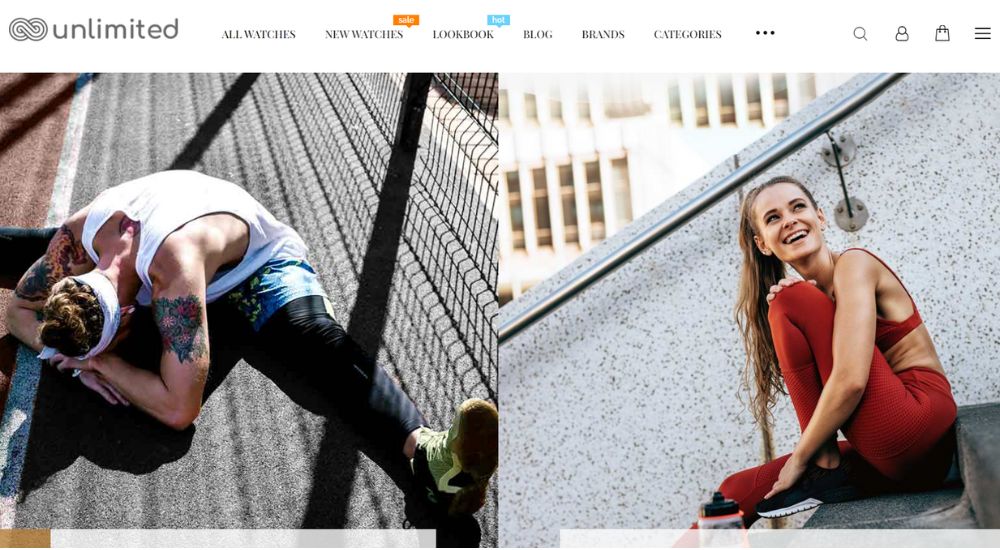 The Infinite theme is designed for a variety of Magento stores, including those for technology, baby, fashion, food, lookbooks, and other categories. Particularly adaptable and configurable is Infinit. Various design subjects can have their colors and layout changed at any moment.
Another advantage of adopting Infinit is that the theme is updated frequently, with new bugs being fixed as well as trendy design and elements created. Fortunately, you won't need to pay for new features and upgrades. Infinite Responsive Web Design also ensures that your website looks fantastic on all devices (desktops, tablets, mobile phones).
Outstanding Features:
20+ eye-catching pre-demos

Mobile friendliness
Quickshop function
Blog included
Shop By Brand
Price: $129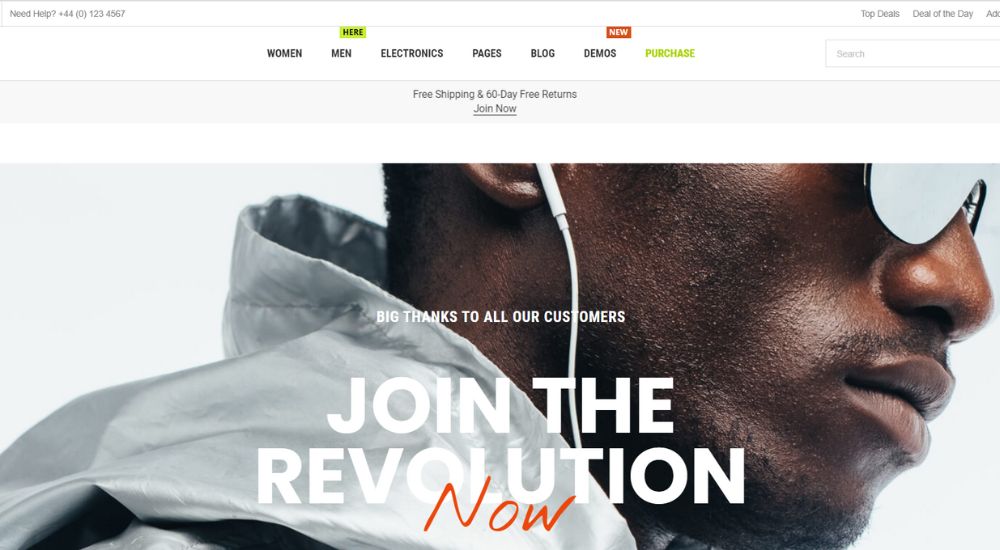 The only Magento 2 theme that truly captures the essence of an athlete is called Athlete2. With current effects and a robust design built on the Bootstrap 4 framework, this theme was created to offer the best possible shopping experience.
For Magento 2 stores that sell shoes as well as sportswear and accessories, Athlete2 is a highly-recommended theme.
Additionally, the theme is completely editable and comes with a ton of choices and features that greatly aid with product showcasing and searching. In particular, Athlete2 is connected with the most premium extensions without having to pay an additional charge.
Outstanding features:
Mega menu
Grid and slider for products
Lazy product loading
Mobile-optimized design
Quick view
Numerous product tabs
Detailed review summary
Price: $99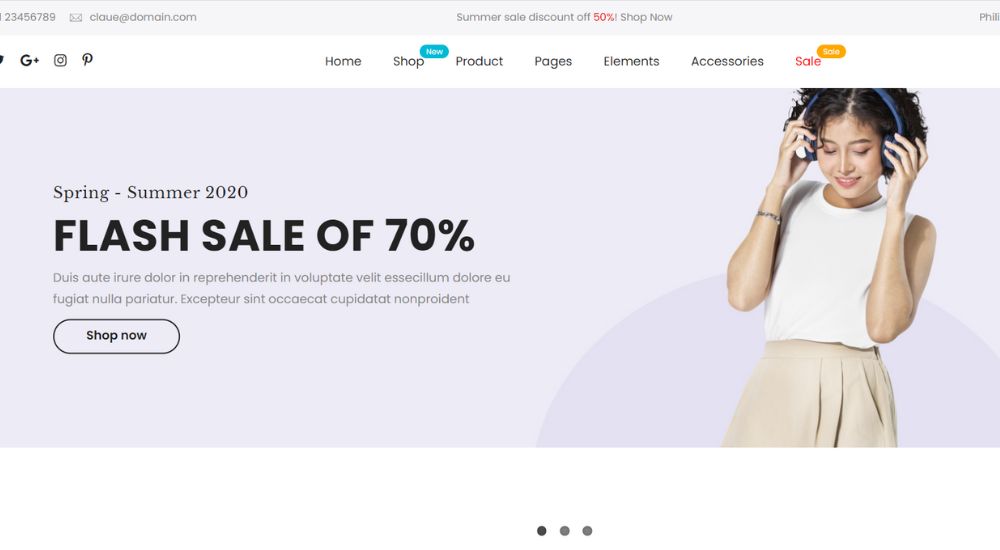 Claue, which was created by ArrowHiTech, is consistently one of the best-selling Magento 2 themes on Themeforest. This is strongly advised for fashion boutiques, jewelry stores, furniture stores, Instagram shops, and anybody else who wants to display goods with gorgeous photographs in their Magento stores. Modern and minimalistic designs are also present.
Additionally, Claue 2 is the improved Claue Magento theme, which differs drastically from Claue. As a result, you must rebuild your website rather than update from Claue version 1 if you're using Claue version 1 and want to upgrade to Claue version 2.
Outstanding Features:
Google fonts
Google

rich snippets

Like box on Facebook
Pop-up newsletter
Price: $129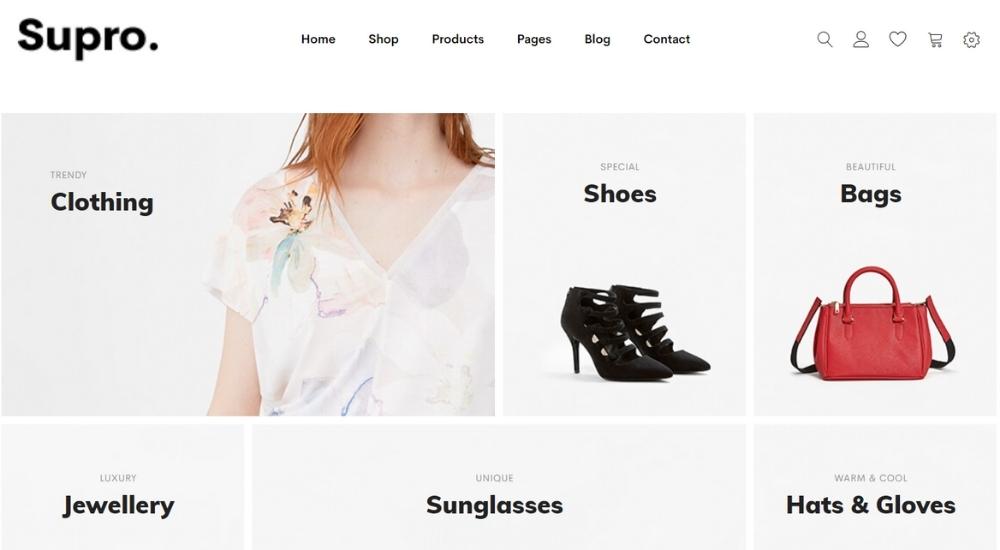 Supro is a clean, simple, and appropriate AJAX Magento 2 theme for online retailers. Supro will make your online store appear more amazing and appealing to viewers with a standard UI/UX design and a beautiful focus on products. As a consequence, Supro will assist in swiftly increasing your purchase conversion rate.
The Supro theme also primarily concentrates on product display. Therefore, it is ideal for a fashion store, as well as one for furniture, shoes, and decor.
Outstanding Features:
36+ block elements
18 beautiful ready-made layouts
Many built-in extensions
Price: $99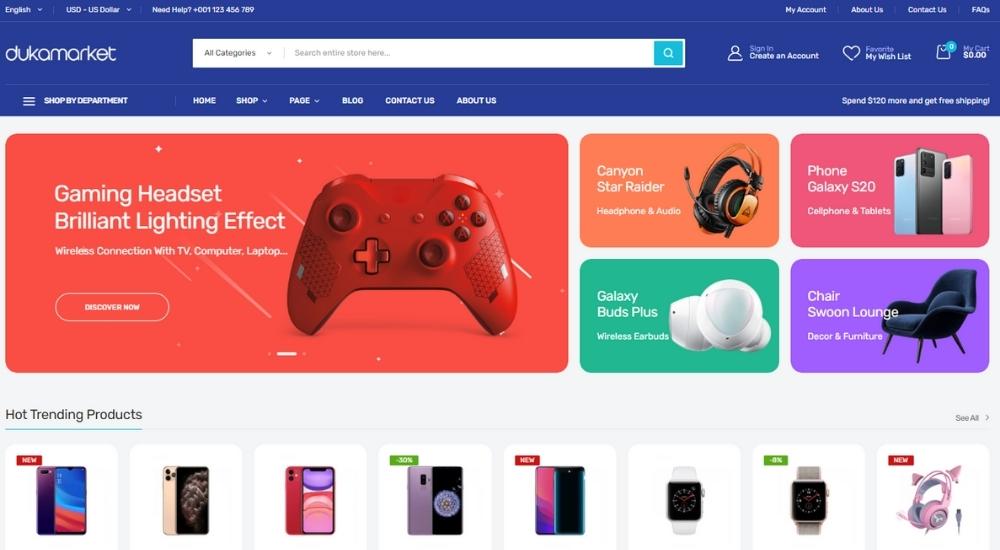 A mega menu, inner templates that are pre-built, a blog module that enables you to write and post content on your Magento website, and other useful features are all included in the responsive and mobile-optimized Dukamarket Magento theme.
The greatest option for a contemporary and spotless eCommerce store with more than ten homepage layouts and highly customizable admin settings is Dukamarket. appropriate for all types of stores.
Outstanding Features:
Fast load speed
SEO optimized
Fully responsive design
Multi-language support
Built-in mega menu
20+ extensions
Price: $99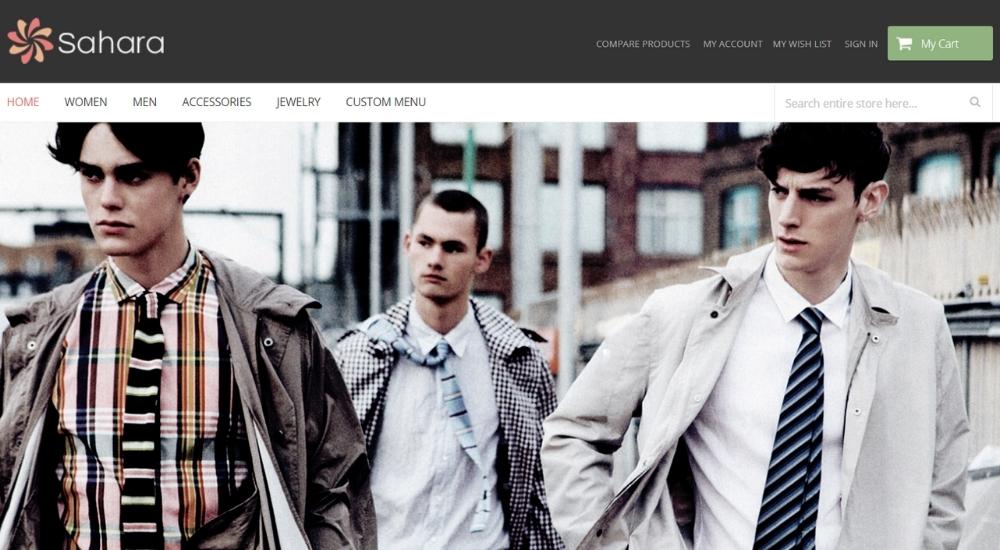 The newest Plazathemes design, Sahara, was developed as a Magento eCommerce mega-store solution for online retailers. This Magento theme displays a classy appearance, a well-organized layout, and the most potent elements of an online store. It offers a variety of homepage layouts and templates.
The reactivity of Sahara is yet another indisputable quality. It enables website layout to instantaneously and automatically transform from regular mode to mobile version, making it easier and more simple for clients to search for, see, and buy things online. Additionally, the Sahara theme is entirely compatible with popular browsers, supports many languages, and offers multiple store views.
Outstanding Features:
51 sample layouts
Multiple layout and color choices
Responsive on all devices and retina-ready
Mega menu
Google rich snippets
Price: $59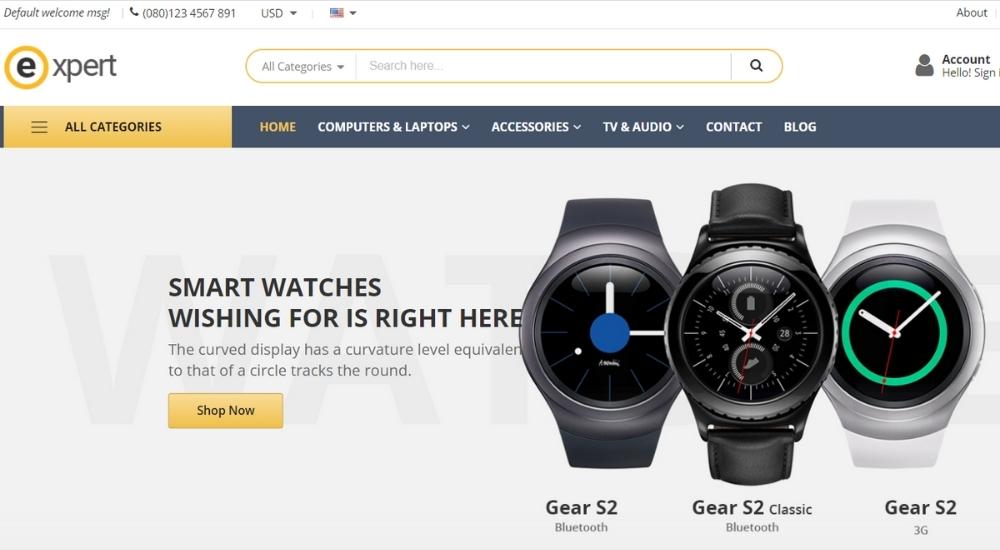 Expert, as its name suggests, is ideal for practically every sort of Magento 2 store and gives your stores a sense of professionalism and reliability. It has 13 home page layouts and customizable admin settings. The most common industries include those in the fashion, market, digital, electronic, megastore, and mobile sectors.
Several outstanding features deserve to be mentioned. First off, the theme is completely responsive to all devices, which gives consumers a fantastic mobile experience. Additionally, the Expert theme offers limitless color options for the admin panel, homepage style, and other areas. The theme also makes it possible to use configurable grids, sliders, multiple rows, and many tabs as per the needs of the store.
Outstanding Features:
Elevatezoom

Blog
Brand slider
Testimonial
Price slider
Ajax cart
Fully responsive
Price: $99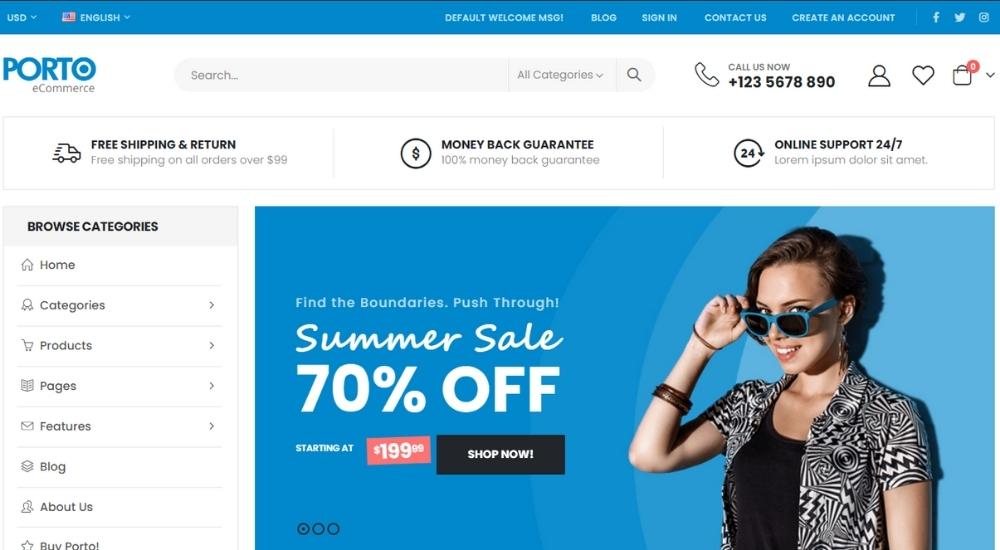 The theme has been around for five years and is continuously updated to reflect the newest Magento version and the current eCommerce trend. Because of this, the Porto design and code quality are always among the finest.
The most recent version of Magento as well as numerous extensions are compatible with it, and it is quite responsive. You may be assured that you will purchase one of the top Magento on ThemeForest given a large number of satisfied buyers for this product.
Outstanding Features:
SEO-friendly
Social bookmarks
Better price slider
300+ free Google Fonts
Dark version available
Parallax category banner
Mega menu
Price: $129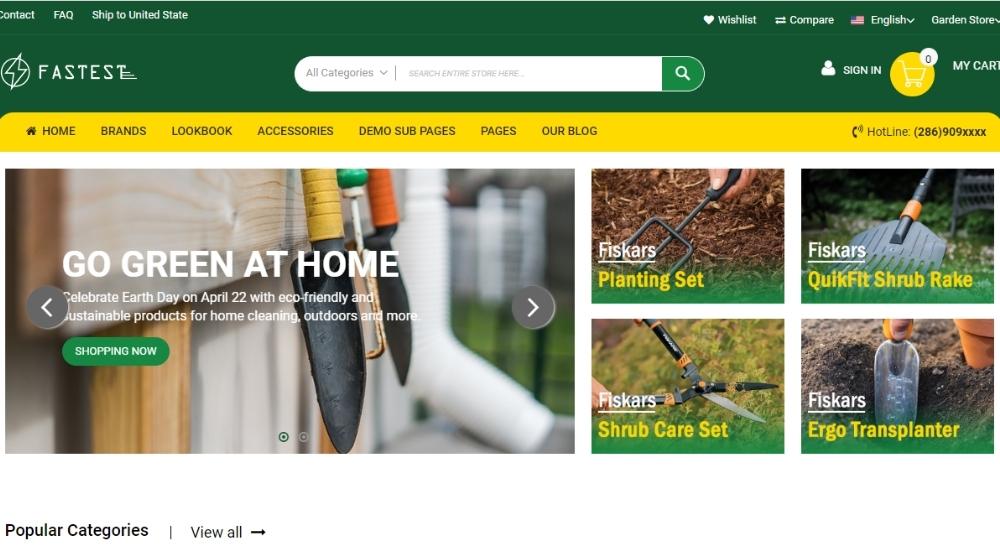 The Magento theme is the fastest and works with all smart device kinds. It is the perfect option for online buyers who like to utilize mobile devices for shopping due to its responsive design.
As you might have anticipated, the authors of this theme gave special attention to loading time and SEO optimization. Since its initial release in 2016, this theme has received numerous modifications that have enabled it to work with Magento versions 1.9 to 2.4.
Outstanding Features:
Reviews and testimonials

AJAX cart
Promo banners
Social sharing
SEO features
Price slider
Upsell slider
Quick view
Price: $129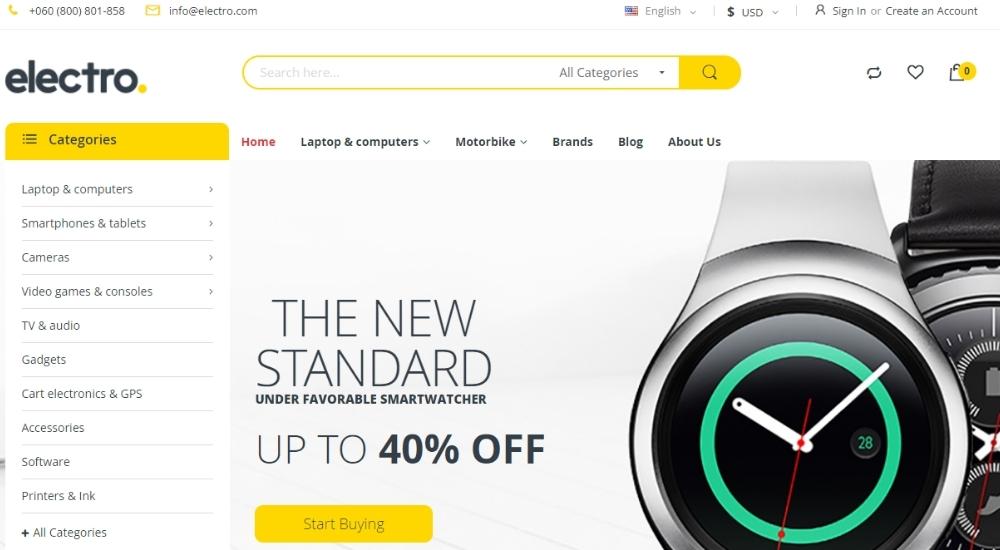 The Electro theme, as suggested by its name, was specifically created for various Magento 2 stores in the electronics and digital categories. Due to its extensive and straightforward setting requirements, it is regarded as a fantastic solution for new websites built on the Magento 2 platform.
You can easily display Bestsellers, Featured and New Items, and Special Products on the Electro homepage. It comes with more than 10 modules that can be used without paying additional payments.
Outstanding Features:
Fully responsive
3 home page layouts
Various extensions
Extra menu
Price: $129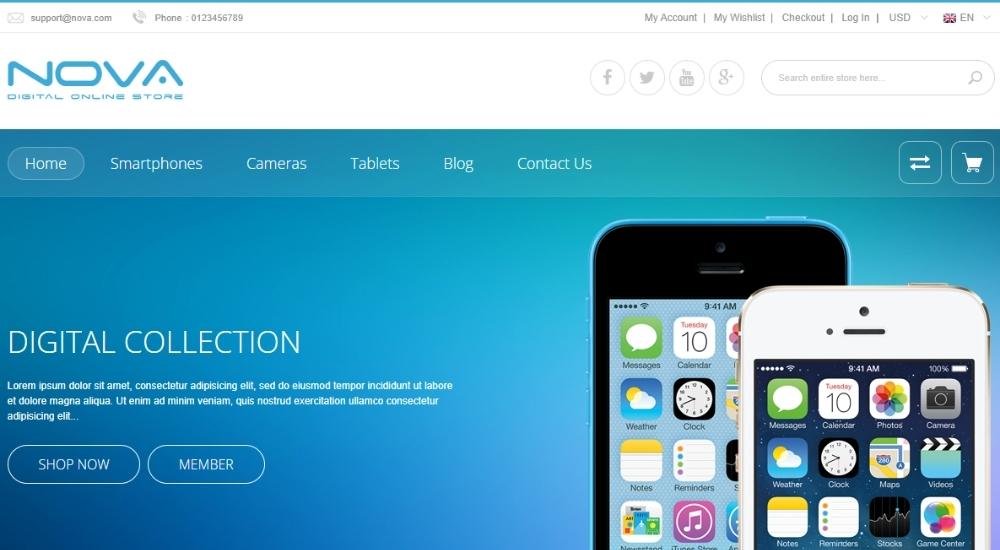 If you're creating a brand-new website for your company, go with SNS-Nova to acquire top-notch Magento 2 themes from ThemeForest. Customers can choose from 5 distinct color multipurpose themes from SNS-Nova. It is quite responsive and has several attractive elements that can make a shopping website invite visitors for a better experience.
SNS Nova displays a simple, modern layout. The template's creators guarantee that using it will make your Magento store stand out from the crowd and be very appealing.
Outstanding Features:
Attractive templates

Google typefaces
Quickview SNS
Price: $119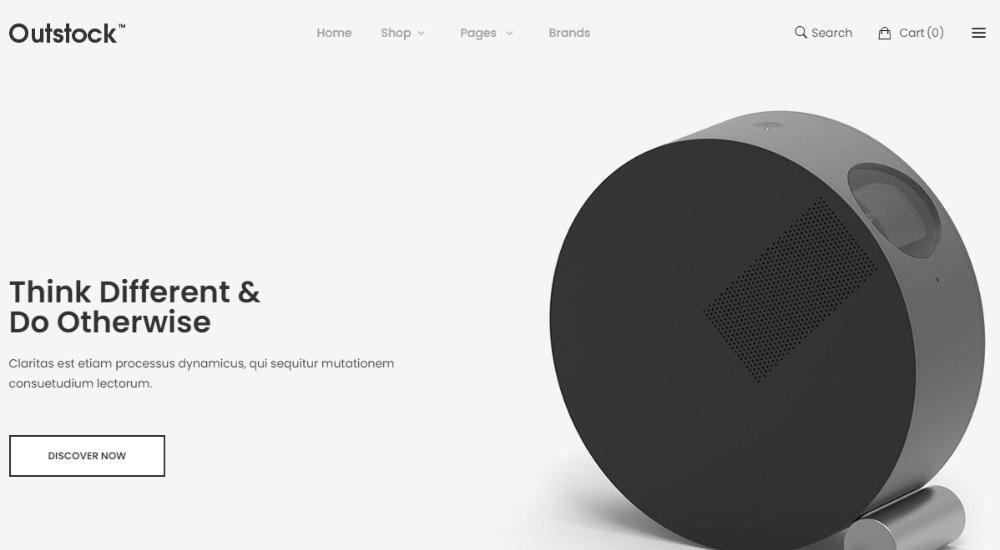 Outstock is a responsive Magento 2 theme with a simple, classy design that works well for stores with a variety of uses. Above all, Outstock is a Magento theme that adheres to the electronics industry's SEO standards. Furthermore, Outstock is compatible with every mobile device thanks to its fully responsive design.
For furniture, electronics, and clothing stores, it is highly advised. 4 homepage layouts with a welcoming and straightforward UX design are available for your selection.
Outstanding Features:
6+ stunning demos
Responsive and retina ready
Mega menu
Ajax wishlist/cart/compare.
Lot of extensions
Price: $129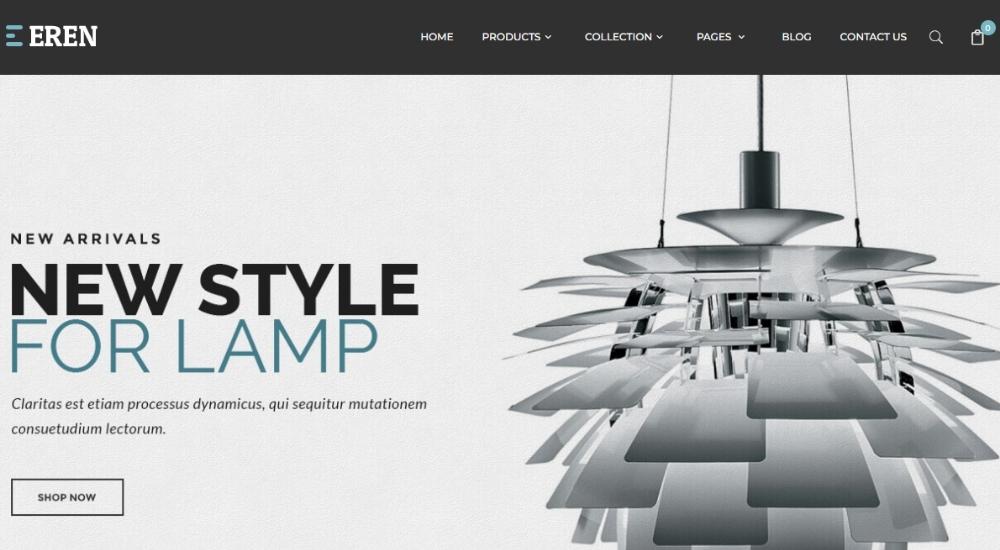 Eren looks contemporary and bright, making it appropriate for a variety of retail settings. The beautiful and subdued backdrop and color of this theme create a welcoming and pleasant ambiance for customers. Additionally, Eren features a fully responsive design that makes it suitable for every type of device, including PCs, tablets, mobile phones, etc.
Eren comes with more than 20 extensions is another benefit worth mentioning. These extensions are beneficial and cost-effective for online companies. A theme is a great option for new Magento store owners because of its strong customer service and documentation.
Outstanding Features:
Fully responsive design
Personalized font, colors, and styling
Mega menu
Many attached extensions
Price: $129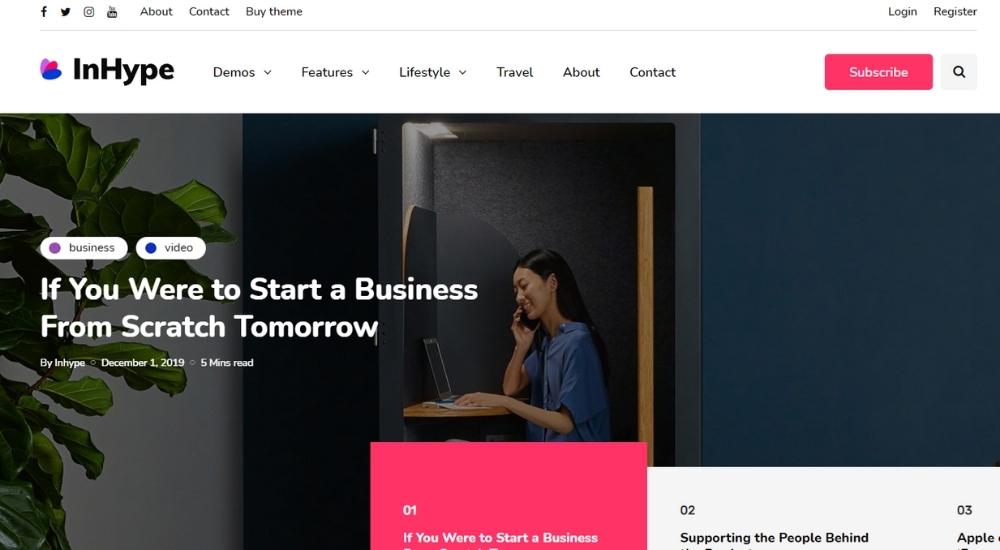 SimpleGreat is a versatile, 100% responsive Magento theme for any type of store with a built-in blog, a built-in Revolution slider, and a strong backend that was made with the newest HTML5 and CSS3 capabilities.
SimpleGreat is a simple and uncluttered theme that works well for a range of eCommerce categories, including apparel and adventure gear. The homepage of the theme is highlighted with a bold slider, which is an excellent spot to highlight products or present special deals.
Outstanding Features:
100% responsive
Customizable menu block
Ajax Add To Cart
Mega Menu
Superfish Menu
Price: $59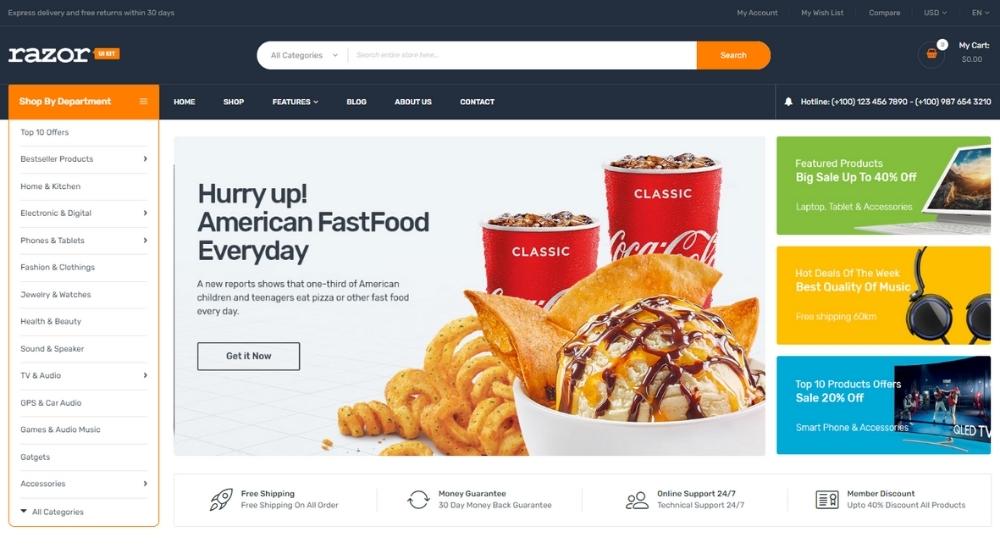 The most adaptable and popular theme for online Magento 2 stores is known as Razor. The electronic industry's SEO standards support it. Similar to how Razor is completely compatible with all devices, including computers, tablets, and smartphones, thanks to its responsive design.
Additionally, using Razor is relatively easy. To set up and set up this theme, you don't need to have a complex set of technical abilities. All features can be rapidly and simply modified in the front end. To give you more possibilities, it also comes with more than 10 ready-made patterns. Exceptionally, this theme comes with 20+ extensions, saving you a ton of money.
Outstanding Features:
4+ unique demos
Mega menu
Ajax cart, fly cart, drawer cart
Category tab slider
20+ extensions
Price: $129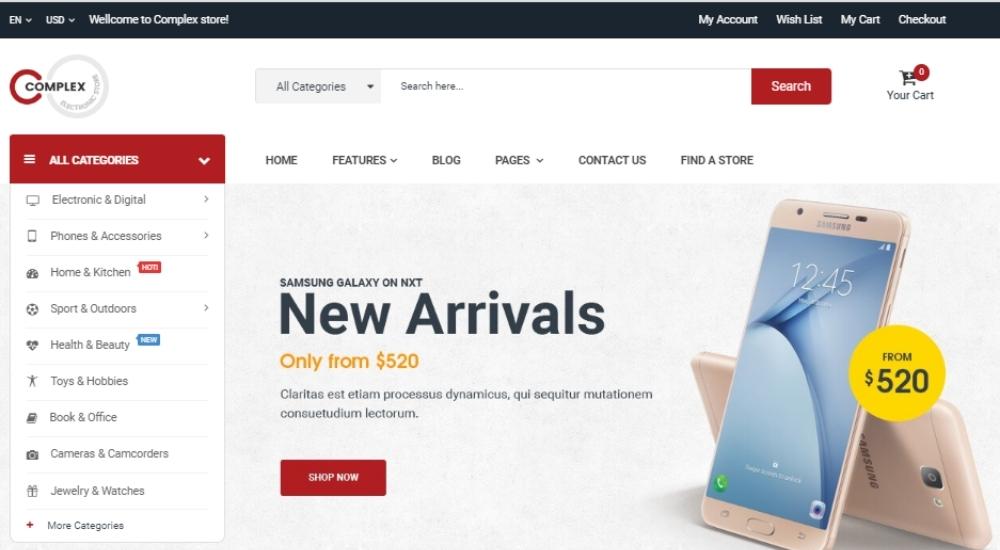 Complex is a good option if you sell digital and technological goods. The theme is completely editable and SEO-friendly. Every type of Magento site can use one of Complex's 4 homepage templates. They may accommodate a wide range of goods, including clothes, accessories, technology, and other items.
Additionally, Complex produces a different design. Your Magento 2 stores will look sharp on all displays if you choose the grid view. Additionally, the layout is simple to alter, and you may reuse the photos from Complex demonstrations to drastically save costs.
Outstanding Features:
4 layouts
Ajax cart/wishlist/compare
Responsive and retina ready
Verticle mega menu
Included extensions
Price: $99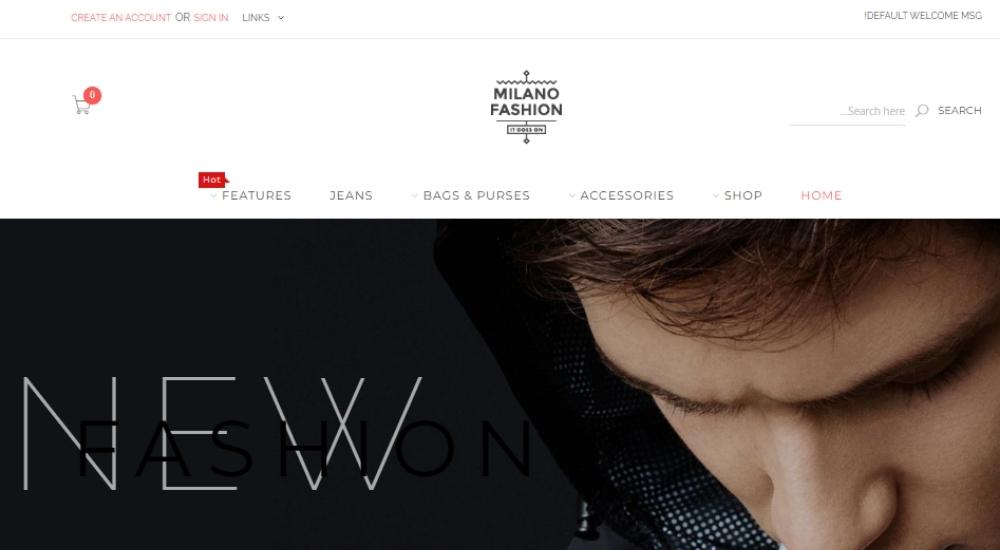 Milano is a stunning, trendy Magento theme that is ideal for shops selling clothing and accessories for the latest trends. White is the theme's primary color, which makes it appear airy and minimalist. The theme has a really pleasant first impression, which should encourage your customers to look around.
With 16+ pre-made layouts and several color options, the theme has a superb responsive multi-store. Additionally, Milano requires no significant technical knowledge or coding expertise; all you need to do is follow the setup instructions in the manuals.
Outstanding Features:
16+ homepage demos
Top menu along with extra menu
Fully responsive
Verticle mega menu
Auto-complete search
Supported multiple currencies and languages
Fancybox Lightbox
Google fonts
Price: $129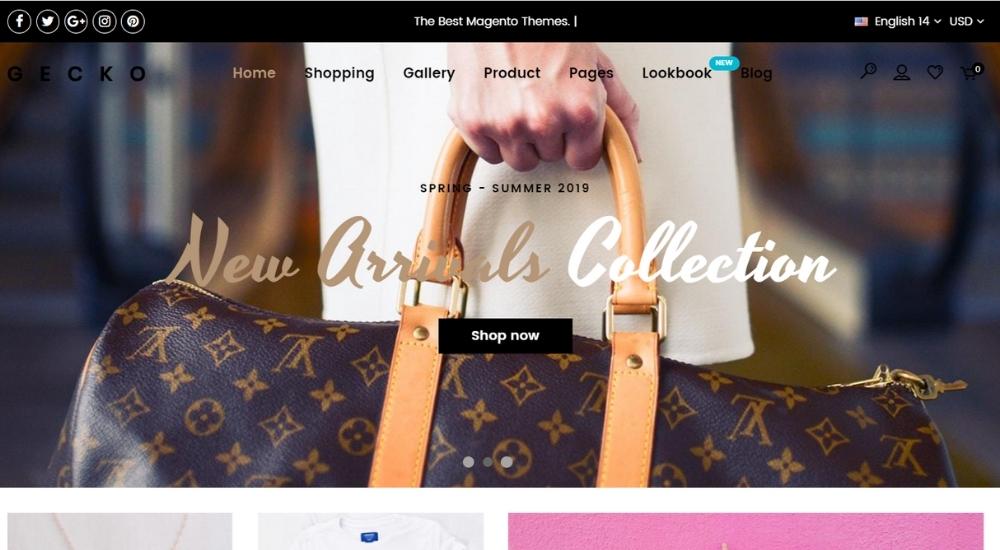 Gecko is a premium Magento theme developed for shops selling handmade, organic, and digital goods as well as clothing and furniture online. Any device can use the theme without issue. Because it is simple to use for both store owners and developers, you can also completely customize it.
The most remarkable feature of Gecko is its appealing design, which compels visitors to investigate your website's contents. Regarding the demo, this theme provides more than 20 homepage layouts, allowing you to view a variety of photographs of the design and envision how your ideal stores might appear. Additionally, the performance of the website is enhanced, and specific pictures are used for mobile devices.
Outstanding Features:
20+ home page layouts
12+ product detail layouts
9+ header layouts
10+ customizable widgets
20+ extensions
Top menu with extra menu
Price: $129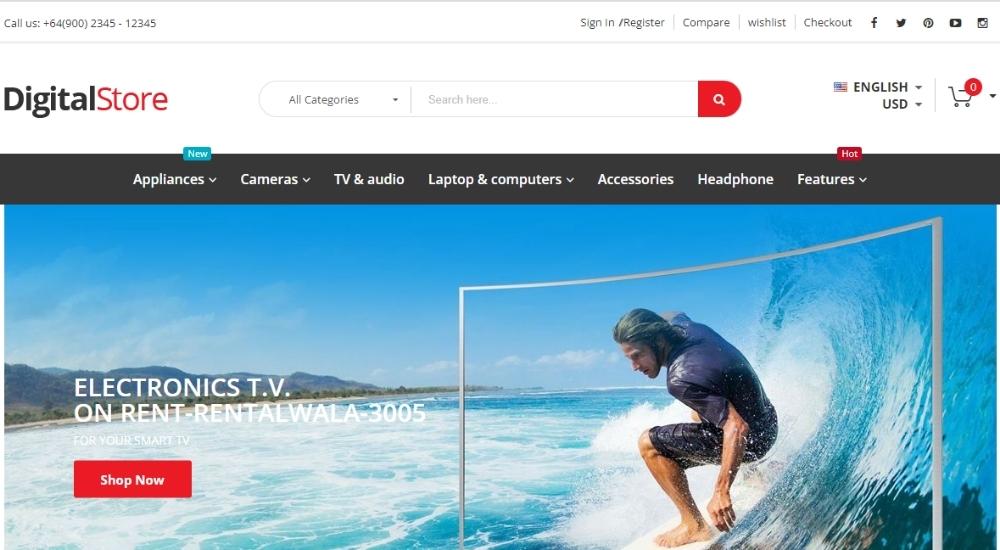 A helpful static menu on the multi-category Magento theme DigitalStore makes it easy for users to navigate your website without getting lost. It enables people to rapidly find what they need. Additionally, it contains five alternative ready-to-use homepages and sufficient eCommerce capabilities to support your online business success.
This Magento template's primary skill is stylishly presenting your products. Additionally, the Magento theme has featured products to aid in grabbing customers' attention. The theme is best suited for your beauty store because it is responsive and search engine optimized.
Outstanding Features:
10+ extensions
Fully responsive
5 home page layouts
Ajax cart
Elevatezoom
Fancybox Lightbox
Price: $129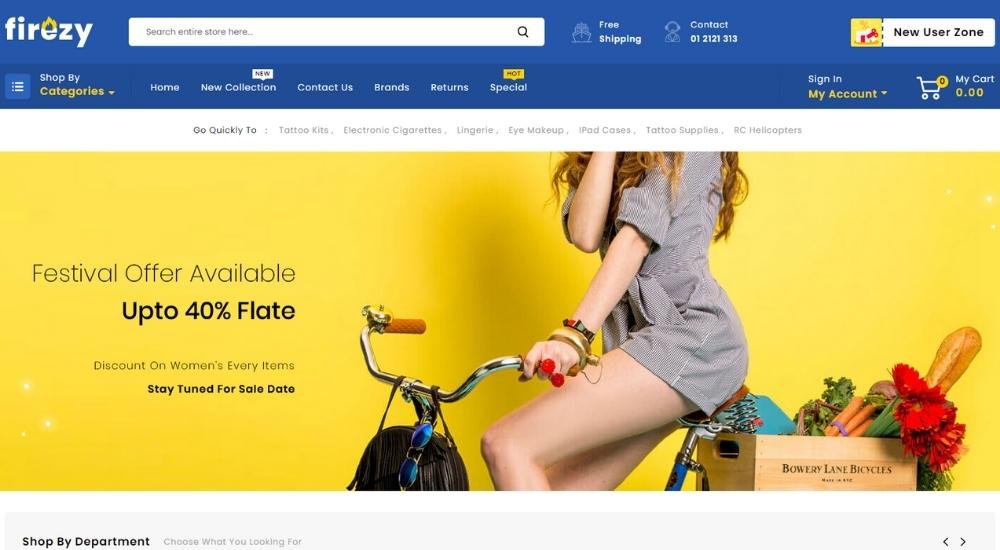 The Firezy theme was created specifically for Magento 2 websites that sell Megashop, electronics, lighting, automation, auto parts, fashion, clothing, furniture, tools, health, vegetable, food, and garden products.
This theme has a nice color scheme, which creates a bright and tidy appearance and gives visitors a sense of security and trust. Additionally, the Firezy theme for Magento 2 enables store owners to modify all subpages and add the most adaptable and useful theme features to their sites.
Outstanding Features:
6 attractive layouts
Mega Menu
Fully responsive
Multiple languages
SEO-friendly
Flex Slider
Price: $54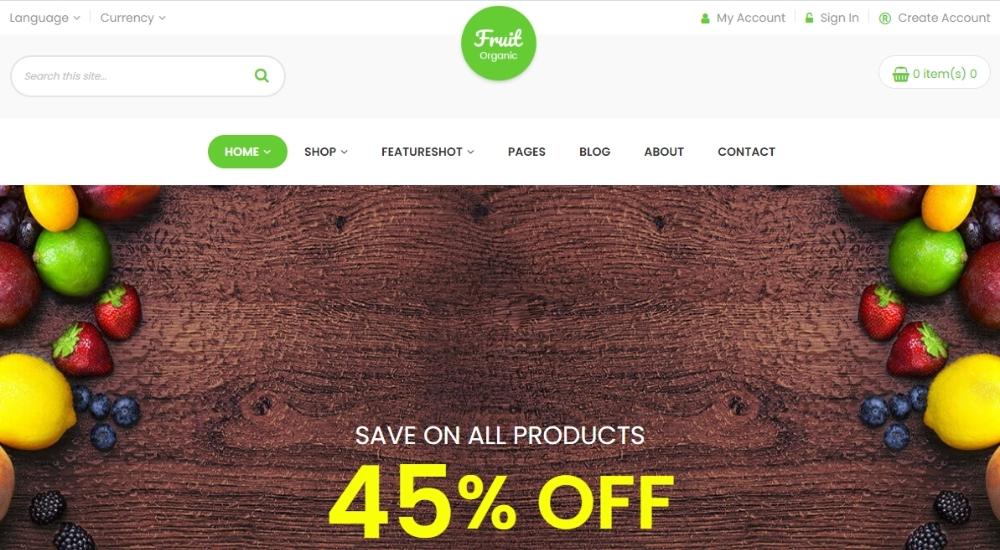 The Fruit Organic theme for Magento 2 is ideal for stores selling organic and natural farm items such as food, fruits, vegetables, cosmetics, seeds, coffee, and more.
Most of the features of this Magento 2 theme are also highly customizable. Additionally, the design is responsive so it looks great on all devices. Plus, the theme is optimized for search engines, so your customers can easily find you online.
Outstanding Features:
14 demos
Fully responsive
Ajax cart/wishlist/compare
Mega menu
Multiple languages & currencies
10+ extensions
Price: $129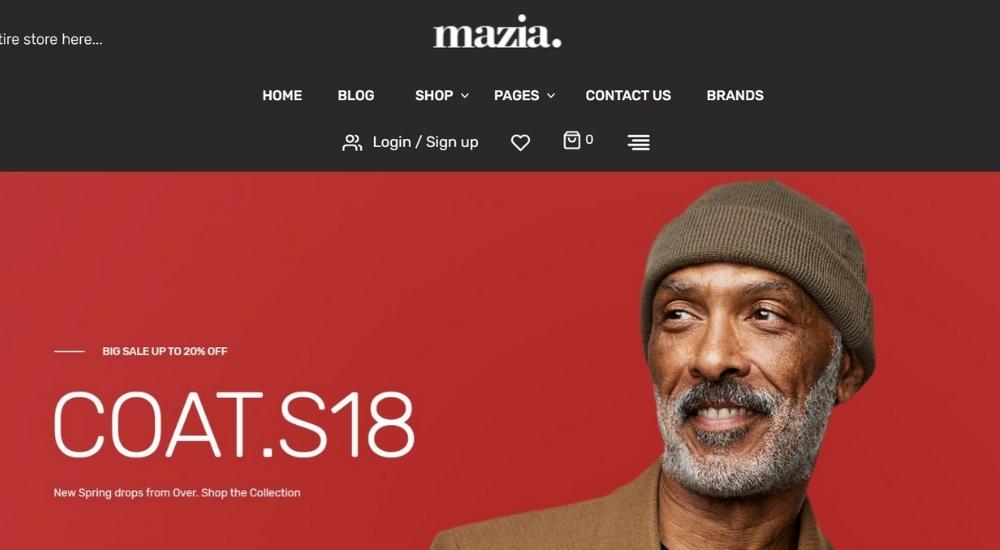 The flexible and clever design of Mazia is one of the premium responsive Magento 2 themes for multiple purposes. Therefore, adjusting it won't take much time or effort on your part. Everything is easily customizable. Most importantly, having more than 10 main designs will provide you with additional options for your store's clean, simple appearance.
It is retina-ready and completely responsive. You can choose from a variety of distinctive header and footer designs that are bundled with the theme to create a distinctive-looking website.
Outstanding Features:
Fully responsive
Mega menu
Powerful Ajax features
20+ extensions
10+ attractive designs
Price: $129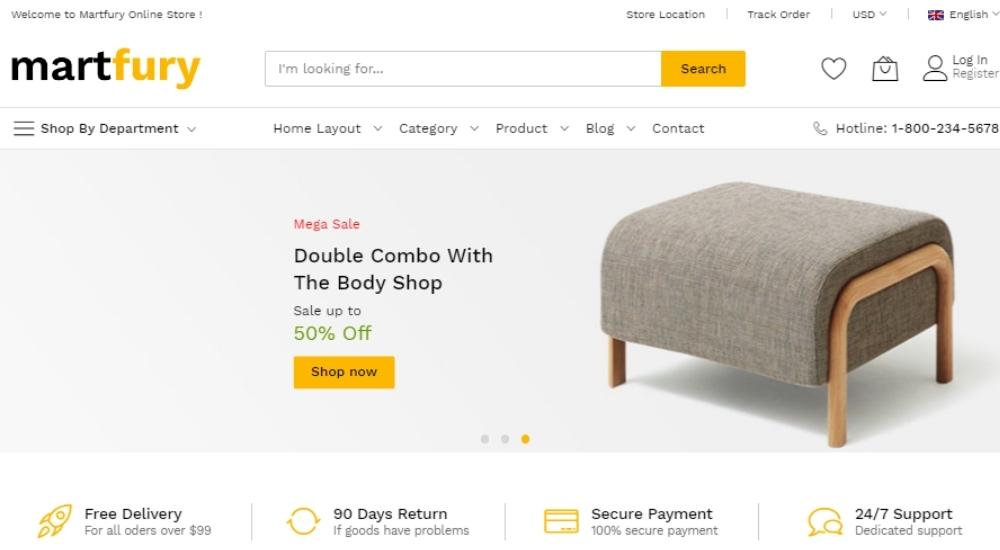 Another worth-considering theme for your Magento 2 website is Martfury. The theme enables you to quickly change the appearance of your Magento shop by installing a new theme in a few simple steps. With all of its usefulness and simplicity, it also offers the required source files for editing or extending.
Additionally, this theme provides the capability for many vendors and stores. It is compatible with the most recent Magento 2.3 release and is well optimized. A Magento theme comes with all the essential source files, so you may alter or enhance it however you see fit, despite its simplicity.
Outstanding Features:
6+ appealing homepages
25+ extensions
Lazy load
SEO friendly

Google font

s
Sticky header
Price: $129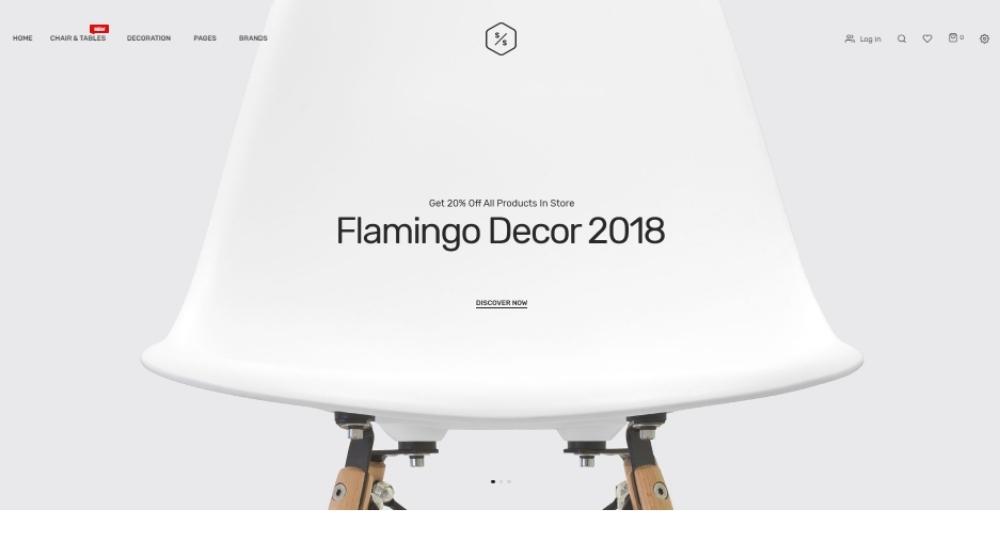 If you're looking for a theme to build for Magento 2 stores, Siemon & Salazar will be a wise decision because it's a simple and adaptable theme. It has more than 12 homepage designs that may be adapted to meet different store kinds. Additionally, Siemon & Salazar is incredibly simple to set up and operate. Regardless of your level of experience, you have complete control.
Additionally, this theme is adapting to any device. Your Magento 2 store's mobile loading time, which is anticipated to take 2 to 3 seconds, can lower the desertion rate.
Outstanding Features:
12+ well-designed demos
Built-in blog features
Product page lightbox
Responsive and retina ready
Quickview
Price: $99
Sum Up
You must take into account every requirement a theme must have because selecting a theme that works for your store is not a simple task. Customers will have a positive experience using a quality template, which can foster brand loyalty over time. Additionally, it enhances the speed at which your website loads and optimizes the look of your products.
Confident as the most reputable web developer in the market with more than 10 years of experience, Tigren with the special Magento 2 Theme – TigrenPWA will bring you the best experience. Our team of experienced professionals will help you complete a website with a beautiful design that is well-functioning.
If you want to know more about the TigrenPWA theme, please contact us. In addition, Tigren also provides quality Magento web development services, as well as many other Magento services at competitive prices. Helping customers build websites with desired functionality is Tigren's mission.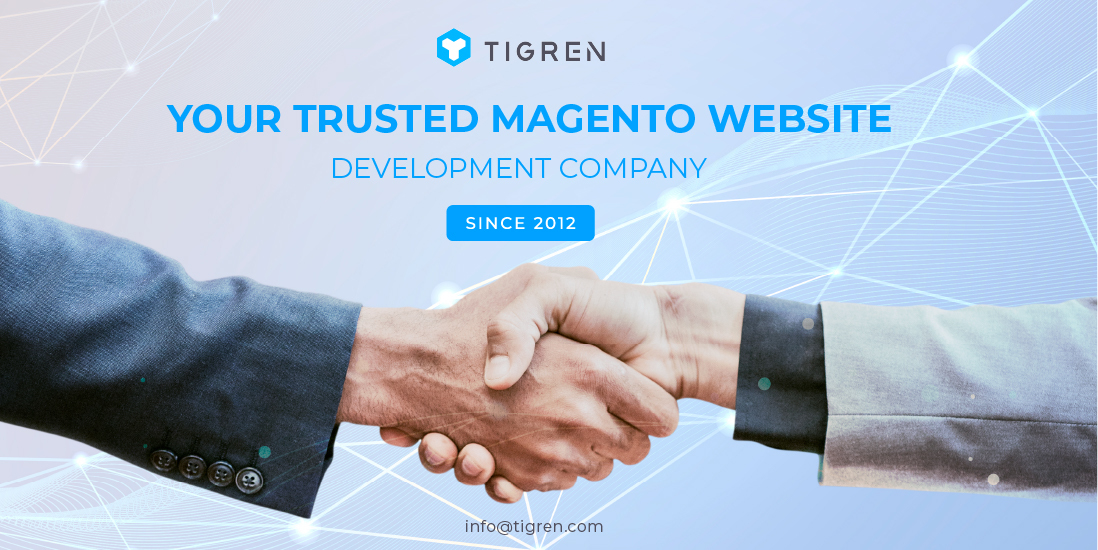 Read more:
Most Downloaded Free Magento 2 Extensions and Themes
Top Free & Paid Magento 2 Newsletter Popup Extensions
Magento vs OpenCart: A Full Analysis