So many different SaaS eCommerce systems can be complex and scary for sellers. Building a multi-company, SaaS E-Commerce corporation with Magento 2 is quite challenging. Most beginners and entrepreneurs make mistakes because they don't fully comprehend Magento and SaaS. We will explain extensively about Magento Saas in this article.
What Is A SaaS Business?
The software-as-a-service (SaaS) model is predicated on businesses paying a monthly fee to utilize software housed on a cloud infrastructure (i.e., accessible via a web browser). Making a SaaS product worthwhile frequently takes a fair degree of engineering experience and a good number of user interface design skills.
The primary distinction between SaaS and software firms is that SaaS is hosted on the cloud. This eliminates the need for an end-user license to activate the software and any infrastructure to host it. The SaaS company, on the other hand, manages its membership. The customer needs to log in to their account to receive full access.
The Need For A SaaS Platform In E-commerce
A SaaS E-Commerce platform is a web-based, cloud-based e-commerce platform that can be accessed from any browser. This solution allows you to open an online store in the shortest time. Besides, it reduces design and development costs.
Choosing a SaaS eCommerce platform is one of the best decisions you can make. eCommerce is expanding at a rate seven times faster than the rest of the industry. Several elements contribute to the expansion:
Always go with the most recent version: You can take advantage of new capabilities as soon as they become available with a SaaS e-commerce system.
Subscription Based: Because SaaS e-commerce is delivered as a monthly subscription, it is less expensive than purchasing a traditional e-commerce platform.
Easier to maintain: Upgrades and updates to SaaS software are frequently done automatically, resulting in significantly less maintenance and saving time and money.
Enhanced security: Your online store will always be up-to-date and protected against risks such as outages, data loss, and hackers.
What Is Magento?

Magento is a web-based eCommerce platform based on open-source software. Magento has long been a favorite among enterprise brands selling online thanks to its configurable shopping cart system, which gives them complete control over their websites' appearance, feel, and functioning.
What Are Pros And Cons Of Using Magento?
Pros
High Flexibility & Customization
Because Magento is open-source, you can make any changes to the code. You have the option to design your templates. It allows you to create customer-facing stores that are consistent with your brand.
Built-in Features & Functionality
The extensive feature set of Magento enables you to manage many stores and multiple regions, languages, pricing, and currencies. When you compare Magento to Shopify, Woocommerce, Volusion, or any other e-commerce platform, you'll notice that it has many more capabilities.
For example, depending on the consumer group, Magento enables you to set different product prices. You may charge a separate cost for your staff and a higher rate for VIPs.
SEO-friendly
SEO was taken into consideration when building the eCommerce platform. As a result, Magento improves the chances that the products in your online store will appear on various search engines. Some of its features like meta tags, sitemaps, image optimization, etc., are all great for marketing.
Mobile-friendly & Omnichannel Support
Thanks to Magento's omnichannel functionality, customers can connect with your brand across several channels. Websites, smartphone apps, social media, and other platforms are examples of channels. On any integrated device, you can build a seamless user experience.
Large Community Support
The Magento platform has a large community of over 300,000 developers worldwide. Magento partners have built thousands of extensions throughout the years. They can help answer your questions about Magento issues.
Scalable & a Global Platform
Magento is capable of efficiently handling hundreds of thousands of products. Its layered caching architecture aids in the expansion of your product inventory. You can react swiftly to shifting market conditions. Magento makes complex business environments easier to manage. Many brands, as well as B2B and B2C hybrid commerce, can be hosted.
Cons
Technical Support for Customizing
Magento has various customization options. Nevertheless, you'll need developers with technical understanding to put up your shop. Magento has a sophisticated architecture that necessitates both time and expertise to implement. You'll likely need to hire a Magento development company.
High Cost
One of the most significant disadvantages of Magento is its price. Even though Magento Open Source is free to download, you'll need to spend on Magento custom development, support, maintenance, and integrations and extensions.
Expenses rise with Magento Commerce and Commerce Cloud. You must also consider Magento license prices, depending on a store's sales and the development services.
Is Magento A SaaS?
Magento Commerce has a cloud-hosted version available – Magento Commerce Cloud. It's vital to remember that this is a PaaS (Platform-as-a-Service) product rather than a SaaS (Software-as-a-Service). This means that your company is still responsible for some system administration requirements.
Features
More than a thousand products can be added and managed by users.
This website can manage a lot of traffic and process many orders simultaneously.
Multilingual support built-in.
Bundles of products.
Management of Coupons.
A plethora of payment gateway options.
Inventory control and newsletter distribution.
The site administration and marketing tools.
Magento 2 As A SaaS Platform
The Magento SaaS approach is another e-commerce market leader. It's a platform that you host yourself. Adobe Commerce Cloud (ACC) is used. It, like others, offers a platform for people to create an online store and sell their goods to buyers.
Magento is ideal for international brands. However, it did launch Magento Go to reach out to microbusinesses. It gives you all of the advantages of Magento without the cost. The corporation is home to a slew of international brands.
Let's look at some characteristics that make Magento 2 a SaaS platform.
Dedicated merchant storefront: Each seller has their storefront with a banner image.
Template: Magento 2 has a variety of theme options.
Theme Customization: You may personalize your store's themes.
Storefront editing and management: Merchants can adjust and manage their stores and storefronts.
Domain Management: Magento 2 allows manage your domains and integrate them with your business. Use the platform to link the domain and administer the DNS.
Dedicated inventory management for each store: Magento 2 also allows the employment of different inventory management for each merchant. Plus, all products associated with that seller will be displayed on their product pages.
How To Start A SaaS Business With Magento?
Building a profitable e-commerce business takes time and effort, especially when you want to develop it on Magento. This platform is a powerful yet complex technology, so to apply it successfully requires in-depth knowledge and years of experience with Magento. Thus, the best way to start a SaaS business by Magento is to hire a reputable web developer who specializes in working with Magento.
If you are struggling to find a legit Magento Website Development service, we recommend using Tigren's service. With more than ten years of experience working with Magento projects, we know how to turn your ideas into a thriving, outstanding website. 
With the criteria of good quality and affordable prices, Tigren always tries to provide customers with various service packages while ensuring absolute quality. Don't hesitate to contact us if you have any questions.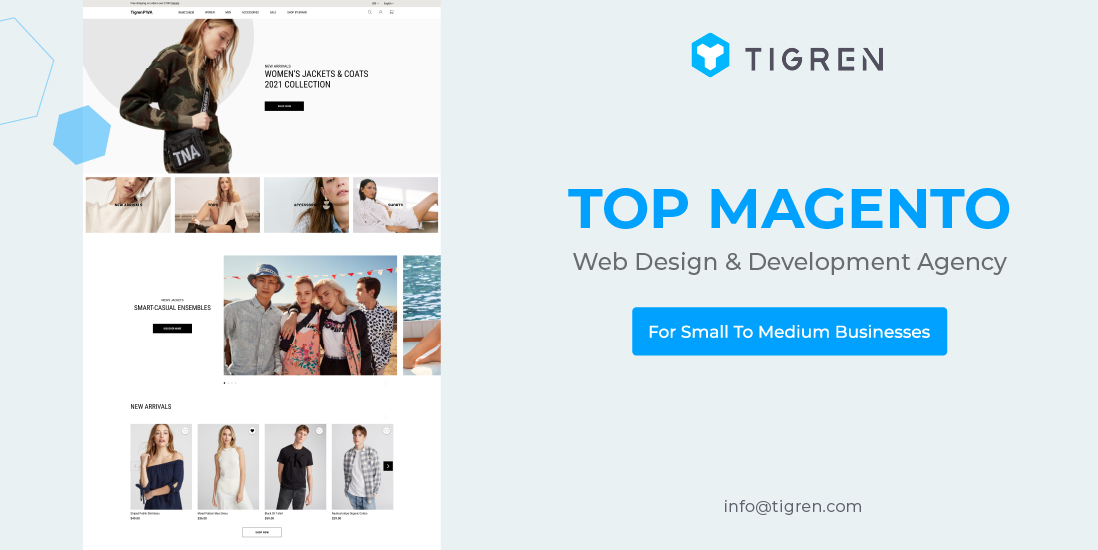 Wrap Up
Starting a Saas business can be easier if you understand the above issues. With significant benefits for your business, it will be a wise choice if you choose to build an online store using Magento. We hope that with some of the above information, you can be more confident in making your e-commerce business profitable and competitive. And if you want to ensure the quality and progress of your Magento website development, let Tigren help you.