According to a research of Google: "Of those who search, nearly 4 in 10 searches only on smartphones in an average day." It's no doubt that mobile usage has been growing significantly in recent years, which therefore requires businesses to improve their online presence on mobile devices. There are many firms going with mobile apps to catch up with the new tendency. However, this is not a perfect solution since SEO for apps is limited to a good listing of the app store and it's hard to improve app visibility in the marketplace. Fortunately, now we have Progressive Web Application (PWA) – a perfect solution for mobile user experience enhancement and SEO problems as well. Let's discover what PWA is and in which way it can help to boost SEO.
What Is A Progressive Web Application?
To begin with, the Progressive Web Application is a web page but acts like a native app. In other words, it delivers engaging new app-like experiences on the mobile browser. Owing to this impeccable combination, we can enjoy lots of great features like push notification, creating a shortcut on the home screen, and a fast-loading page.
The customers can easily install the PWA with a few clicks and do not need to download it from any app store. Especially, Progressive Web Apps are able to run both in online and offline modes (for repeated visits), which is impossible for both mobile webs and apps.
Some Notable Stats About Progressive Web Apps
SEO Benefits Of Progressive Web Application
One of the most outstanding features of PWA is that it can be shared by a link and can be called up with a browser, which leads to a good relationship between Progressive Web Apps and SEO.
1. Be searchable and indexable
Similar to usual web pages, each page of the PWA is followed with a unique URL. As a result, Google bots can crawl and index it at ease. Moreover, since the PWA has already been optimized for mobile, it would help to speed up your index process.
2. Increase user session length & decrease bounce rate
As we have mentioned, the PWA offers extremely fast loading speed – one of the most pivotal factors affecting customer experience.
Since the page is loaded nearly instantly, the customers will be more exciting and discover more pages. Consequently, they spend more time on your site instead of leaving soon as before.
3. Enhance organic traffic to the website significantly
As the PWA is displayed right on the customers' home screen, it will stimulate them to visit the site more often. Besides, the owners can take advantage of the push notifications to promote their campaigns and remind the users to come back as well.
SEO Tips For Progressive Web Application
Submitting your sitemap so that the pages are crawled.
Removing the "#" symbol in PWA's URL. Otherwise, Google will ignore everything else after that. It's better to apply regular SEO rules when creating a URL.
Using rel=canonical tags in case you get content from different online resources for your web app with the aim of preventing content violations and be punished by Google.
Redirecting your desktop users from PWA's URL to the canonical URL.
Testing your site to check how it will be viewed by Google bots (by using Google Search Console – Fetch as Google).
Checking blocked resources in your web app by robots.txt (by using Google Search Console – robots.txt Tester) in order to make sure that Google bots will crawl in the right places.
Checking the Javascript files rendering your pages to define embedded resources (less is better).
Final Words
Needless to say, there is an array of advantages to building a Progressive Web App, ranging from boosted conversion rates, enhanced performance to improved customer engagement.
From the SEO point of view, it makes a great contribution to accelerate traffic, maximize session length per user and minimize bounce rates as well. All things considered, PWAs have a positive impact on SEO but you should keep in mind some tips in this article to best reach your target customers.
How to build a Progressive Web App?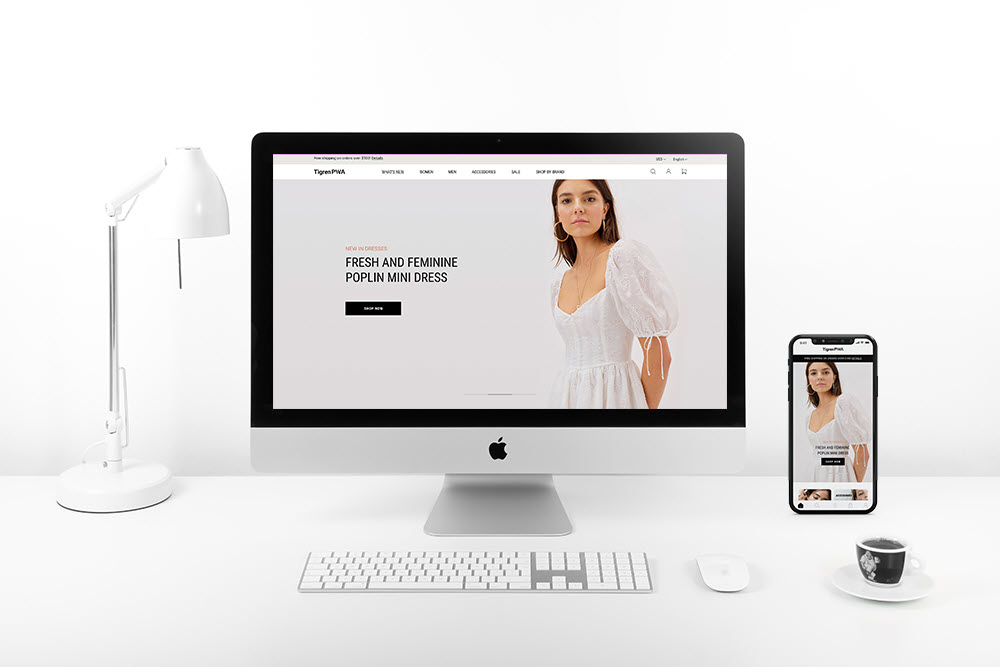 If you are having a Magento e-commerce website and want to integrate it with PWA, we proudly introduce our exclusive Magento PWA integration solution. It can help you to convert your site to a PWA with full potentials after the shortest period of time. Do you want more in-depth information about PWA? Contact us now for free consultation and estimate for your project!