Picture a shopping experience that combines the best of both worlds – the convenience of a mobile app and the accessibility of a website. No need to download or install anything; just click, browse, and shop effortlessly! Sounds incredible, right?
It's all possible with Progressive Web Apps (PWAs). PWAs are revolutionizing the way we interact with the digital world, and it's time for you to be in the know.
If you're curious about the speed and efficiency of Progressive Web Apps, you've come to the right place.
Our TigrenPWA themes offer a remarkable "3-in-1" package, combining the thrill of Progressive Web App features, the formidable capabilities of Magento, and an array of advanced eCommerce functionalities. It's a winning combination that promises to revolutionize the way you do online business.
What Is PWA?
The innovation made by a PWA (progressive web app) is the ability to adapt most of the valuable native app features into a regular website and reinforce its performance.
Besides its impressive loading speed, reliability comes from the fact that PWA is only operated on HTTPS, ensuring high security on-site.
The engaging evaluation comes from the app-like features: full-screen functionality, in-app popup, relative independence from the Internet connection, and a more responsive design with a full interface, all to better adapt to users' interaction and make them stay longer on the site.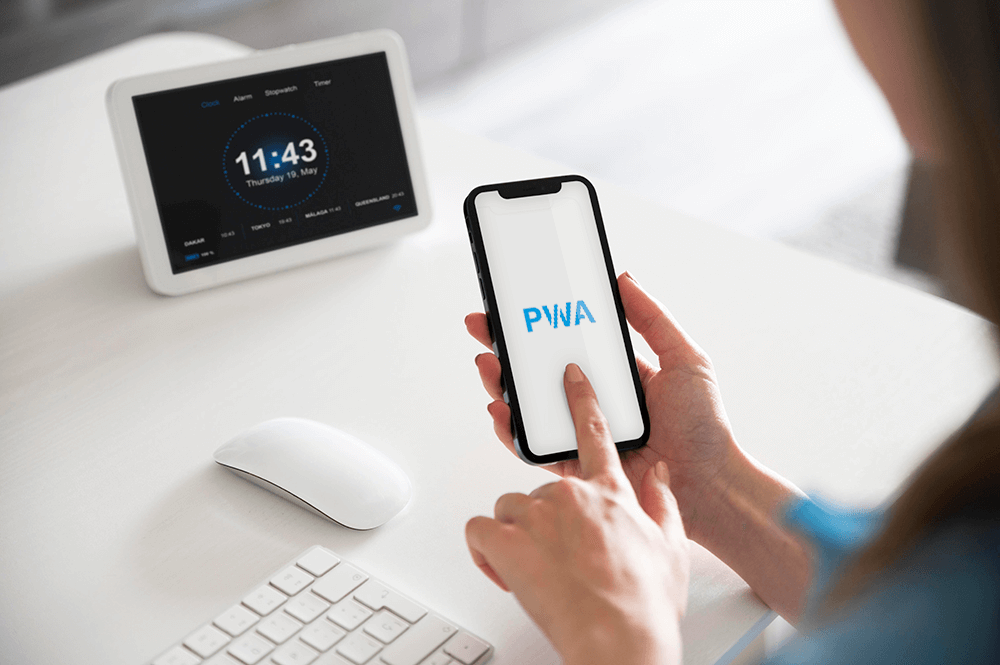 Average PWA Loading Speed
Backlinko has analyzed from 5.2 million web pages that the average website loading time is 10.2 secs for desktops and up to 27.3 secs for mobile devices.
Visitors nowadays have little effort to online entertainment, and they hardly can wait for a web to load, even within less than 10 seconds! As web pages constantly find ways to optimize for quicker load, users' expectations are higher.
Now let's check the PWA page load speed to see whether it exceeds the regular sites.
On Desktop
With a slight change in seconds matters, then according to data from online retailers, PWA can help them stay ahead of the game by keeping their web page loading for as short as around 4.5s.
And, from the second load onward, this speed is further diminished to only 1.3s, almost instantly for the content to appear.
Most technical pages would agree that speed is the salient point of PWA. In general, most PWA web pages are 43% faster than their counterparts.
On Mobile
The average load time for PWA on mobile is 2.75s!
Of course, the speed is still impacted by the hosting and other factors. But this is still a remarkable number that regular websites can hardly match.
Moreover, there's proof of higher stay-in time for PWA compared to regular mobile sites, in specific is 0.9 time, according to PWA Converter of Ezoic.
Higher time-on-site shows greater chances for customers to see the businesses' effort in providing valuable content and understanding businesses' solutions, leading to a greater conversion rate.
This is majorly thanks to the ability to deliver smooth on-site movement due to optimized page load, along with high responsiveness of PWA that improves the engagement for a better user experience. We'll further explain this down there.
A successful case of converting from apps to a PWA mobile site is with AliExpress. They had always longed for a way to leverage users' interaction with their site. After switching to PWA mobile site, they have witnessed impressive improvement in overall performance:
104% increase for new users on all browser types; with an exceptionally 82% rise in iOS conversion rate
Double the pages visited per session rate on all browser types
74% expansion in time spent per session on all browser types
How To Accurately Measure Your Site Speed?
Redefine A "Fast Site"
Caring only about the first-page load time doesn't mean that a site is fast. Why? Because a web's speed is more about the whole process on-site to be smoothly transitioned. Users only feel a site is truly 'fast' if they can effortlessly carry tasks around the page.
Knowing this matter is crucial for e-commerce websites. Data points out that the average session spent for an e-commerce site is around 3 to 4 mins long.
Imagine a user visits 5 pages with the time for loading only of each is nearly 10 seconds, so they spend a third of their time waiting, weary and probably a bit frustrated to see everything you displayed.
Read More: 15 Best Website Speed Test Tools You Can Use
Change the input for measurement
Instead of solely conducting networked-based metrics like bytes downloaded per page like before, it's crucial for today to conduct the perceptual metrics as well.
For e-commerce, perceptual metrics such as speed index can give you more valuable info about the page performance, like how long different visible parts of a page take to load. Also, browsing speed is another reliable metric to audit the PWA performance.
PWA Examples
Here's our PWA Demo for you to fact-check the info above about what is 'fast'. You will see from the demo that when you click the link to another page, it shows up almost in a blink of an eye.
This is why PWA can give customers an uninterrupted buying experience as everything appears within milliseconds, and the more they scroll, the smoother it gets.
Also, PWA shows a splash screen during loading time and then redirects them back to functional pages. This allows users to have something to look at while online retailers can effectively promote their brand images.
Need more verification? Check out these fantastic and super smooth web pages from big enterprises using PWA, such as Starbucks, Flipboard, and Spotify.
How Can PWA Do That?
Thanks to its technology, progressive web apps are considered the most potent speed-boosting tool. However, their speed still relies partly on the development approach, server, and measurement methods.
Cache
A cache is a hardware or software component in computing. Its function is to save data to serve future requests for that data more quickly. The cache data could be the product of a previous computation or a copy from elsewhere.
There are two types of browser cache – browser-managed cache and application-managed cache. The application-managed cache is the approach used by the service worker, which will be explained in detail.
Service Worker
The service worker is the web worker type that enables the web content scripts to run separately from a web page in the browser's background.
Application-managed caches are generated using the Cache API and can contain data for both online and offline access, thanks to the help of service workers.
Hence, PWA can securely store the user-generated data persisted during sessions to optimize for subsequent visits along with the storage APIs. This caching approach allows PWA web pages to better compete with native apps for lightning loading optimization and frequent updates.
How Can Fast-loading Webs Benefit Businesses?
Improve UX
UX is user experience, so UX design is the process of creating a simple-to-follow, engaging, and valuable buying journey for satisfied prospects.
An e-commerce site can be very complex; hence, emphasizing UX design can help businesses generate more sales, especially for mobile users. If you use the correct elements for design, the conversion rate increase can be as high as 30%.
Fast loading ensures responsive actions of each site element, and supports the UX-designed process for an ultimate seamless interaction between the users and the site. And as the site experience gets more exciting, visitors will likely hang around longer, and so does the rise in your store visibility online.
Minimize Bounce Rate
Loading speed is considered one of the most influential factors to bounce rate. And bounce rate is one crucial ranking factor for search engines you would like to take advantage of.
First, bounce rate means people leave your site, that the waiting is so long that they don't even want to see your product or content.
Second, a certain bounce rate percentage could imply many negative things for search engines, like untrustworthy sources, bad site navigation, poor content quality… and receive low ranking, and limited chances to be viewed by the prospect.
How To Build A PWA E-commerce Site?
From PWA integration to custom PWA website development, Tigren can be just the right option you need at any phase of your business cycle.
We are one of the leading agencies with a dedicated journey for almost a decade to help e-commerce businesses better thrive in the digital world and witness impressive increases in their ROI.
PWA Development Services
For this, we offer 2 solutions: premium PWA theme and custom PWA Development.
Both options are of excellent quality but cater to different demands. With our TigrenPWA theme, you can quickly integrate it into your site. The integration time is shorter and still offers plenty of advanced features of PWA.
On the other hand, the custom option lets you make every twist needed to achieve a unique and powerful PWA site. Creating a PWA from scratch takes longer, but you'll be overjoyed with the final result!
Recap
We hope you found this article helpful and inspiring for your e-commerce website development. To experience how fast a PWA loads, there's no other way rather than to examine the provider's PWA demo.
Try to interact while you are there, imagine yourself as a customer when scrolling around, and you will have better ideas for what to improve. See you again!
Read more:
Progressive Web App Vs Responsive Web: Which Provides A Better UX?
Progressive Web App Architecture: Everything You Need To Know
Progressive Web App Pros And Cons Revealed