Are you a fashion lover with dreams of owning your own online boutique? Well, get ready to turn your passion into reality!
Imagine a place where your unique style takes the spotlight and where you can showcase fabulous finds that resonate with modern women everywhere. From luxurious fabrics that demand attention to accessories that add that perfect finishing touch – your online boutique will be more than just a shop; it'll be a canvas for your creativity.
But wait, the journey to boutique success involves some crucial steps. Don't worry, though – our exclusive guide will walk you through everything. In this Starting An Online Boutique Checklist, you'll learn how to find the best suppliers, create a magnetic online presence, and keep customers coming back for more.
So grab a coffee, a notebook, and let's turn your passion into an online sensation that's as chic as it is successful.
The Only "Starting An Online Boutique" Checklist You Need
Figure out your Why
Before you embark on your journey to launch your online boutique, it's crucial to dig deep and figure out your "why". Why are you stepping into the world of fashion entrepreneurship? What compels you to turn your dream into reality? This initial step might seem introspective, but trust me, it's the cornerstone of your success.
Consider this: What is the story that led you here? Is it a lifelong passion for fashion and beauty that's been brewing within you? Is it the desire to curate a collection that speaks to the unique styles and preferences of modern women? 
Launching an online boutique requires dedication and effort. It's not just about having a love for fashion; it's about having the capacity to turn that love into a thriving business. Take a moment to evaluate your resources – both financial and emotional.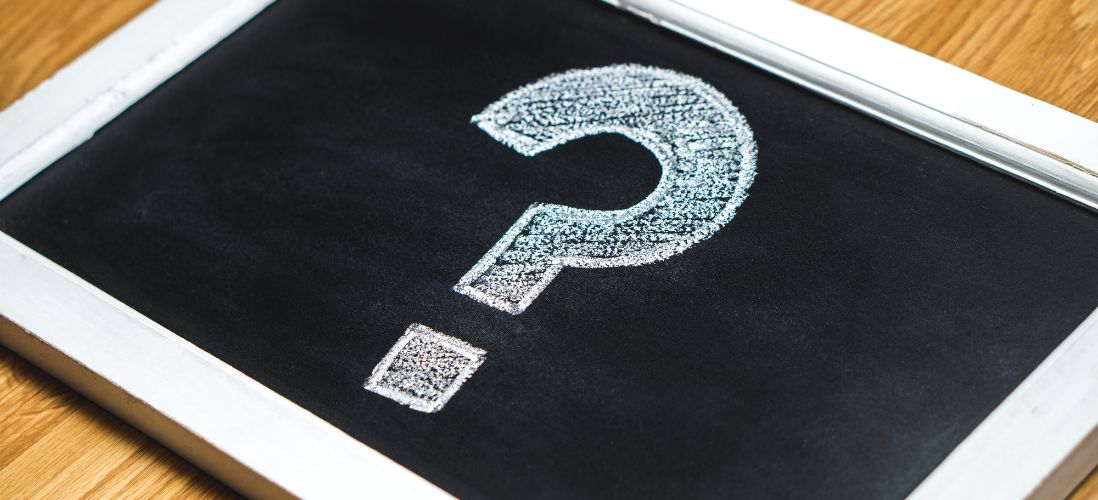 Time is also a precious commodity, and running an online boutique demands a significant portion of it. Do you have the time to invest in this venture? Will you be able to manage your boutique alongside other commitments? Understanding your time constraints is crucial in setting realistic expectations and planning your boutique's growth effectively.
Remember, the road to success isn't always smooth. There will be hurdles, doubts, and moments when you might consider giving up. This is where your "why" becomes your anchor. Having a clear understanding of why you started in the first place will remind you of your purpose and keep you motivated during tough times.
Identify a market gap
The next thing you need to do is identify a gap in the market – a need or desire that isn't being fulfilled by existing options. Whether it's a specific style that's lacking, an underserved demographic, or a gap in the types of products available, these unmet needs represent golden opportunities for your boutique.
Your goal is to introduce products that make a difference, products that resonate with your audience on a deeper level. Investigate what's missing from the market by both big players and smaller competitors. Think outside the box.
Also, please remember that this isn't a one-time task. Markets evolve, trends shift, and new opportunities arise. Your boutique's ability to adapt and innovate will be a key factor in its long-term success.
It's worth noting that the most effective market gap to pursue is one that aligns with your expertise and passion. Your understanding of the niche will give you a competitive edge in delivering value that resonates with customers. Remember, it's not just about the product; it's about the story behind it. Your genuine passion will shine through and attract like-minded individuals who share your enthusiasm.
Create a brand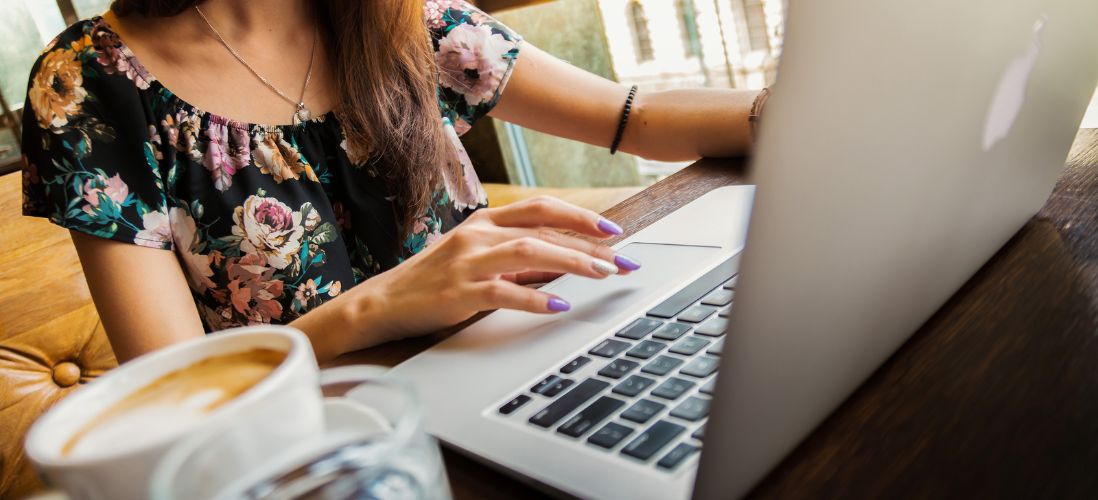 Crafting a strong brand is about resonating with your target customers, setting yourself apart from competitors, and building a lasting connection. Your boutique's brand is more than just a logo or a name – it's the essence of what you stand for and the story you tell.
Once you've honed in on your niche, it's time to dive deep into understanding your target customer. What are their preferences, aspirations, and pain points? By empathizing with their needs and desires, you can tailor your brand to resonate with them on a personal level.
Consider what value you bring to the table that others don't. Define your unique selling proposition clearly, as it will be the foundation upon which your brand is built. Is it exceptional quality, exclusive designs, eco-conscious practices, or a personalized shopping experience?
You also need to remember that colors, fonts, and imagery all play a role in visually representing your brand. Choose elements that align with your brand's personality and values.
Consider how your chosen design elements will impact your audience's perception. For instance, vibrant colors might convey energy and excitement, while muted tones might evoke sophistication.
From your website design to your social media presence, maintain consistency across all touchpoints. A cohesive brand experience builds trust and familiarity, making it easier for customers to remember and recognize your boutique.
Develop a business plan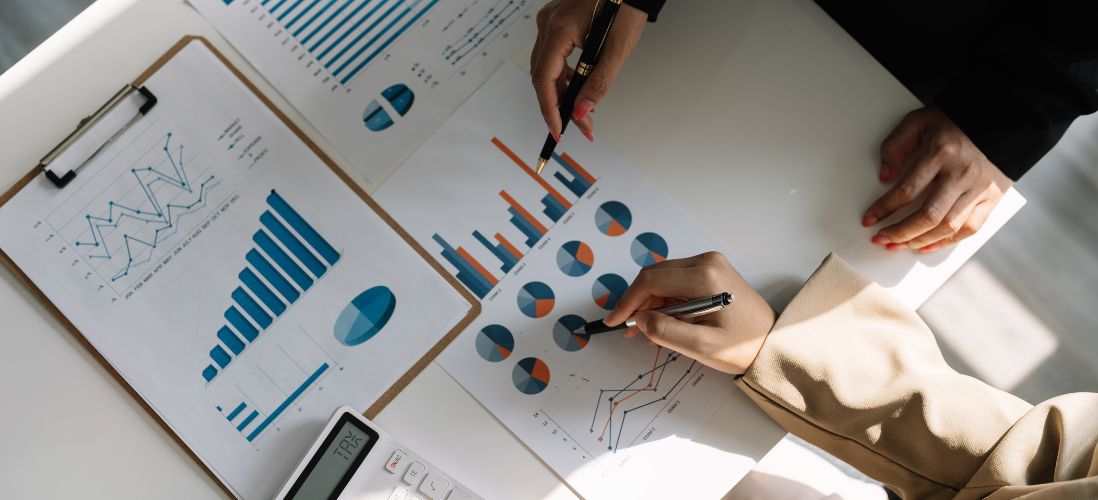 A well-developed business plan acts as your guide, steering you through the various stages of setting up and running your venture. Before you launch headfirst into the world of online retail, take the time to solidify your strategy.
From financial resources to human capital, your business plan should outline the resources you'll require to launch and sustain your boutique.
Budgeting is crucial – consider the initial costs of setup, ongoing expenses like inventory management, marketing, and even potential contingencies. This level of preparation will help you manage your finances effectively.
At this stage, lay out a high-level marketing strategy. While you'll refine your approach over time, having a basic plan in place will provide direction. Focus on the channels that resonate most with your target customers. Whether it's social media, influencer partnerships, or content marketing, choose the avenues that will make the biggest impact initially.
Remember, a business plan isn't set in stone. It should be a flexible document that evolves as your business does. As you gain insights and experience, be open to adjusting your plan to reflect new opportunities and changing market dynamics.
Find suppliers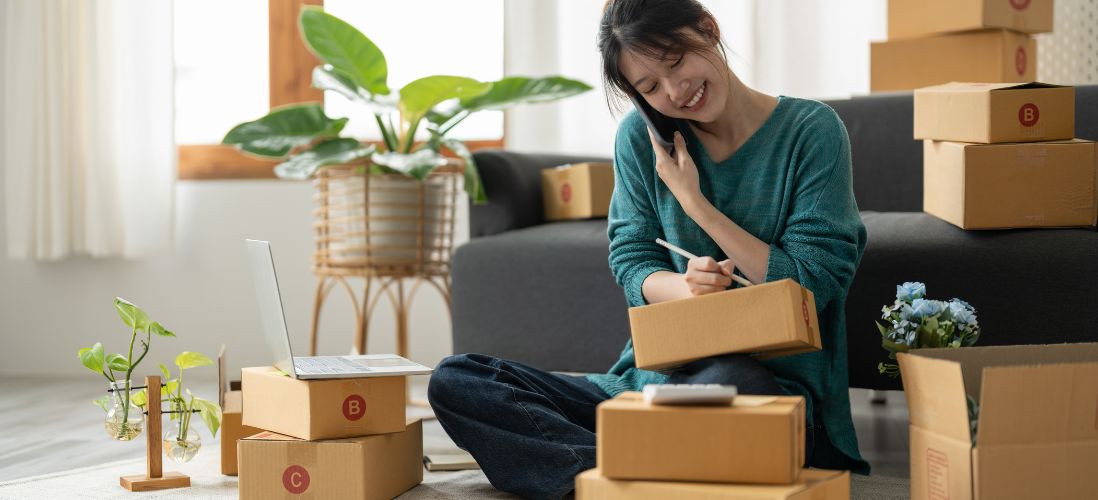 One of the pillars of your successful online boutique lies in securing reliable suppliers who can provide you with the materials or finished products you need. How you source your products will impact your quality, delivery times, and overall customer satisfaction.
There are several ways to obtain your products, each with its own pros and cons:
Handmade: This approach involves creating products from scratch, which can be time-consuming but offers unique, artisanal pieces.
Manufacturing: Collaborating with an overseas company can offer cost-effective mass production, but it requires careful communication and shipping logistics.
Reselling: Partnering with wholesalers to sell established brands' products can streamline your inventory management.
Dropshipping: Utilizing a third party to manufacture and fulfill orders can minimize your inventory costs and responsibilities.
No matter what models you choose, always ask for samples before committing to a supplier. Testing samples will help you make an informed decision about whether the supplier meets your standards.
You should also consider the location of your suppliers. Local suppliers can offer advantages like quicker communication and faster shipping times. Establishing a strong rapport with nearby boutique vendors can also streamline your supply chain.
Don't forget to look for online reviews or ask your professional network for recommendations. A supplier with a positive track record will likely contribute to the success of your boutique.
Set up logistics
From the very beginning, your business structure should account for efficient logistics to avoid potential pitfalls. It's no exaggeration to say that a bad shipping experience can undo all the progress you've made.
Customers today expect timely and hassle-free deliveries. They've been conditioned by giants like Amazon and Etsy, which have set high standards for shipping efficiency and reliability.
Choose shipping methods that offer reasonable delivery times, and set realistic expectations for your customers. Provide tracking information whenever possible to keep them informed about their order's progress.
However, keep in mind that balancing shipping costs can be a challenge. Strive to find a balance between offering affordable shipping options for your customers and maintaining a profitable margin.
Licenses and legal requirements
Complying with licenses and legal requirements not only ensures your business's legitimacy but also safeguards your brand's reputation.
Depending on the area or country, you might be required more or less than these legitimated affirmations. Seller's Permits, Business License and Certificate of Authority are some common documents you'd need for a business. Be sure to find out about these legal documents and complete them before officially opening your online store.
While navigating legal requirements, it's advisable to consult legal professionals or business mentors who specialize in e-commerce or small businesses. Their guidance can ensure that you cover all necessary legal aspects and avoid potential pitfalls.
Build your online store
Your online store is the digital home of your boutique, and it's where the magic happens. Building it right sets the stage for a seamless shopping experience.
Begin by renting hosting space and purchasing a domain name. This is the digital address where customers will find your boutique.
Next, choose an eCommerce platform that you prefer. Popular options like Shopify, WooCommerce, and Magento offer customizable templates and robust features. Assess your needs and budget to make an informed choice.
If you have the resources, consider hiring experienced developers to build and maintain your online store. They'll ensure your website runs smoothly and stays secure. Tigren also provides e-commerce website development services, check us out if you're interested.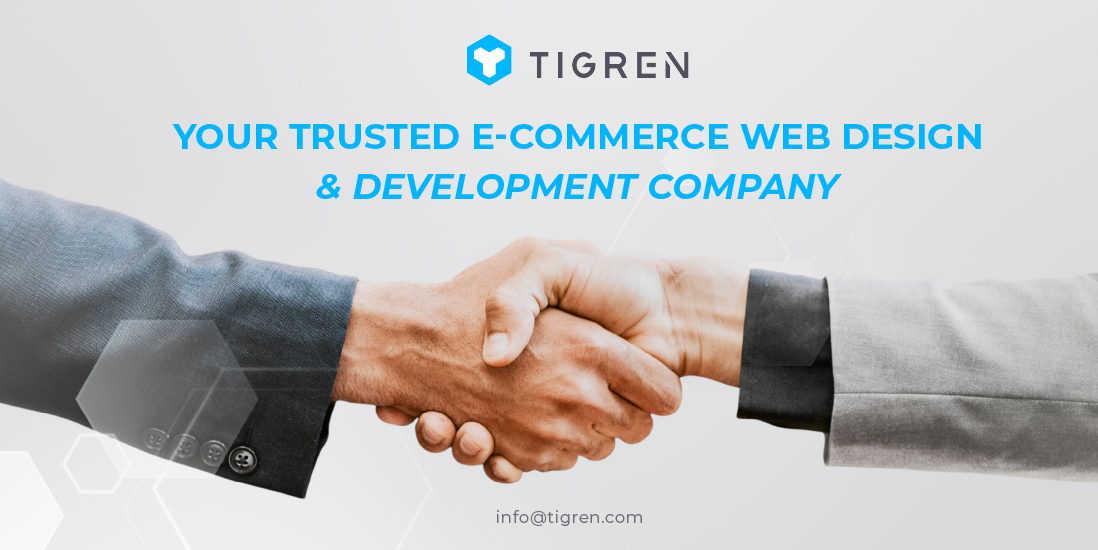 When you design your website, prioritize an appealing, user-friendly design that responds quickly. Ensure easy navigation, clear product categorization, and a secure checkout process.
Finally, keep in mind that you don't need a complex website from day one. Begin with a simple, effective design and expand over time. As your boutique grows, add more pages, features, and products to meet customer demand.
Launch, promote and start selling
The moment you've been working towards is here – it's time to launch your online boutique, make your brand known, and start selling.
Your boutique's launch is your chance to make a splash in the market. Plan it meticulously. Announce your boutique's name and the unique value it offers to your target audience. Create anticipation and excitement among potential customers.
Consider crafting a press release to generate additional buzz about your business. Share your boutique's story, mission, and what sets you apart. Send it to relevant media outlets and influencers in your niche.
Modern promotions are all about fostering engaging, positive, and authentic relationships with customers. Your tone of voice should be intimate, honest, and genuine.
Your reputation is a powerful asset. It's the unique intersection of your personality, skills, and experience that sets you apart from the competition. Highlight what makes your boutique special and why customers should choose you.
There are many potential marketing channels to consider:
Instagram Marketing: Capitalize on the visual nature of Instagram to showcase your products and engage with your audience.
Search Engine Optimization: Optimize your website for search engines to ensure it ranks well in relevant searches.
Email Marketing: Build a list of engaged subscribers and keep them informed about new arrivals, promotions, and more.
Public Relations (PR): Get featured in media outlets and fashion blogs to increase your brand's visibility.
Facebook Ads: Use targeted Facebook ads to reach potential customers based on demographics, interests, and behaviors.
However, you don't need to be everywhere at once. Focus on a few channels your target market actively uses and optimize your strategy for those platforms. Quality engagement on a few channels trumps spreading yourself thin across many.
Analyze your result, improve, and iterate
Running an online boutique is an ongoing process of evolution and refinement. To drive more sales and enhance your boutique's performance, you must continuously analyze, improve, and iterate your strategies.
In the beginning, you won't have all the answers. That's okay. Trial-and-error is your ally in discovering what works best for your store. Be open to experimentation and learn from your successes and failures.
The internet allows you to track nearly everything, from visitor behavior on your site to their interactions with new products or content. Implement robust tracking tools to gather valuable data.
Analyze the data and analytics you collect. Dive deep into the numbers to understand what's working and what's not. Identify trends, customer behaviors, and sales patterns. These insights are invaluable for making informed decisions.
Your store's performance analysis provides a foundation for predicting future sales. By understanding past trends and customer preferences, you can anticipate demand and tailor your inventory and marketing strategies accordingly.
The e-commerce landscape is ever-changing. Be prepared to adapt to shifts in market trends, consumer behaviors, and technology. Flexibility is a valuable asset in staying ahead of the competition.
5 Successful Examples of Online Boutique

Garmentory is the cool kid in the online boutique scene. It's like your personal stylist, handpicking the coolest emerging, sustainable, and cult-classic brands just for you. You get to uncover hidden gems from indie brands and boutiques worldwide. Whether you're into the latest trends or timeless classics, Garmentory's got your back.
What's unique is that Garmentory builds real relationships with its boutiques. They make sure each one is top-notch, so your shopping experience is stress-free and reliable. You can trust them to deliver the goods.
Garmentory isn't just about looking good; they care about the planet too. They team up with brands and boutiques to bring you quality pieces that won't just last a season but a lifetime. They believe fashion should be fast at getting to you, not fast to wear out.

Founded by brothers Henry & George Graham in 2010, Wolf & Badger began as a boutique in Notting Hill. Fast forward a few years, and it has evolved into a global platform that bridges the gap between independent designers and a worldwide audience.
With over 2000 independent brands from around the globe, Wolf & Badger isn't your average online store. They've earned a B Corp certification, emphasizing their commitment to ethical business practices. This platform is a treasure trove for those seeking sustainably and ethically produced jewelry, homeware, accessories, fashion, and beauty.
Beyond being a shopping destination, Wolf & Badger is building a community of ethical brands and conscious consumers. Their vision is clear: a future where every aspect of retail is fair and frictionless for everyone. They're making strides towards this goal, one ethical brand and conscious consumer at a time.

Lazy Oaf is not your typical online boutique; it's a combination of creativity, community, and a whole lot of quirkiness. Founded by Gemma Shiel in 2001, this design-led lifestyle brand is all about breaking the mold and doing things differently.
Lazy Oaf's story began in a North London garage, where Gemma Shiel's passion for creativity ignited. What started as hand-printed T-shirts sold from an East London stall has evolved into an independent brand that refuses to be confined by conventions.
Over two decades, Lazy Oaf has cultivated a family network of creatives and collaborators who have left their mark on the brand. Their inspiration is drawn from youth subcultures, streetwear, nostalgia, and life's offbeat moments.
Lazy Oaf doesn't conform to trends; instead, they follow their instincts and what resonates with their community. It's not just about making clothes; it's about reflecting and supporting their culture and the things that matter most to them.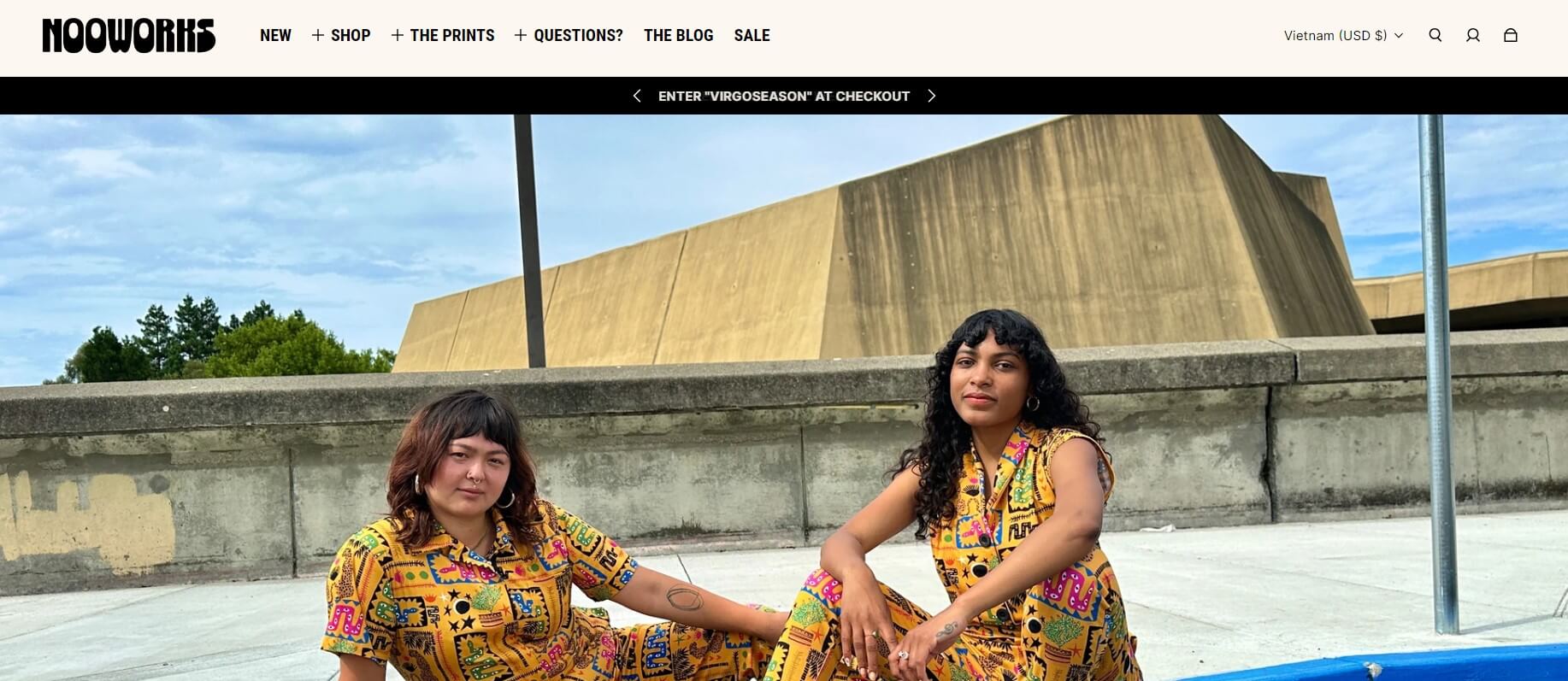 Nooworks is a small women-owned and operated clothing brand basking in the California sunshine. Nooworks is all about fun, quirkiness, and embracing the art of being cute.
This unique brand was born in 2005 when Jennifer D'Angelo was silk-screening her artwork onto T-shirts in her San Francisco apartment. What started as a creative passion project grew organically as Jen collaborated with artist friends and expanded her range of printed clothing.
Each year, they join forces with independent artists to produce an enticing collection of limited-edition textiles that can instantly boost your mood. Their clothing patterns are thoughtfully designed to flatter as many body types as possible. They believe in doing business the right way, caring for the environment, and nurturing positive relationships.
Nooworks is a testament to creativity, community, and ethical fashion. From Jennifer's apartment to an eco-conscious brand, their story is a reminder that fashion can be fun, quirky, and conscious of its impact. Join them on their mission to put people and the planet first, one cute and over-the-top piece of clothing at a time.

dogstar is one of Australia's foremost online clothing boutiques, on a mission to create a fashion legacy that goes beyond mere clothing.
Their mission is to design women's clothing that doesn't just follow fleeting fashion trends but remains stylish for years to come. They envision their customers leading the charge in the next fashion movement, blending style and sustainability seamlessly.
dogstar values the power of individuality and the unique beauty within each person. The brand believes that true beauty lies in the unique personalities of its wearers. In the words of Masayo Yasuki, the founder of dogstar, "We create the garment, and they, the customers, create the look."
Why Most Online Boutiques Fail & How You Can Avoid It
Launching an online boutique is a thrilling journey, but it's not without its challenges. In the vast digital landscape of e-commerce, many boutiques fall short of their potential.
In this section, we'll explore the common pitfalls that lead to the downfall of online boutiques and, most importantly, how you can steer clear of them. Learn from the mistakes of others and set your boutique on a path to success in the competitive world of online retail.
Fail to manage money
Launching an online boutique involves a multitude of expenses, and one of the primary reasons many boutiques stumble is a failure to manage their finances effectively.
From website development and hosting to inventory, marketing, and operational expenses, the list of costs in establishing an online boutique can be overwhelming. Failing to anticipate and manage these costs can lead to financial strain and potentially derail your boutique's success.
Budgeting is your first line of defense. Before embarking on your boutique journey, do your best to estimate your budget. Take into account not just the obvious expenses but also the unexpected ones that can crop up.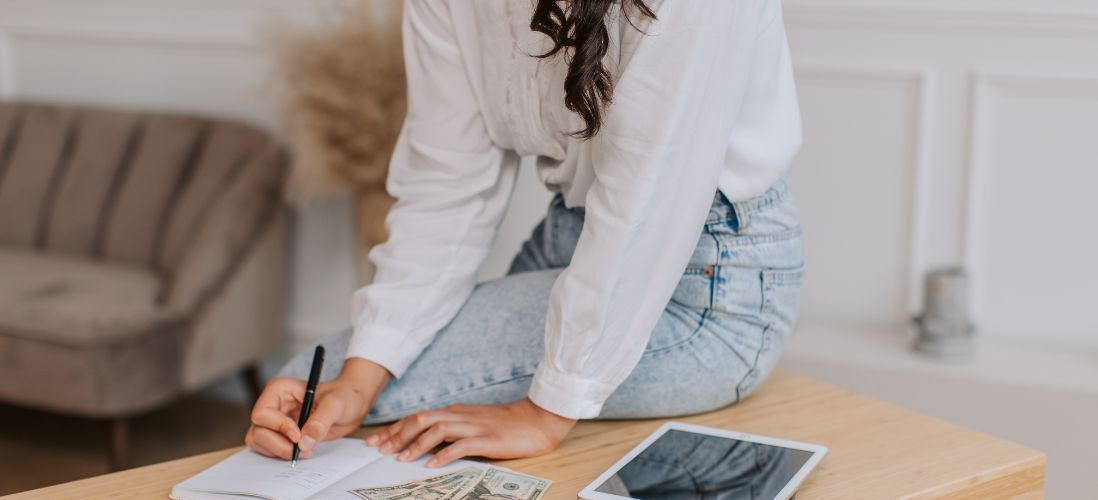 Don't hesitate to seek advice from experienced people in your network. They can provide invaluable insights into the typical costs associated with launching and running an online boutique.
Every expenditure should be scrutinized for its potential return. Don't spend money unless you can clearly see how it will contribute to your boutique's growth and profitability. Whether it's marketing, inventory expansion, or website enhancements, investments should align with your business goals.
Don't have a clear strategy to get sales
Another critical factor that separates the thriving from the struggling is having a clear and effective sales strategy.
It might seem obvious, but it's worth stating: if you don't have a well-defined strategy for how to generate sales, you're unlikely to see customers flocking to your boutique. Simply opening an online store and expecting people to magically appear rarely works in the fiercely competitive e-commerce landscape.
Having a clear plan is just the beginning. Action is the driving force behind sales. Your strategy should encompass various facets, from marketing and advertising to customer engagement and conversion optimization. Each step should be meticulously thought out and executed.
Furthermore, your sales strategy should not be static. The digital world is constantly evolving, and so should your approach. Regularly assess what's working and what's not, and be willing to adapt and refine your strategy accordingly.
Not understanding the target customers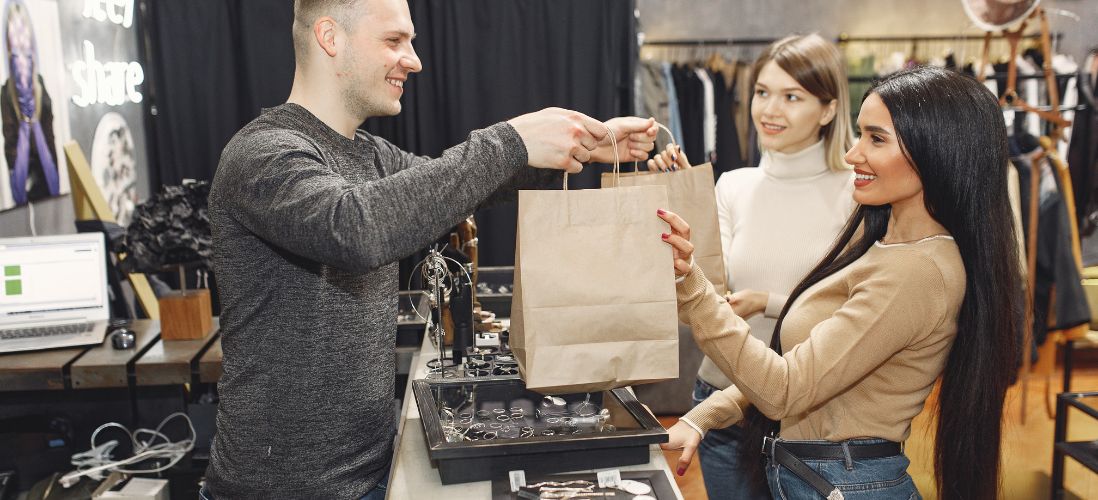 Your target customer should be at the heart of every business decision you make. From product selection and branding to marketing strategies, your ultimate goal is to serve their needs and desires.
In the competitive world of online retail, understanding your target customers is what sets you apart. When you know them intimately, you can tailor your offerings and marketing efforts to align precisely with their preferences and expectations. This not only attracts but also retains loyal customers.
Your competitors are not sitting idle either. To surpass them, you must outdo their customer-centric efforts. When you understand your target customers better than your rivals, you can provide more relevant, personalized, and satisfying experiences that keep customers coming back.
Give up too soon
Building an online boutique is not all smooth sailing; it comes with its share of challenges. Expecting these hardships and mentally preparing for them is crucial.
Remember that every successful boutique faces setbacks. But what sets them apart is their unwavering determination. They weathered the storms and emerged stronger and more resilient.
Before contemplating giving up, make sure you've truly exhausted all your options. Regret can be a heavy burden to carry. Ensure that you've explored different strategies, sought advice, and made informed decisions before calling it quits.
How Long Does It Take For An Online Boutique to Become Successful?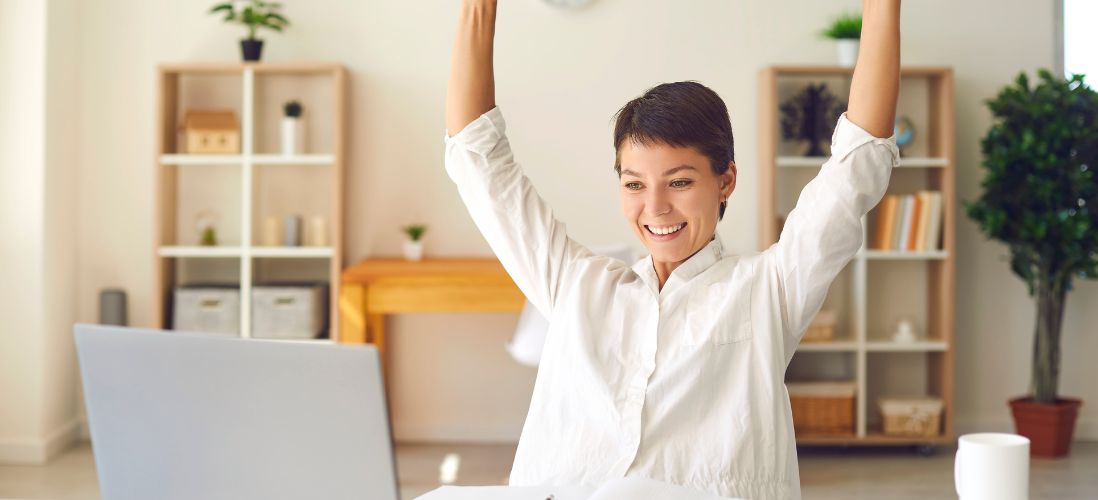 Success in the world of online boutiques is a complex equation influenced by numerous variables. The truth is, there's no one-size-fits-all answer. 
Your proficiency in e-commerce, marketing, and customer engagement can significantly impact the timeline to success. Having the right skills and resources at your disposal will speed up everything for sure.
The timing of your boutique's entry into the market also matters. Being ahead of the curve with a unique offering can accelerate your success, while entering an oversaturated market may require more time.
The amount of time and financial resources you can commit to your boutique plays a crucial role. Those who can dedicate more often see quicker results, no rocket science here.
In essence, the journey to success for an online boutique is as unique as the boutique itself. Some boutiques achieve rapid success, while others require patience and persistence over the long term.
Stay committed, stay adaptable, and keep your eyes on your individual goals. Success, in its own time and in its own way, will follow.