Magento is an open-source eCommerce platform that provides online merchants control over the layout, functionality, and content of their online store. Thanks to Magento's vast plugin marketplace, its users usually have access to hundreds of special features that allows them to better communicate with their customers or better sell their goods. According to some current Magento developers, one of their most useful third-party integrations is utilizing the Magento 2 newsletter popup extensions.
For ones who don't know, this is a great marketing add-on for shop owners to attract and stimulate your customers' buying intention, thereby triggering your eStore sales and revenue. Here are the top 10 extensions for your store that will help you create a standout pop-up newsletter (Paid & Free).
Best Paid Magento 2 Newsletter Popup Extensions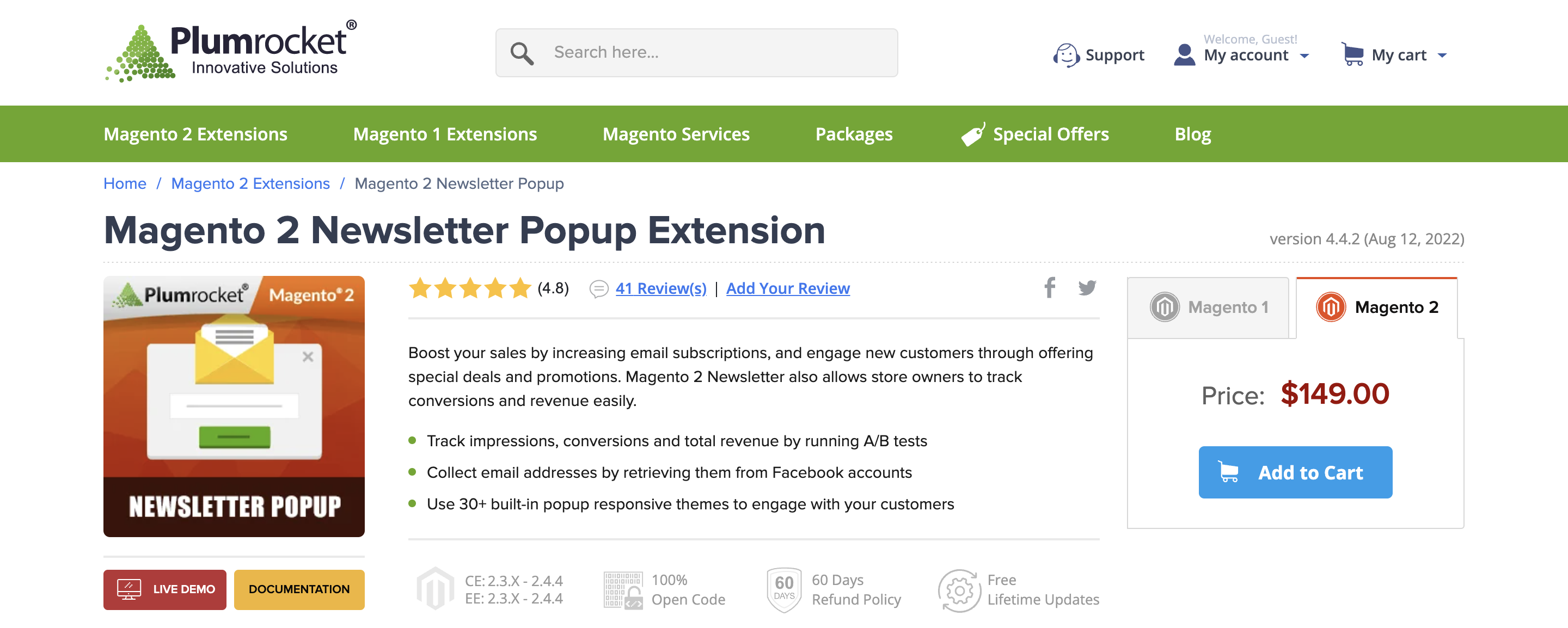 The Plumrocket Newsletter Popup is a polished marketing tool for expanding your email subscriber base. With the support of this extension, Magento 2 merchants will be able to provide various email popups to any visitor. They can even trigger their "unknown guests" leaving personal information by using various display techniques and providing discount coupon codes in return for email subscriptions.
Outstanding features:
Various themes for free: Each template design can be changed directly from the Magento backend, and you can evaluate changes before publishing them online and adding new fields.
Allow a subscription to the newsletter with the user's Facebook account: This feature helps business owners collect more customers' Facebook emails
Send each new subscriber a static or automatically generated coupon code: The extension takes advantage of the built-in Magento Shopping Cart Price Rules and gives you the option to customize each popup's coupon format
Follow total revenue, conversions, and impressions: The business owner can perform easy A/B testing (a method of researching user experience) and select the most effective popup using newsletter popup data
Intelligent Display Settings: Popups can be shown according to client groups, device kinds, goods, categories, brands, etc. by using specific conditions
Check out the entire history of user interactions: This extension allows showing and saving fully the history of user interactions
Works with both custom and third-party themes: Any native or third-party Magento 2 theme is compatible with the Magento 2 Newsletter Popup without a hitch.
Price: $149.00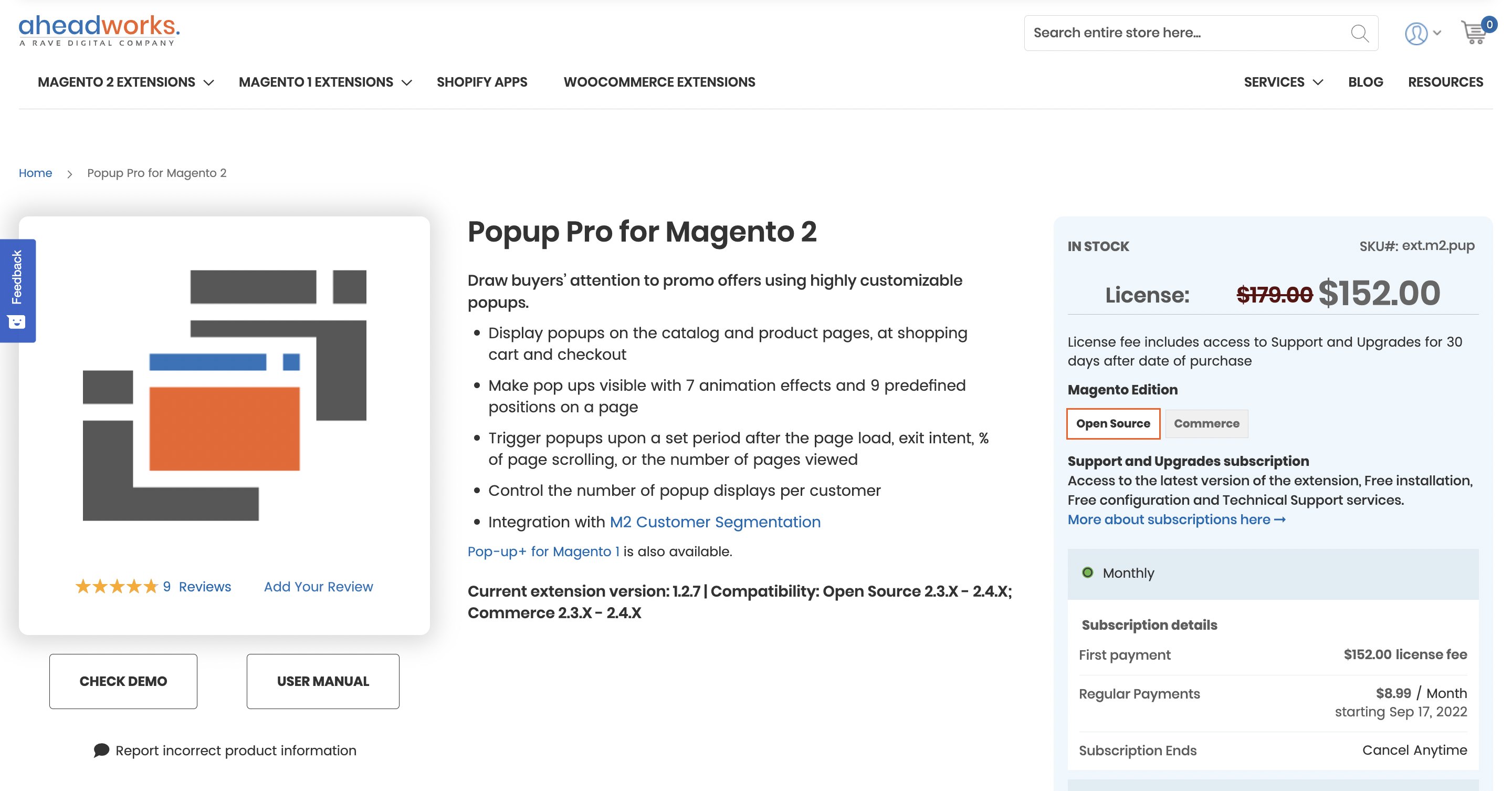 Popup Pro extension for Magento 2 eStore is an ideal newsletter popup widget for any eCommerce website. Don't worry if you are new to this type of plugin as Popup Pro will describe complete details on the features and functionality of your extension, along with any updates. Especially, thanks to this tool, the web admin can control the popup window appearance based on different consumer behaviors. All media content, including widgets, CMS blocks, videos, and photos, is supported by the popup.
Outstanding features:
Easy to target potential customers: by showing to a particular customer group at a certain page type, or a custom selection of pages, the relevancy of the displayed popup can be controlled
Permit the admins to customize the specific circumstances and timing of a pop-up:
Online assistance and accessible materials: The admins can choose and modify particular trigger events to personalize the time and circumstances
Performance Tracking: The popup grid provides access to each popup key performance information.
Friendly User Interface: To enable a continuous workflow, all controls are grouped under a single tab.
Price: $152.00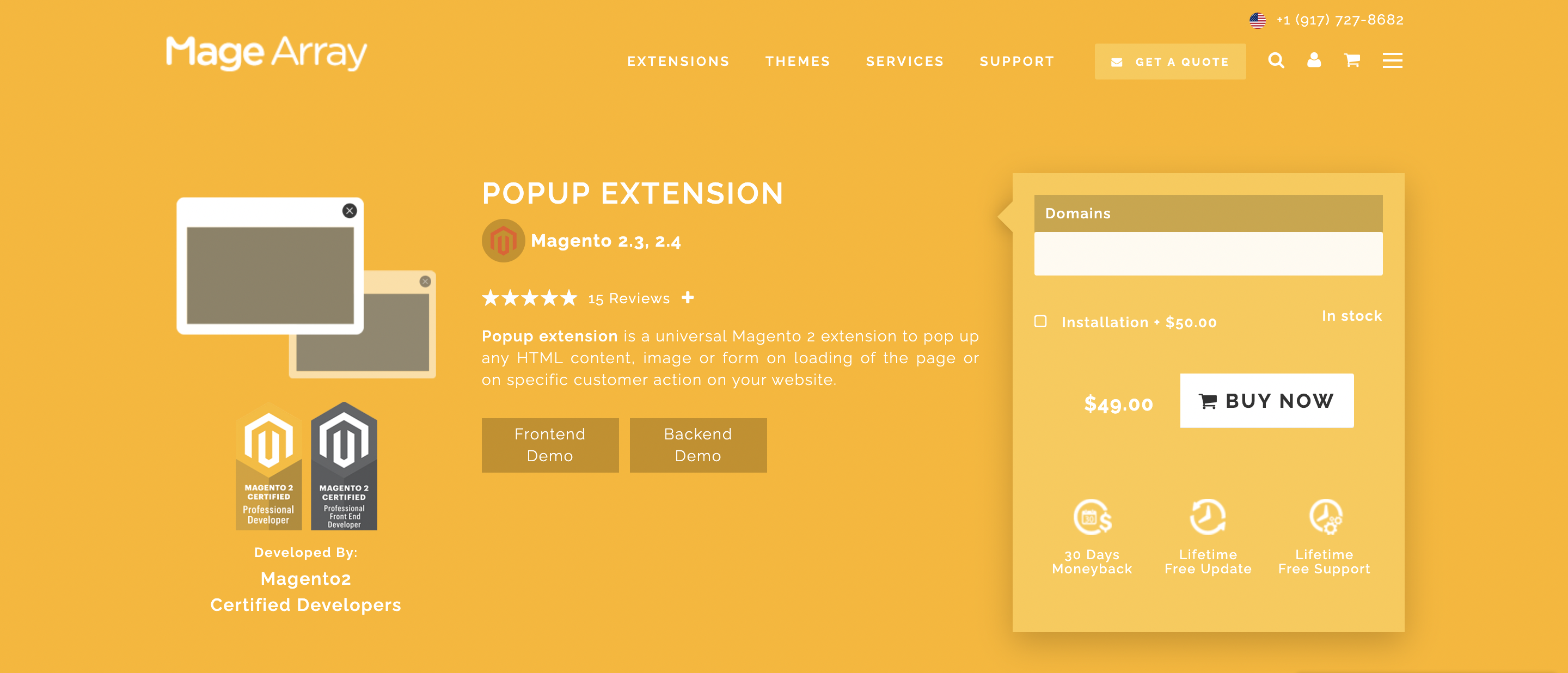 To promote products, news, events, or gather the user's information from the form, the Popup extension of MageArray is one of your greatest options. This extension can popup HTML information, an image, or a form whenever a certain action is taken (such as your customers reloading the web page). Besides, it can also help you create a captivating popup window for advertising your goods, news, advertising, and events, or gather user information via any form (newsletter or custom form).
Outstanding features:
Forward link for visitors: easily configure the image's redirect link to take users to another page using a pop-up window.
change the popup size: it is possible to customize the Popup's height and width
Mobile and tablet friendly: with a width that automatically adjusts to match the screen, this plugin is suitable for users who use different devices to access the website.
Possible to change Background Opacity: Through the admin side option, you can choose the background opacity for the pop-up.
Price: $49.00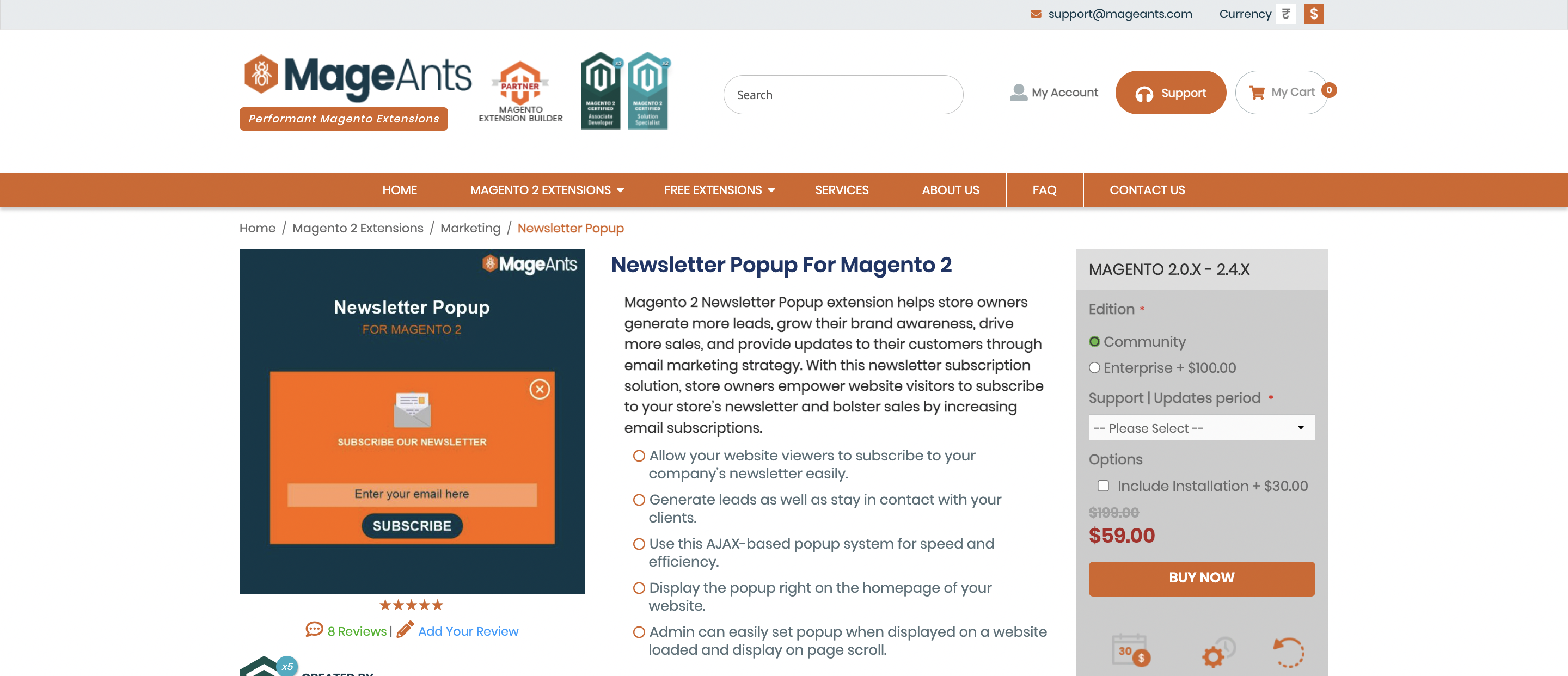 By using email marketing strategies, this MageAnts popup extension supports store owners in increasing leads, raising brand recognition, boosting sales, and updating consumers. With the help of this newsletter subscription tool, business owners can encourage website visitors to sign up for their newsletter and boost sales through an increase in email signups.
Outstanding features:
Make your company's newsletter accessible to customers and outside visitors
Due to the Ajax-based interface, this extension provides your clients with a user-friendly experience as they won't have to wait for another page to load.
Keep in touch with consumers and increase lead generation
Make your pop-up templates for the newsletter subscription form
Show a pop-up newsletter on the website's home page
Price: $99.00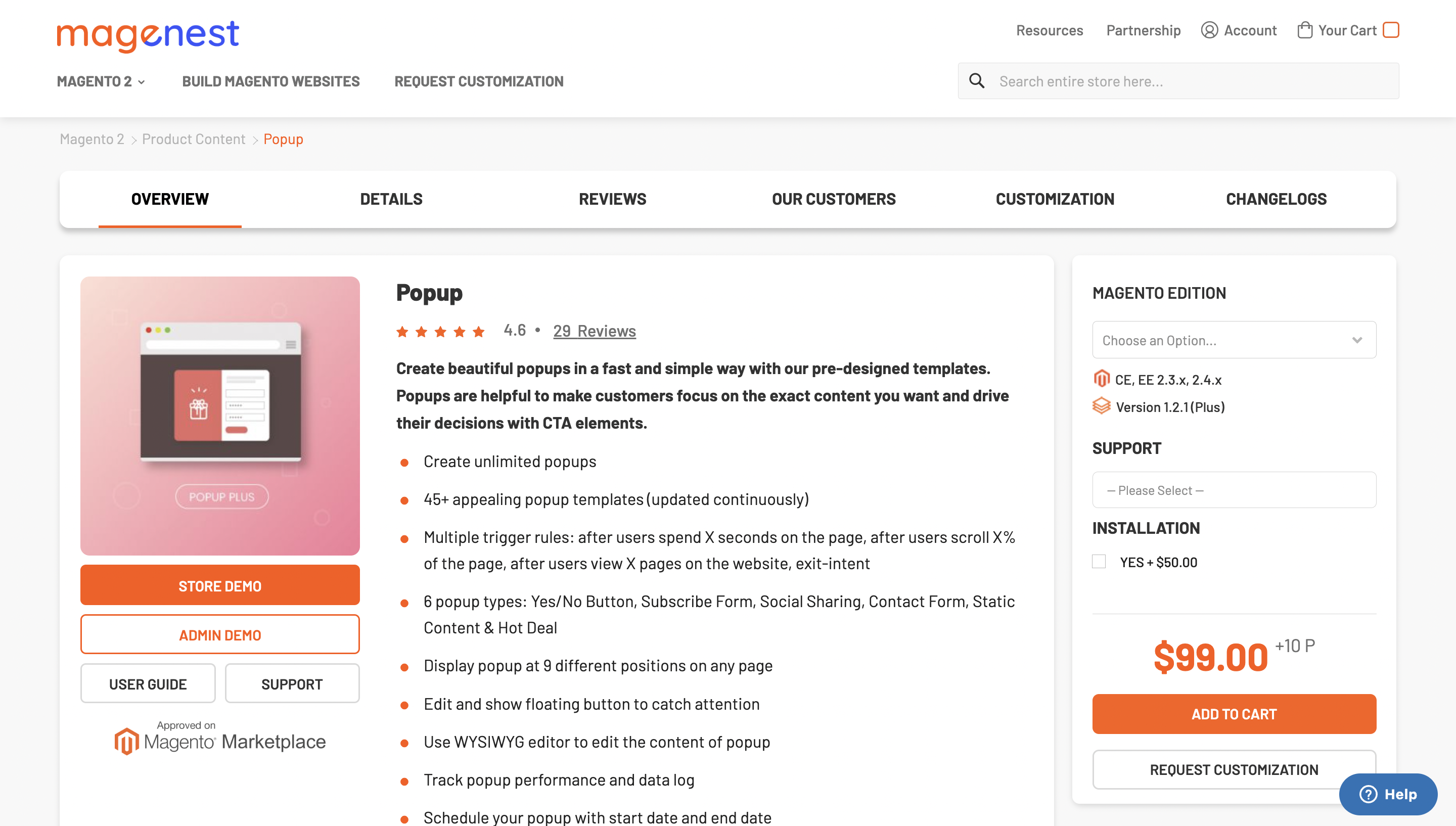 Similar to the above names, Magenest's plugin also enables store owners to add popups to their Magento 2 websites. For different conversions, administrators can employ different kinds of pop-ups. In other words, merchants can choose from a wide range of options for their popup material for better personalization.
Besides, this extension has various pre-installed templates. Thus, you can minimize your effort to get things rolling since those themes have made everything automated. Additionally, each popup's appearance on the storefront may be scheduled by the admin for a certain time. You can choose start date and an end date to ensure that your popups will work with various advertisements on time.
Outstanding features:
Various pop-up triggering rules: There are 4 popup triggers which base on the behavior of customers: After customers spend X seconds on the page, After customers scroll the page by X percent, After customers view X pages, Exit Intent.
Personalize the start and finish dates: By eliminating the need to repeatedly visit the back-end to disable each popup after a campaign, this straightforward function greatly simplifies management
Popups located anywhere: The popups can be put on every page or in certain locations, like the Homepage
Perform a pop-up analysis: Merchants can examine statistics for views, clicks, and CTR for their popups in the Magento 2 backend.
Price: $99.00
Top Free Magento 2 Newsletter Popup Extensions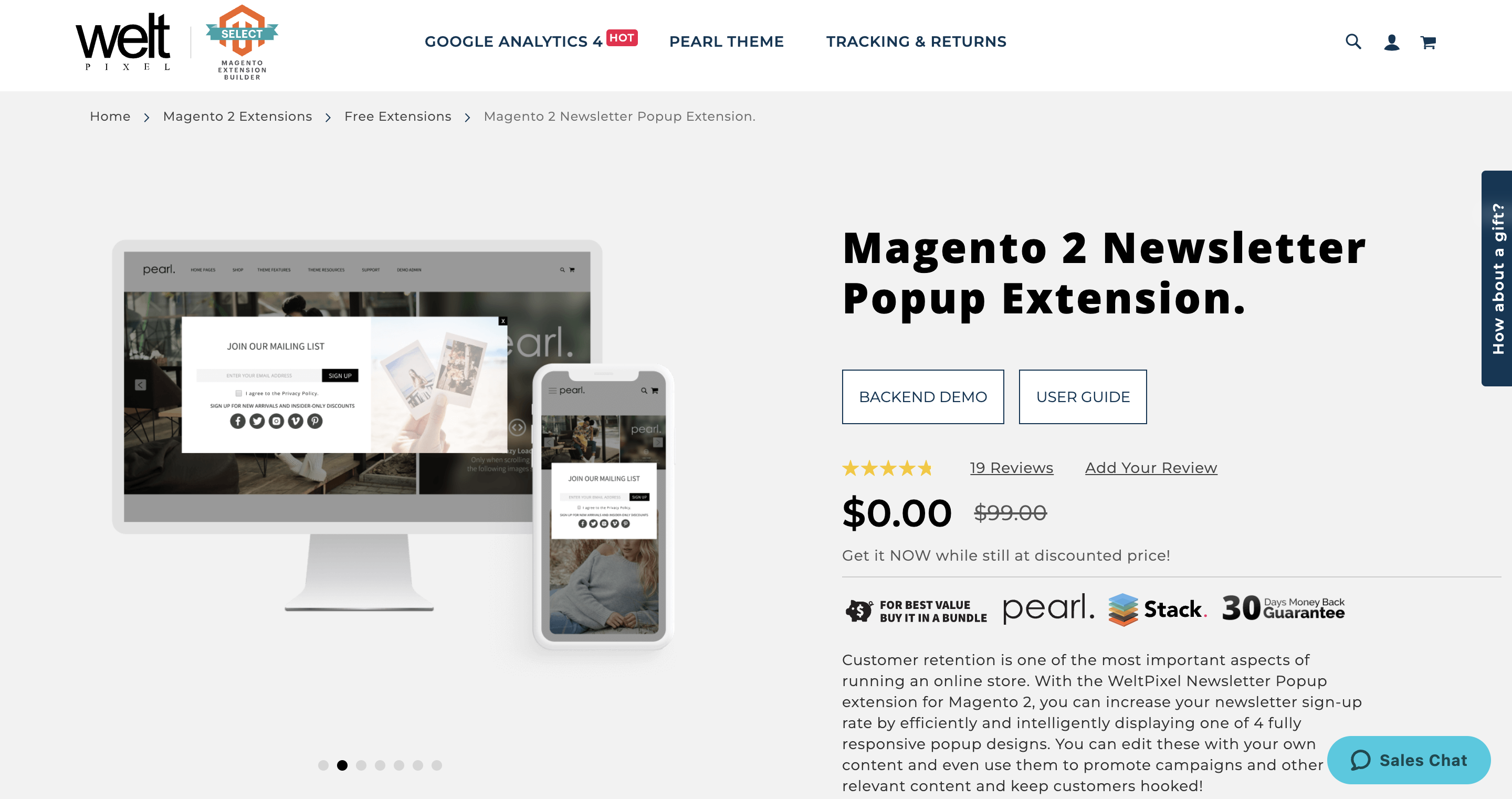 Thanks to the WeltPixel plugin, businesses can intelligently and conversion-focused gather client email addresses in a pop-up box or a registration floating bar at the bottom of the page. It displays consistently and responsively on all mobile devices.
Since you have complete control over the content of newsletter popups, you can simply include special offers, discounts, or any other kind of message that would encourage people to subscribe to your mailing list.
Outstanding features:
Use time delay triggers: with this feature, the customer signup conversion rate can increase significantly if the newsletter signup has a before-time delay
Trigger just on particular pages: You can control which pages will trigger the newsletter popup to avoid its appearance on checkout or cart pages
Mobile-friendliness: The newsletter is compatible with devices including pc, mobile phones, tablets, etc
GDPR Compliance: You can choose to save the data only when the user gives his consent by setting this field to mandatory or not needed.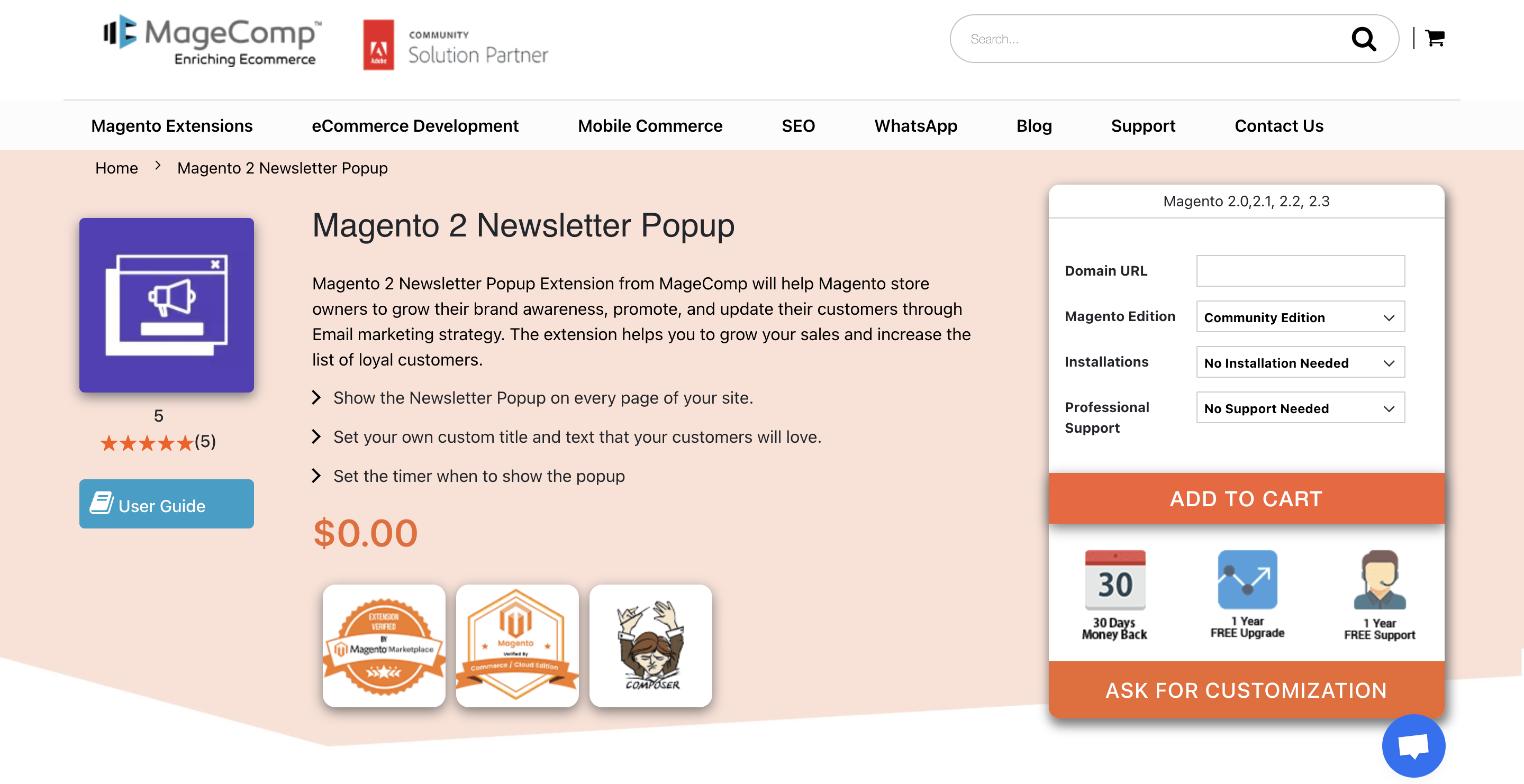 By leveraging email marketing strategies, MageComp's newsletter module enables the admin to promote their brand, motivate consumers, and keep them informed. The module helps the business owner increase sales and build a stronger base of loyal consumers. By using it, you can expand your email list, distribute upcoming offers, deals, and discounts, or alert customers to changes to the business.
Outstanding features:
Simple and quick setup: the Newsletter subscription popup can be added to the website with only a few clicks
Enable to show the popup on every page of the site: your email list can be grown with this feature
Timer setting: this extension allows the admin to set the timer to display the popup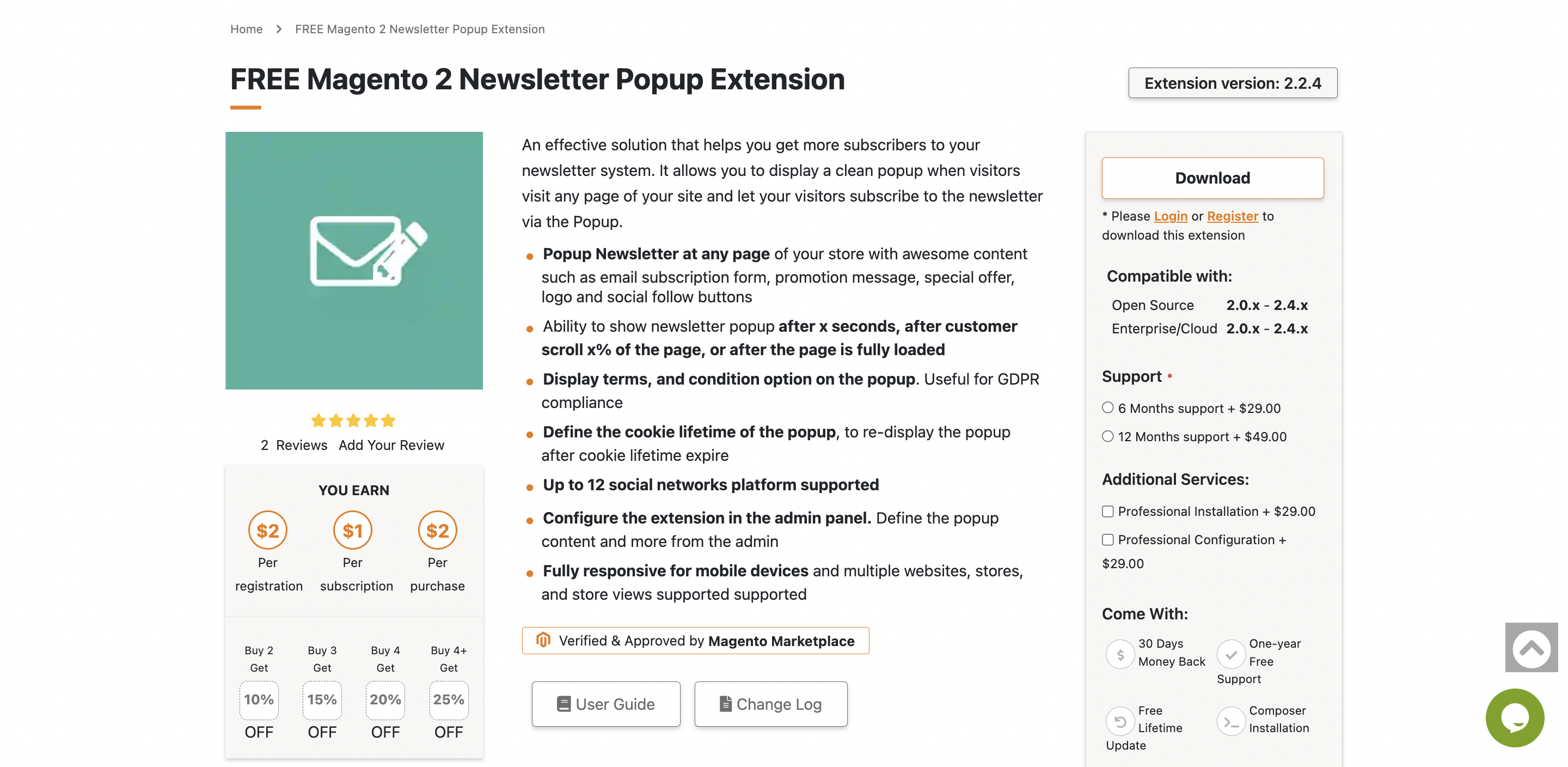 The free Ulmod Newsletter Popup Extension is a useful tool for merchants to increase the number of subscribers to their newsletter business. Similar to the above option, you can also attract your customers' attention with special offers, deals, discounts, or other promotional efforts. Besides, from the admin panel, it enables customizing a personalized popup. All media material, including CMS blocks, widgets, photos, and videos, is perfectly supported. Customers and visitors can subscribe through the popup on each page they visit.
Outstanding features:
The newsletter popup can be put on any page of the website, including the home, CMS, category, or product pages
display flexibly
Enable to adjust the popup customization
Adaptable For Mobile Devices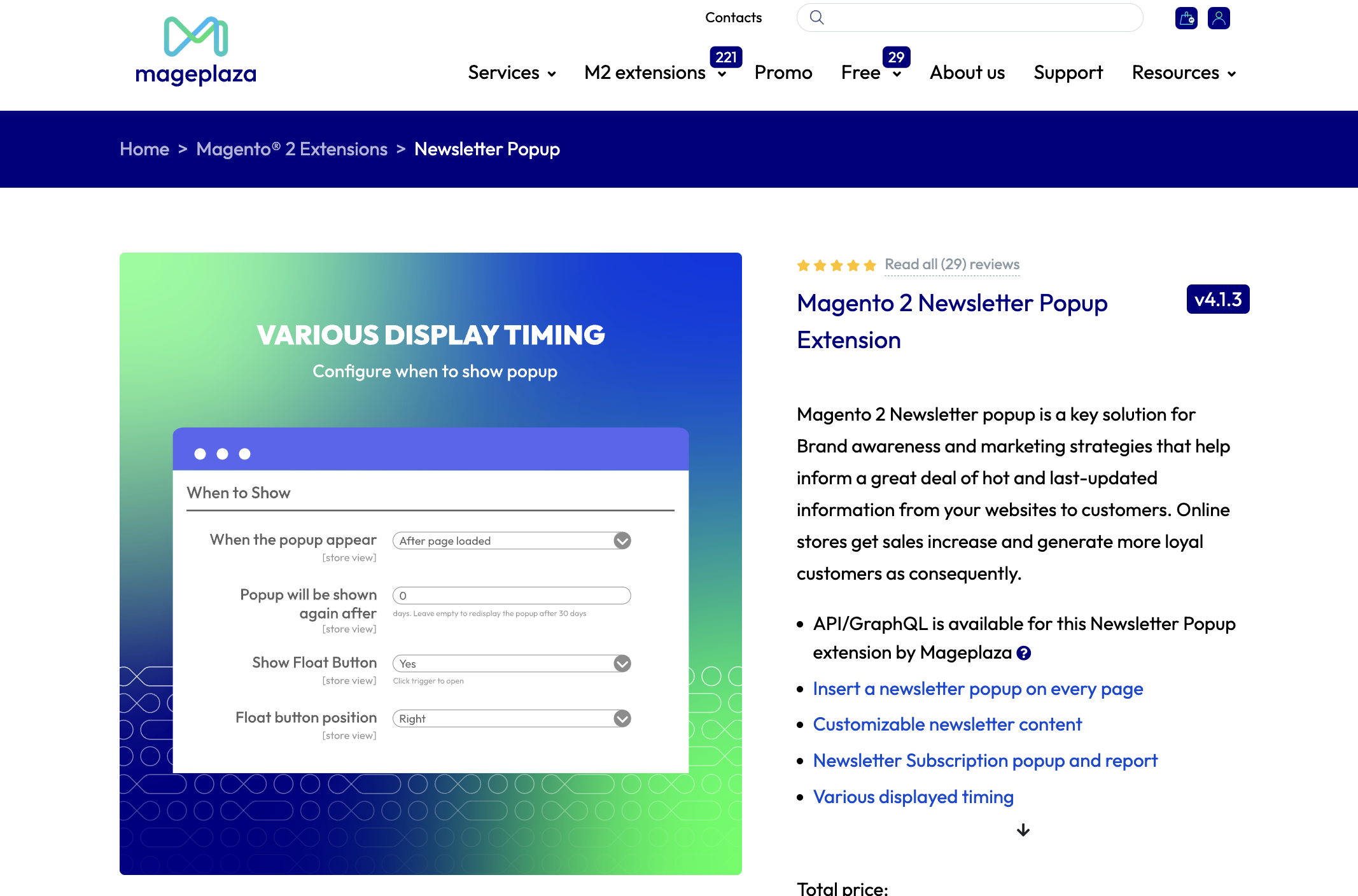 Previous users of the Mageplaza newsletter extension claim that it is a key solution for branding and new customer acquisition strategies. The plugin's key function is informing the latest information about your websites to customers (deals, sales, vouchers, blogs, etc.). Every online store can get its sales and loyal customer quantity increase using this add-on.
Outstanding features:
Support API or GraphQL
You can add popups on every web page
Newsletter content is adjustable
Advanced Newsletter Subscription popup and report
Numerous displayed timing
Congratulation popup available
Ready-made Newsletter theme
Pop-ups reappear after a pre-setting time
Bottom Line
Generally, according to some experts, a pop-up-enabled website page converts more visitors than a pop-up-free version of the same page. Hence, we must admit that Magento 2 newsletter popup extensions are successful promotional solutions that are capable of increasing your eStore's consumer conversion.
However, since each extension has different configurations, you should learn more about their abilities. Based on your needs and store income, choose the most suitable companion for your eCommerce activities.
Related Posts:
20+ Best Free Magento 2 Extensions In 2023 [Updated]
How To Customize Magento 2 Email Templates
20 Best Magento 2 Infinite Scroll Extensions To Use
Top 10 Best Magento 2 Wishlist Extensions
21 Best Magento 2 Rich Snippets Extensions