Magento 2 is a powerful eCommerce platform that allows you to build websites that are both user-friendly and efficient. However, building a website from scratch can be time-consuming and difficult, which is why it's important to have a page builder extension to help you get started.
In this post, we've compiled the 12 best Magento 2 Page Builder extensions that will help you build websites much faster and easier. So whether you're a beginner or an experienced Magento developer or a Magento store owner, these extensions are sure to be of use!
What Is A Magento Page Builder Extension?
If you're new to Magento, you might be wondering what a page builder extension is. A page builder extension is a plugin that lets you create custom pages in Magento without having to code. They're usually simple to install and use, and allow you to build custom pages quickly and easily.
Plus, they come with a lot of features – so you can create pages that look and feel exactly the way you want them to. If you're interested in using a page builder extension, read on for more information.
Magento 2 Page Builder extensions are a great way for store owners who do not have any coding skills or knowledge to create simple pages on their Magento sites.
This can be helpful for those who want to keep their hands busy but do not want to spend a lot of time and money hiring developers to build custom web pages for them. Additionally, some Magento 2 Page Builder extensions can help reduce the amount of time it takes a web developer to develop a new website for his client significantly.
Top 12 Best Magento 2 Page Builder Extensions You Should Consider

MageSolution's Magento 2 Page Builder is an extension that provides you with the ability to edit CMS pages, product descriptions, and category descriptions effortlessly and visually at the front end. As a result, you can see what you've performed instantly – without requiring any coding knowledge.
This makes it perfect for use on your website or in eCommerce stores that rely heavily on customer feedback. Besides, this Magento 2 Page Builder is fully compatible with Magento 2.1.x – 2.4.x, so there's no need to worry about the platform compatibility issues of the plugin.
Outstanding Features:
Product description builder
Category landing builder
Free & premium block elements
Visual & friendly interface
Permission editing
Export/ import/ restore pages
Pricing:
Free (limited features)
Community: +$129
Commerce: +$499
Developer License: +$500

If you're looking for a Magento extension that can help you create and manage your website without any coding, then Magezon Page Builder for Magento 2 is the perfect option for you. This powerful set of tools allows you to build product descriptions, site structures, and more quickly and easily than ever before.
Plus, it's compatible with any Magento theme – so there's no need to worry about finding the right one or spending time trying to configure it. Whether you're looking for a simple solution that lets you get started building your website right away, or want complete control over every aspect of your project, Magezon Page Builder module has got everything covered.
Outstanding Features:
Intuitive interface
Mobile ready
SEO-friendly
Magento WYSIWYG integration
50+ elements
Custom CSS supported
Lightning fast performance
Predesigned Templates
Frontend builder (upcoming)
Various design options (upcoming)
Workflow performances (upcoming)
Pricing:
Community: $119.00 + $50 for installation
Enterprise: $319.00 + $50 for installation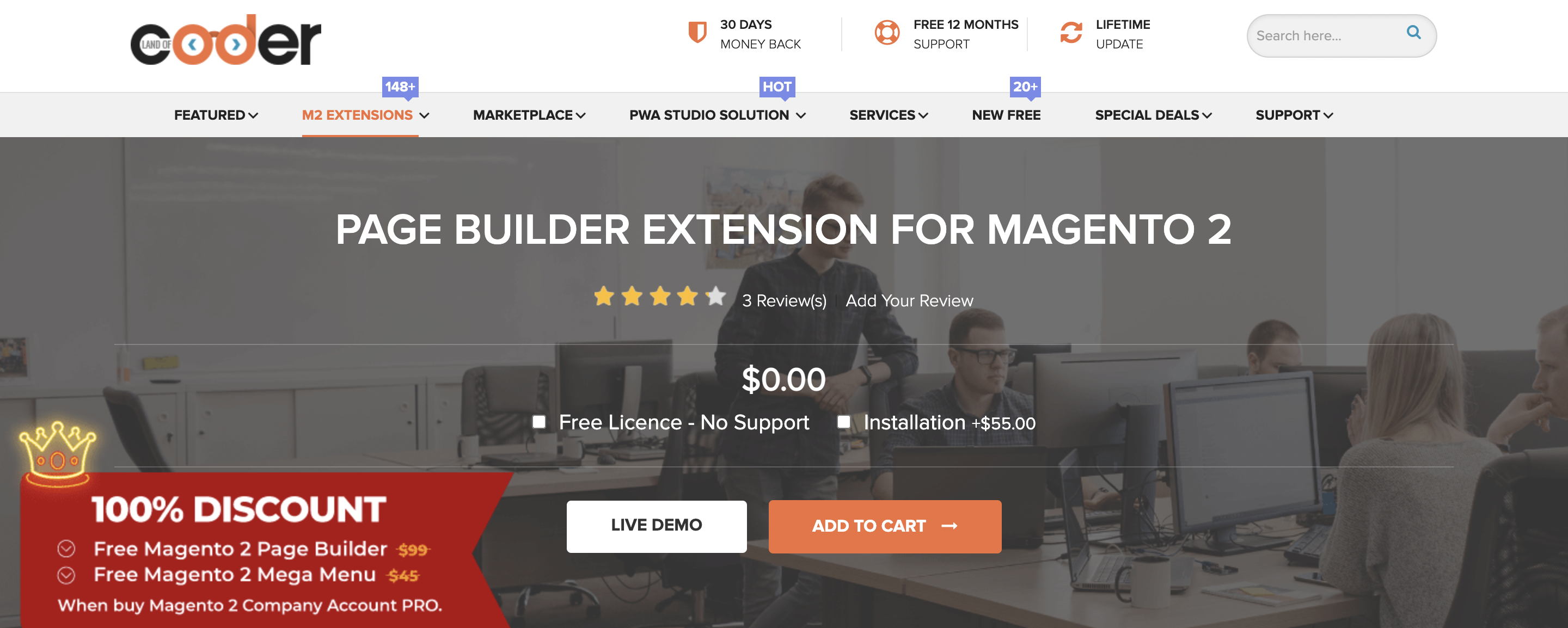 Landofcoder's Free Page Builder extension for Magento 2 provides you with everything you need to create a beautiful and professional website without knowing or writing a line of code. By carrying out simple actions, you can create pages for your website using well-designed templates.
Furthermore, with ready-to-use templates along with full effects and animation from this Magento 2 Page Builder extension, you can enhance store appearance effortlessly! So why wait any longer? Get it to start building your dream website.
Outstanding Features:
Magento WYSIWYG integration

50+ Elements
Responsive design
Magento theme compatibility
Pages to blocks conversion
Unlimited layouts
Block builder & bootstrap grid view
CMS page builder & CSS skin builder
Frontend display time schedule
Fast page load time
Live preview
Pricing: Free + $55 for installation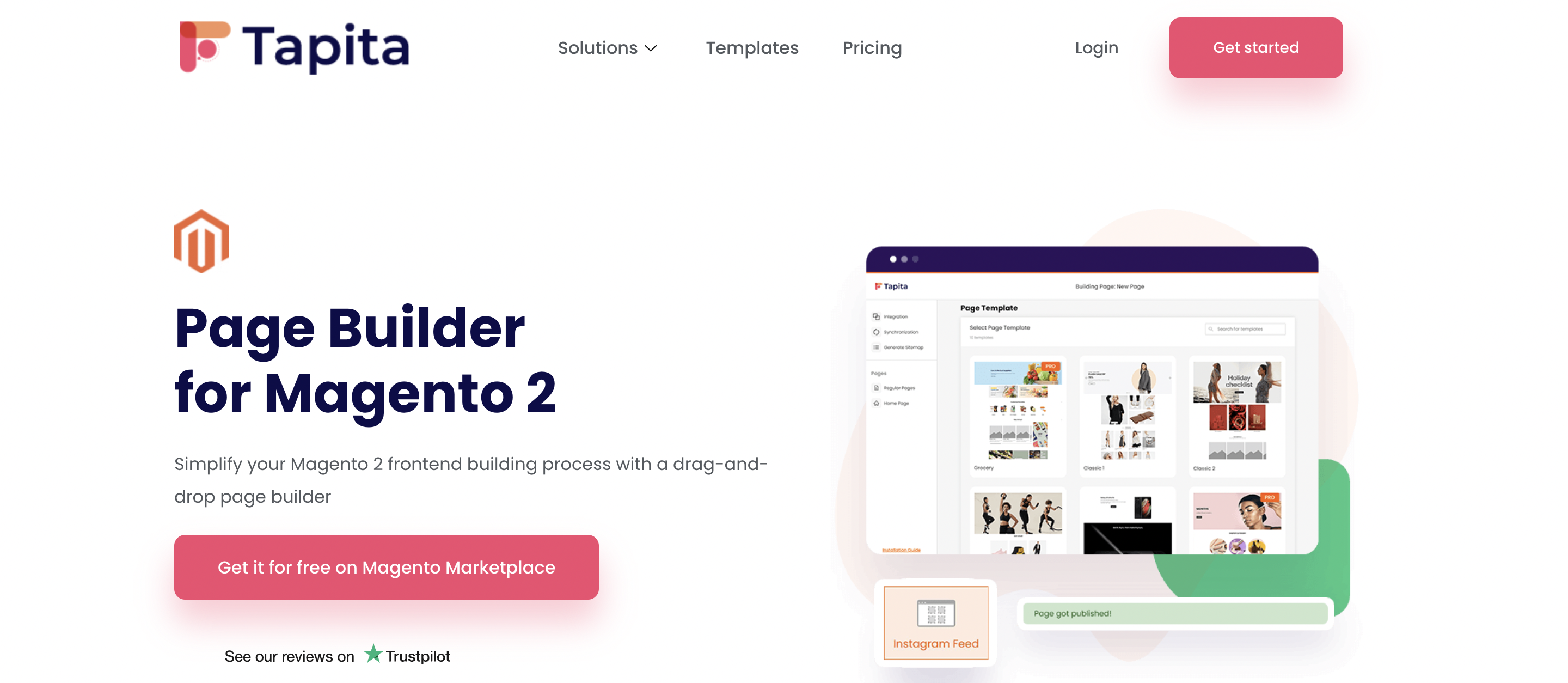 Unlike other Magento 2 Page Builder extensions mentioned above, Tapita Page Builder solves problems of Magento headless commerce pages (e.g.: PWA) instead of the regular front end.
Although headless storefronts are great for users, store owners face several challenges when it comes to modifying the front end themselves. This work usually involves technical know-how and there is no easy way for them to make quick edits or build a whole new page altogether.
Fortunately, Tapita Page Builder provides an effortless way to create and modify pages for headless commerce websites. The intuitive drag-and-drop interface with plenty of templates for different industries makes it very easy to build web pages.
Outstanding Features:
40+ ready-made templates
Saved blocks for later use
Device-specific styling
Magento catalog synchronization
SEO & speed optimization
Dev-friendly
Pricing:
Free
Starter: $9/month
Standard: $29/month
Professional: $49/month

With the help of N1ED Content Builder, Magento businesses will be able to create beautiful, engaging content for their website and blog in no time. This powerful editor is packed with features that will help you generate better sales pages, product descriptions, and even image galleries.
Plus, it's easy to use – there are ready-to-insert block templates so you won't have to spend hours customizing each article or description. You can also create your own blocks to define patterns of constructing your content and unify styles and structure throughout all pages of your website. So if you're looking to improve the look and feel of your entire website, N1ED Content Builder is the perfect solution.
Outstanding Features:
Build content block by block
Bootstrap Editor
Mobile ready
File manager and image editor
Many widgets
Visual configuration
Pricing:
Free (1 website – limited features)
Premium (1 website): $14.9/month
Saas (unlimited websites): Contact
Don't know how to code? Don't worry, Aheadworks Buildify Magento 2 extension will support you. Just by carrying out some simple actions, you will have a website that meets the demand.
Thanks to pre-arranged templates, you can build custom landing pages, customize categories, and product pages by performing some simple actions such as drag and drop. With beautiful templates along with interesting widgets, you can enhance store appearance in the shortest time possible.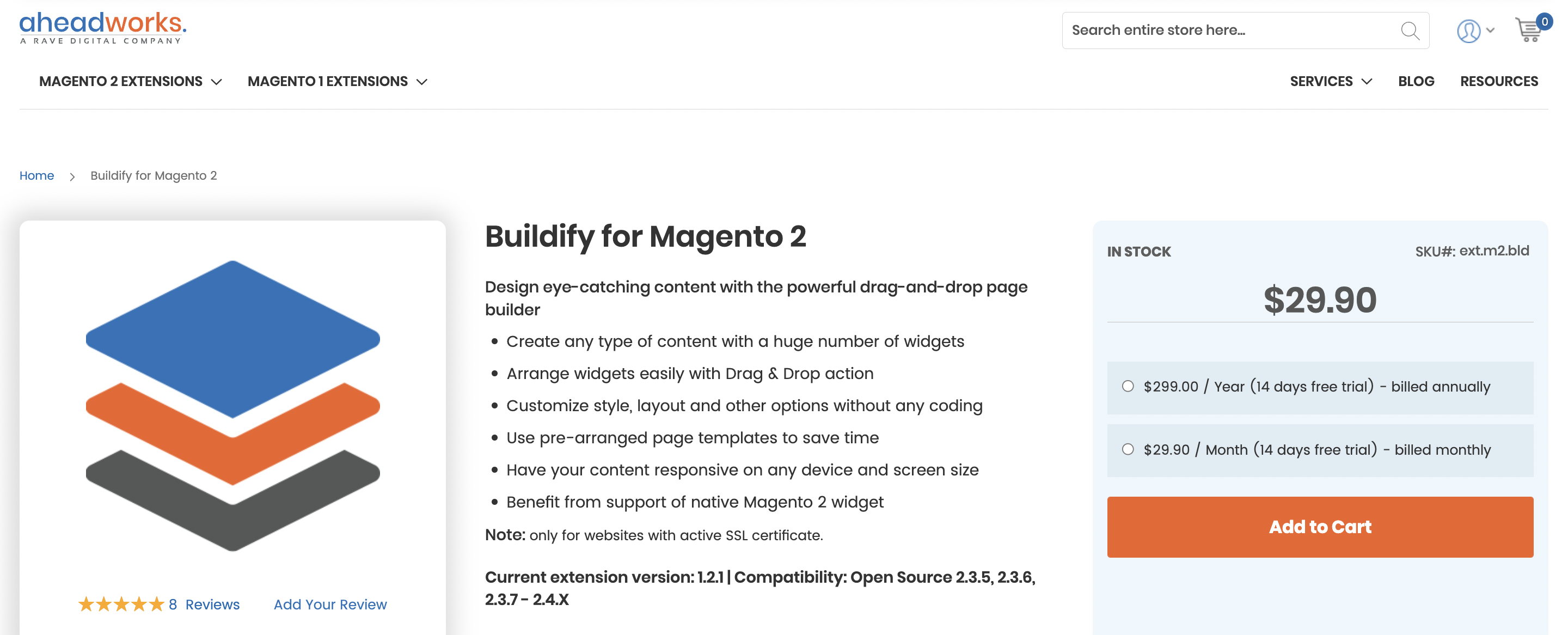 Outstanding Features:
15+ customer-engaging widgets
70+ theme-friendly widgets
Expansive content library
Screen-size friendly experience
Widget Templates
Magento 2 widgets support
Live Preview
Supported custom HTML/CSS/JS
Pricing:
$29.90/month (14-day free trial – billed annually)
$299/year (14-day free trial – billed monthly)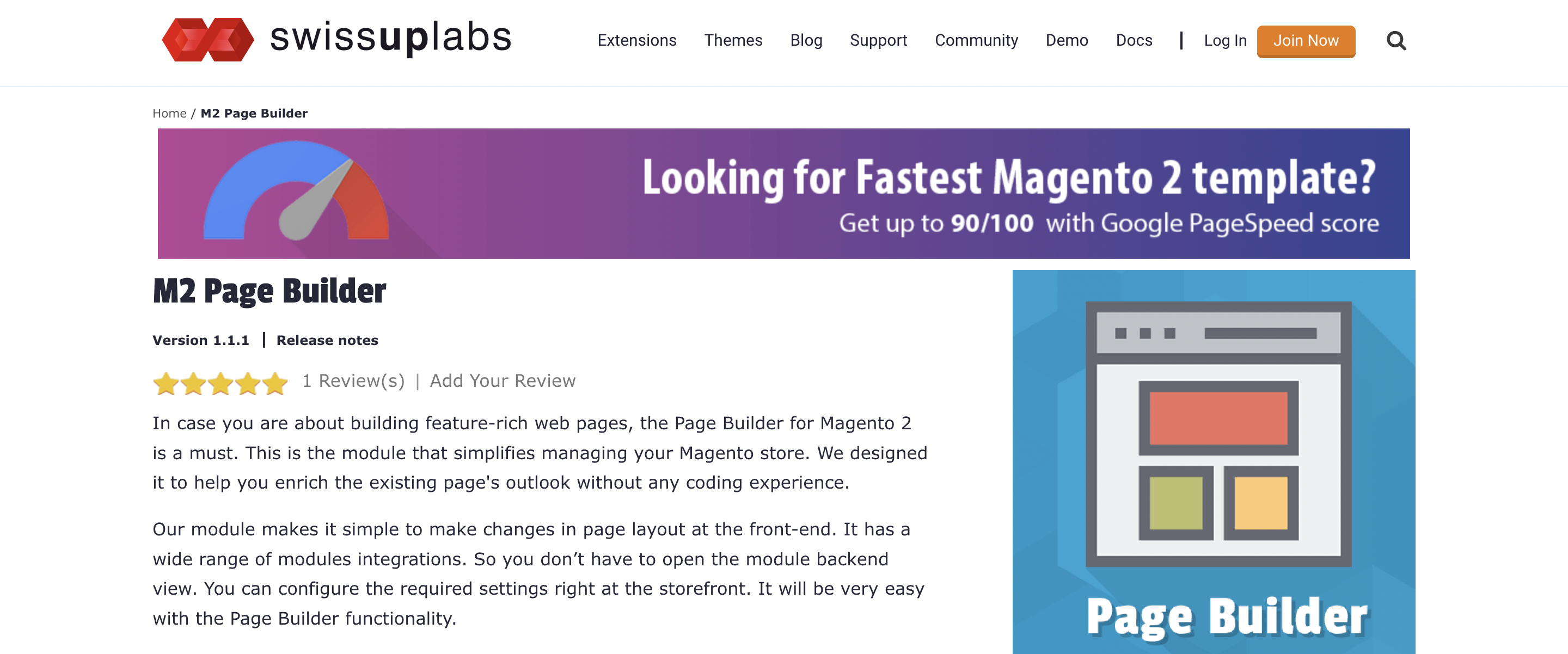 Swissuplabs Magento 2 Page Builder module is a great addition to any Magento website. It makes it easy to make changes in page layout at the front end, without having to open the module backend view.
You can configure the required settings right at the storefront, making it very easy with the Page Builder functionality. The extension will help you to edit all CMS pages, CMS blocks, and widgets, and change the store logo and welcome message.
Outstanding Features:
Well-designed elements
Easy third-party content integration
Pricing: $79 (including free installation)

TemplateToaster offers a Magento theme builder that makes designing a stunning Magento template easier than ever. With this software, you can start from the ground up or choose one of our pre-designed templates.
Once you're done with the design, just export and extract the zip file for easy online use. You can also select your new design in a few simple steps and upload it, and then your Magento eCommerce store is ready to go.
Outstanding Features:
Multiple-product grid styling
Robust templates
Pricing:
Standard: $49
Professional: $99 ($149)

Dragdropr is a simple yet powerful web content editor that lets you easily create, edit and design the content for your website or webshop. With Dragdropr, no prior knowledge or coding skills are required. You can build entire pages, or quickly change any existing content with a simple drag & drop action.
If you need to make some quick changes, just load the visual interface over your existing page. Then, simply drag and drop and create the web content as you want it to be.
Outstanding Features:
WYSIWYRG (What You See Is What You Really Get)
Live preview
HTML Embed
Content Blocks
Responsive sliders
Fit to any screen size
Pricing:
Single Account: $14.9/month (billed annually) & $19/month (billed monthly)
Agency: $118 (billed annually) & $149/month (billed monthly)
White label: $198/month (billed annually) & $249/month (billed monthly)
All packages provide a 14-day free trial.

If you're looking for an alternative to Magento's default page builder, MageSuite Content Constructor may be a good fit. This free and open-source software gives you the ability to build up any CMS page by combining numerous types of components within a few clicks.
Additionally, it allows you to use these components also on your category page and product detail page. So, whether you need a new header or footer template, or just want to add some extra content to your existing pages, MageSuite Content Constructor can help.
Outstanding Features:
Integrated elasticsearch
Daily deals
Positive indicators
Image teasers
Product finder
Pricing: Free

Webkul's Multivendor Page Builder for Magento 2 extension is a handy tool that allows vendors to manage and update their profile pages using the frontend view's drag-and-drop method. Vendors may see all of the changes in real time from the customer's perspective and save all of the changes made in the page builder by clicking the save button.
Additionally, the Multi-Vendor Page Builder for Magento 2 plugin cannot be installed separately – it is bundled with Webkul's Marketplace module as an add-on.
Outstanding Features:
Editable profile page
Live changes
Layout change
Pricing: $199 (+$39.8 for installation)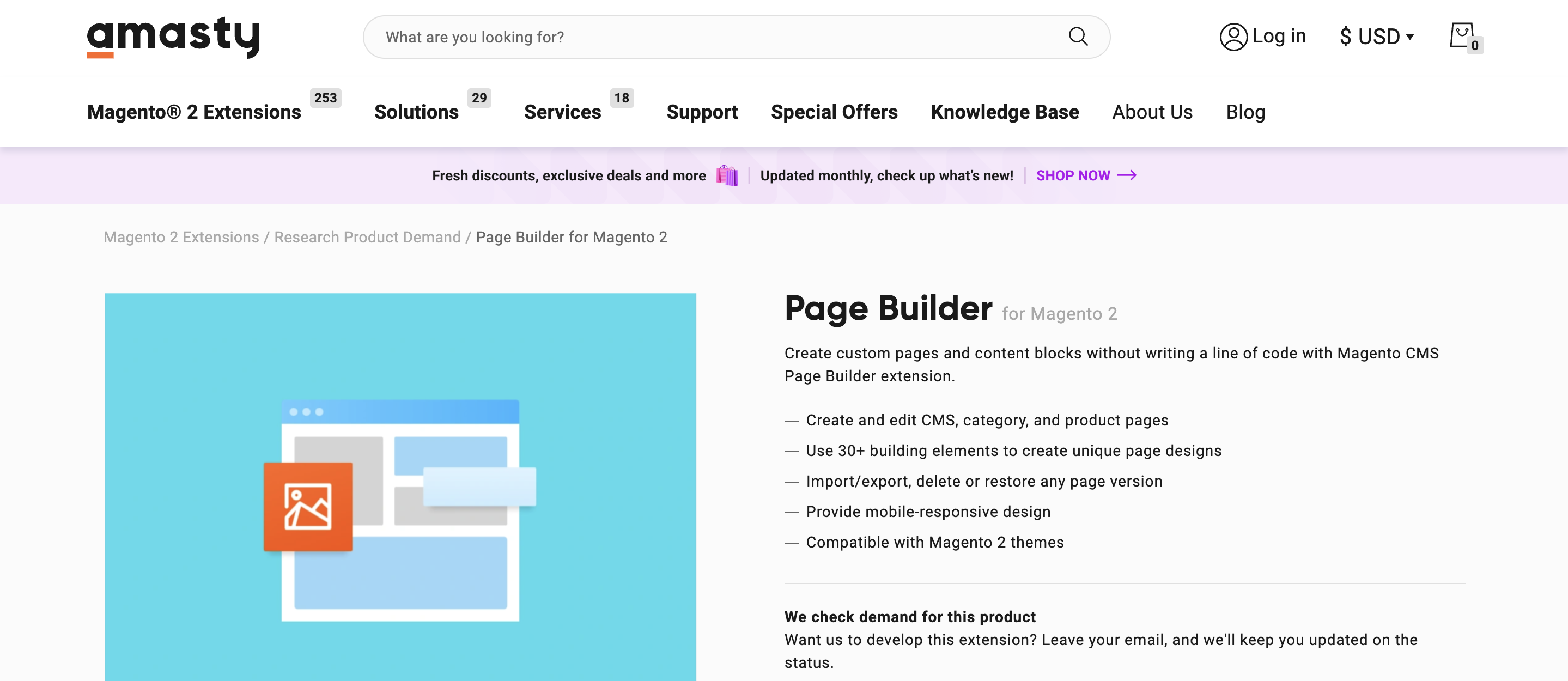 Amasty Page Builder for Magento 2 is a new and innovative extension that allows store owners to easily create custom pages and content blocks without any coding skills. This Magento Page Builder extension is designed to meet the needs of merchants with no coding skills, allowing them to quickly add and edit CMS, category, product, shipping info, etc. pages on the front end.
As this extension hasn't been released yet it's hard to say how well it works or if there are any potential issues but judging by Amasty's reputation as one of the best extensions in the market anything worth trying will most likely be good!
Outstanding Features:
Editable CMS, category, and product pages
30+ elements
Import/ export page versions
Mobile-responsive design
Magento 2 themes compatibility
Pricing: Unavailable
Wrapping Up
If you haven't tried any Magento 2 Page Builder Extensions, you are missing out on a lot of power and flexibility. These extensions allow you to build high-quality web pages quickly and easily, without having to learn complex coding techniques.
Our article has suggested a list of the most popular Magento 2 Page Builder extensions. There are many other options available, but these 12 will surely help you create amazing Magento pages. Have one of these extensions installed on your Magento 2 store and check out how they help you make your life easier.
Last but not least, if you need help with the installation of the Page Builder extension on your Magento 2 store, Tigren can help. We can make sure that it is correctly installed and configured as well as provide further customizations to the module if you require.
Read More:
20+ Best Free Magento 2 Extensions In 2023 [Updated]
Top Free & Paid Magento 2 Newsletter Popup Extensions
20 Best Magento 2 Infinite Scroll Extensions To Use
Top 10 Best Magento 2 Wishlist Extensions
20+ Best Magento 2 Rich Snippets Extensions