A well-designed storefront can create a hassle-free, simple but delighted interaction process for users. To help you get inspired and choose the best PWA theme for your Magento 2, we've compiled a list of the 10 best Magento PWA themes – both free and premium options down below.
The Best Magento PWA Themes For Your Consideration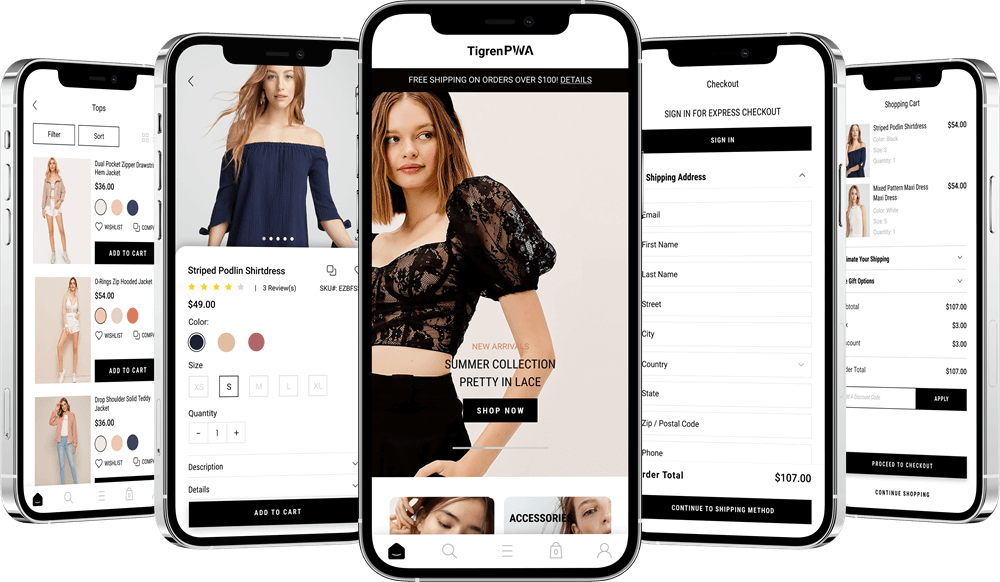 Performance
TigrenPWA is a PWA Studio-based premium theme exclusively for Magento 2. Your site with TigrenPWA – one of the best Magento PWA themes – will be updated and strengthened in performance and stability whenever Magento updates.
TigrenPWA brings everything you can ask for in a PWA, such as lightning web speed, minimum data usage, app-like features, and more. Enjoy monitoring your Magento backend with ease to all its default functions as this template is high-level compatible with Magento 2.
Not yet, TigrenPWA offers an extensive range of modern functionalities and exclusive add-ons to support both performance and user experience. Some noteworthy ones are live chat, improved layered navigation, banner manager, Fastly CDN, Instagram feed, etc.
Design
TigrenPWA design looks pleasingly neat, easy to use, and highly readable across all devices. Also, the mobile layout is considered a gamechanger as it's been thoughtfully crafted to the optimal level of user-friendliness.
Sidebar, bottom navigation, and poor connection script are some points that make TigrenPWA stand out. Moreover, powerful Banner Manage plugins help you easily create a flawless brand identity impression.
Cost
The TigrenPWA theme is $799, a competitive price that hardly any premium theme can compare.
Besides the ready-made theme, Tigren also provides theme customization and custom Magento PWA development services at affordable prices.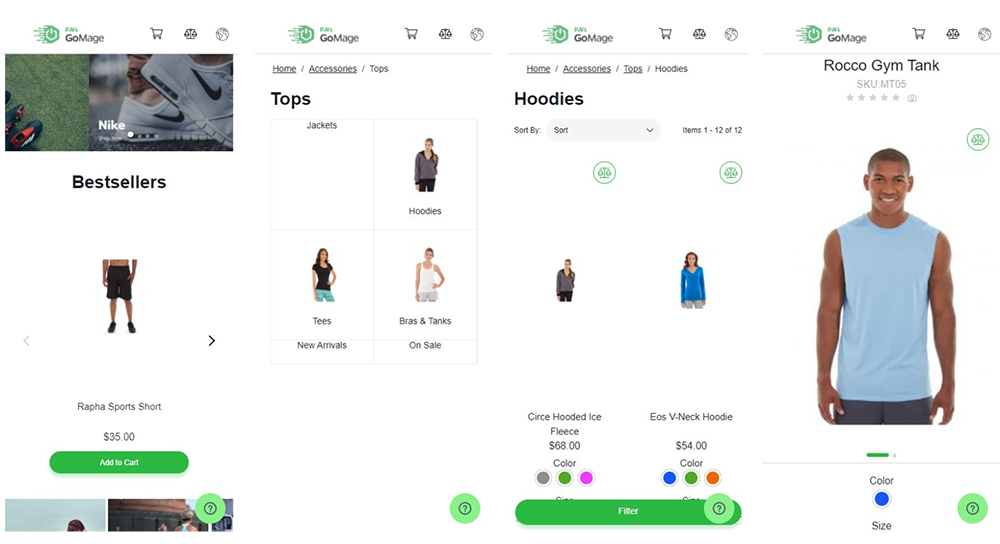 Performance
Another highly compatible and regularly updated solution based on Magento PWA Studio, provided by GoMage. Apart from core Magento PWA features, GoMage PWA offers popular options such as Algolia's search system and integration of Trustpilot.
GoMage PWA also includes a price-slider filtering option with a multi-color selection or social identity aid with Google or Facebook accounts.
Design
Despite the advantage of PWA Studio, GoMage didn't do well enough to overcome the drawbacks of the Venia storefront. The homepage is unimpressive and inefficient, as you can see right away.
Cost
GoMage provides a free developer key for both free and paid options, both come with 6 months of support and upgrade:
Open-source: $1,799.
Commerce: $2,299.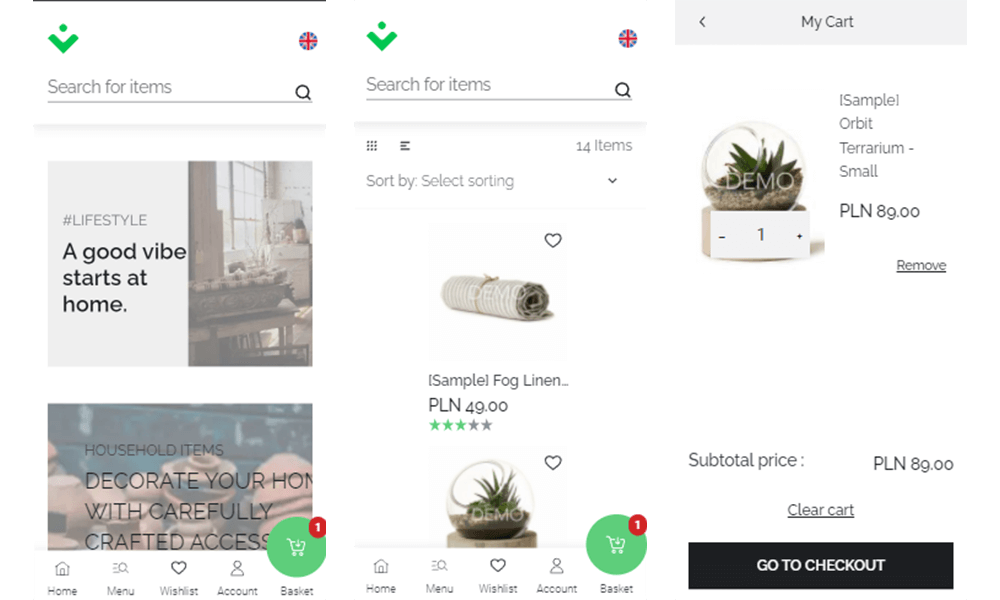 Performance
Another name in our list of the best Magento PWA themes is Vue Storefront.
Vue Storefront uses Vue-related technologies in which the essence lies at Nuxt.js to build their PWA theme. This means that Vue Storefront has high flexibility, but it won't be fully compatible with Magento standards.
Vue Storefront modules provide simplified and shortened solutions to integrate social media and payment gateways.
Design
The flat and simplistic default design of Vue Storefront, especially the desktop, is far from people's expectation of a kind of storefront that catches up with their power system.
Unlike other themes, Vue Storefront's demo isn't ready-to-use as owners must make many custom changes.
Cost
Vue Storefront is an inclusive open-source theme published on Github.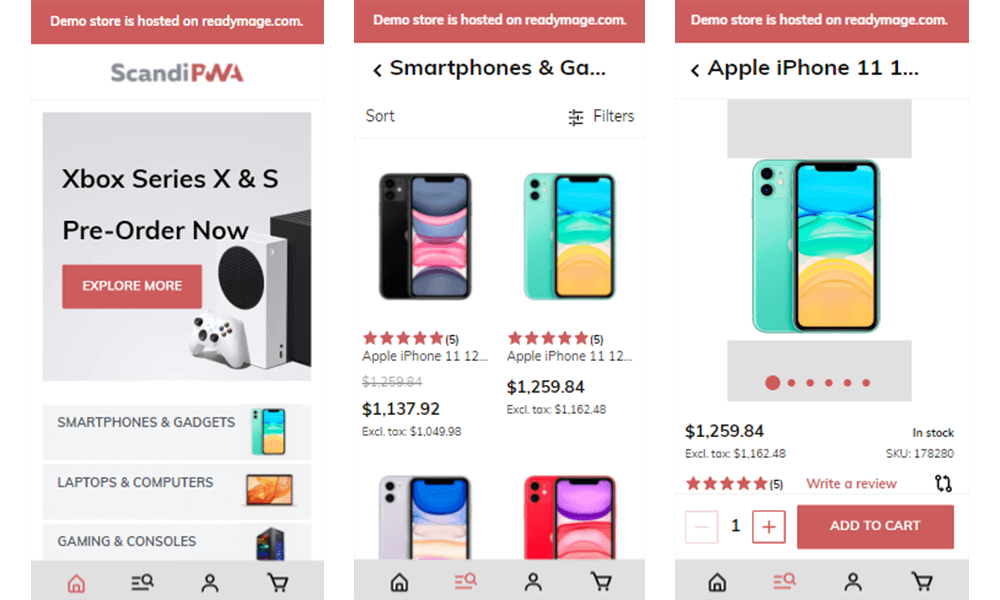 Performance
ScandiPWA is created by Scandiweb, one of the leading digital agencies in Magento. Yet, their PWA theme supports only 95% of Magento's features.
The theme provides a full-rounded buying process, including SEO enhancement with plug-and-play extensions. ScandiPWA also introduces an upgraded concept of Override Mechanism, which allows store owners to customize every site element tailored to their needs.
Design
The homepage of ScandiPWA comprises typical e-commerce elements like a handy search bar, banner and category banner, a bestseller product list, and a footer. The category page has nice and minimal layouts with a unique add-to-compare button.
Due to its ability to showcase multiple products simultaneously and because ScandiPWA is device-agnostic, this theme is best for technical tools.
Cost
Although the theme is free, the setup is quite complex, so you might need a team of professionals from Scandi if you're not familiar with technical stuff.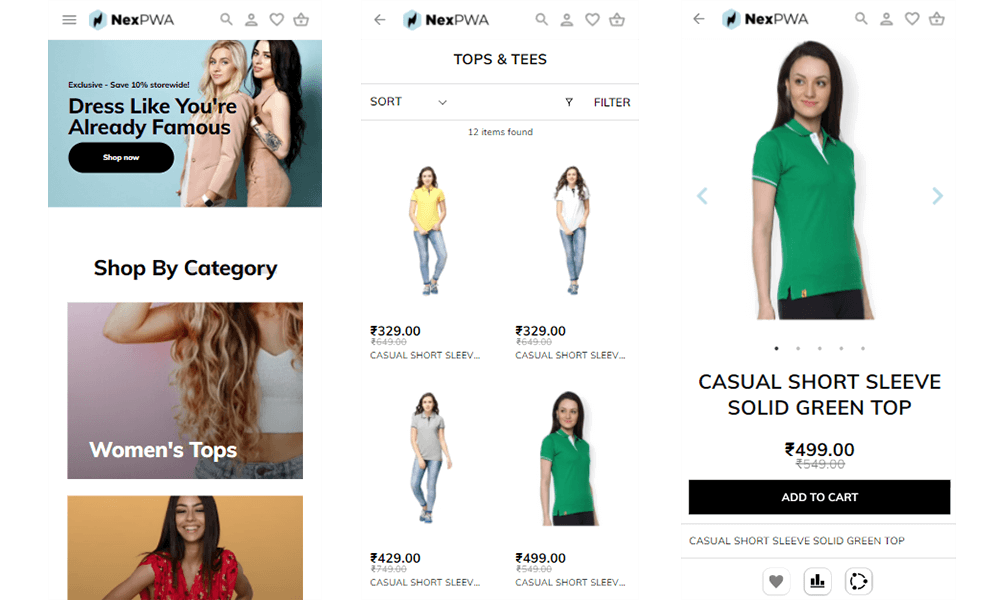 Performance
NexPWA is a Magento PWA theme from Codilar. This theme is built on ScandiPWA with customization. They comprise complete PWA features, but there are no details on whether they support complete or partly Magento functionalities.
3 salient advanced functions of NexPWA are integrating Google Tag Manager, payment gateway, and RTL support.
Design
NexPWA is the modern version of ScandiPWA, which contains eye-catching layouts with attractive banners. However, this upgraded design turns out to be a disordered version compared to the original. NexPWA lacks basic effects for it to be user-friendly, like no list view and hovering mode.
Cost
They offer 3 PWA development packages: Starter, Pro, and Custom.
Performance
CedCommerce PWA Theme adopts MagentoPWA Studio's technology, ReactJS, and GraphQL in its core. On top of crucial PWA features, the free CedCommerce PWA is equipped with simple e-commerce functions.
Although some features are listed as pro-only ones of CedCommerce PWA, they're only default features of other themes.
Design
The theme layouts are placed systematically, along with smooth animation effects.
However, it seems like only the homepage had been taken care of, the remaining are pretty disorganized and unnoticeable. Compared to the desktop version, the mobile one is better with bottom navigation.
Cost
The premium package is $299. With the Magento Commerce edition, the total is $400.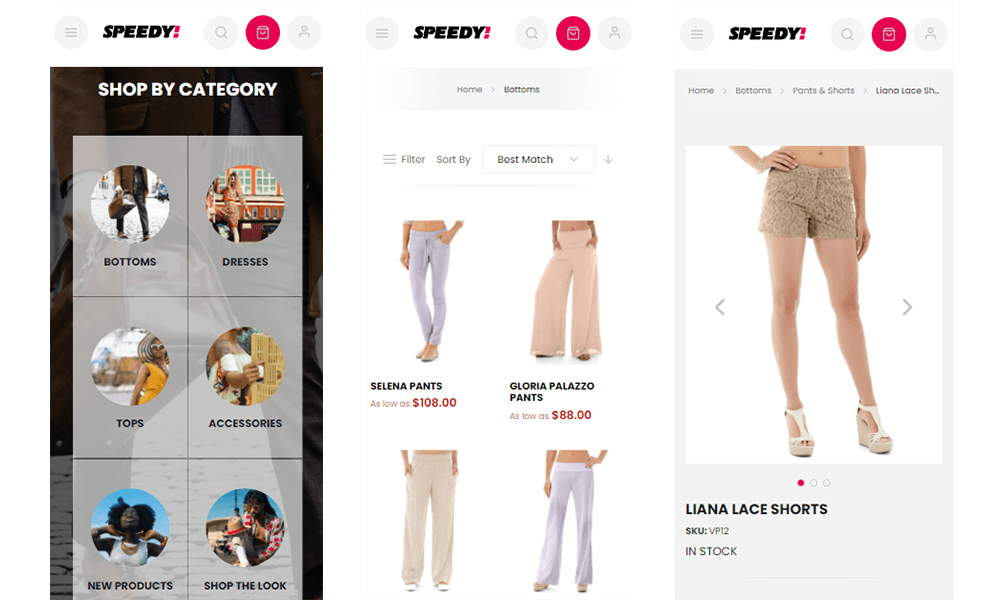 Performance
BSS Commerce released a speed-focus PWA theme committed to increasing the conversion rate by 110%. This theme is compatible with Magento 2.3.3 and above.
Speedy is undoubtedly fast and responsive, fulfilling all PWA features, but some core Magento functions are missing. It seems like they don't add more default features and recover from Studio like TigrenPWA or ScandiPWA.
Design
Speedy is designed with multiple redundant spaces. Other parts look incomplete, except for the homepage with a creative banner block, hover effects, and the neat-looking header. We highly doubt that any brand can apply it in reality without huge customization.
The mobile is much improved from the desktop, but nothing special makes us wow.
Cost
They provide a free option to download, while the premium one will be revealed when you contact them.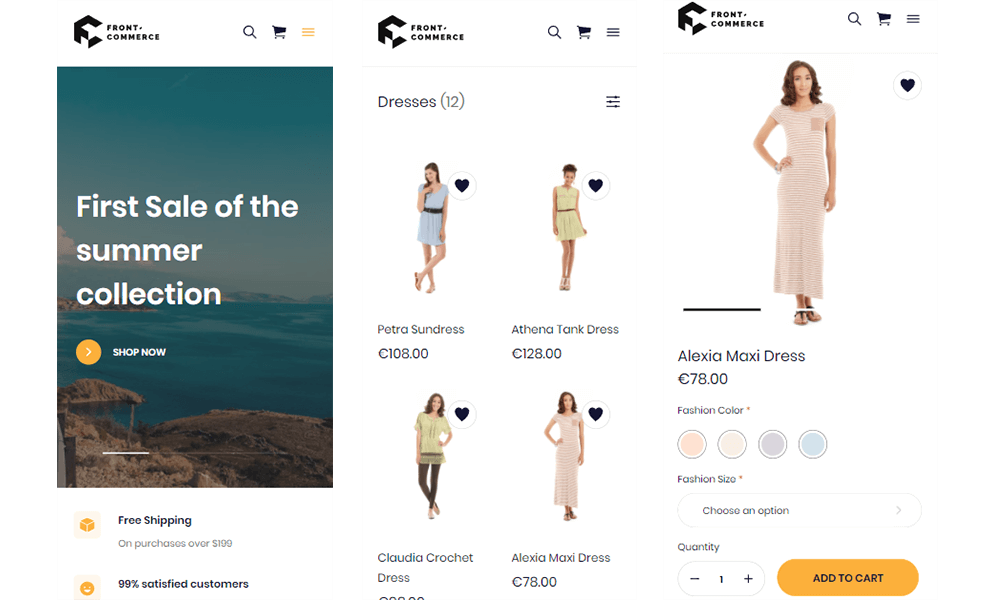 Performance
Front-Commerce launched its own headless PWA in 2018. They provide the additional 6-packed language alongside core PWA features to enable online businesses to support their prospects in a flash, connected, and safe manner.
There's an exclusive Design System, a living document to assist you in creating a harmonious and consistent brand presence.
Design
Front-Commerce PWA theme provides a minimalistic looking and can be applied to any actual store. Layouts for content are well-designed with proper font and quality images. Apart from Product and Wish-list pages that are dull and deficient, the cut-out of the banner slider is useful to grab visitors' attraction.
Cost
The yearly cost for the Front-Commerce PWA package starts at $8,000 without any free version or trial available.
Performance
SimiCart is a 10-year experienced company in e-commerce. Like TigrenPWA, SimiCart PWA also has 2 advantages: Magento PWA Studio-based, lessening code conflicts, and fastening regular update processes.
SimiCart PWA embraces the strengths of both a website and an app. In addition, SimiCart is partnering with Mageplaza to create some Mageplaza extensions to work on the SimiCart PWA Storefront.
Design
In our opinion, the font is sometimes oversize and unnecessarily bold. The layout on the product page is probably the worst of them with the full-width descriptions when the customer review should be in one but instead in two sections.
Despite being a fashion theme, the SimiCart PWA storefront looks unappealing. It might seem like SimiCart's mobile version doesn't align with its mobile-first strategy, that it's performed without an app-like UX design.
Cost
This isn't an open-source Magento PWA theme, but oddly enough, its price remains private.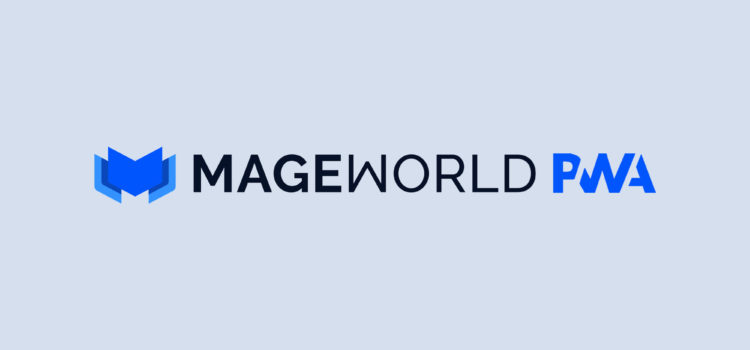 Performance
Another Vietnam-based company providing Magento solutions, MageWorld, released its PWA theme using the Venia theme, which creates a visualized storefront for developers and Magento merchants after the integration.
MageWorld PWA offers multiple payment gateways with several basic e-commerce features but shows no proof to ensure a full range of PWA and Magento key functionalities.
Design
They don't release the demo yet, so we can't give any review.
Cost
The total sum for the development service of MageWorld PWA is $2,999. No info was found about the installation and customization, so we think you need to leave them a message.
What Is The Leading Magento Progressive Web App Theme?
All the best Magento PWA themes have their advantages, so it's based entirely on the specific of your store. Whether you own a techy platform or a gardening one, whether you want to find a theme provider with whom you can work again and again with future maintenance, we hope you think this list is helpful.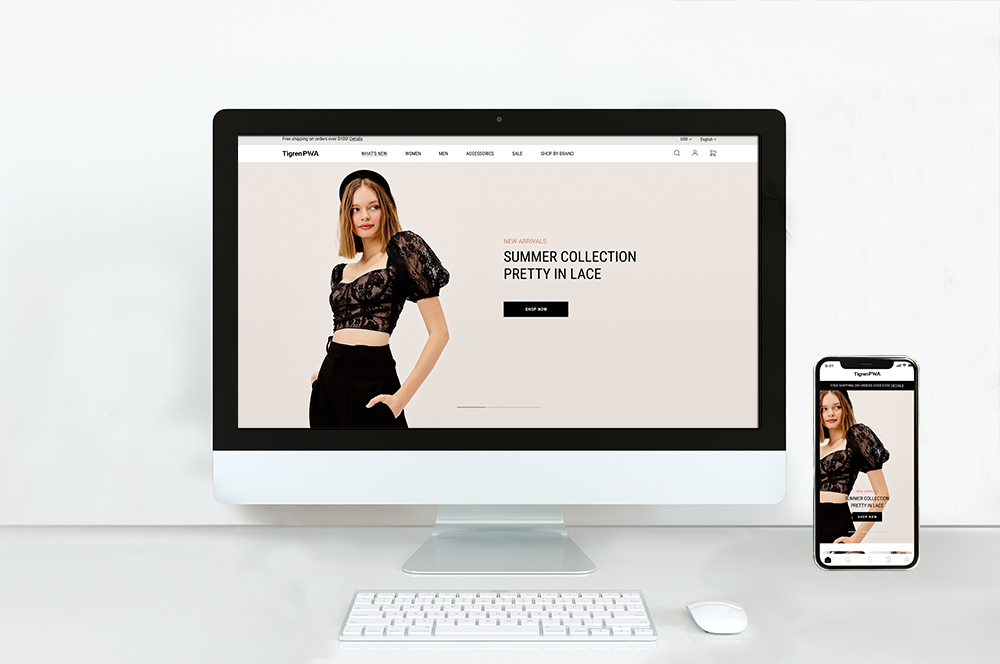 With a well-designed and feature-rich product – at an affordable price followed by free support, Tigren deserves your best consideration in terms of ready-made Magento PWA themes and templates. Find more about our Progressive Web App development service for Magento before we get started!
Read More:
How To Choose The Right PWA Theme For Magento 2
Premium Magento PWA Fashion Theme
Magento PWA Theme Vs Regular Magento Themes